Monday February 15 2021 Afternoon Update
The historic winter storm and arctic blast continues to rage across the deep south and Ohio Valley. The snow drove to the. Texas border with Mexico, and is nor driving up the Ohio Valley.
Our region is on the edge of this pattern, with just and slight icing event inland this evening.
Over the weekend I mentioned that the snow and ice in place would refrigerate the atmosphere and we might trend colder. This storm is just too strong, and wait until you see the warm air that pushed into part of Maryland tomorrow. The cold air will return Wednesday, and set us up for our taste of this action on Thursday.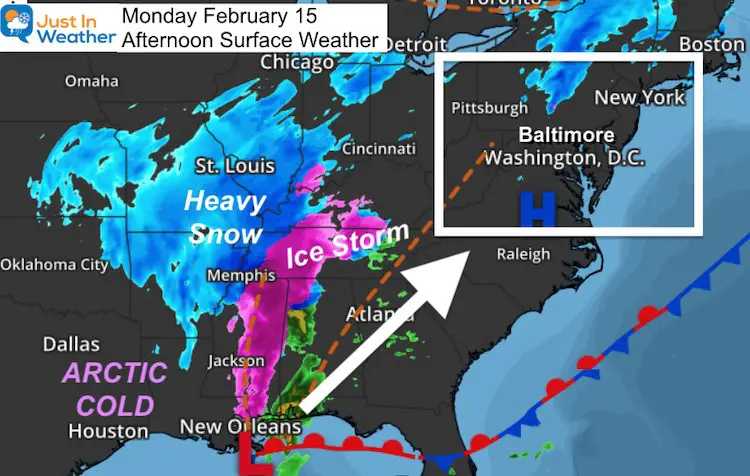 This storm will ride to our west and bring in mild air Tuesday, but the cold air returns Wednesday keeping much of Maryland near or below freezing again. That sets the stage for our prime event this week:
Thursday: Our Turn
Snow and Ice Storm
See the timeline slider below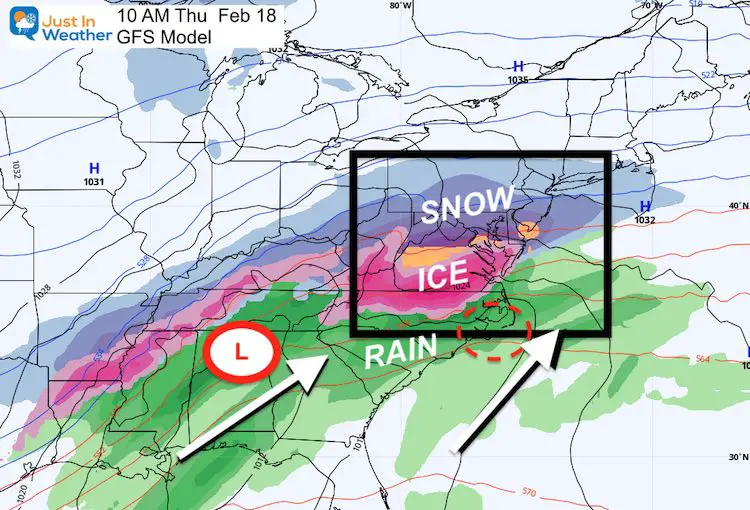 Please keep this point in mind: I shared it on Twitter earlier
Where is OUR arctic air talked about all winter? 🥶
I keep hearing that…
🤔 💡
Ever watch an 18-wheeler come down a 3 lane highway from far away?
You know it's a big and getting closer, but not sure which lane it's in…until it gets closer.
Well, here! Just one lane over. pic.twitter.com/gdZUz1mvWQ

— Justin Berk (@JustinWeather) February 15, 2021
Back To Near Term Weather First
Winter Weather Advisory Tonight
Some icing is possible just north and west of metro Baltimore. The good news is that warmer air is expected to move in overnight, melting many of the local iced areas by daybreak.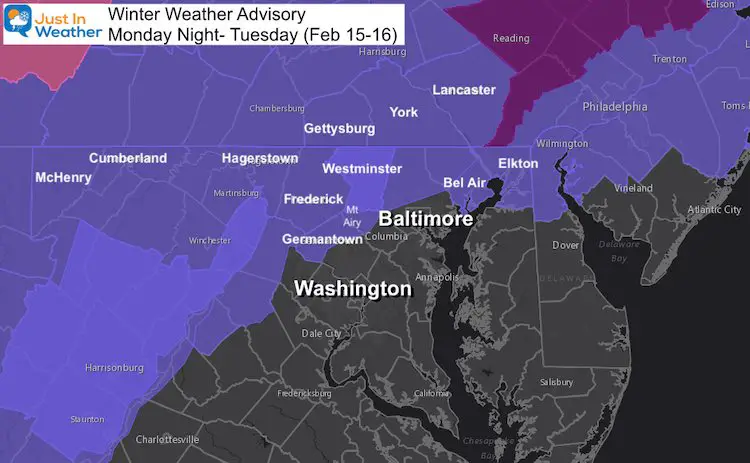 Freezing Rain Forecast
Afternoon Temperatures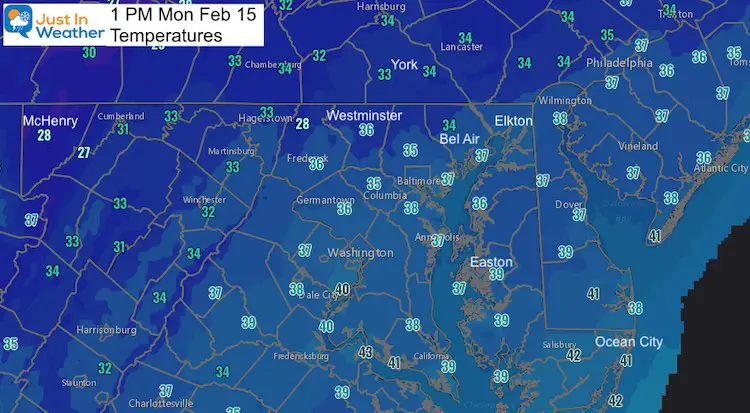 Freezing Rain Tonight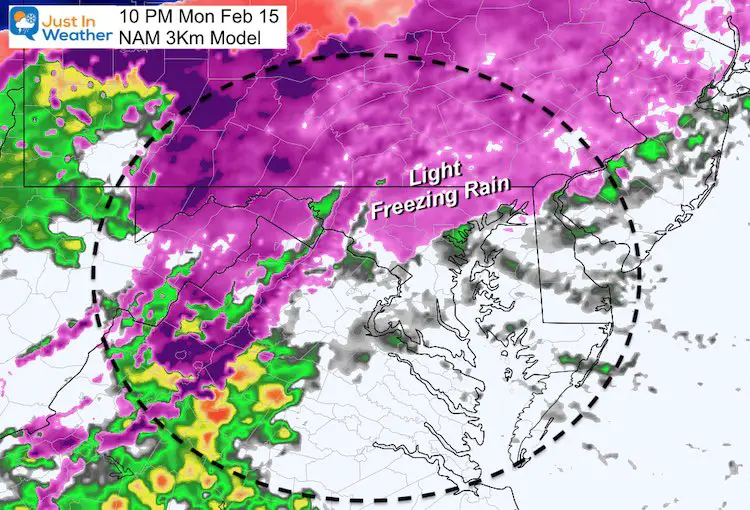 NAM 3Km Animation
4 PM Monday to 7 AM Tuesday
Warmer air and more cold rain (nor freezing) expected after midnight.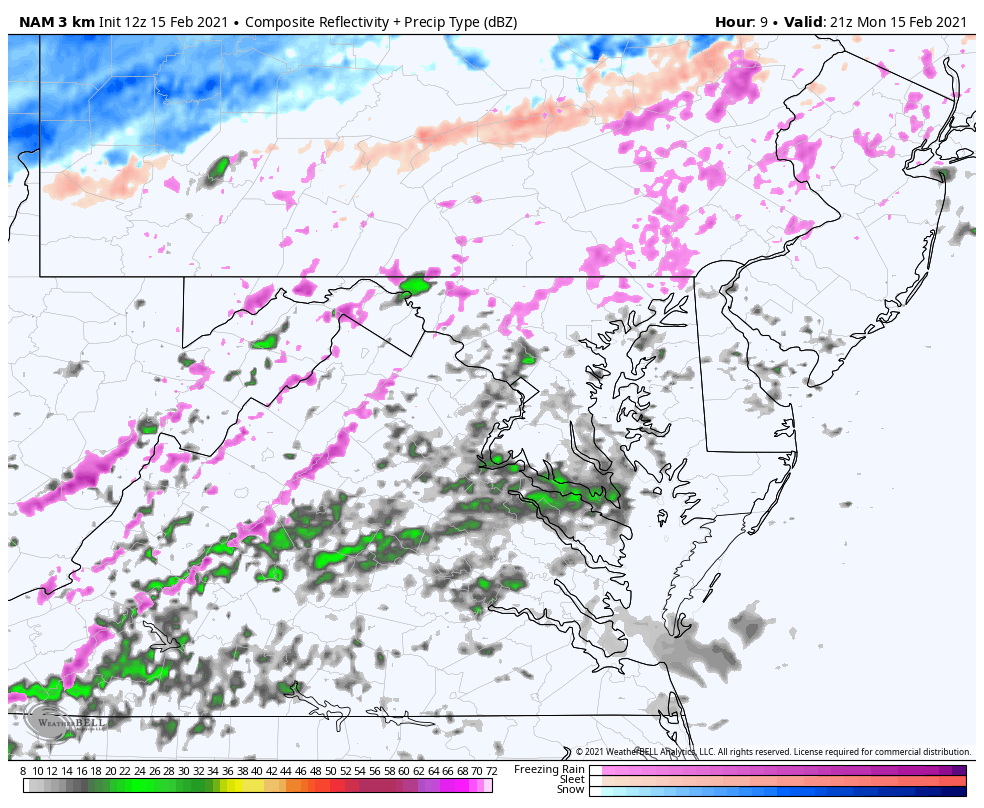 Temperatures –> slider
Mild Push Tuesday Afternoon
Look at this spread across Maryland:
Mountains Region in Garrett County: Upper 20a

Central: Mid 40s

Lower Eastern Shore: Upper 60s
Wednesday: Colder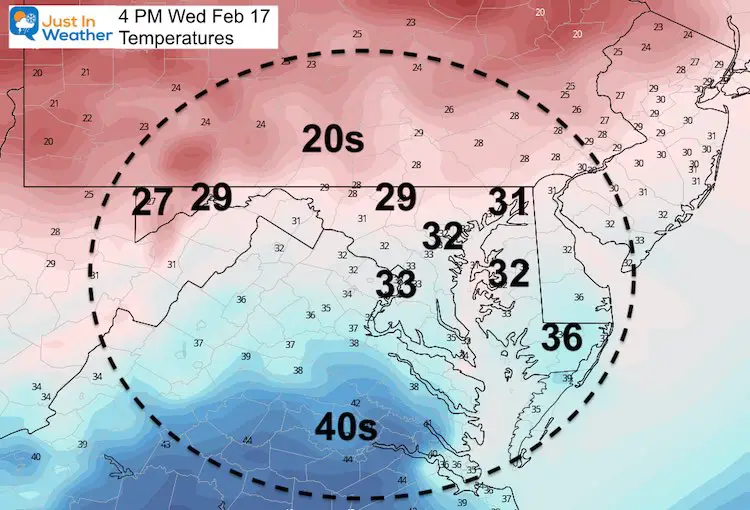 Thursday Morning:
Cold Enough To Support Snow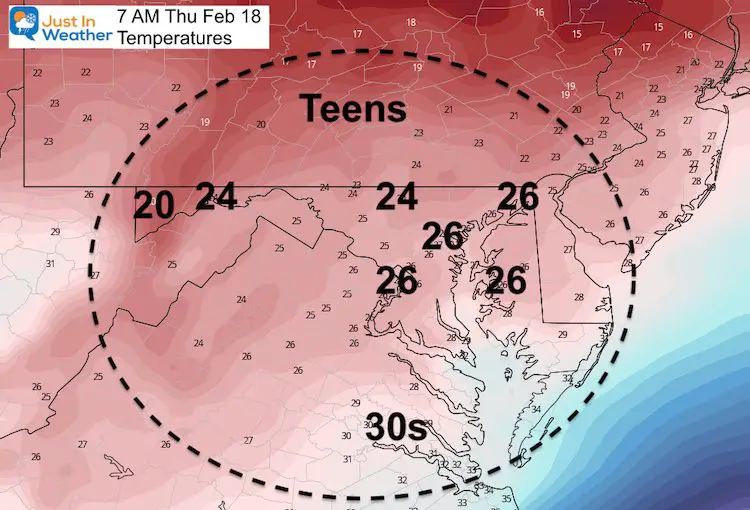 Snow and Ice Storm
This is the GFS Model. It had been warmer than the Euro I've been showing you.  It is falling in line with snow and ice, and I think we need to watch for a track shift east that could still trend even colder.
—-> slider
How much snow?
Plan for a few inches and impact during the day, before the change over to ice.  More will likely fall in our northern counties, but we need to see how tonight's storm and cold air to follow Wednesday behaves.  That will help present the storm track and extent of snow and ice.
Temperature Outlook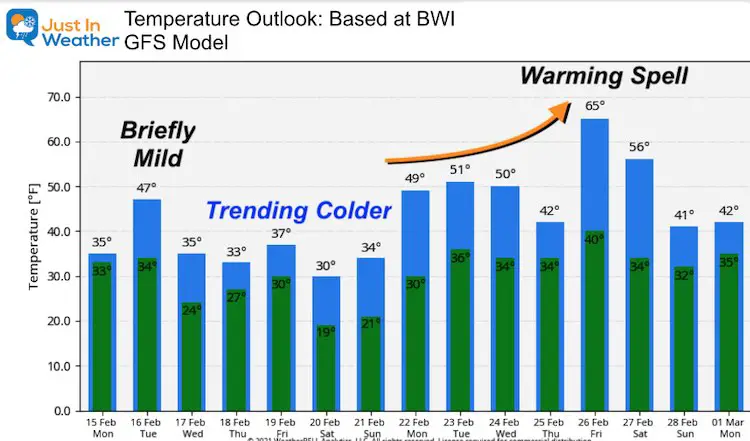 Please share your thoughts, best weather pics/video, or just keep in touch via social media
YOUR INTERACTIVE WEATHER PAGES
14 Local Maryland Pages (and York PA)
We have made a page for Maryland Weather which gives you the current conditions for 14 present area locations.
Local Hourly Forecasts and Local Radar
Central Maryland
Delmarva
Pennsylvania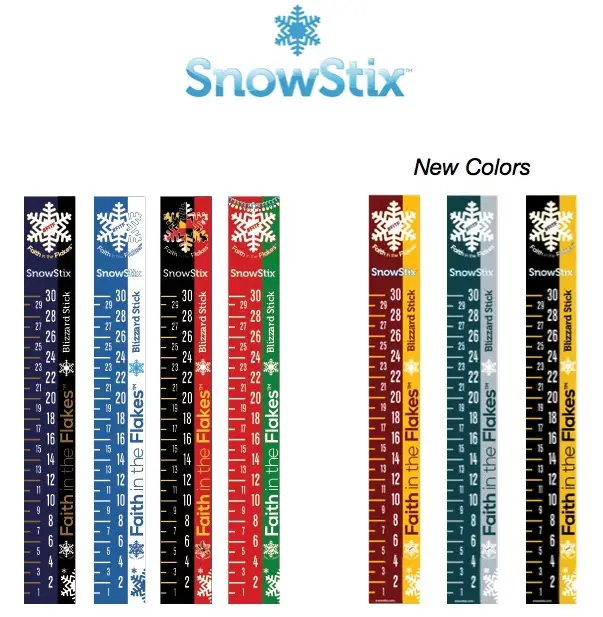 FITF Shop Open
My 'bonus' daughter Jaiden and wife showing off our popular Maryland Hoodies. Unisex and women's items all produced in Maryland.
Click here to see this and many other new items.