Friday February 12 2021
The third winter 'event' in four days is all teed up and ready to move in. This time ice is the concern from sleet and freezing rain.  The Winter Storm Watch in place at the time of this report does not tell the entire story. Ice will expand from south to north Saturday. While the heaviest icing will be to the south, the biggest impact will spread through much of our region overnight into Valentine's Day morning.
In this report, we will look at the expected timeline and totals.  The numbers are lower than the high mark the European Model showed two days ago, but it is still more than enough to be a problem.
Friday Afternoon Weather Map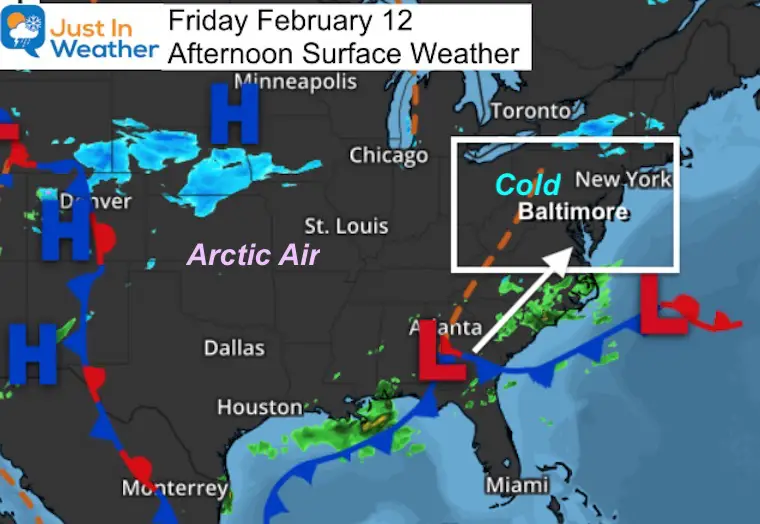 Winter Storm Watch:
At this time, The Winter Storm Watch included Washington, Annapolis, and points south.  Based on the forecast maps here, we may see Freezing Rain Advisories expanded farther north.
UPDATE: ICE STORM WARNING and WINTER WEATHER ADVISORIES ISSUED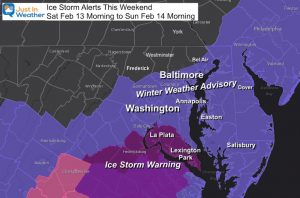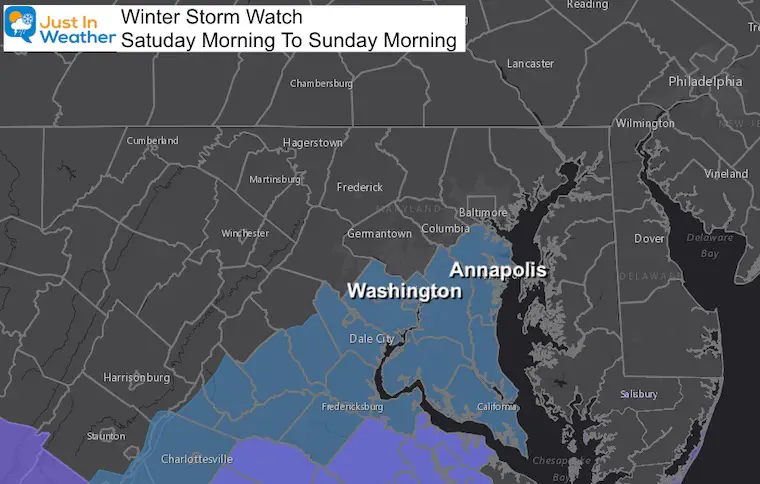 Winter Precipitation
The surface air will be cold enough, while warmer air at cloud level allows for rain. This then falls into a closer layer near the surface.
Sleet: Bounces, since it refreezes on the way down.
Freezing Rain: Looks like rain, turns to ice on contact. This is actually more dangerous to weigh down trees and power lines.
Explore More: See all winter precip, more about Freezing Rain, and more winter weather terms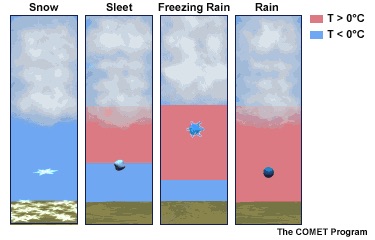 When will this begin? 
Saturday morning. It looks light, but as we saw with accidents in Texas yesterday, all it takes is a small glaze to be a big problem.  I do NOT want to exaggerate this, but definitely treat this with caution.
10 AM Saturday
Here the NAM 3 Km model shows sleet moving past Washington and Annapolis and into Baltimore.
Freezing rain (pink) expands through Virginia.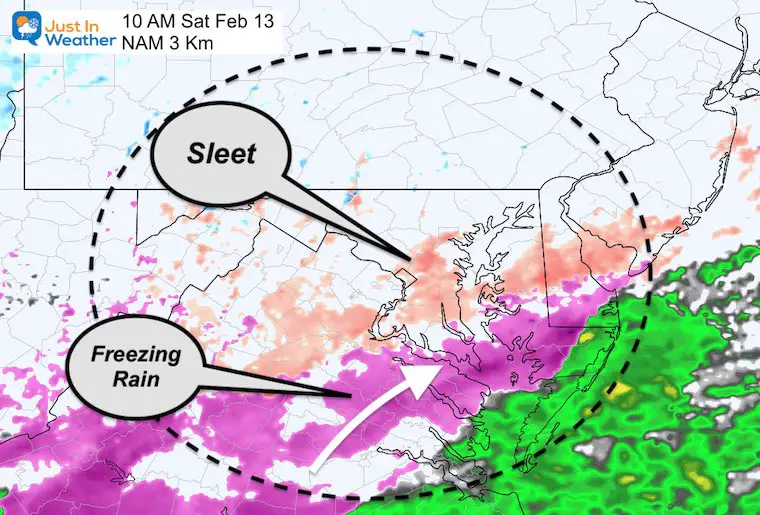 4 PM Saturday
Sleet expands through northern Maryland and Southern PA.
Freezing rain reaches to near Rt 50 along Washington and Annapolis.
Animation During This Time Frame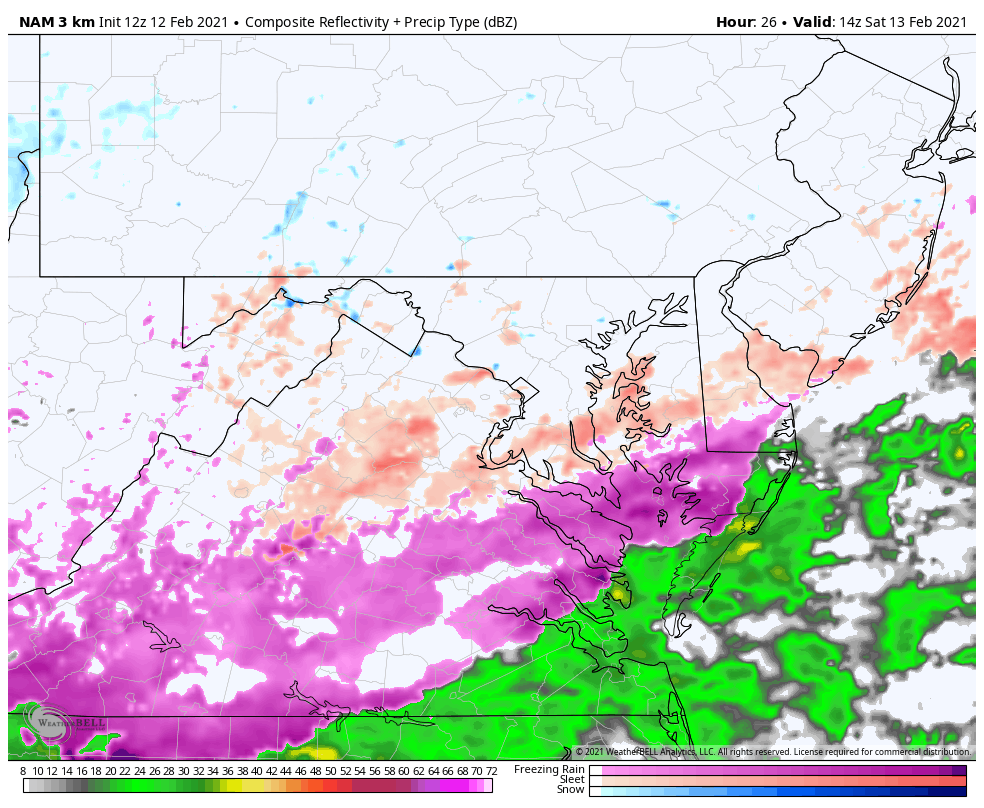 Saturday Evening
Atmospheric Memory: We see yes ANOTHER Low Pressure passing by the coast between Virginia Beach and Ocean City.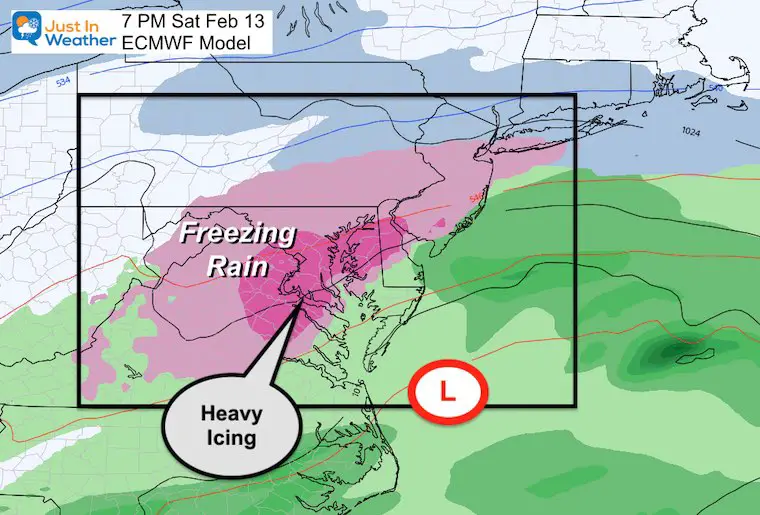 Animation Saturday Evening and Ending Sunday Morning at 7 AM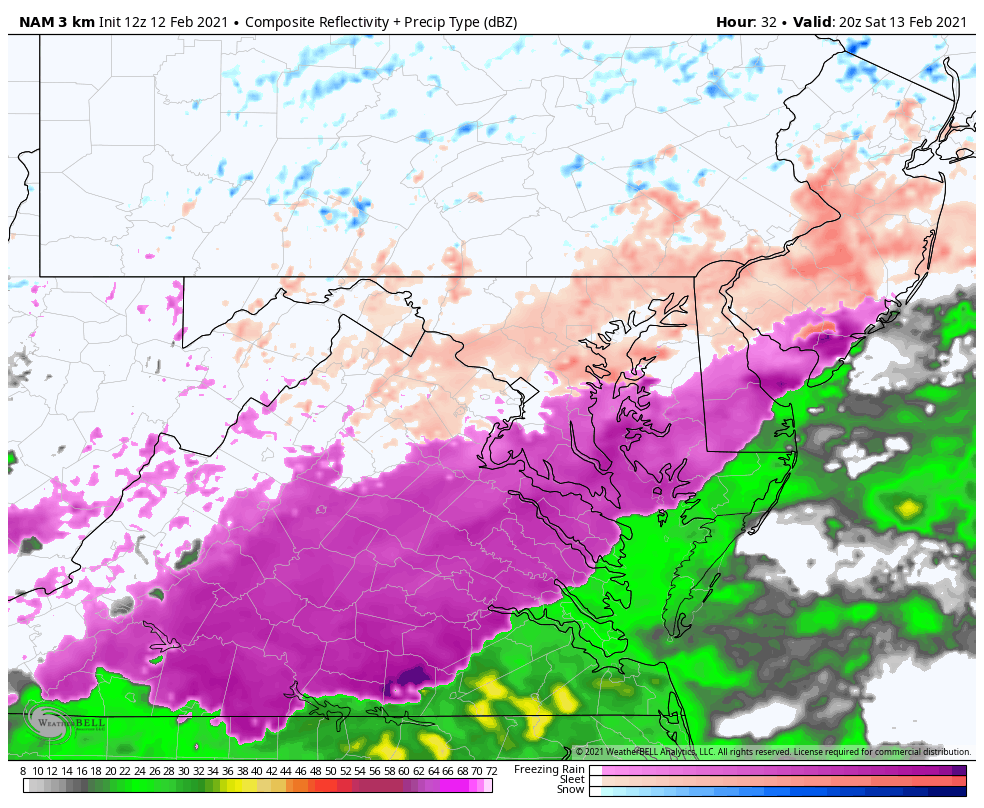 7 AM Sunday Snapshot
This event should be ending before noon.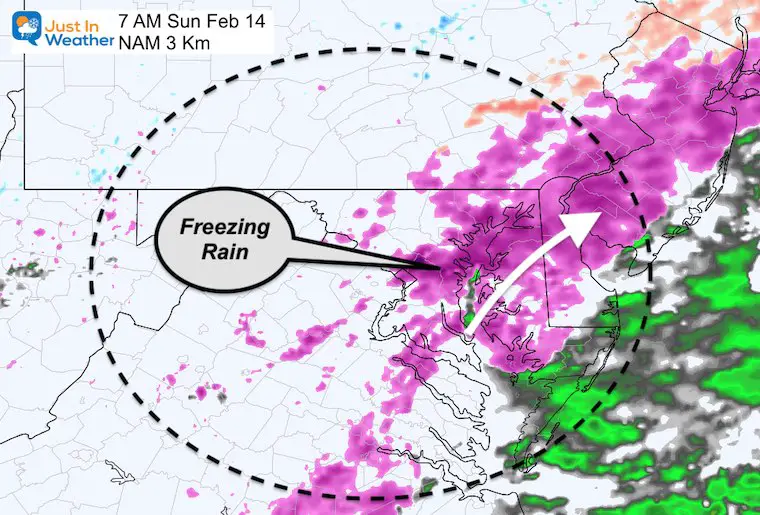 7 AM Sunday Temperatures
Temperatures may be near or below freezing for a wide area, including across Delmarva.
How Much Ice? Compare Computer Model Forecasts
Yes, this is lower than the European Model showed two days ago.
Treat this the same.
*Recent trend has shown models pull back on precipitation, the ramp back up at the last moment.
All it takes is 0.10" to 0.25" to begin causing weigh issues on trees and power lines. When over 0.25" it id more like to lead to damage.
NAM 3 Km: Freezing Rain Ice Forecast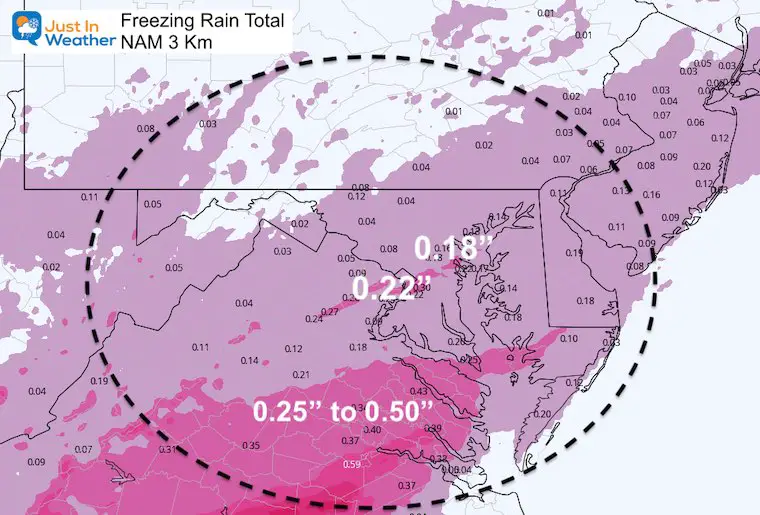 GFS: Freezing Rain Ice Forecast
Canadian: Freezing Rain Ice Forecast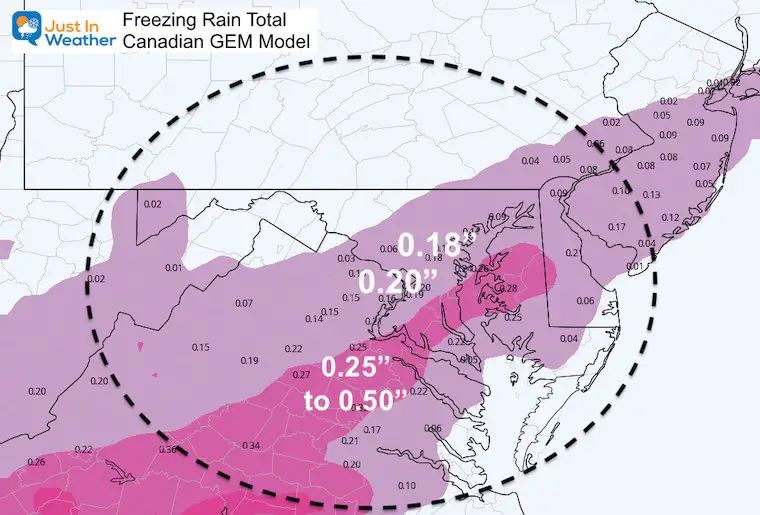 European: Freezing Rain Ice Forecast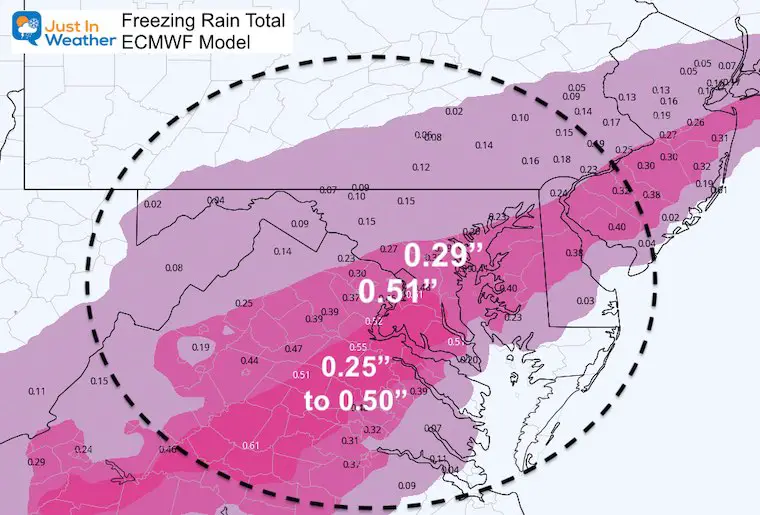 Take Away
This will be at least a moderate ice event.

Timing will begin Saturday morning from south to north.

It will be heaviest with the most impact Saturday night.

This should end during Sunday morning after sunrise.

Expect More Advisories or Warnings to be issued north of what has been shown on the map above.
Grade My Forecast
See The Results So Far, Or Cast Your Vote
Open Until 8 PM Friday
Click the map to see the full report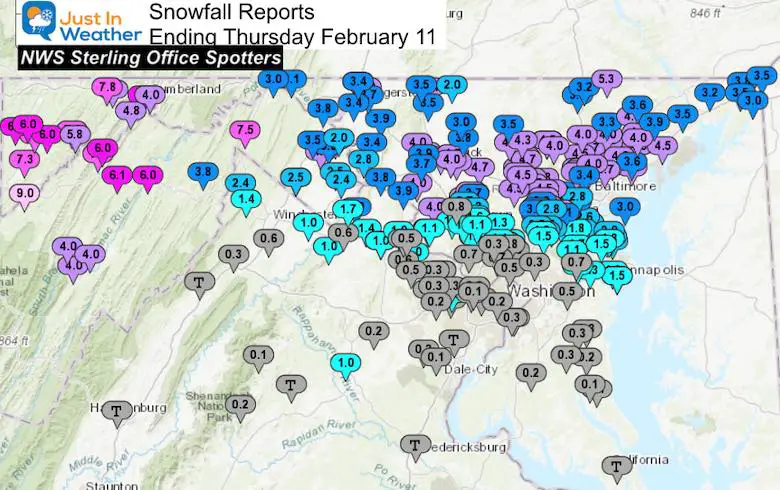 Additional Snow From Part 2 Exceeded Expectations in Southern Maryland
Please share your thoughts, best weather pics/video, or just keep in touch via social media
YOUR INTERACTIVE WEATHER PAGES
14 Local Maryland Pages (and York PA)
We have made a page for Maryland Weather which gives you the current conditions for 14 present area locations.
Local Hourly Forecasts and Local Radar
Central Maryland
Delmarva
Pennsylvania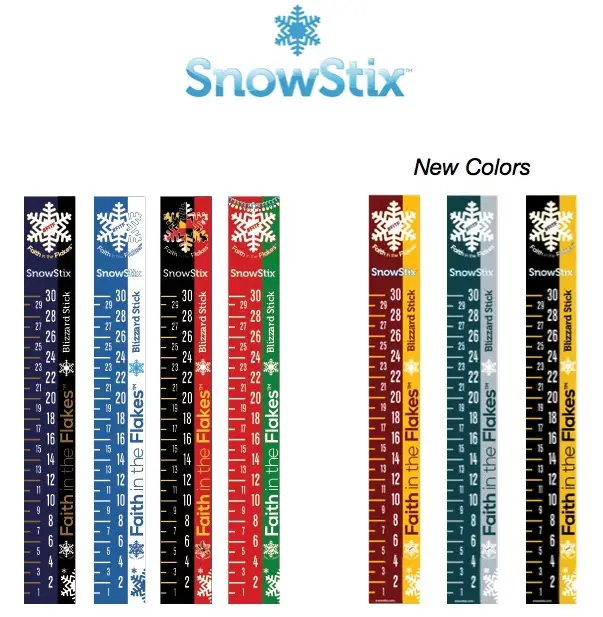 FITF Shop Open
My 'bonus' daughter Jaiden and wife showing off our popular Maryland Hoodies. Unisex and women's items all produced in Maryland.
Click here to see this and many other new items.