Tuesday February 2 2021
It is Groundhog Day and it doesn't matter what Phil says, winter is here now and looks to be sticking around for a while.   We have more snow on the way, and influence from the Polar Vortex as well.
This morning's radar has proved the complicated forecast today.  Narrow bands of moderate to heavy snow have set up. Underneath it a coating to 2 quick inches of snow can fall. But a few miles away may miss out.
Doppler Radar Snow Snapshot  at 6 AM
Some of these areas have had continues snow for a few hours. Even if you missed out, today will bring more that can still reach your area.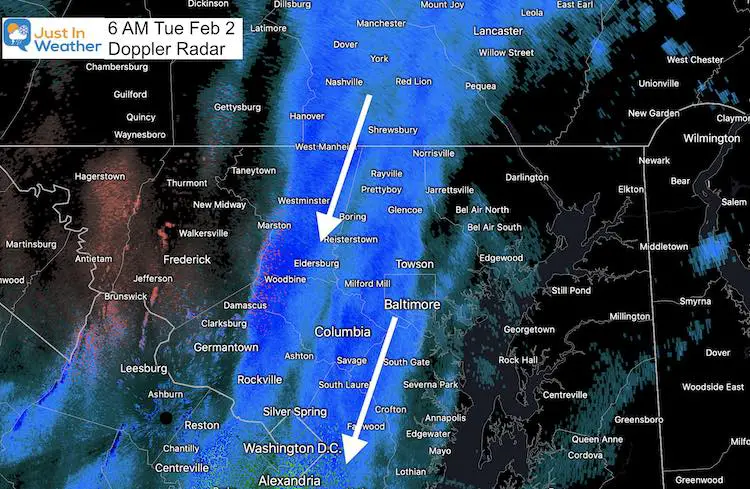 Video: Doppler Radar
Midnight to 5 AM
Watching the evolution of this band helps explain how difficult it is to make a forecast for everyone today.
Watch it evolve and expand, but still over a narrow area. It it can look like a raging storm. Outside, it may appear that the storm is over.
Morning Surface Analysis 
The Coastal Low remains stalled just east of New Jersey. It will continue to drift today. That wind flow around it will continue the banding snow and periods of gusty winds.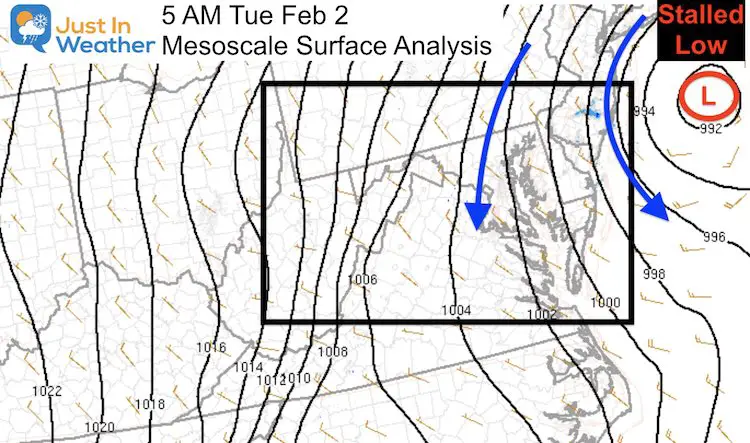 Storm Influence
Snow bands continues from Maine all the way to Virginia around this coastal Low.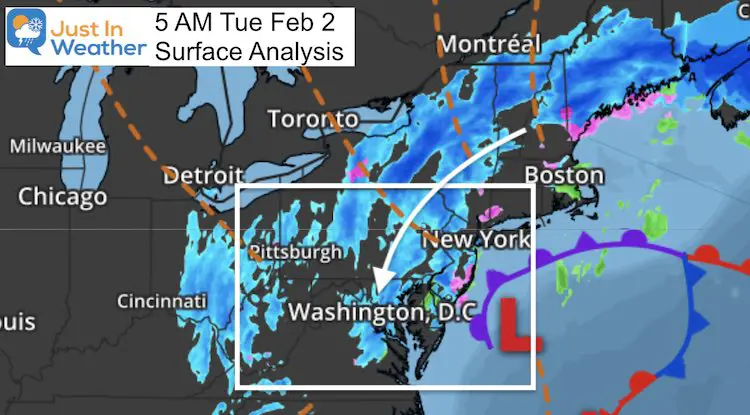 Morning Temperatures 
The Winter Weather Advisory continues with temps near or below freezing, roads are still slick, event where treated.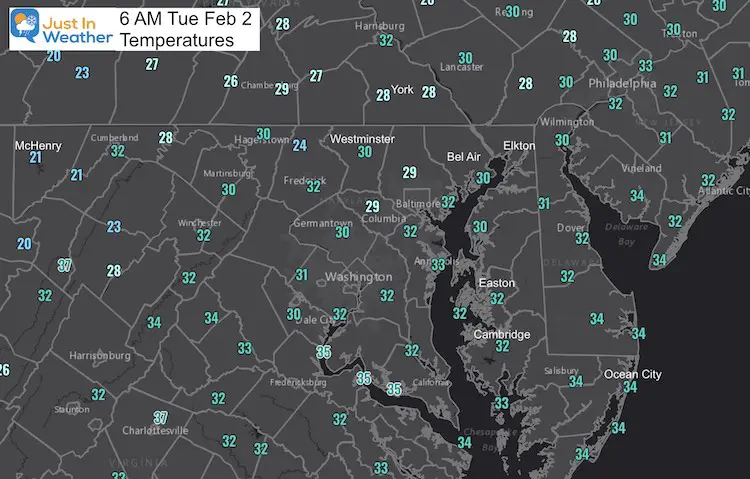 Afternoon Forecast
This is guidance and NOT PERFECT. But we see continues snow bands. This can still produce a coating to 1 inch quickly in the path, where ever they set up.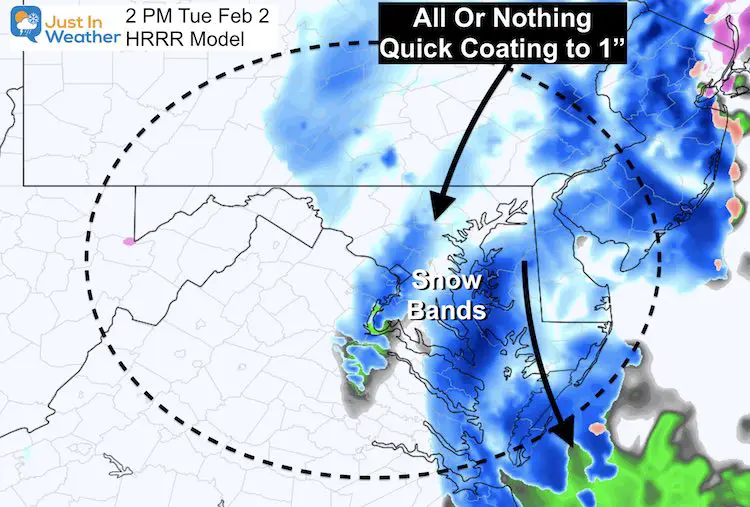 Temperatures will be just above freezing. So a little sun will help to thaw the pavement.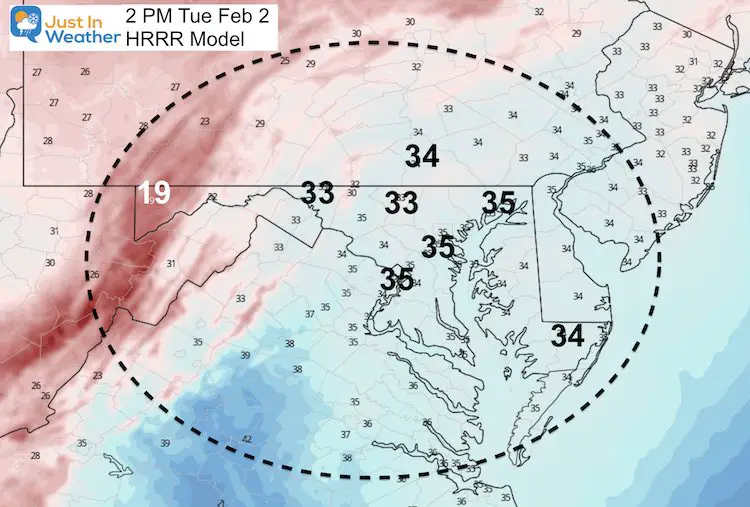 Looking Ahead:
We still may remain under the influence of this storm with snow showers into Wednesday.
An active weather pattern will continue with two more hits of snow: Friday (light) and Sunday (a bigger storm), then The Polar Vortex comes into play.
Friday:
This will be a storm passing through the Great Lakes. It should bring milder air in, but on the leading edge we can get light snow in the morning.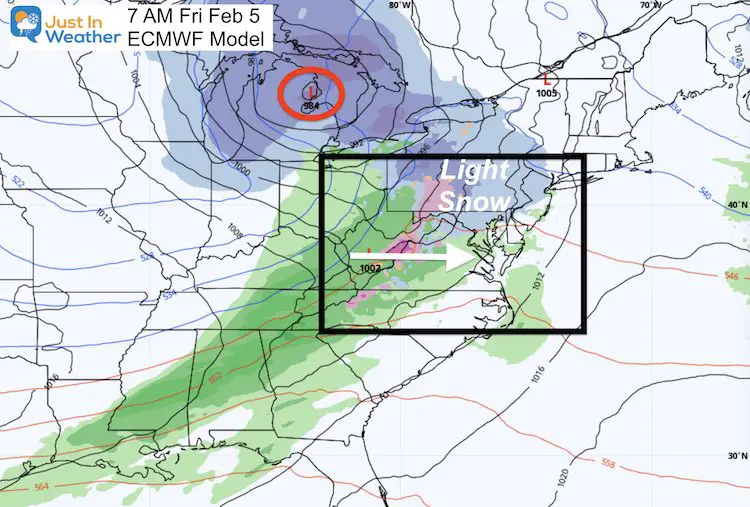 Sunday:
This looks like a Miller A or Gulf to Coastal Storm.  It's a one-part event.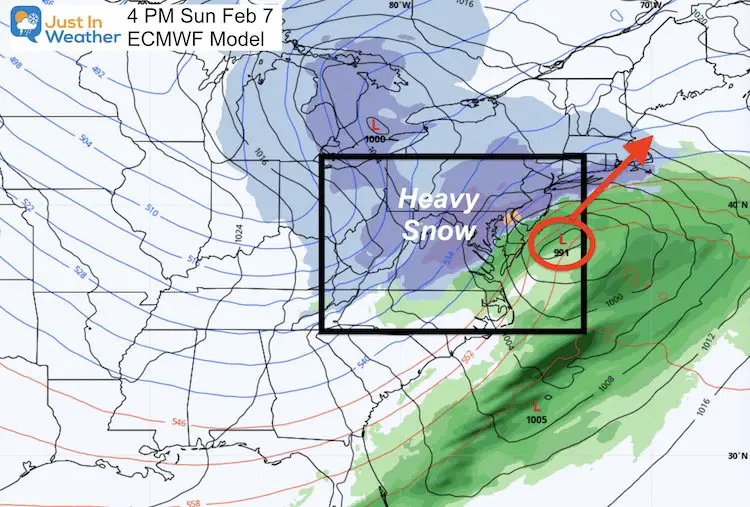 Polar Vortex
This core circulation will remain in Canada, but send a surge of very cold air to follow that storm into next week.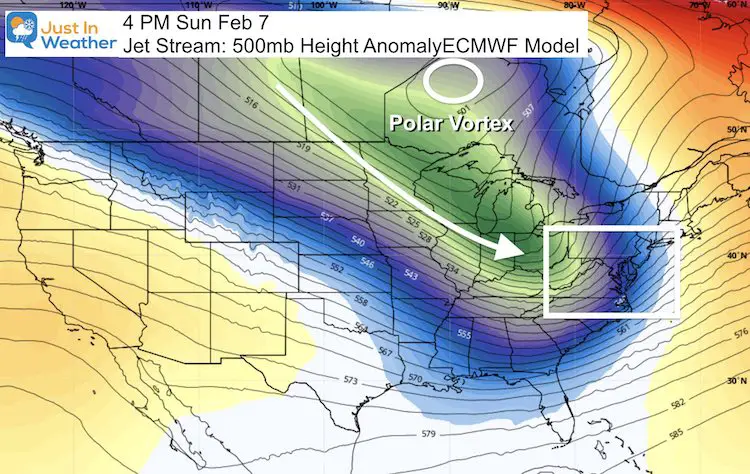 Temperature Outlook
A brief warm up after the Friday morning snow, then the Polar Plunge next week could bring highs only in the teens to lower 20s.  I've seen this product go crazy then pull back a little with long range temps.  So this is subject to change a little.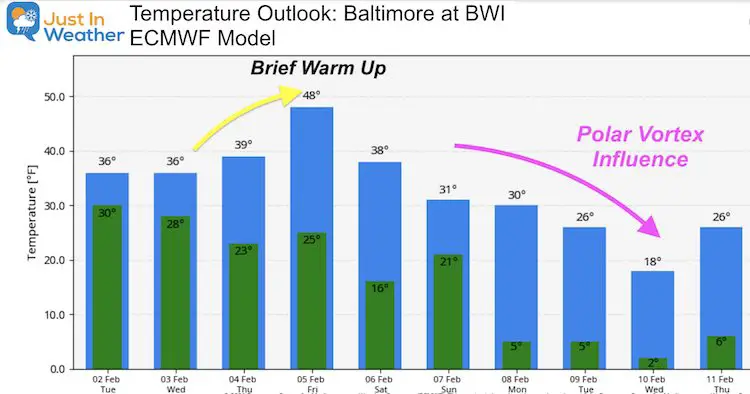 Maryland Weather Page
I wanted to keep it simple. Just the basics for a quick view at any time.
Please share your thoughts, best weather pics/video, or just keep in touch via social media
Winter Weather Resource Pages
Click Here For My Complete Winter Resource Info
YOUR INTERACTIVE WEATHER PAGES
14 Local Maryland Pages (and York PA)
We have made a page for Maryland Weather which gives you the current conditions for 14 present area locations.
Local Hourly Forecasts and Local Radar
Central Maryland
Delmarva
Pennsylvania

FITF Shop Open
My 'bonus' daughter Jaiden and wife showing off our popular Maryland Hoodies. Unisex and women's items all produced in Maryland.
Click here to see this and many other new items.