January 24 2021
The winter event on the way will bring snow, sleet, freezing rain, and rain.  In this post I've included my expected arrival time, a radar simulation slider, Tuesday morning temperatures, and my call for snow and ice.
This will be a classic winter weather system with a slight to moderate impact. The goos news for metro areas is the later arrival. It will start with the frozen stuff for most of us, but the final results will be split across the region.  *The influence of the warmer Bay water and urban areas will make this primarily an evening  and night event along the I-95 and I-70 areas. North of there is where the cold will hang longer with more ice.
Snow/Sleet Arrival Time:
I analyzed all model guidance, and also considered our events in December arrived a little faster.  This is my best call for the start in your area.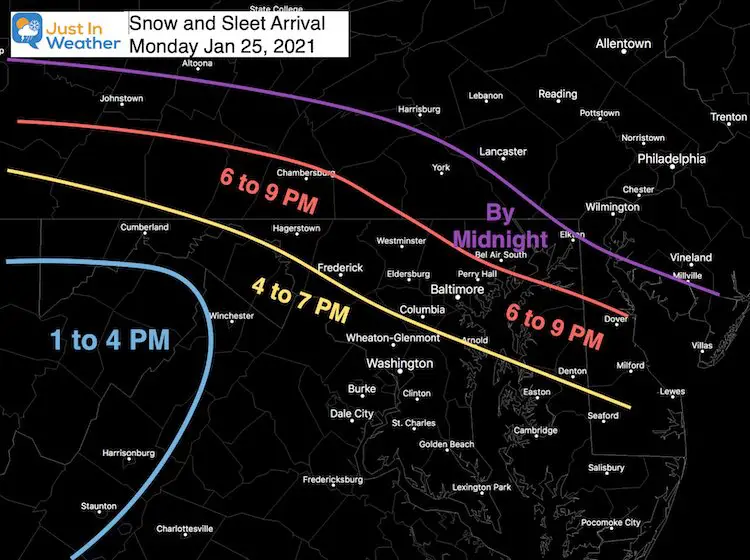 Expectations
A fine line in the north end of the cities and inland regions will hold the cold and likely ice into Tuesday morning.
If we were to rate this on a scale of 1 to 5 with 5 being the strongest, I could call this a 2.
Schools (for those in person): A good chance for a delay due to early Tuesday ice.

 

But any hopes for a closing will be low, and confined to the coldest areas of Northern Maryland into Pennsylvania.
Sunday Evening Set Up
The system in Texas will team up with the cold front in the northern plains. As I mentioned yesterday, it appears the energy may split, leaving us with about half the moisture of earlier expectations.
That still will have an impact, but less intense.  The start will bring a burst of snow and sleet, then widespread freezing rain overnight.
The 'ice storm' areas may end up with 0.10" to 0.25", instead of the 1/2 inch all models showed a few days ago.
Weather Map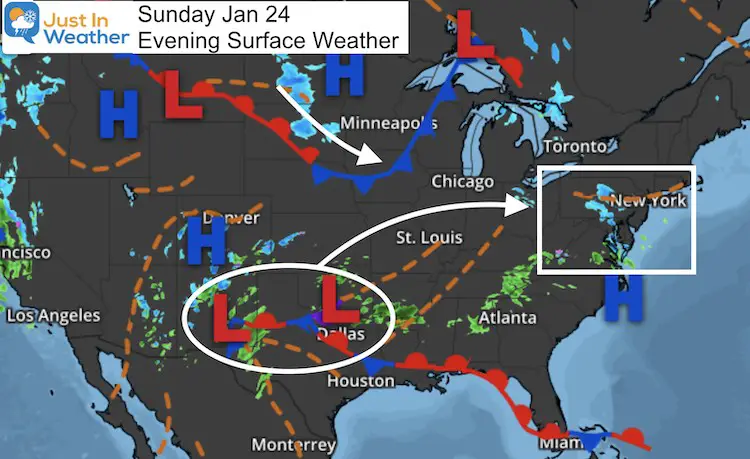 Satellite Loop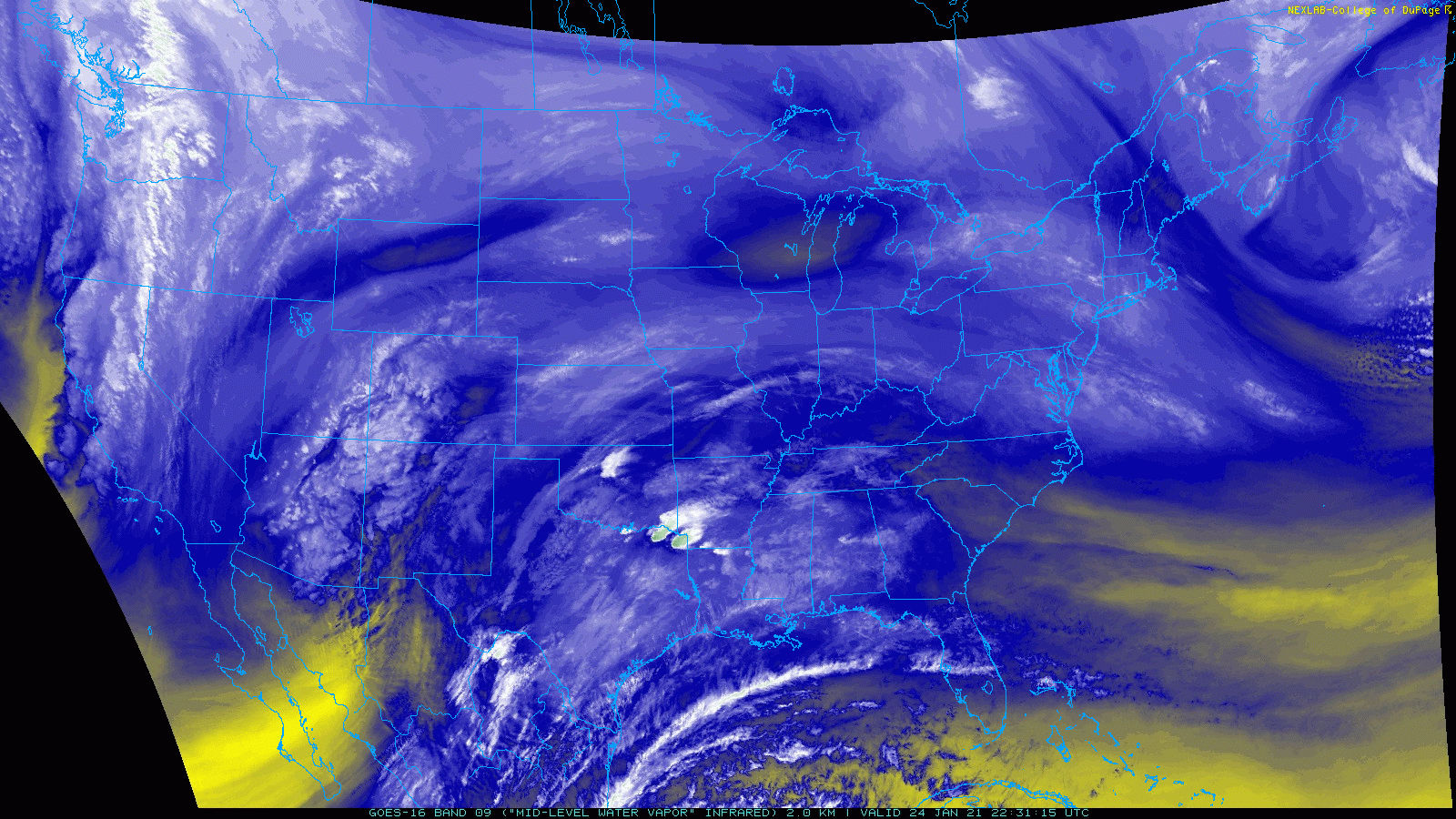 Compare to Forecast Maps Below
Forecast Maps
Radar Simulation —-> slider
This is from the NAM 3 Km Model. It is NOT EXPECTED TO BE PERFECT. This is guidance for how the storm may play out…
Tuesday Early Morning:
Temperatures
Frozen Stuff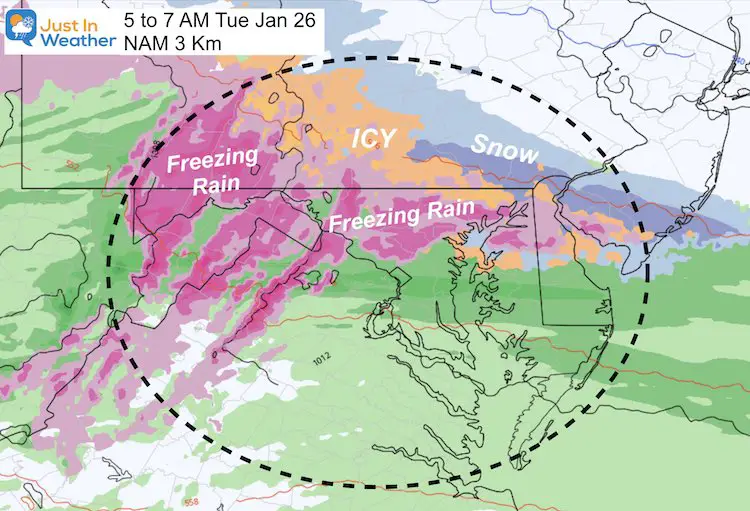 Late Morning 
Temperatures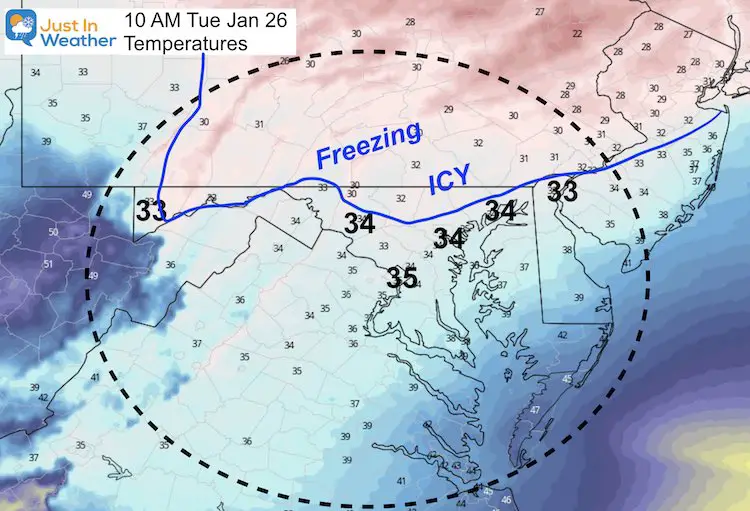 Frozen Stuff
My Call For Snow and Ice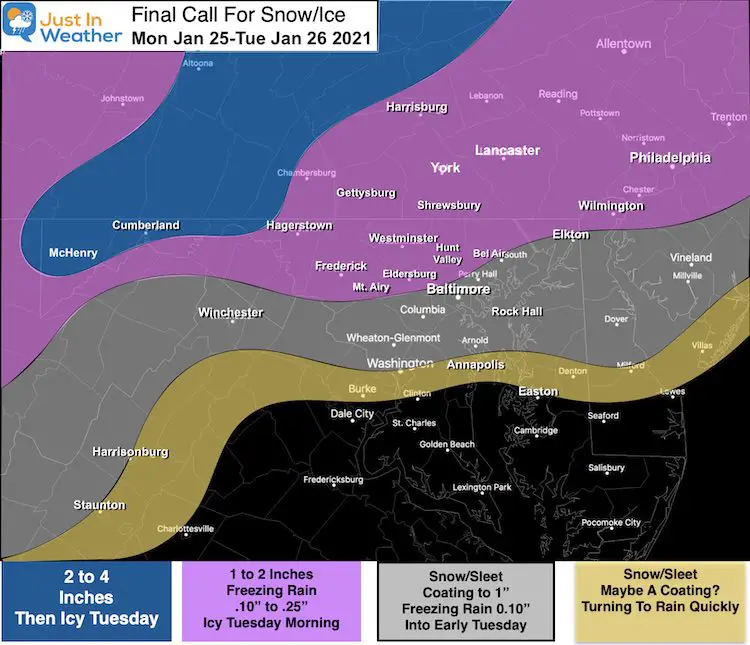 *The Blue 2 to 4 inch snow region may also end up with the most ice. There is a bust potential here if they turn to freezing rain sooner.
Also See:
What About The Thursday Storm?
I saw the latest models pushed the snow south. I am not worried about that. I expect this first storm may kick a little north, and the second one may follow, with a display on the models as this passes through.
We can address that next.
Faith in the Flakes – FITF
Please share your thoughts, best weather pics/video, or just keep in touch via social media
YOUR INTERACTIVE WEATHER PAGES
14 Local Maryland Pages (and York PA)
We have made a page for Maryland Weather which gives you the current conditions for 14 present area locations.
Local Hourly Forecasts and Local Radar
Central Maryland
Delmarva
Pennsylvania

FITF Shop Open
My 'bonus' daughter Jaiden and wife showing off our popular Maryland Hoodies. Unisex and women's items all produced in Maryland.
Click here to see this and many other new items.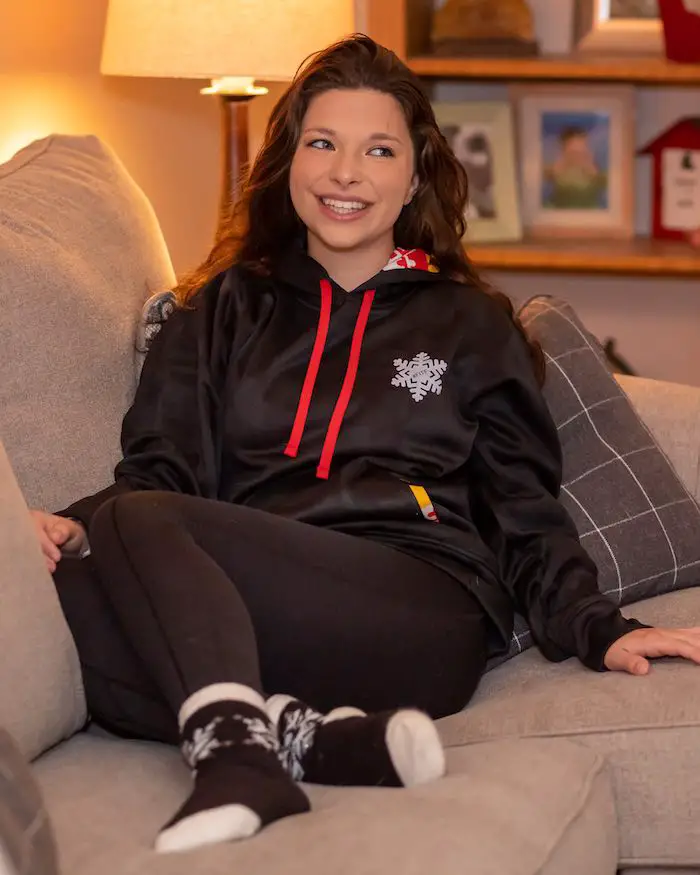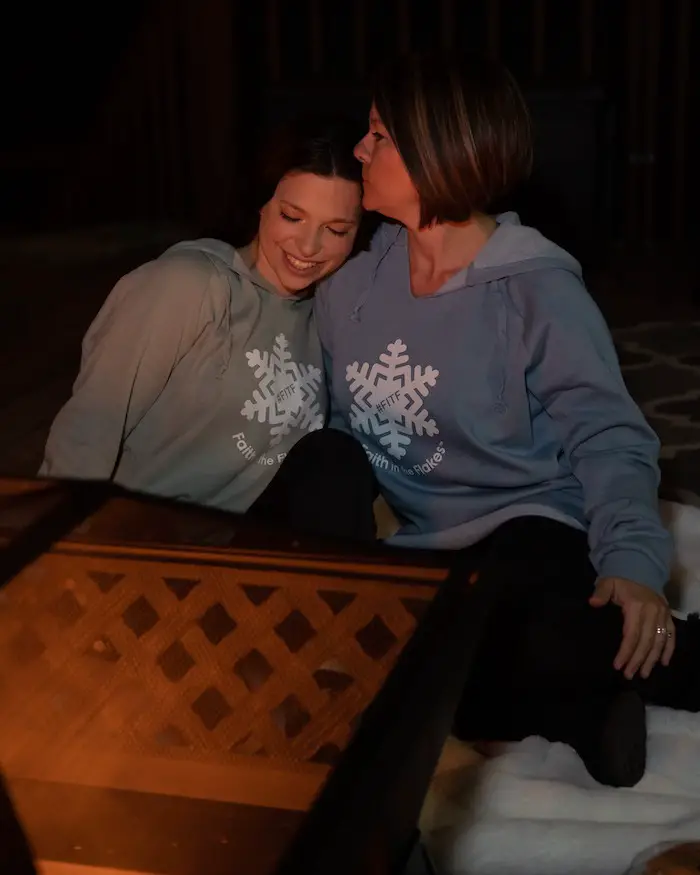 Also see:
Maryland Weather Page
I wanted to keep it simple. Just the basics for a quick view at any time.