Saturday January 16 2021
Today is a special day! It's my older son's birthday. You may remember him as the cofounder of Kid Weather App. Well, today he is 15 years old and 6'1″. His childhood seemed too quick, but he's still my boy that reminds me we are in the second half of winter now. That's also a reminder that our real winter weather often is just beginning.
This first push of cold air is falling flat, but we talked about that already. It will bring in some snow or rain showers later today, and temperatures back too seasonal normal cold.  But, there are two more cold surges from the latest Polar Vortex split that are showing up well on the outlook below.
Morning Surface Weather
This weather system covers a large area, and was rather intense. Heavy rain and snow in moving away into New England. But the Upper Level Low is where the core of this (modified) cold air is located and will swing our way.  That will bring in the snow/rain showers later.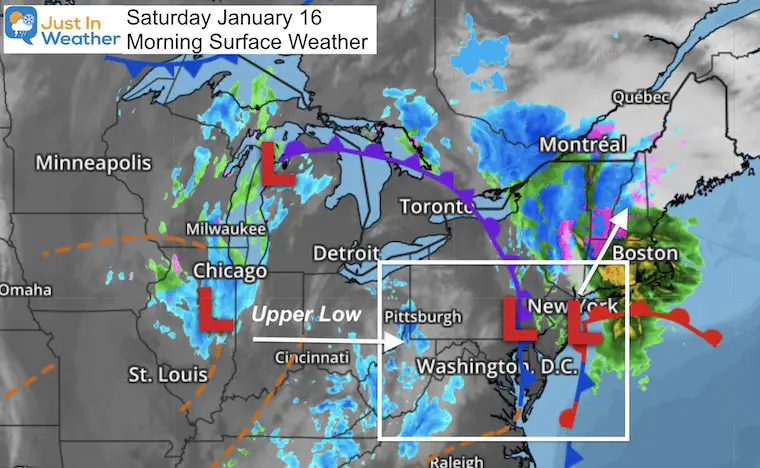 Morning Temperatures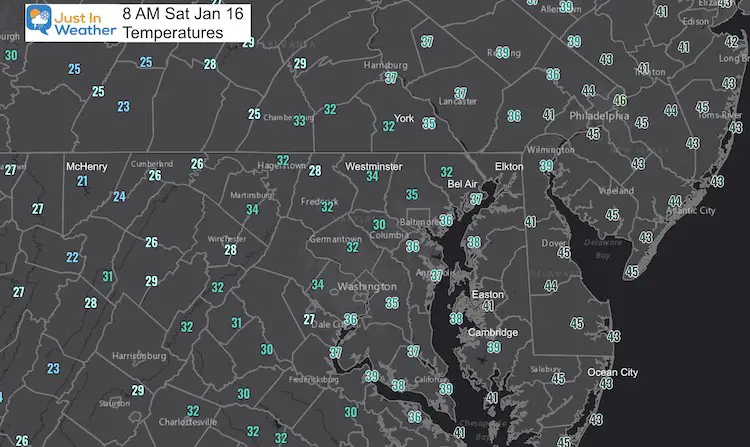 Forecast Snapshot: Central Maryland
Snow or rain showers will be de eloping between 4 PM and 10 PM.

Temperature Forecast
This Afternoon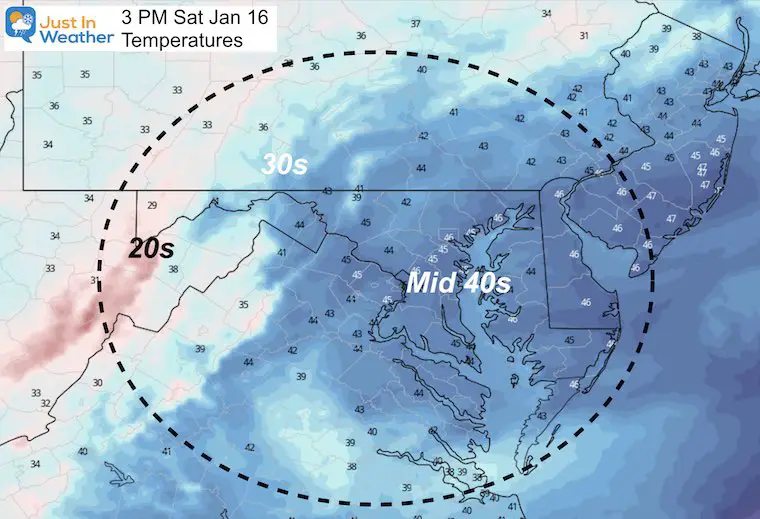 Radar Simulation —> slider
This is not precise, but an idea of the development of showers later today. The air aloft is colder, so there could be more mix or sleet even in areas that remain above freezing.
Western Maryland: In addition to a few inches of snow today, the cold pattern will keep flurries and snow showers across Garrett County and the high mountains for a few more days.
Temperature Forecast Sunday
Morning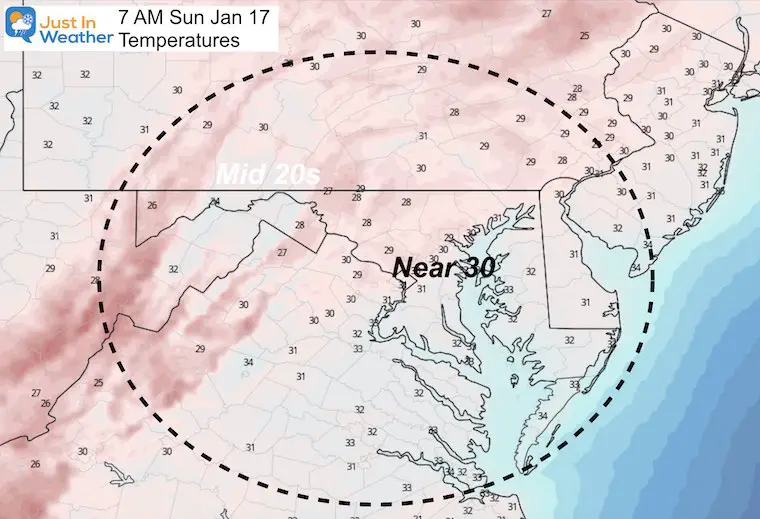 Afternoon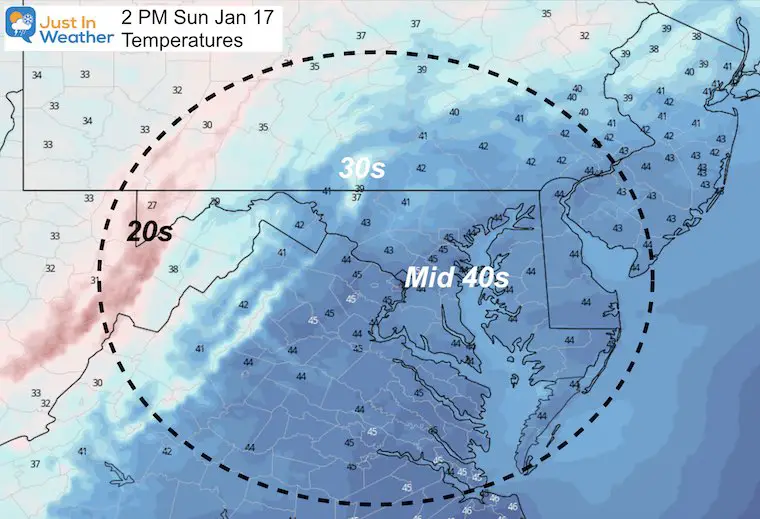 Looking Ahead: 2 Colder Arctic Surges
IT WILL TURN COLDER
I am going to hold off on the Polar Vortex maps for now, but the GFS Model Outlook is displaying the results of the next push of arctic air sliding to the North America.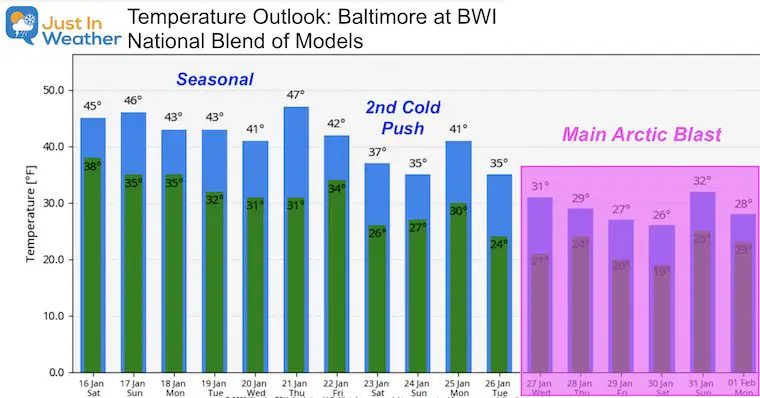 Don't see snow in your long range outlook? Don't worry!
At this point I have seen a potential storm on the GFS or European Model just 8 to 10 days away almost every week since December.  The did not work out as the timing or location was a miss for us.   Now, with nothing organized on the horizon, I think the modeling may be missing something.  I remember a few winters with our 'event's being something that shows up in the short range.
So fellow snow lovers, I am not worried.  We have the cold air on the way. That is the first stage of what we need.
Please share your thoughts, best weather pics/video, or just keep in touch via social media
---
Email Updates
Please make sure you sign up (above or click here to sign up for email alerts…. ) for my newsletter. This way you will get an email to make sure you are notified of each post.
---
YOUR INTERACTIVE WEATHER PAGES
14 Local Maryland Pages (and York PA)
We have made a page for Maryland Weather which gives you the current conditions for 14 present area locations.
Local Hourly Forecasts and Local Radar
Central Maryland
Delmarva
Pennsylvania

FITF Shop Open
My 'bonus' daughter Jaiden and wife showing off our popular Maryland Hoodies. Unisex and women's items all produced in Maryland.
Click here to see this and many other new items.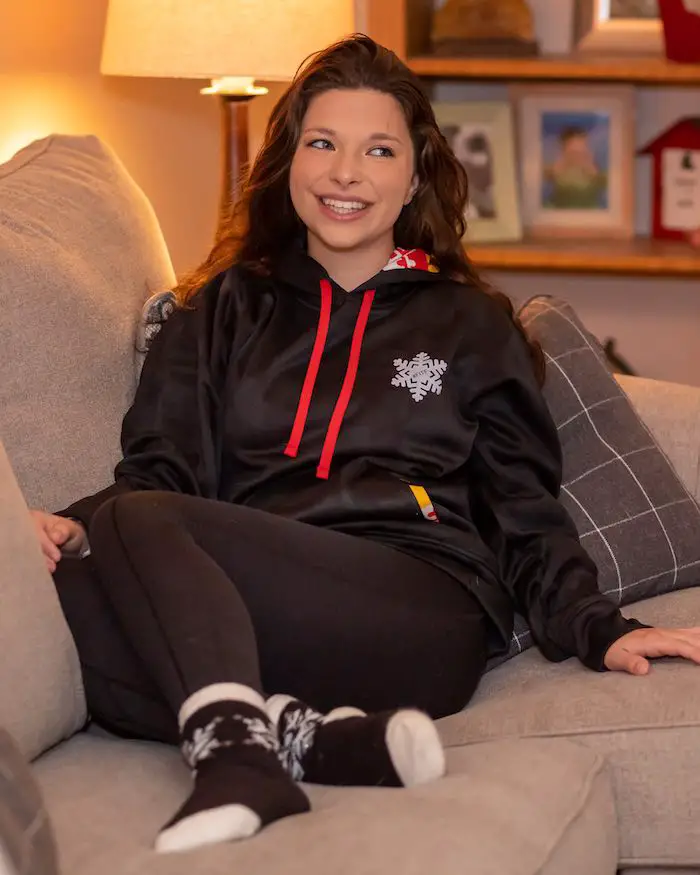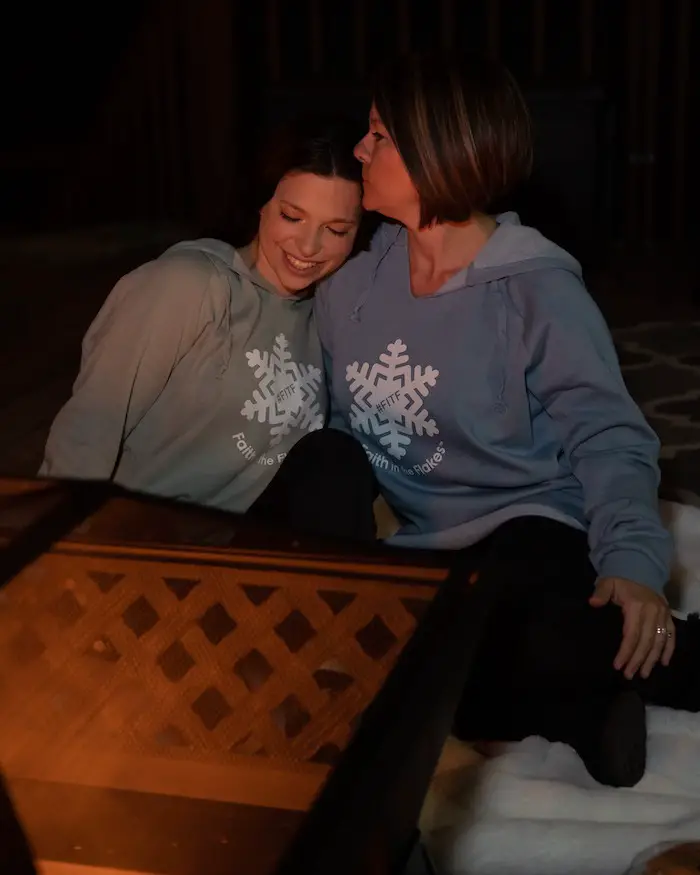 Also see:
Maryland Weather Page
I wanted to keep it simple. Just the basics for a quick view at any time.