Sunday January 10 2021
We have another clear day in the Mid Atlantic to round out the weekend. So for a weather person, if we want any excitement we have two places to look: Snow today in Texas and the arctic air first showing up at the end of the week.
Morning Surface Weather
Clear and quiet weather dominates the eastern US.  Let's take a look at our temperatures, then a quick view of the Texas snow event.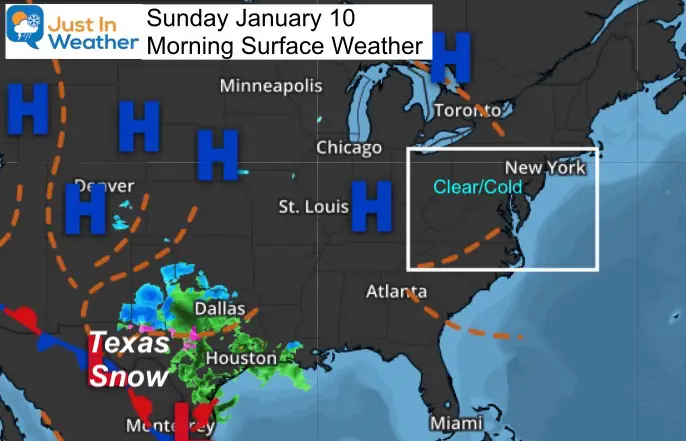 Afternoon Forecast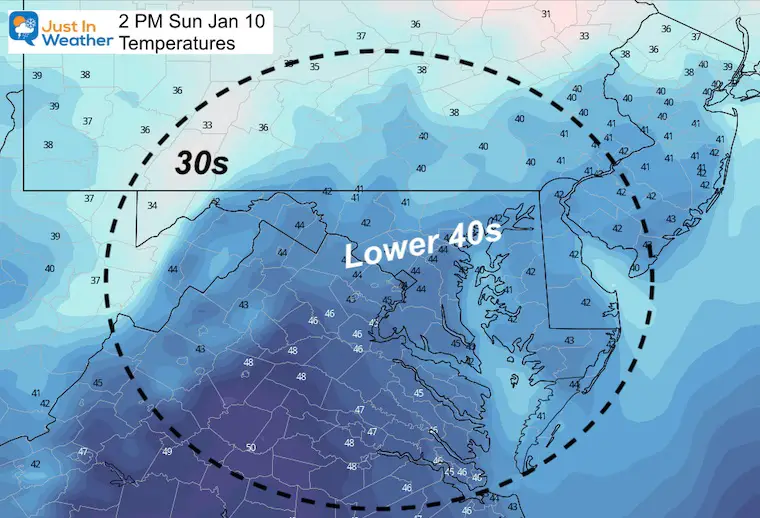 Monday Temperatures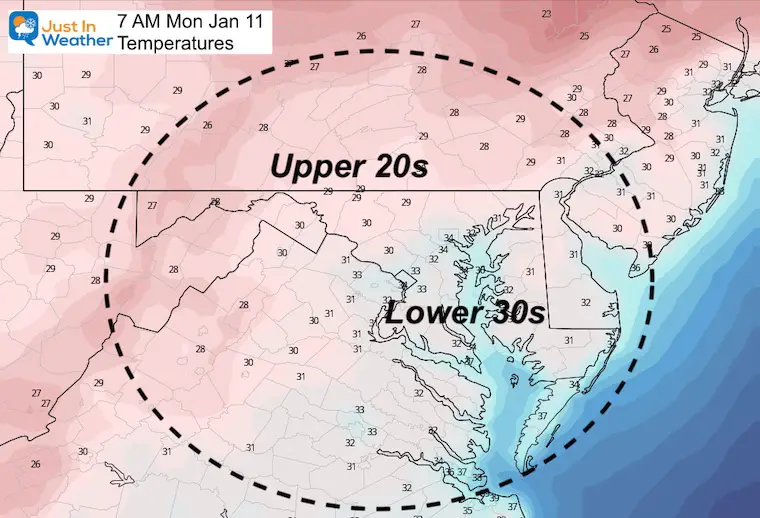 Afternoon Temperatures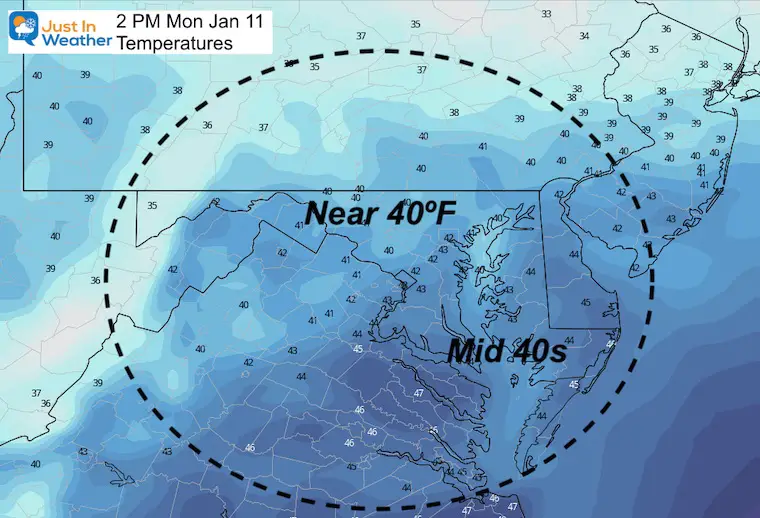 Forecast Snapshot

About that snow in Texas
Here's a fun graphic from NWS Fort Worth. It's fun for them as this is a rare event for that region.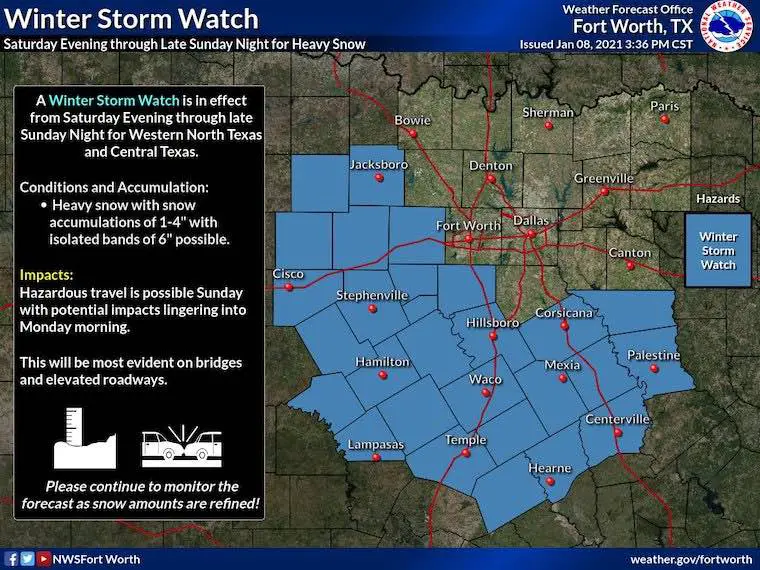 Doppler Radar Snapshot
This was the local Doppler Radar at 9 AM EST/8 AM CST.  Here we see the expanding cold air turning rain to snow across west Central Texas.
This is only a local radar view, so not showing the entire snow field. However, we can see rain about to change over to snow in Waco, TX. Maybe Chip and Joanna will have the cameras rolling at the Magnolia Silos?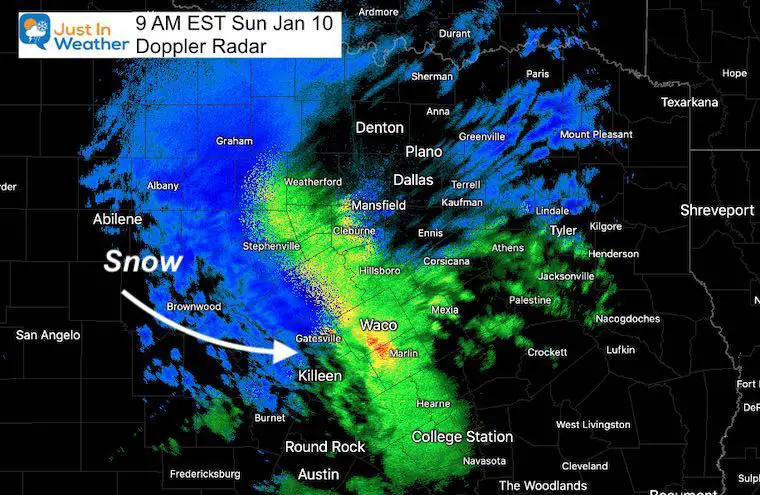 Forecast Snow:
A wide range of 2 to 6 inches is expected through tomorrow morning from central Texas through northern Louisiana and Mississippi.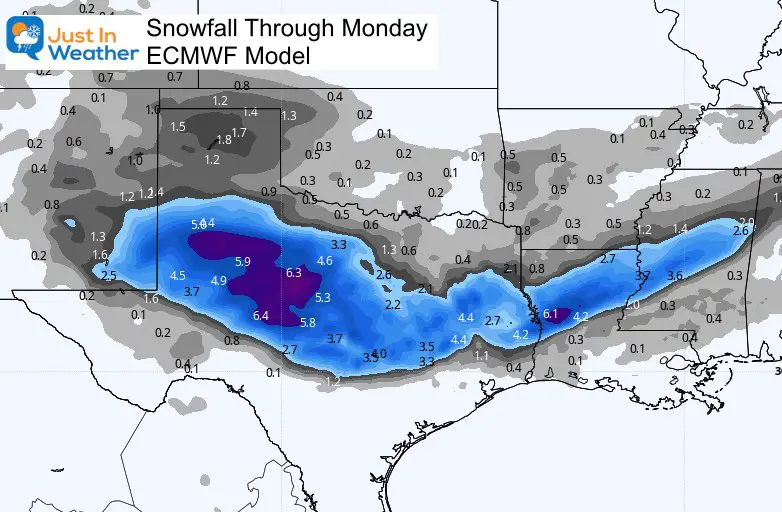 This Storm Shifts East Tomorrow….
and falls apart.
Instead of tightening, this wave opens up and stays to our south. But this should be no surprise if you have been reading my reports for a few days. This was the system that model guidance had as a snow event for us (on Tuesday) a week ago.
We will end of with clouds Monday, then clearing again Tuesday.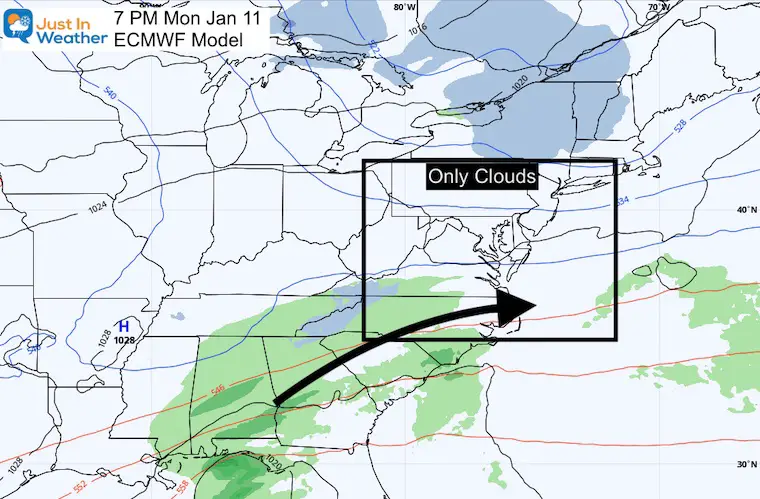 The moral of this story: DO NOT trust any model plots for a storm a week or more ahead of time.  The guidance has not been consistent in this environment.
Will we get snow?  YES!  I truly believe that. I also believe that we may end up with moderate events that models do not put together until a few days out. We have been in this situation before, and it will be hard to convince many until it happens.
What I do see as the best way to look ahead is focus on the pattern changes aloft.
Friday Cold Front
At the end of the work week, a cold front will arrive. This does not show a lot of moisture at this time, but that is not the point to focus on here.  This is the leading edge of the first push of arctic air.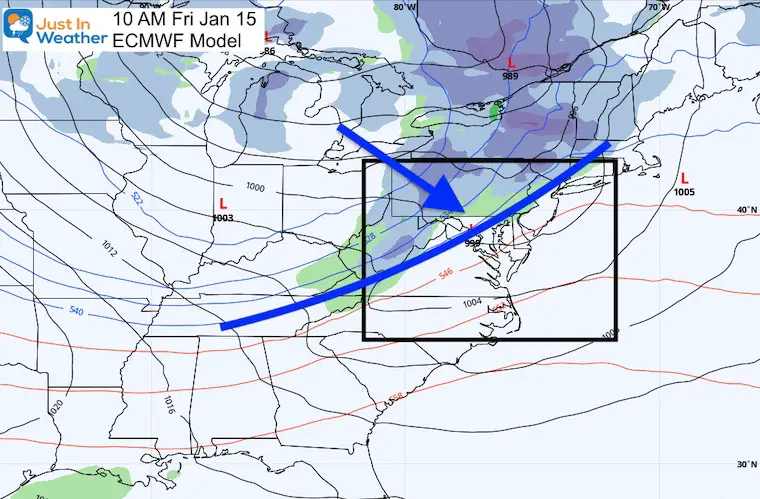 Jet Stream:
Here is a look at the upper level Low in Canada sending this deep trough our way behind that cold front.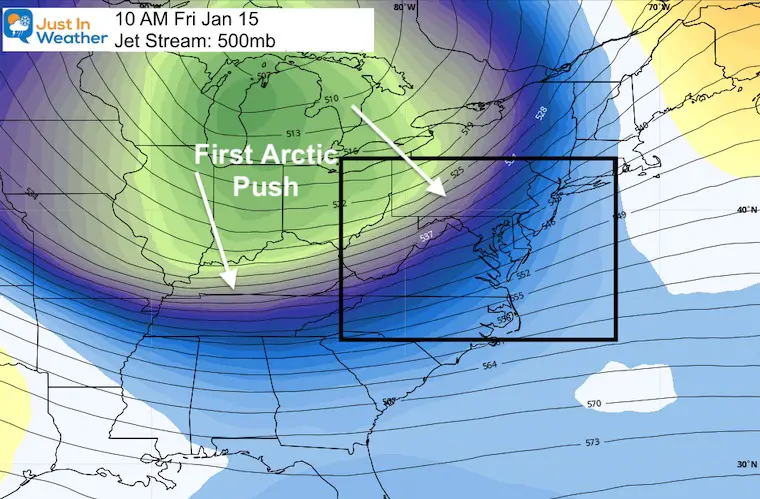 Temperature Sampling
The core of cold air often arrives a day or two after the initial push/cold front.  We will begin to see the influence of that arctic air during the weekend.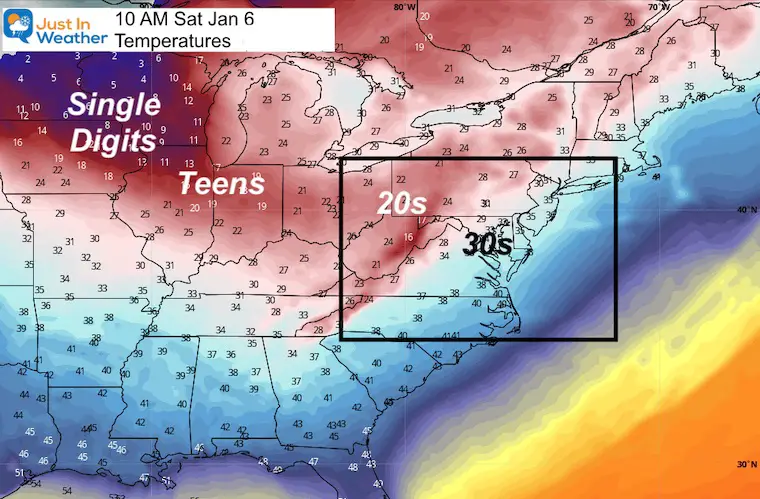 Temperature Outlook
If you have been keeping track, this product continues to adjust the depth of cold air. There are some conflicting projections of where the core of arctic air will go with the Polar Vortex disruption.  I will address those in a later report.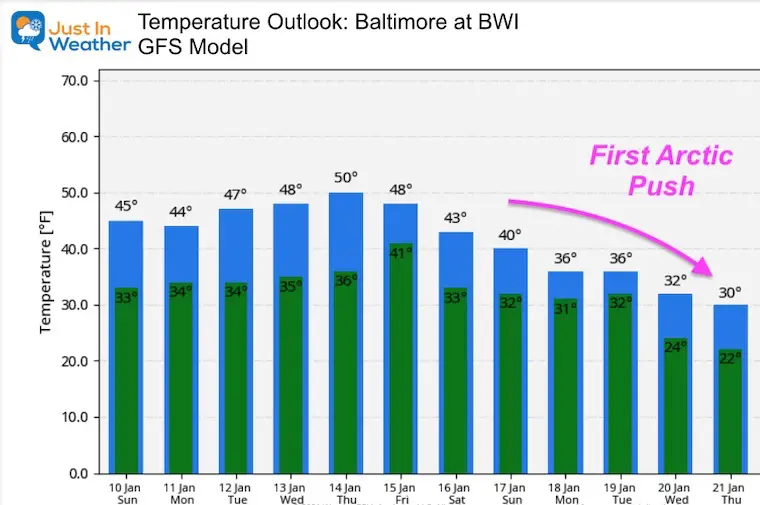 Will this bring snow?
I do expect Lake Effect Snow to send us snow showers and flurries east of the mountains.  But for anything of substance, the first hint Monday (a week from tomorrow).  Only light snow on this extended plot.
Reminder: I do not have confidence in surface plots this far out. But I am showing you just for some reference point.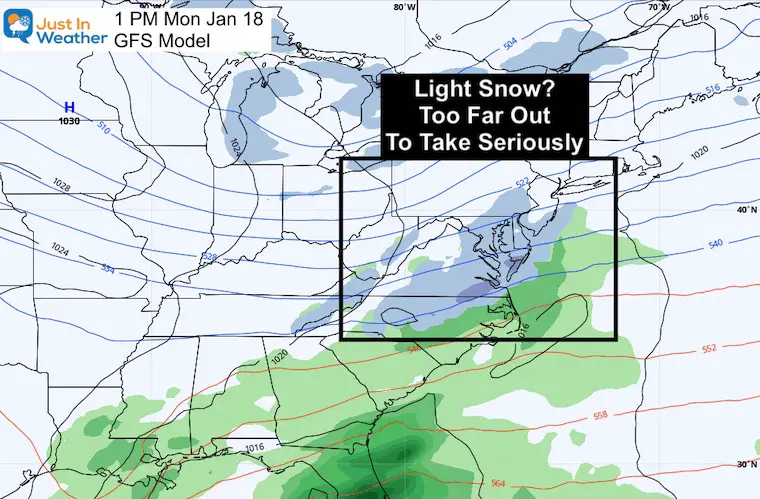 Also see:

YOUR INTERACTIVE WEATHER PAGES
14 Local Maryland Pages (and York PA)
We have made a page for Maryland Weather which gives you the current conditions for 14 present area locations.
Local Hourly Forecasts and Local Radar
Central Maryland
Delmarva
Pennsylvania

FITF Shop Open
My 'bonus' daughter Jaiden and wife showing off our popular Maryland Hoodies. Unisex and women's items all produced in Maryland.
Click here to see this and many other new items.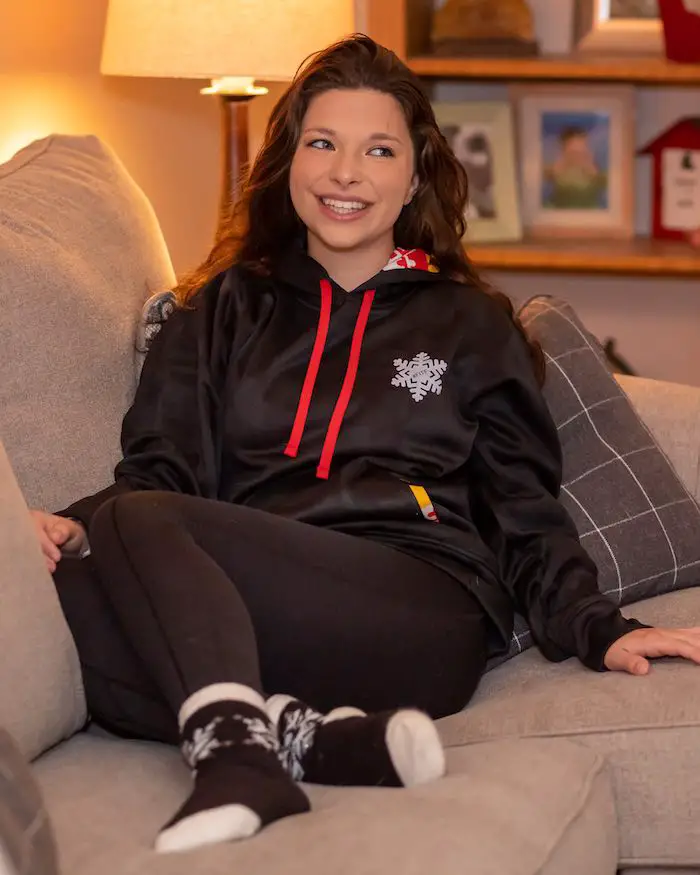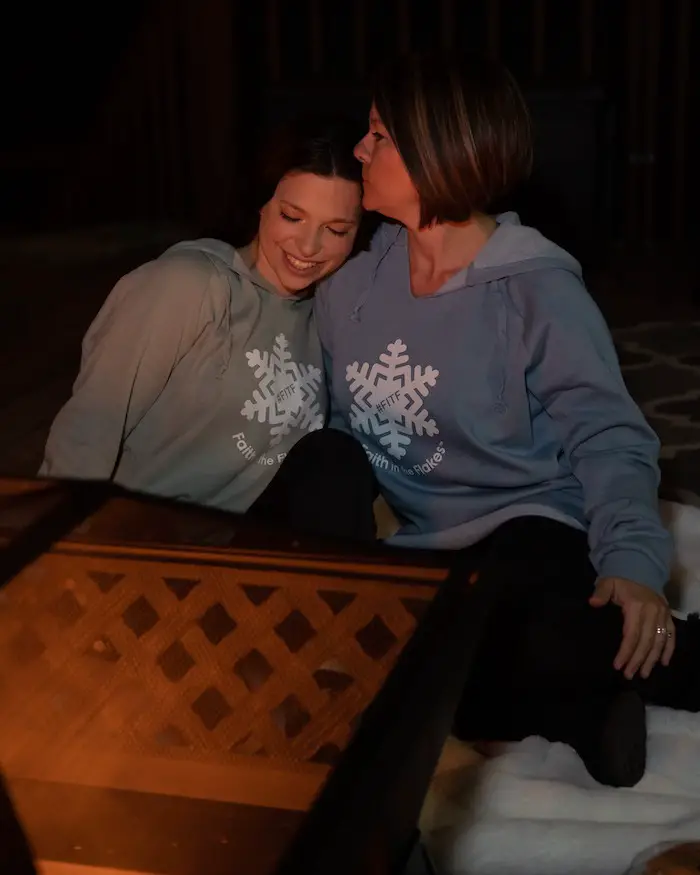 Also see:
Maryland Weather Page
I wanted to keep it simple. Just the basics for a quick view at any time.
Please share your thoughts, best weather pics/video, or just keep in touch via social media
---
Email Updates
Please make sure you sign up (above or click here to sign up for email alerts…. ) for my newsletter. This way you will get an email to make sure you are notified of each post.
---
Just In Power Kids:
A portion of proceeds go to our programs Providing FREE holistic care for kids in cancer treatment and up to 5 years post treatment and caregivers.
New Caps and Hats