Sunday January 10 2021
Just as we cleared out the sky, these long dark nights have proven to be eventful in our region. Fireballs can be anything from dust to small rocks from old comets, or even debris from old satellites. This past weekend showed the most activity since 5 fireballs in the first 5 days of October were seen and recorded locally.
I received two separate messages about the first incidents early Saturday. So, I checked in with the American Meteor Society and found at least three different fireballs that were plotted. I say 'at least' because there are other pending reports that have not been certified.
Here is a look the three reports, with the second having the most views and two videos to support it. Did you see them or hear about them?
It's important to note that timing plays a role in witness accounts. So events in the wee hours of the morning, might be just as substantial, but have less eyeballs on them.
Fireball 1 at Saturday January 9 4:59 AM EST
The triangulation of reports shows this was likely over OBX and moved from SW to NE.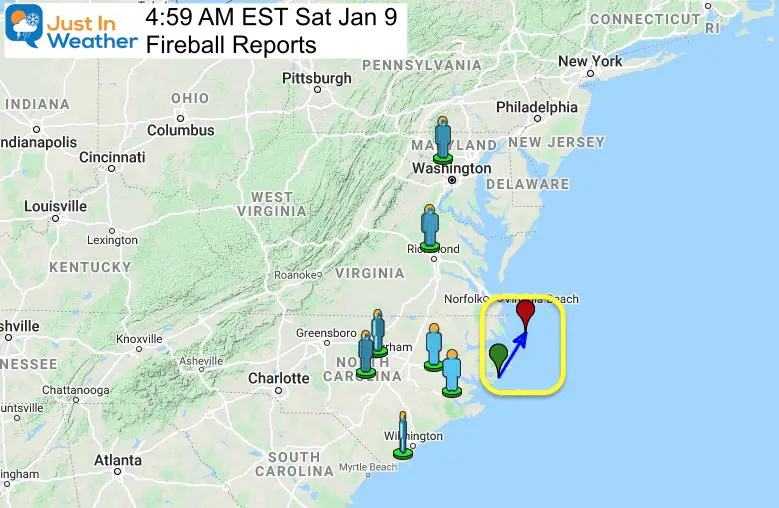 This matches both reports I received:
Message Sent To Me From Christopher Matz on Saturday:
"At 0459 this morning I was just before Manchester headed south. Off to the west not quite Westmnister I saw something come into the sky and left a green trail behind it. It moved west to east. It was really neat. Wondering if anyone else contacted you about seeing it? "
Message From Patrick Johnson Saturday Morning:
"Probably a meteorite or something but the way stuff has been going who knows. Was just driving and outta no where I see a big green ball looking thing in the sky with a long trail. Looked like flames but again it didn't."
No time was given, but he sent that at 5:59 AM, and hour after the event.
Fireball 2 at Saturday January 9 11:17 PM EST
The was plotted to show this in Virginia north of Richmond. It was traveling from E to W.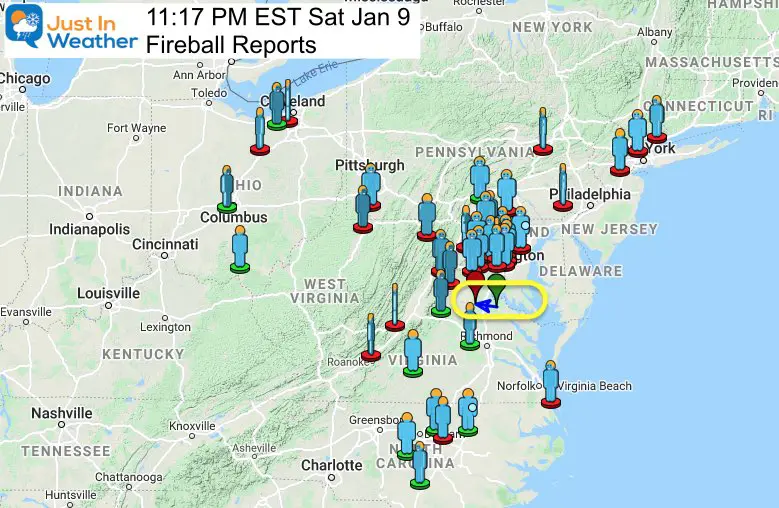 Close look at this high viewed event, shows it was likely over Fredericksburg, but most people who saw this were around Washington DC.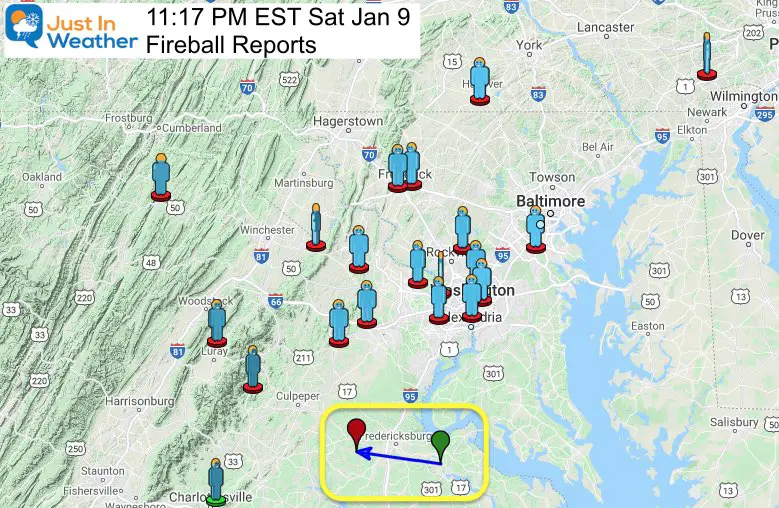 Videos:
Fireball Video 1
Source: Timothy Bruno and The American Meteor Society
Location: Leesburg, VA
Look in the upper right by the edge of the house:
His Notes:
I did not personally observe this meteor, as I was inside at the time, thus I do not know if there were any sounds, exact brightness, color, trail, etc. I saw reports on Twitter, pulled up my camera, as it is facing to the ESE, and noticed it caught the meteor.
All observations are based on the location of the camera, and the approximate direction it looks in/altitudes compared to a daylight shot from earlier in the day.
The meteor first appears at 23:18:21 EST and disappears at 23:18:23 EST. I do not know if it was visible before/after that, as there are tree branches and a deck in the line of sight that could have obscured the view.
Fireball Video 2
Source: Robin Bell and American Meteor Society
Location: Hanover, PA.
Notes: There was a sparkling trail behind it which doesn't show in the video. Video is from my dashcam.




Fireball 3 at Sunday January 10 12:59 AM EST
This lesser viewed event was just about an hour and a half later, and to our north.
This is plotted to have fallen over northeastern PA north of Scranton, south of Binghamton NY.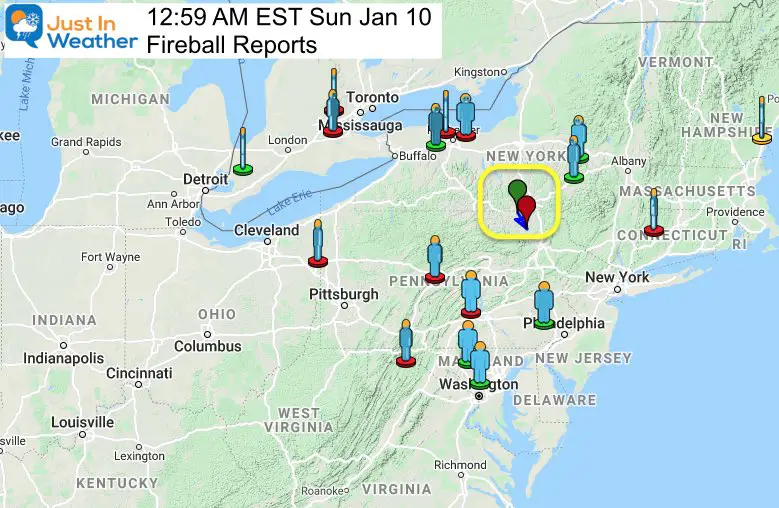 Fireball Reports
You can read all the reports and when the time is right, submit your own to the American Meteor Society. When my website gets rebuilt in the next few months, there will be an easy report submission form on my site that will go to them.
Also See:

Help Solve The Mystery
UFO, Meteor, Or Something Else Caught On Cam In Owings Mills MD This Week?
Please share your thoughts, best weather pics/video, or just keep in touch via social media
YOUR INTERACTIVE WEATHER PAGES
14 Local Maryland Pages (and York PA)
We have made a page for Maryland Weather which gives you the current conditions for 14 present area locations.
Local Hourly Forecasts and Local Radar
Central Maryland
Delmarva
Pennsylvania

FITF Shop Open
My 'bonus' daughter Jaiden and wife showing off our popular Maryland Hoodies. Unisex and women's items all produced in Maryland.
Click here to see this and many other new items.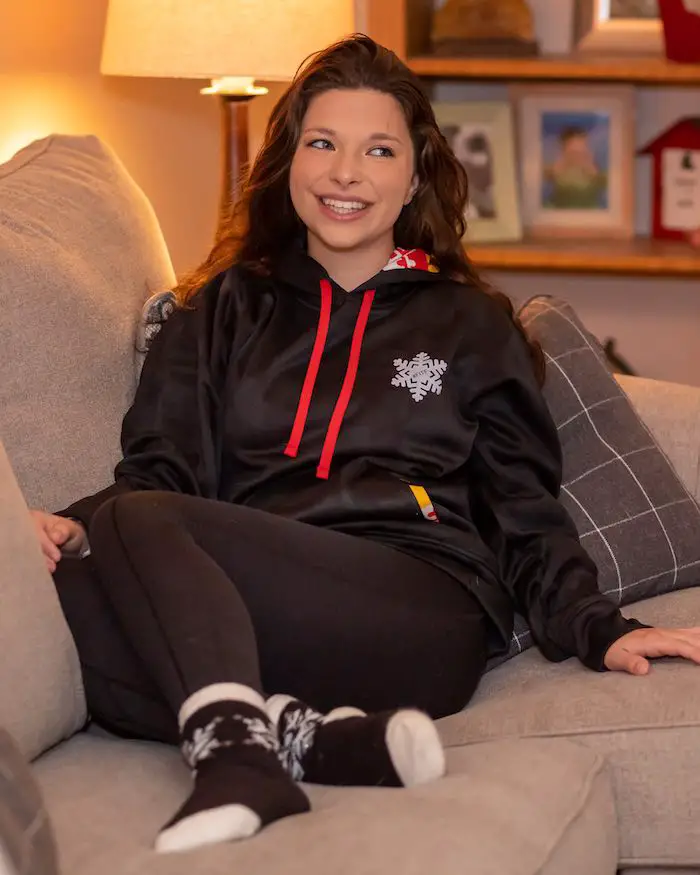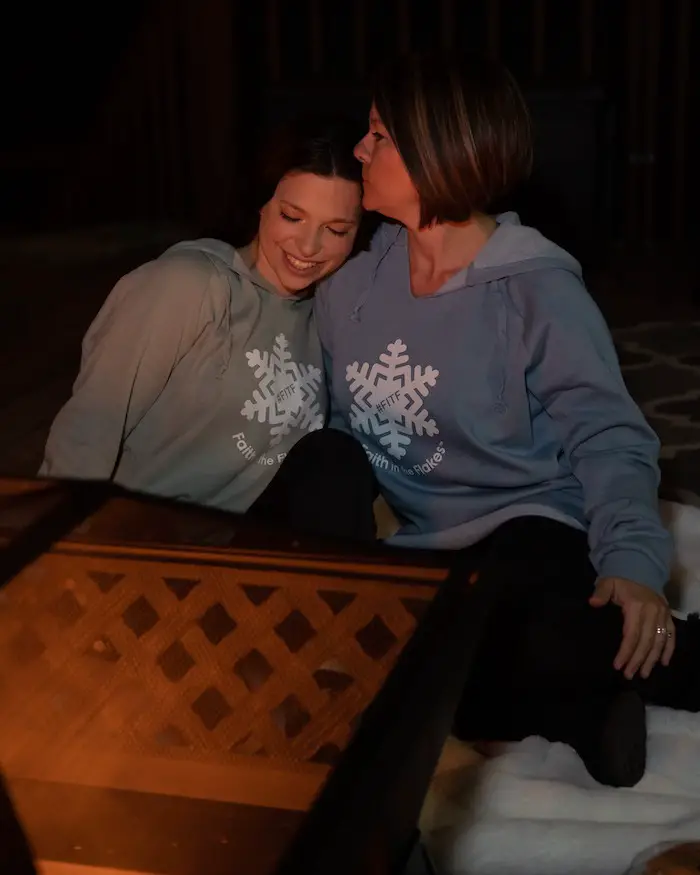 Also see:
Maryland Weather Page
I wanted to keep it simple. Just the basics for a quick view at any time.
---
Just In Power Kids:
A portion of proceeds go to our programs Providing FREE holistic care for kids in cancer treatment and up to 5 years post treatment and caregivers.
New Caps and Hats