December 24 2020
It's Christmas Eve and the storm is on our doorstep.  The expectations have increased for some of the severe weather parameters that may take away from the holiday joy. If you have decorations outside your home, you might want check how secure they are or take them down.
The Wind Advisory has been expanded west to include Baltimore and all counties in central Maryland touching the west side of the Bay. This is for winds gusts over 50 mph, and on top of the Flash Flood Watch. So soggy ground plus the high winds and even severe thunderstorms risk will last until just after midnight. Then, it gets colder and we watch for Christmas Day snow showers.
This report will first address the elements of Warnings and Alerts. Then a look at this morning weather, rain and temperatures timeline.
Christmas Day Storm Warnings And Alerts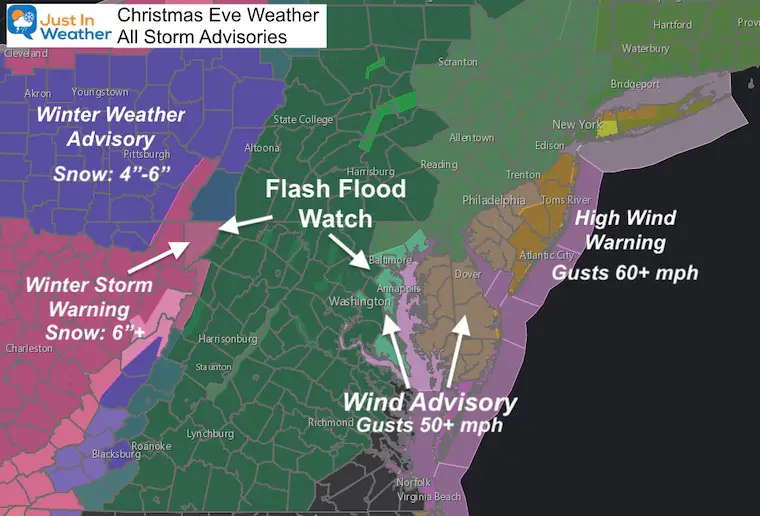 Quick Central Maryland Forecast Snapshot
This is a sample for central Maryland in Carroll County.  Please click the image for the full Maryland Weather page and see what our app shows for your location.

Wind Forecast
Forecast wind gusts over 50 mph possible for all areas just east of the front range/Catoctin Ridge to the coast.
Over 60 mph along the immediate Atlantic coastline.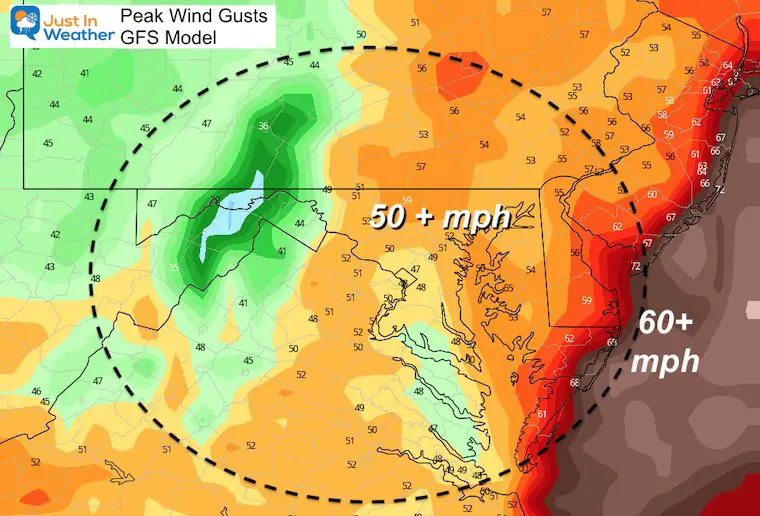 Rain/Flooding Forecast
Large area over 1 and 2 inches of rain. However, there will be a 'hole' or lull zone even in areas that get strong winds.
Snow Pack And Melt: Even if you do not have snow, there are many inland locations that do. This includes blocking storm drains, and ground coverage that will be melting. This will add additional water that needs to drain out to the Bay and Atlantic.  That will increase the high water on water ways.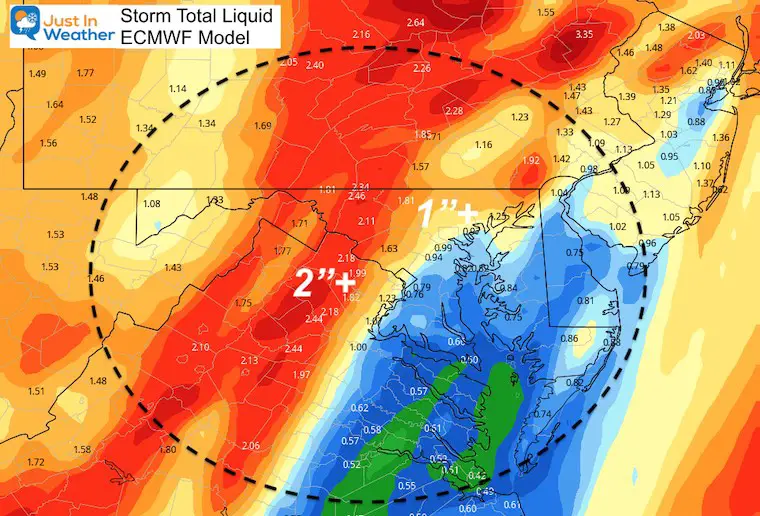 Severe Storm Risk
We may have several rounds of potential storms that could prompt warnings during the afternoon and evening.  These may include damaging winds on top of the widespread gusts and isolated tornadoes.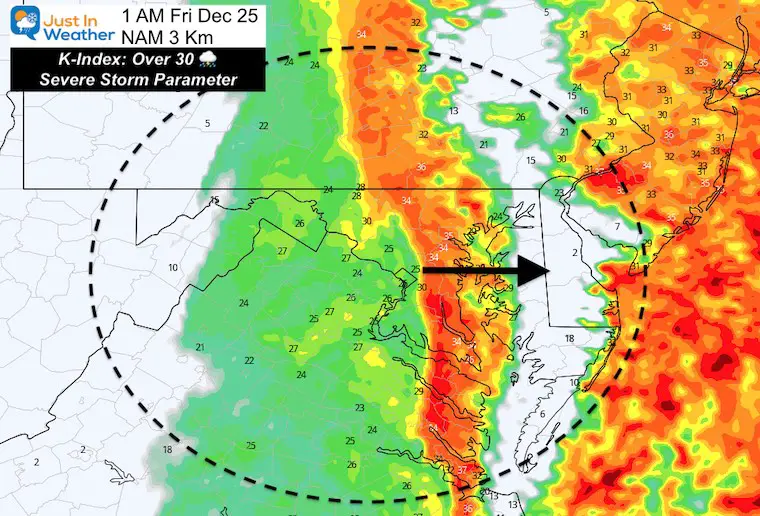 Snow Expectations
This NOAA Forecast now supports what I have been showing over the past few days: At least a little snow across Maryland west of the Bay.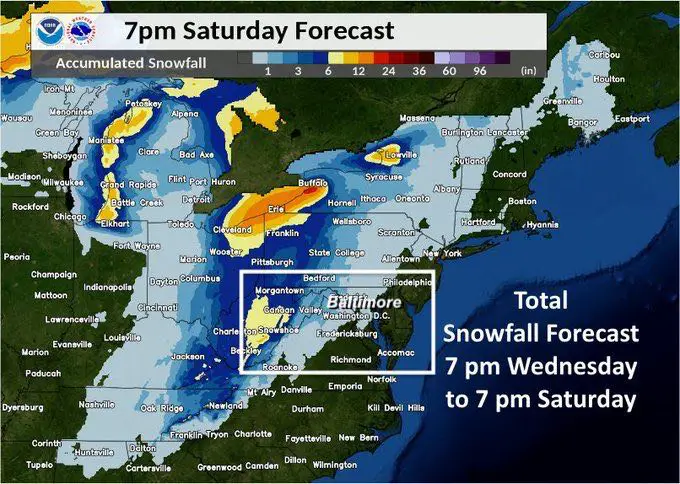 Snow Forecast GFS Model: 
This is for potential with snow showers and squalls.  There has been a pronounced push for snow across southern Maryland on Friday that may coat the ground there.
Heavy snow may reach up to 8 inches in Garrett County MD and this high mountains of West Virginia.
Additional snowfall shows up across the map into Baltimore suburbs and even Southern Maryland.
This is the 'hint' that supports the Max I have been showing the past few nights.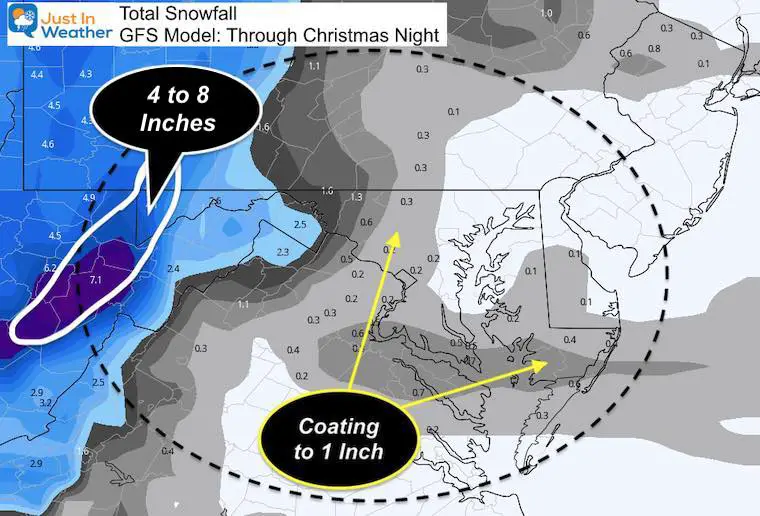 Storm Set Up
The arctic front has been forecast for a week, but the timing and impact has changed a little.
Why? Because of that area of Low Pressure riding along the front. This is the main reason for delaying the arrival time, and where to focus the rwin vs. snow.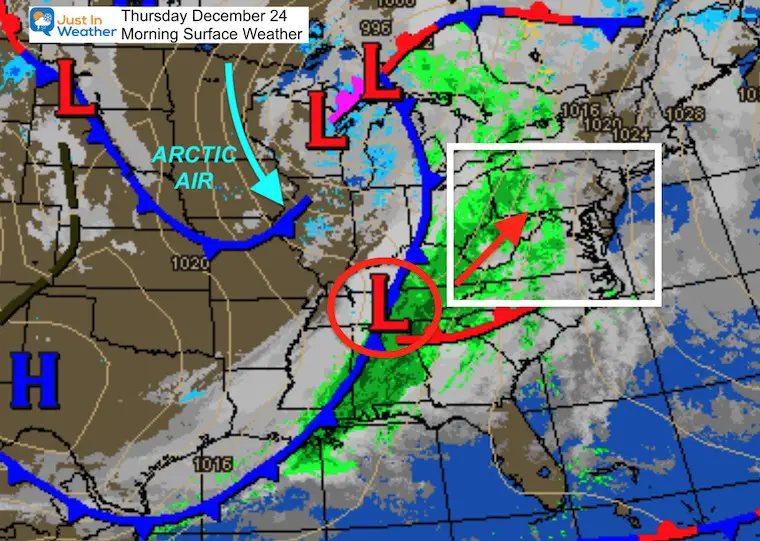 Evening Forecast Map
That Low Pressure formed sooner and farther north. That allows it reach western Maryland this evening. That timing keeps most of us on the warmer side, then bringing in the cold air after it passes.  Western Maryland will get in on the heavy snow tonight. We will get snow showers and squalls in the cold core air Christmas Day.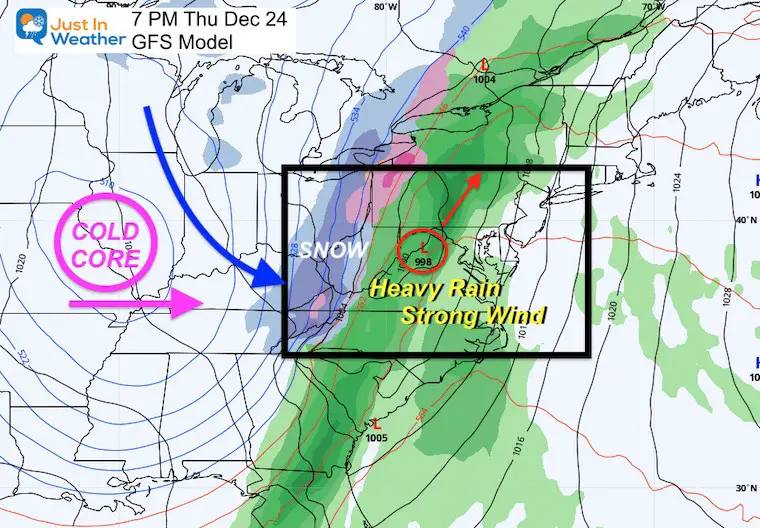 Temperatures: This Morning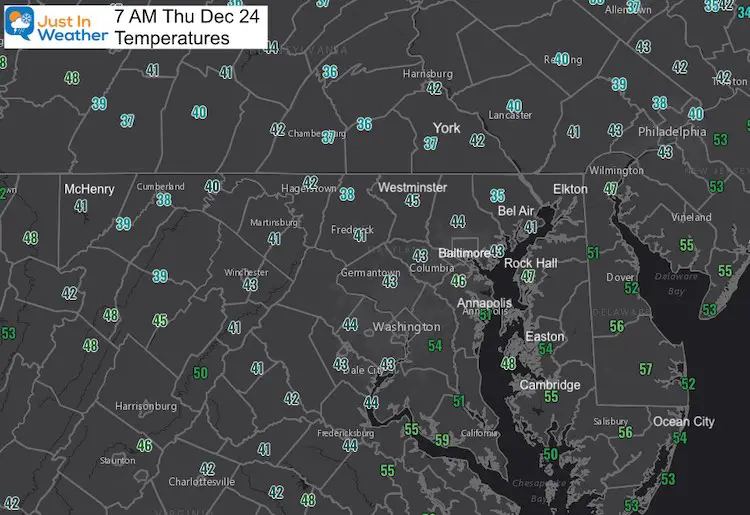 Temperature Timeline
The sharp contrast of air masses is the reason for this severe weather.
Christmas Eve Night: 60s in central Maryland and Delmarva.
Christmas Morning: Freezing Line crosses metro Baltimore before sunrise.
(Possible Flash Freeze)
Christmas Afternoon: Most of the state will be below freezing! 20s and Teens inland.
—-> slider
Radar Simulation —> slider
Heaviest Rain: 5 PM Thursday to 2 AM Friday
Watch the heavier bands of rain (yellow/orange) slowly move east.  Then the transition to icy mix (pink) and snow (blue) arriving in the mountains by midnight.
Live Radar Widget
YOUR INTERACTIVE WEATHER PAGES
14 Local Maryland Pages (and York PA)
We have made a page for Maryland Weather which gives you the current conditions for 14 present area locations.
Local Hourly Forecasts and Local Radar
Central Maryland
Delmarva
Pennsylvania

FITF Shop Open
My 'bonus' daughter Jaiden and wife showing off our popular Maryland Hoodies. Unisex and women's items all produced in Maryland.
Click here to see this and many other new items.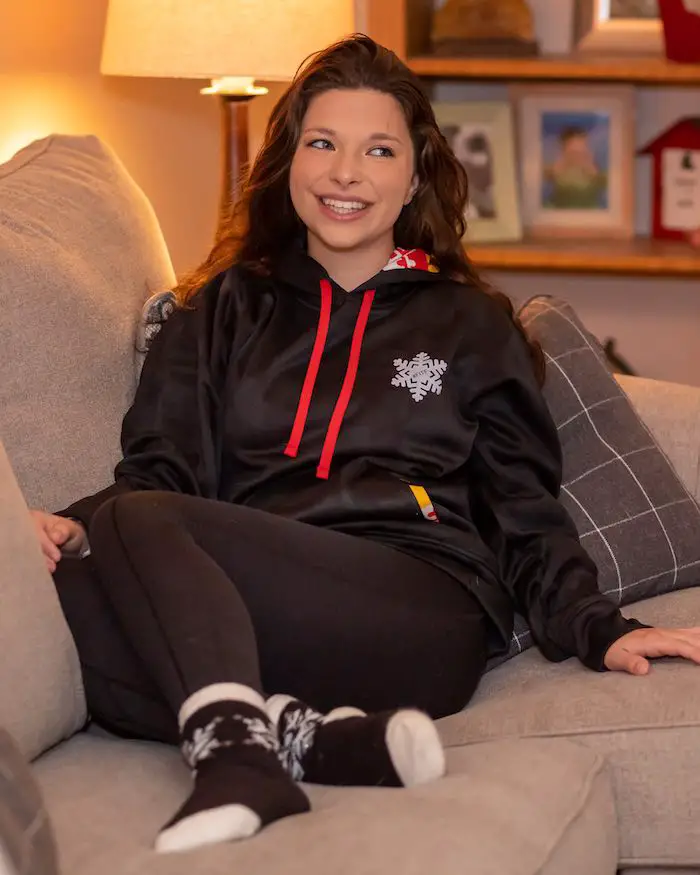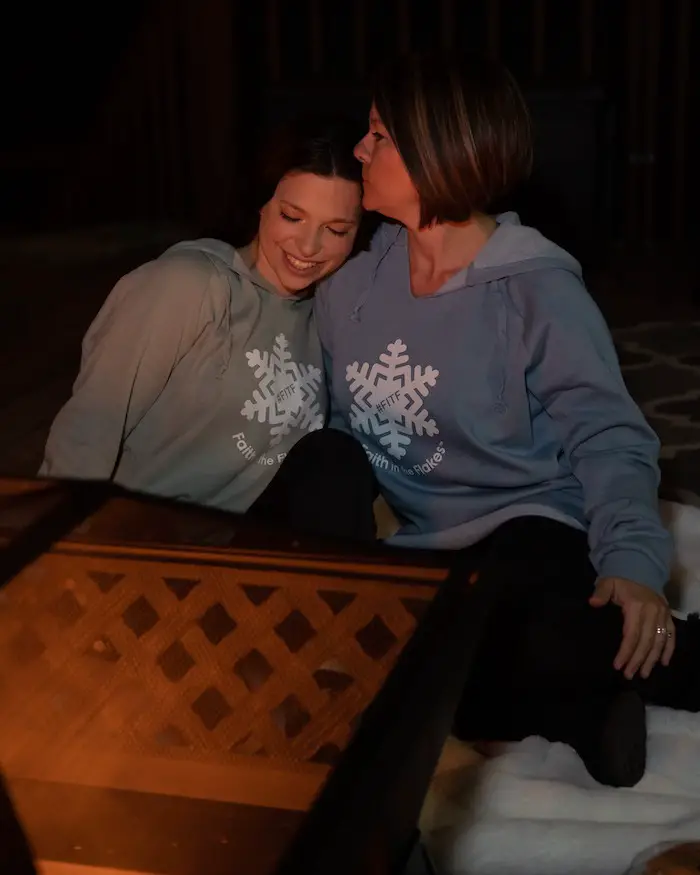 Also see:
Maryland Weather Page
I wanted to keep it simple. Just the basics for a quick view at any time.
Please share your thoughts, best weather pics/video, or just keep in touch via social media
---
Email Updates
Please make sure you sign up (above or click here to sign up for email alerts…. ) for my newsletter. This way you will get an email to make sure you are notified of each post.
---
Just In Power Kids:
A portion of proceeds go to our programs Providing FREE holistic care for kids in cancer treatment and up to 5 years post treatment and caregivers.
New Caps and Hats