Sunday December 6 2020
In our present cold air mass, there is one more piece of energy that will squeeze out some light snow. The system doesn't look like much on the map this evening, but it will get a boost overnight. There is more support for this to reach into Maryland Monday morning and lay some snow on the ground. FITF
I was debating if it was worth making a snow map for this light event,  then realized it was best to show a comparison of four different computer models. The reason, as you will see below, is that most of southern Maryland should get enough to blanket the ground, but one outlier brings flakes into central Maryland. Of course I will show that (for fun).
Evening Weather Set Up
The Surface Low is in Tennessee, and will pass south of our region. Cold air from northern Minnesota will be diving south to give this a boost.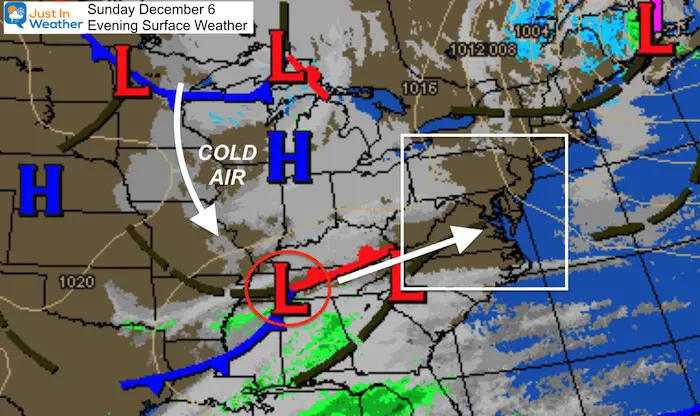 Jet Stream: Water Vapor Satellite
I've highlighted the energy aloft, showing the translation to the moisture at cloud level.
The cold air diving south will force the moist air ahead of the storm to lift a little farther north. This is seen better on the loop below.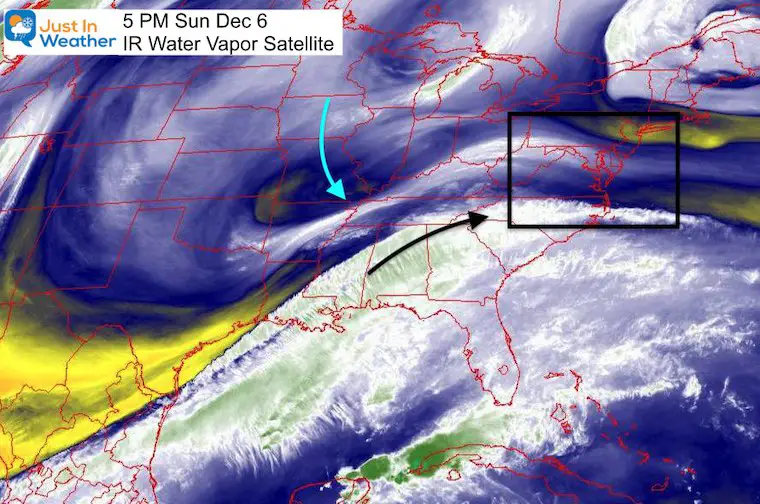 Water Vapor Satellite Loop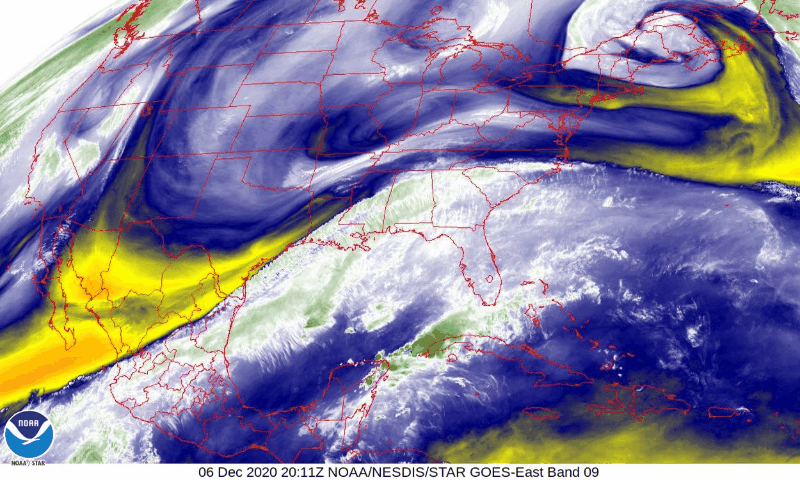 Monday Morning Jet Stream: Vorticity
The core of the Cold Air/Trough will be located in western Pennsylvania. Around this is the pivot of energy diving into Indiana and Tennessee behind the storm. This is what lifts the energy from the Carolinas into Maryland.
The big question: How Far North will this get?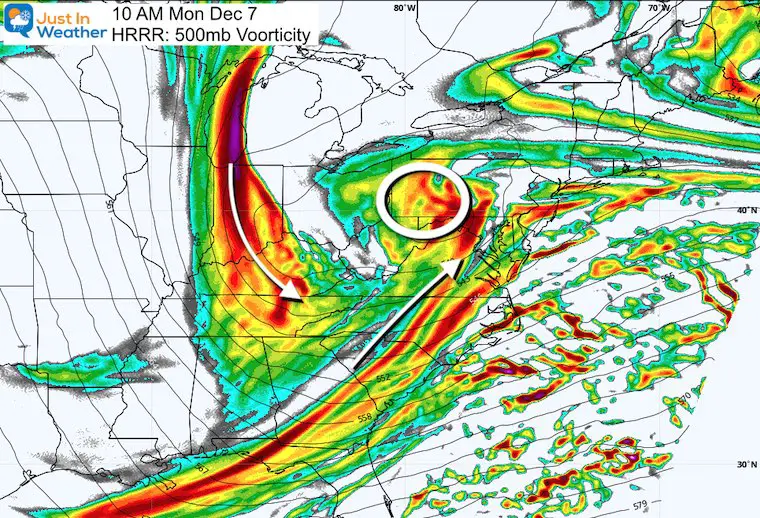 Southern Maryland Forecast Snapshot

Comparing the Models
It is accepted that southern Maryland gets in on the snow. But the HRRR (high resolution rapid refresh model) has been the most aggressive bringing the snow into central Maryland.
I call this the Pipe Dream Model, as I think even if the snow reaches that far north, it will run into dry air.  But I wanted to show it for fun, and maybe the dream to get flurries into Washington and Baltimore at daybreak.
IF there are flakes flying in metro areas, then this is the one model that deserves the credit.
HRRR Model —> slider
More Realistic Snow Tracks
The GFS bring the northern edge of light snow just south of Washington, and across southern Maryland between daybreak and noon.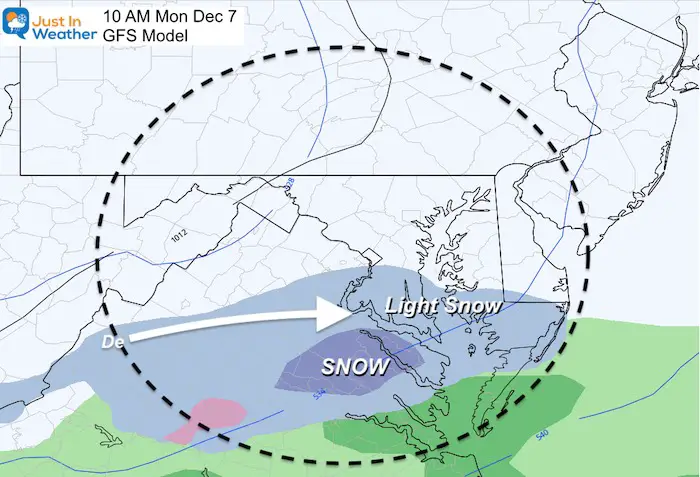 The European ECMWF shifts the snow a little farther south, skipping southern Maryland, but keeping the lower Eastern Shore near Salisbury and Ocean City on the edge.
The NAM  3Km is that farthest south.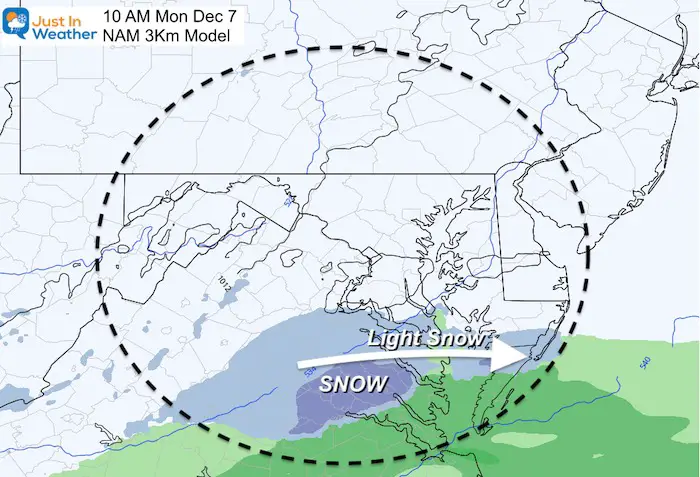 How Much Snow May Fall?
This is the first of the season AND it has not been cold!  In fact, even with marginal temps in the morning, the Bay is a mild 46ºF.
Morning Temperature Forecast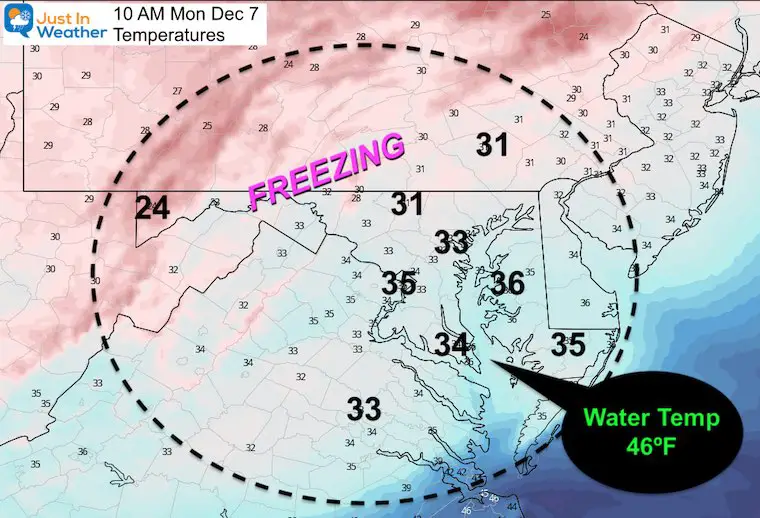 So, this is not a travel issue and if you are near the water, it may not even stick on the grass.  But inland, any stickage would most likely be on the car tops, grass, and trees.
Snow Forecast Maps
These model forecasts are in the same order as shown above.
Best chance for a dusting across Charles, Calvert,  St. Mary's, Dorchester, Wicomico, Somerset, and Worcester Counties.
HRRR Model Snowfall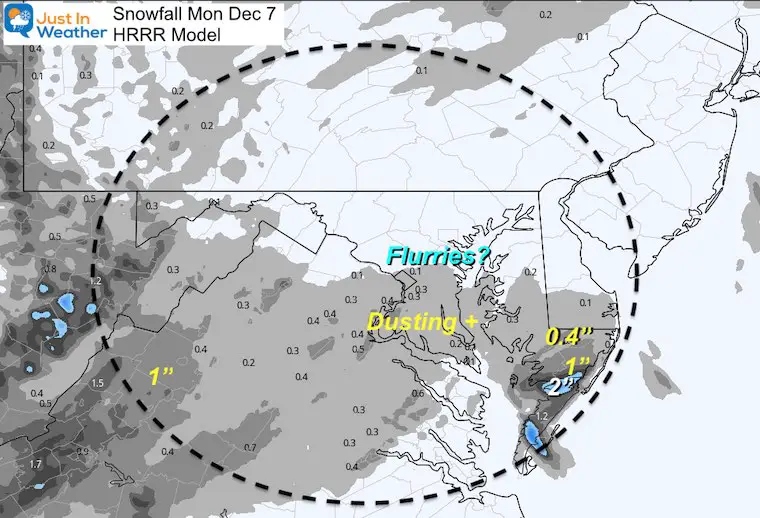 GFS Model Snowfall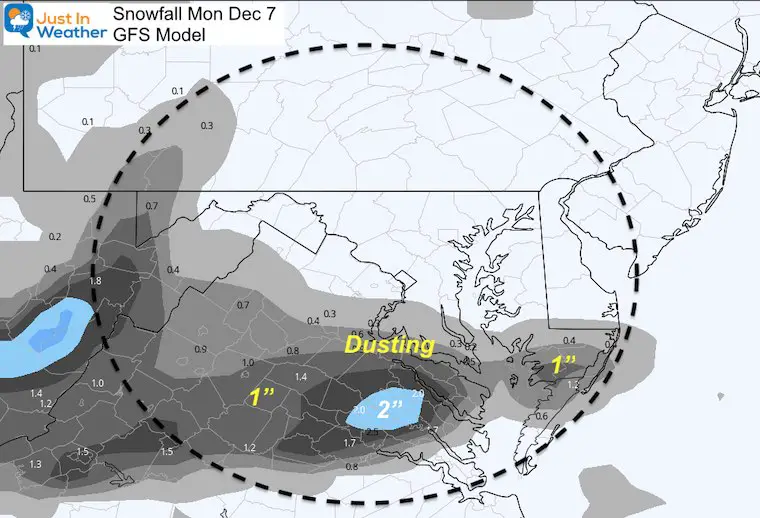 ECMWF Model Snowfall
NAM 3 Km Model Snowfall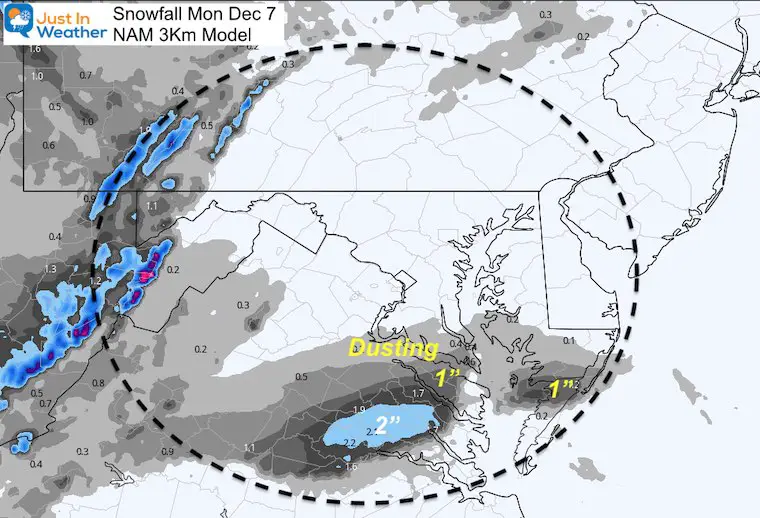 FAITH IN THE FLAKES STORE OPEN
My 'bonus' daughter Jaiden is showing off our popular Maryland Hoodie. Click here to see this and many other new items.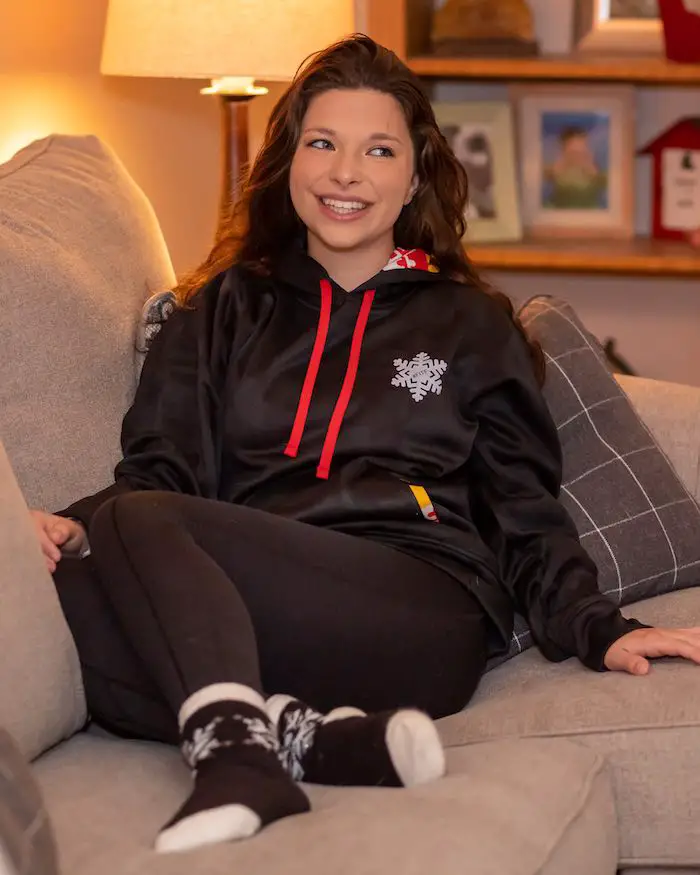 Most items are unisex, but the women in my life make the new ladies' hoodies look so good.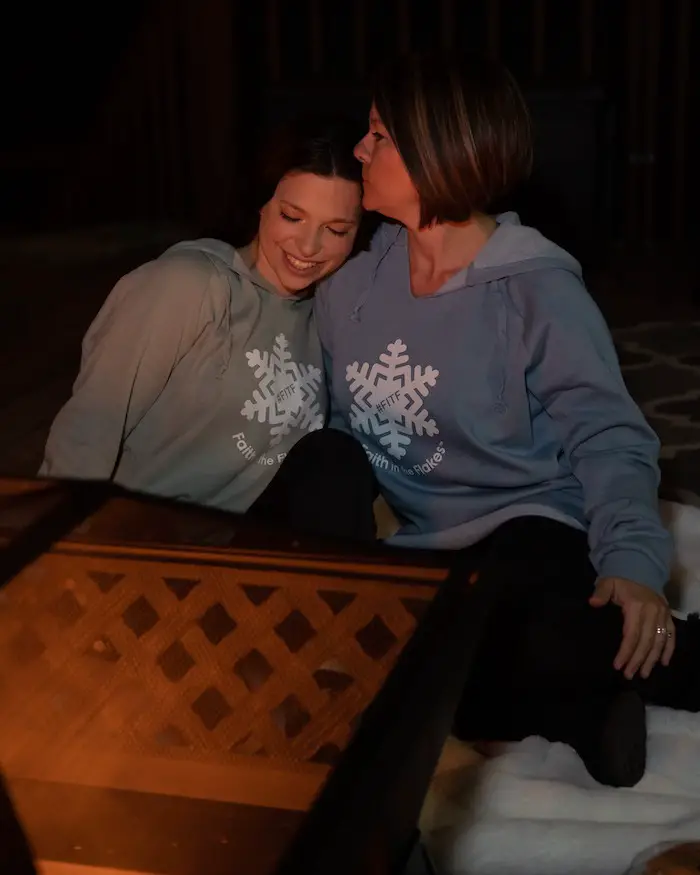 Also See:
December Climate, Sun Data, Solstice, ISS Flyovers, Moon, Planets, and The Great Conjunction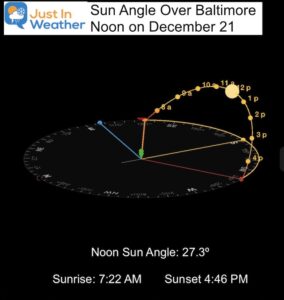 YOUR INTERACTIVE WEATHER PAGES
14 Local Maryland Pages (and York PA)
We have made a page for Maryland Weather which gives you the current conditions for 14 present area locations.
Local Hourly Forecasts and Local Radar
Central Maryland
Delmarva
Pennsylvania

Maryland Weather Page
I wanted to keep it simple. Just the basics for a quick view at any time.
New Caps and Hats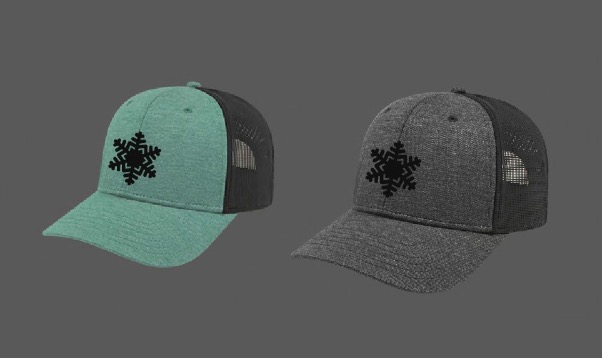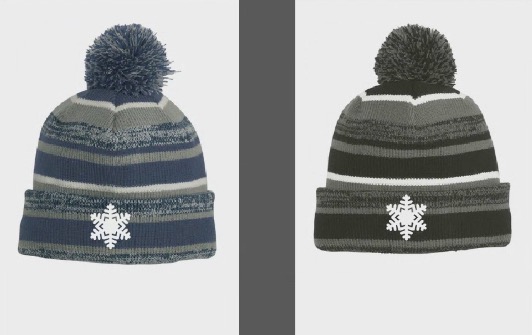 My Final Winter Outlook: Snow Forecast

Please share your thoughts, best weather pics/video, or just keep in touch via social media
---
Email Updates
Please make sure you sign up (above or click here to sign up for email alerts…. ) for my newsletter. This way you will get an email to make sure you are notified of each post.
---
SNOW DAYS ARE STILL A THING
(Outside of Howard County, MD in COVID Distance Learning
Just In Power Kids:
A portion of proceeds go to our programs Providing FREE holistic care for kids in cancer treatment and up to 5 years post treatment and caregivers.