December 1 2020
Meteorological Winter begins today and the weather has cooperated.  Heavy snow with accumulation is in the mountains, and we have a streaming web cam below. Locally Doppler Radar has indicated that rain has mixed with snow north of I-70 in Maryland.  If you see the flakes they likely will not stick, but more are possible later today and tomorrow as it gets colder.
Morning Doppler Radar
Have you seen snowflakes yet?
Winter mode indicates snow flakes are falling in southern PA and northern Frederick, Carroll, and Baltimore County.  If you are not seeing flakes in the region, colder air will be expanding with the precipitation for the next few hours.
There could be more flakes spreading south with this band. Some stickage on the grass for elevations over 1,000 Ft, but non on local roads expected.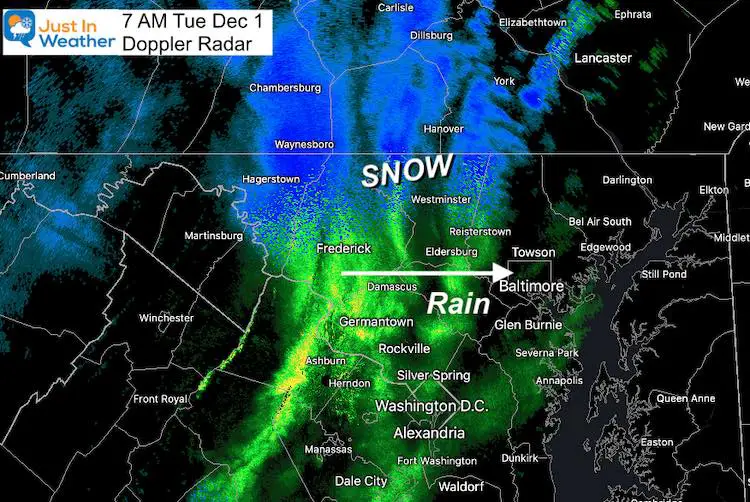 Morning Temperatures 
Colder air is advancing east.  These temperatures may remain steady or drop a little during the day.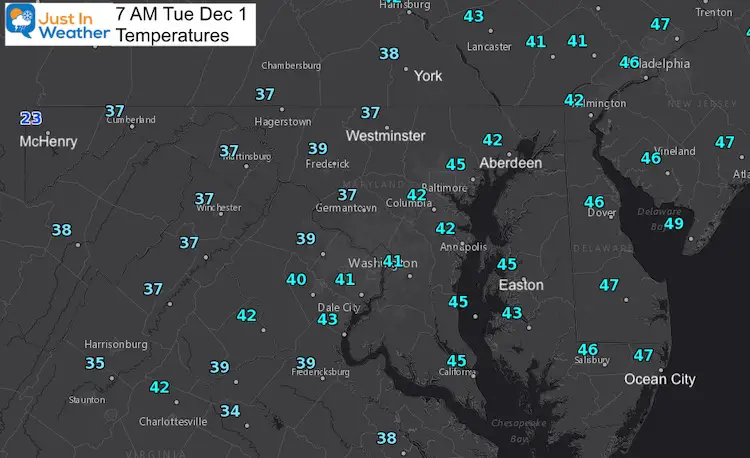 Morning Surface Weather Map
A lot of energy wrapping behind the storm, resulting in snow around the Great Lakes.  We will be in the chilly winds, and occasional showers in metro areas.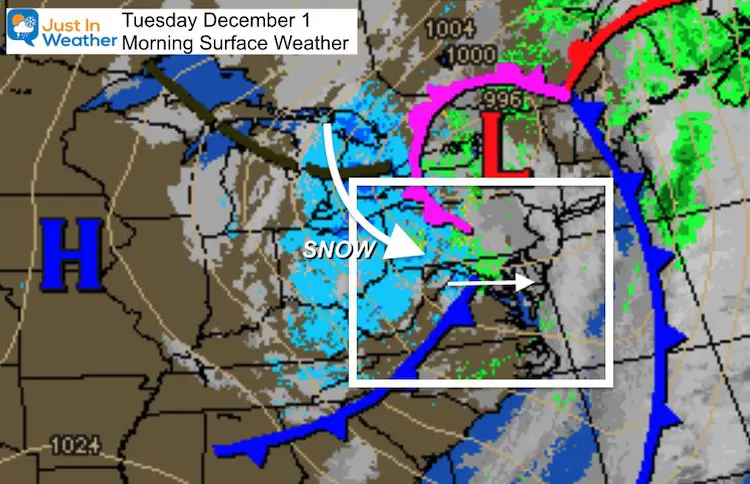 Forecast Maps
Morning
This is the band of morning showers seen breaking up on the NAM 3 Km.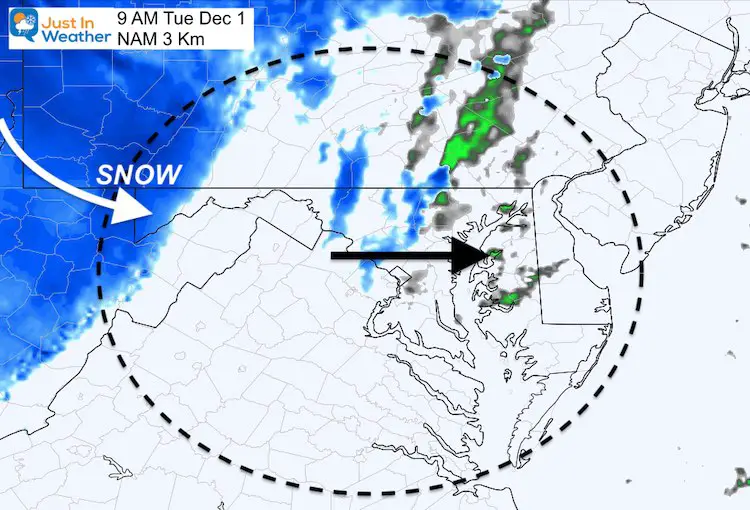 Afternoon
Another band of showers, with colder air seen on the HRRR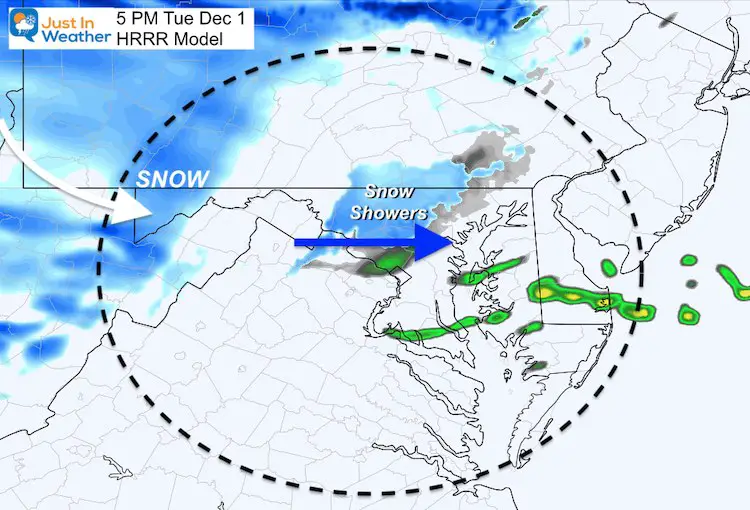 Temperature Forecast
Noon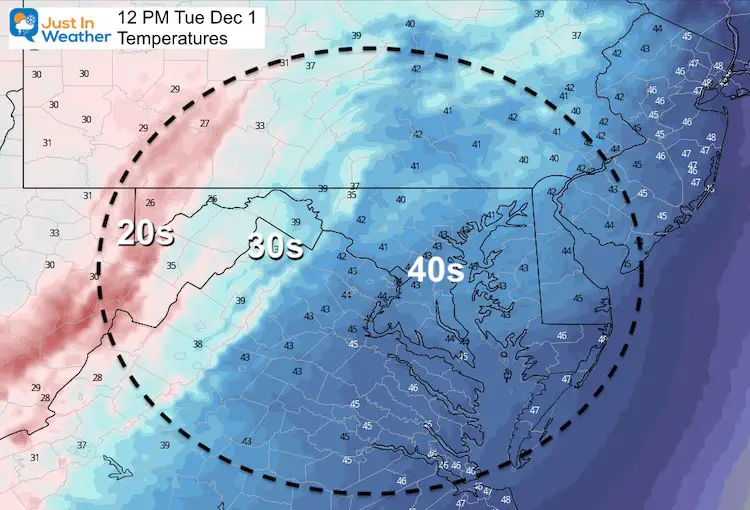 Afternoon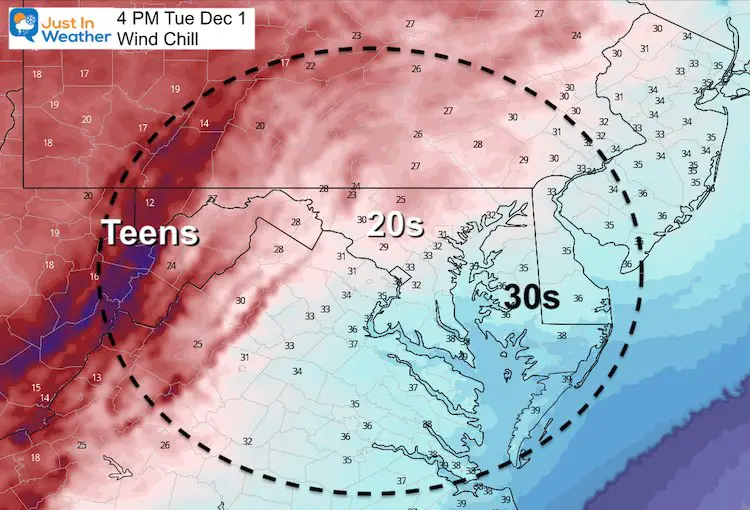 More Snow Showers With Upper Level Energy
Jet Stream Vorticity —> slider
Vort Max in 'X' highlights the energy that can spark more snow showers east of the mountains through tomorrow.
Western Maryland Snow
A Winter Storm Warning for Garrett County.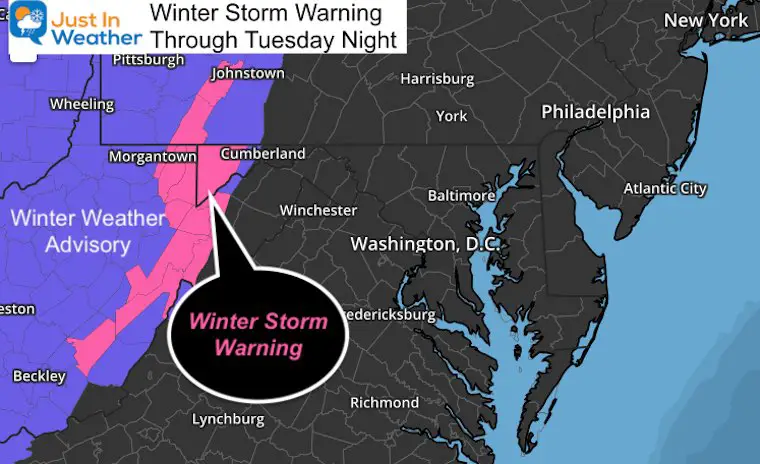 Snow Forecast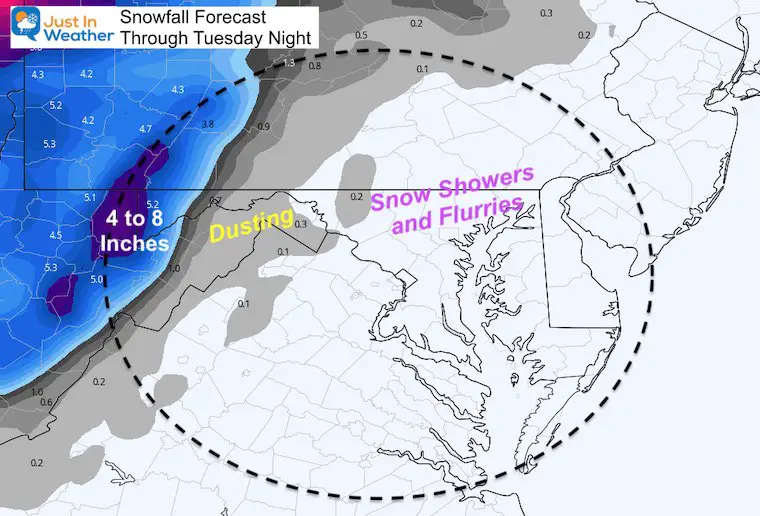 Live Streaming Web Cam: Deep Creek Lake, MD
Snow Cam 1 
Get an up-close view of live conditions at Wisp Resort!
This webcam is positioned at The Greene Turtle Deep Creek Lake and shows Wisp Resort, including a zoomed-in view of Squirrel Cage, The Face, the terrain park, Boulder, the mountain coaster, the tubing park and a shot of McHenry Cove at Deep Creek Lake!
Snow Cam 2
This webcam is positioned at the very popular Lakeside Creamery and Copper Kettle Popcorn Factory.
Views of Deep Creek Lake, Deep Creek Lake State Park, the Glendale Road Bridge, and more!
Web Cams Provided By
Railey Realty  and Railey Vacations
Wednesday Morning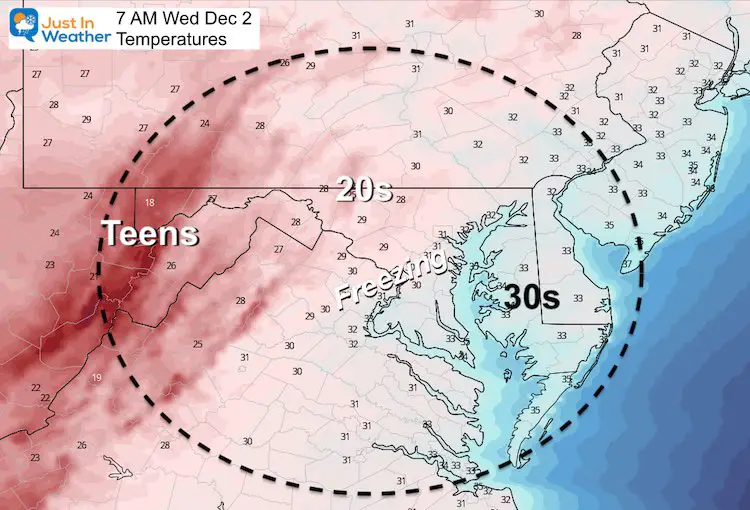 Temperature Outlook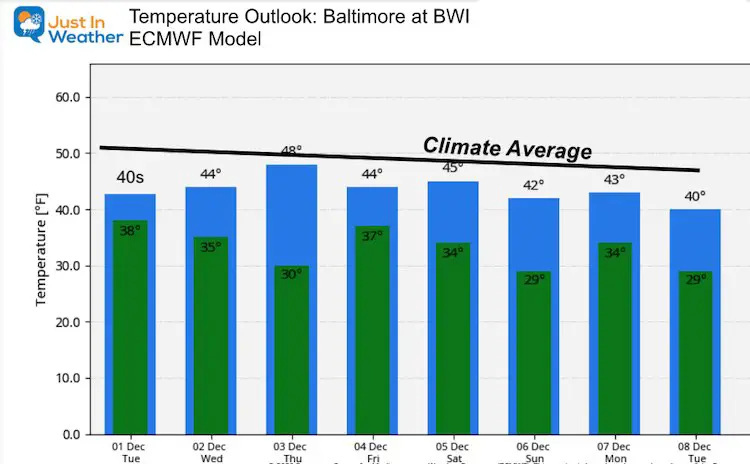 Jet Stream Animation
Reinforcing cold air through next week.
HOLIDAY SALE ON ALL #FITF Apparel
Now Through December 1  ALL ITEMS are 20% OFF.
At Checkout use promo code:  SNOW20
Explore the site for Hoodies, hats, pants, kids stuff, and Snow Day Kits. This Faith in the Flakes thing began in with my son back in 2009 and you help keep it going. Thank you for your support and the over 300 schools who have invited me in for winter weather education programs.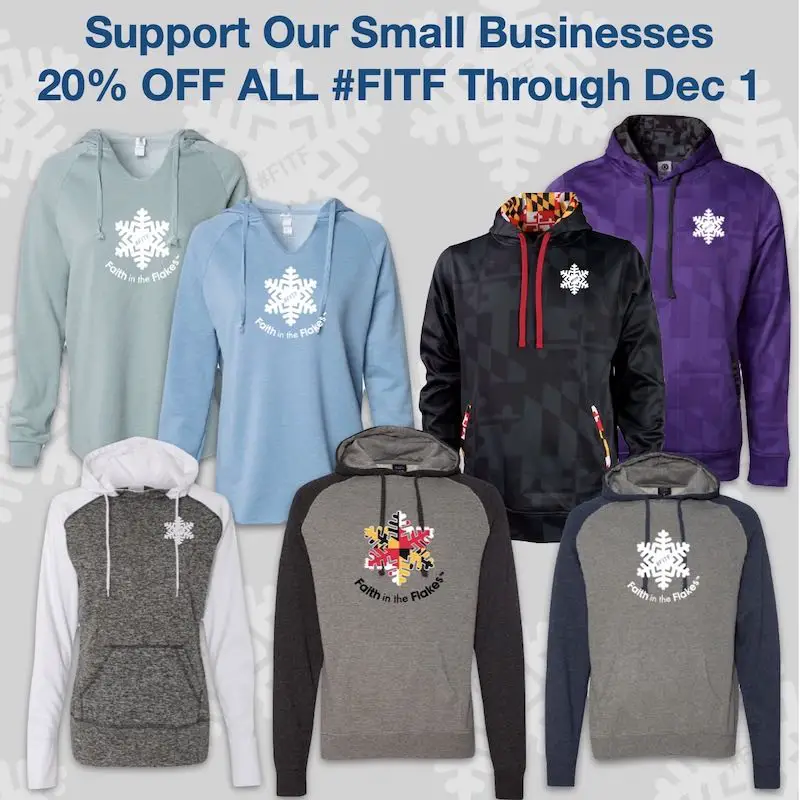 I am a small business. Part of that is selling clothing that is produced and shipped by another small business in Carroll County: Maryland Print House.
We've joined forced and want to thank you for your support.
YOUR INTERACTIVE WEATHER PAGES
14 Local Maryland Pages (and York PA)
We have made a page for Maryland Weather which gives you the current conditions for 14 present area locations.
Local Hourly Forecasts and Local Radar
Central Maryland
Delmarva
Pennsylvania

Maryland Weather Page
I wanted to keep it simple. Just the basics for a quick view at any time.
New Caps and Hats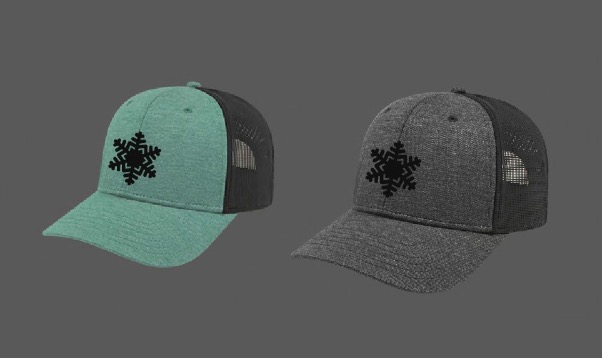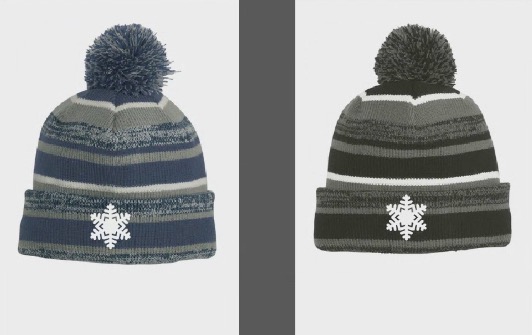 Also See:
My Final Winter Outlook: Snow Forecast

FAITH IN THE FLAKES STORE OPEN
My 'bonus' daughter Jaiden is showing off our popular Maryland Hoodie. Click here to see this and many other new items.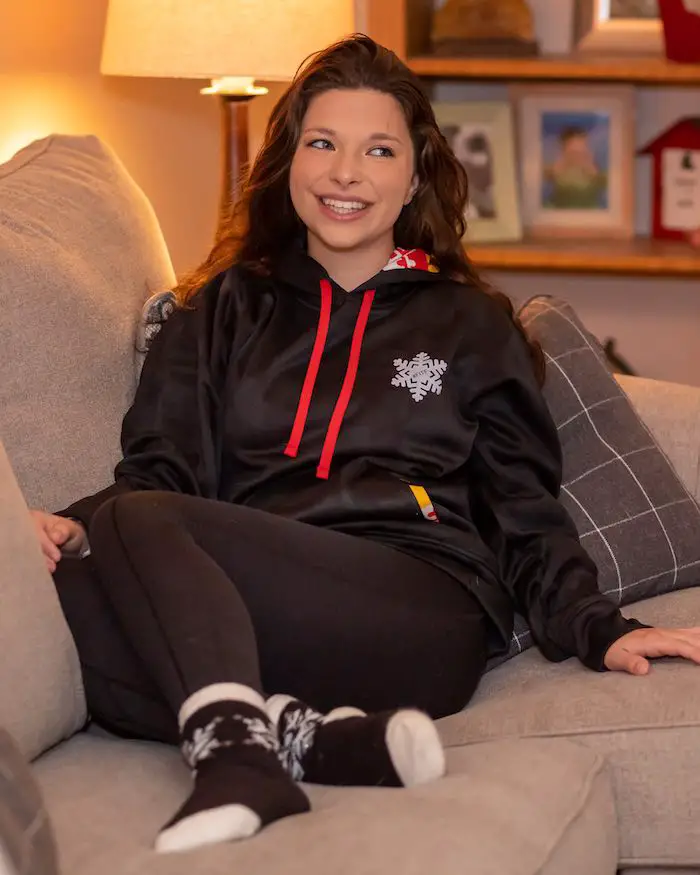 Please share your thoughts, best weather pics/video, or just keep in touch via social media
---
Email Updates
Please make sure you sign up (above or click here to sign up for email alerts…. ) for my newsletter. This way you will get an email to make sure you are notified of each post.
---
Just In Power Kids:
A portion of proceeds go to our programs Providing FREE holistic care for kids in cancer treatment and up to 5 years post treatment and caregivers.