November 30 2020
Did you see a ring around the moon last night? I got many messages and photos about it, some saying they've never seen it before.  The good news, this is more common than you might have guessed. This is the season for them, and they can actually help you forecast the weather.
Lunar Halo 
This first photo is from Jennifer Anderson. She wrote: "I've never seen a ring that big around the moon. Is there a scientific term or name for it?"
The term is a lunar halo, which is the ring of light around the moon. A full moon and approaching storm were the perfect combination to make this happen.
This photo from Lindsey Ellison came with this note: "Almost heavenly!! I have never seen this in all of my 45 years."
When you see what causes it, you will be looking and I promise will see more. There are more photos below as well.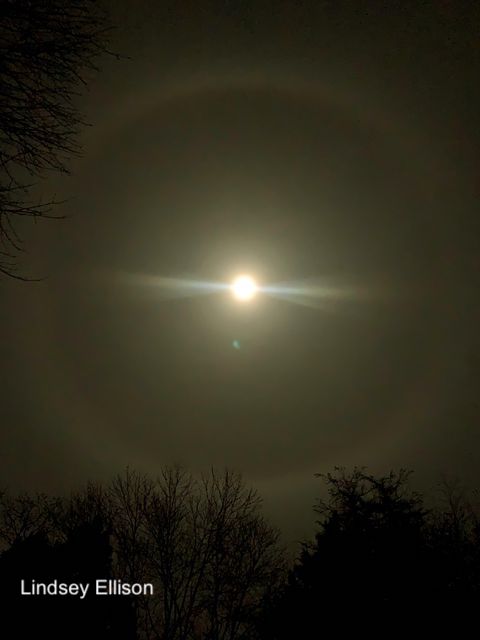 What Caused This Lunar Halo?
The short version, moon light through ice crystals refracted the light in the atmosphere.
We have a full moon, which gives us bright light at night.
We have a storm today, which was preceded by high thin clouds last night.
Those clouds were made of ice crystals that have a 60º angle to them.   The refraction bends the light 22º
The Science
Ice Crystals have fixed, rigid angles. The transparency lets the light pass through, but it slows down and bends on the way (refraction).
The Sky Set Up
This is more common in the winter season because:
Larger storms often send the initial high thin clouds farther away. This can be 12 hours or up to 2 days before precipitation arrives.
Longer nights allow more time to view the night sky.
A moon phase larger than 1/4 and up to full will provide enough light to provide this effect.
The net result in the sky is a ring of light that is 22º
Morning Weather Forecast: Rain Today and Snow Showers Tomorrow 
More Photos
From Bel Air, Maryland this was from Lori Fioramonti Decher.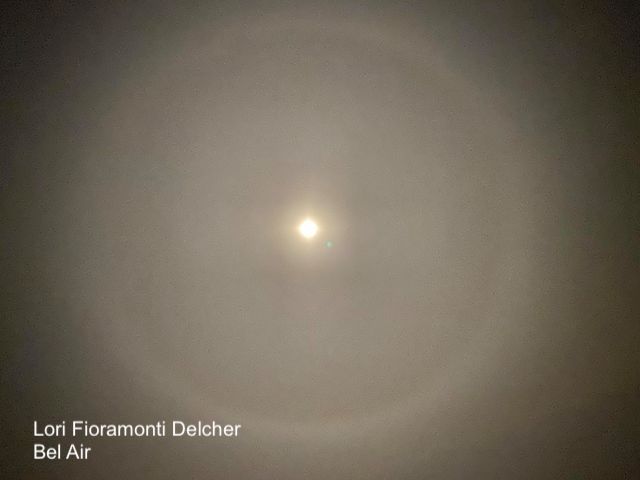 Abigail Kait shared this photo her husband took while walking their dog.
"He says folklore hints at snow coming. Have you seen this happen or heard of it??"
The answer is yes!  This is called a Lunar Halo, and the folklore is correct. However, it depends on the temperature.  It will foretell of snow or rain in the next day or two.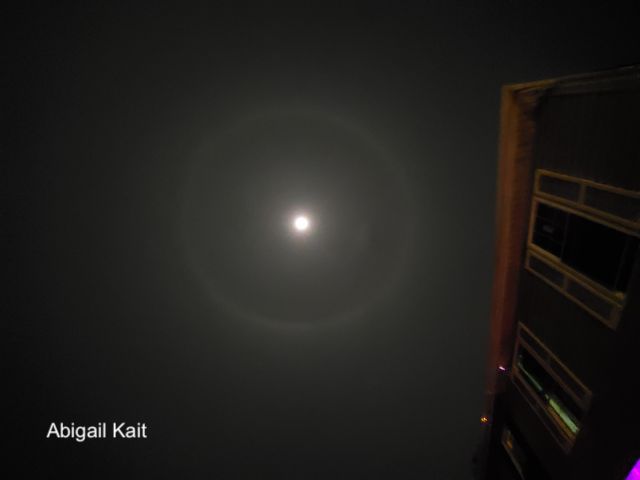 This photo from Jennifer Weinreich Stairs provides a great contrast with the line of trees.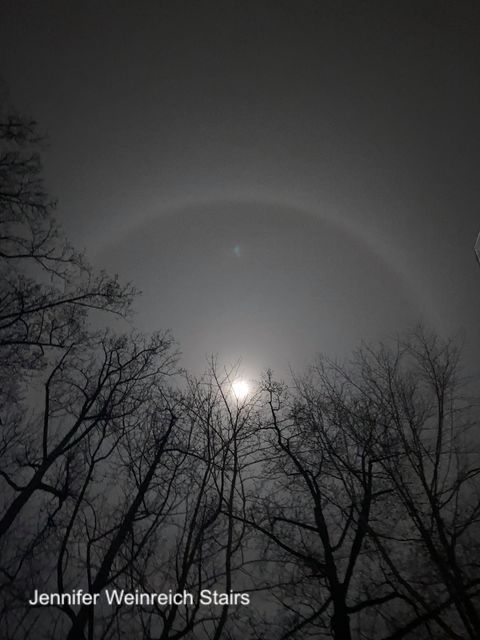 HOLIDAY SALE ON ALL #FITF Apparel
Now Through December 1  ALL ITEMS are 20% OFF.
At Checkout use promo code:  SNOW20
Explore the site for Hoodies, hats, pants, kids stuff, and Snow Day Kits. This Faith in the Flakes thing began in with my son back in 2009 and you help keep it going. Thank you for your support and the over 300 schools who have invited me in for winter weather education programs.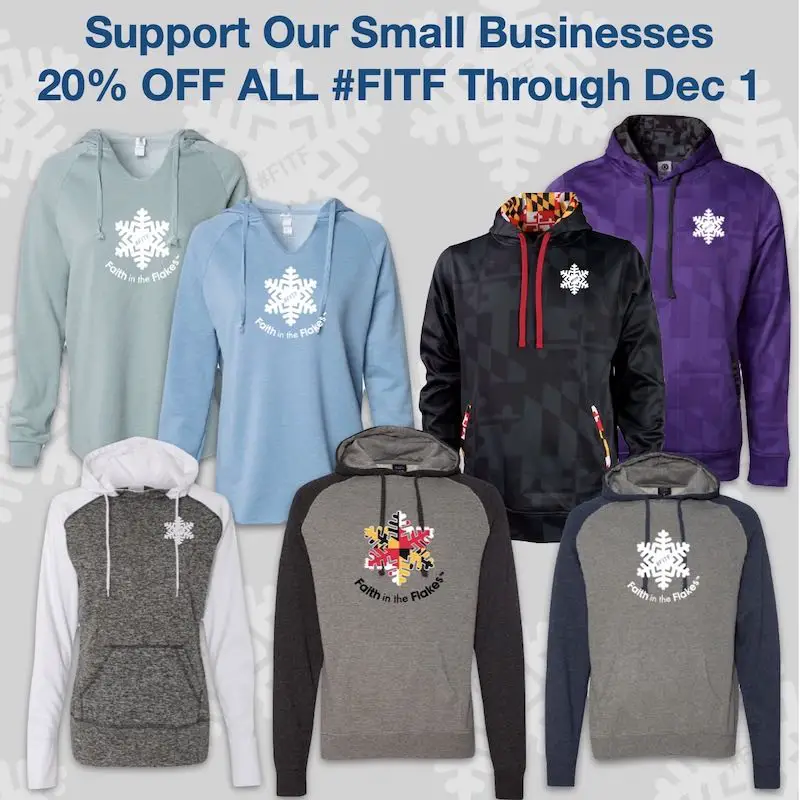 I am a small business. Part of that is selling clothing that is produced and shipped by another small business in Carroll County: Maryland Print House.
We've joined forced and want to thank you for your support.
YOUR INTERACTIVE WEATHER PAGES
14 Local Maryland Pages (and York PA)
We have made a page for Maryland Weather which gives you the current conditions for 14 present area locations.
Local Hourly Forecasts and Local Radar
Central Maryland
Delmarva
Pennsylvania

Maryland Weather Page
I wanted to keep it simple. Just the basics for a quick view at any time.
New Caps and Hats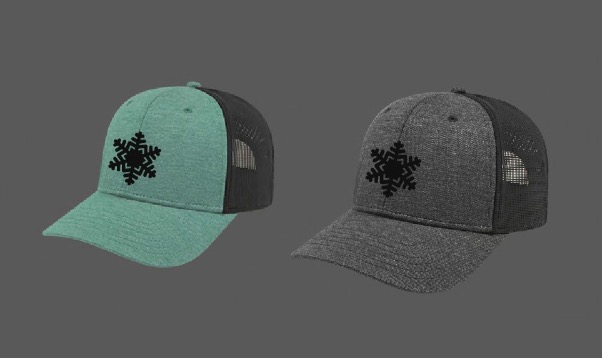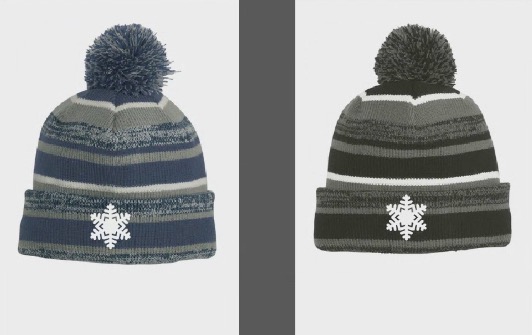 Also See:
My Final Winter Outlook: Snow Forecast

FAITH IN THE FLAKES STORE OPEN
My 'bonus' daughter Jaiden is showing off our popular Maryland Hoodie. Click here to see this and many other new items.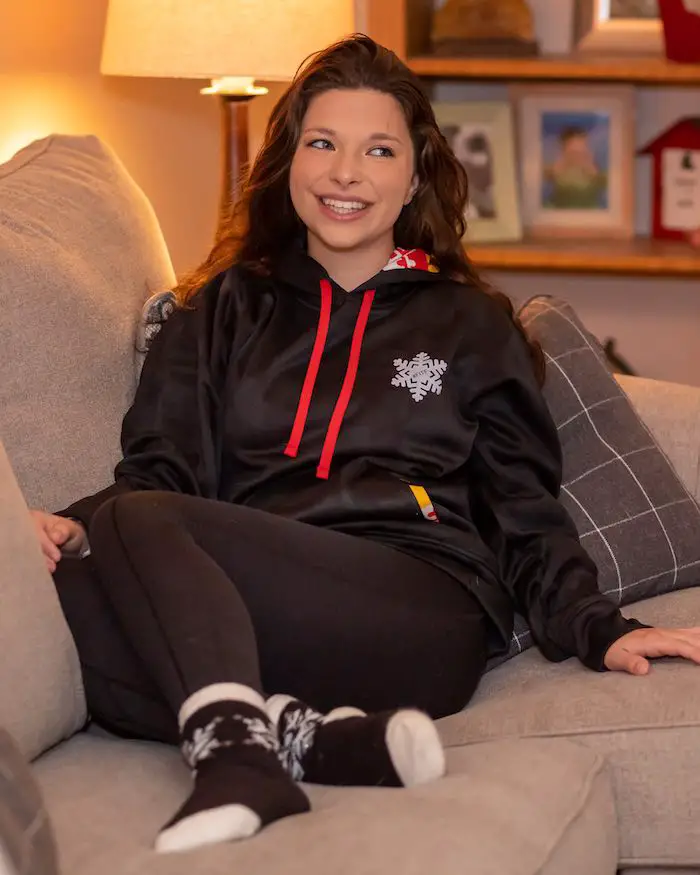 Please share your thoughts, best weather pics/video, or just keep in touch via social media
---
Email Updates
Please make sure you sign up (above or click here to sign up for email alerts…. ) for my newsletter. This way you will get an email to make sure you are notified of each post.
---
Just In Power Kids:
A portion of proceeds go to our programs Providing FREE holistic care for kids in cancer treatment and up to 5 years post treatment and caregivers.