Thursday October 21 2020
It may not look good outside, but it's impressive on the satellite loop in motion.
Out low clouds and fog have been stubborn to burn off. That is the result of the warmer air we have had pushed into the region, along with higher humidity.
Longer autumn nights allowed for more cooling to allow the fog to form a very thick layer. The lower sun angle makes it harder to burn that fog off, so here we are. Check out the images below, the show it really well.
Dense Fog Advisory Until Noon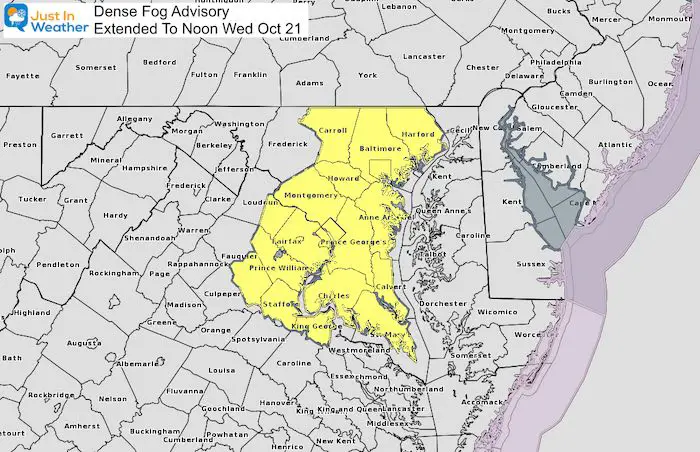 Check out this satellite image at 10 AM. The loop below does a great job highlighting the movement of the higher clouds, but the fog below barely budges.
 Visibility at 10 AM
The numbers in purple and red are under 2 mile visibility, where it may impact travel.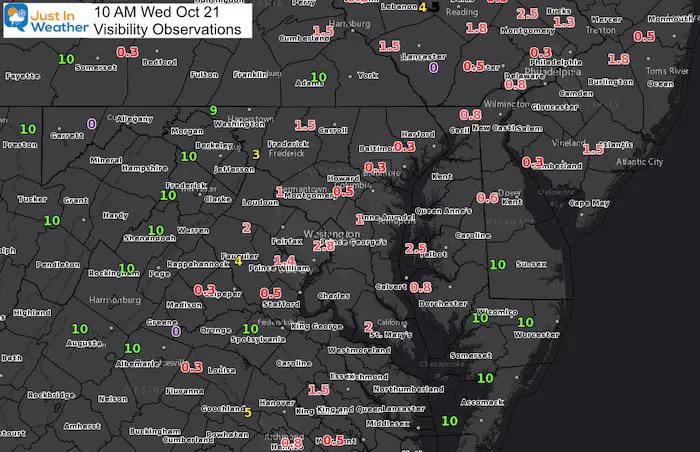 Visible Satellite Snapshot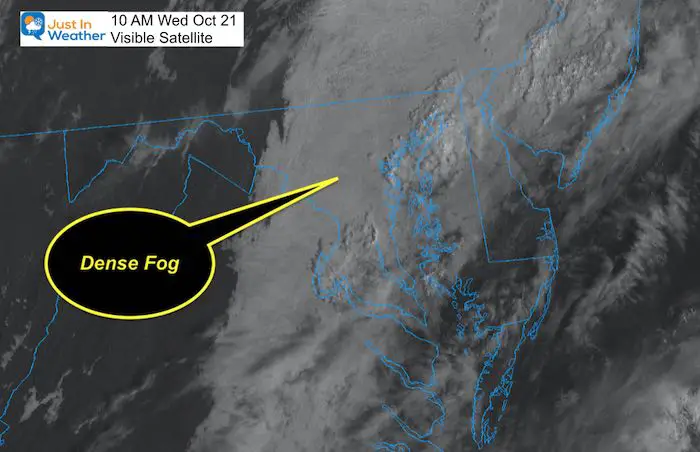 Visible Satellite Loop
From sunrise to 10 AM. You can see the clouds aloft move, but the low level fog holding tight. Some of it eroded away on Delmarva but it's locked in west of the Bay.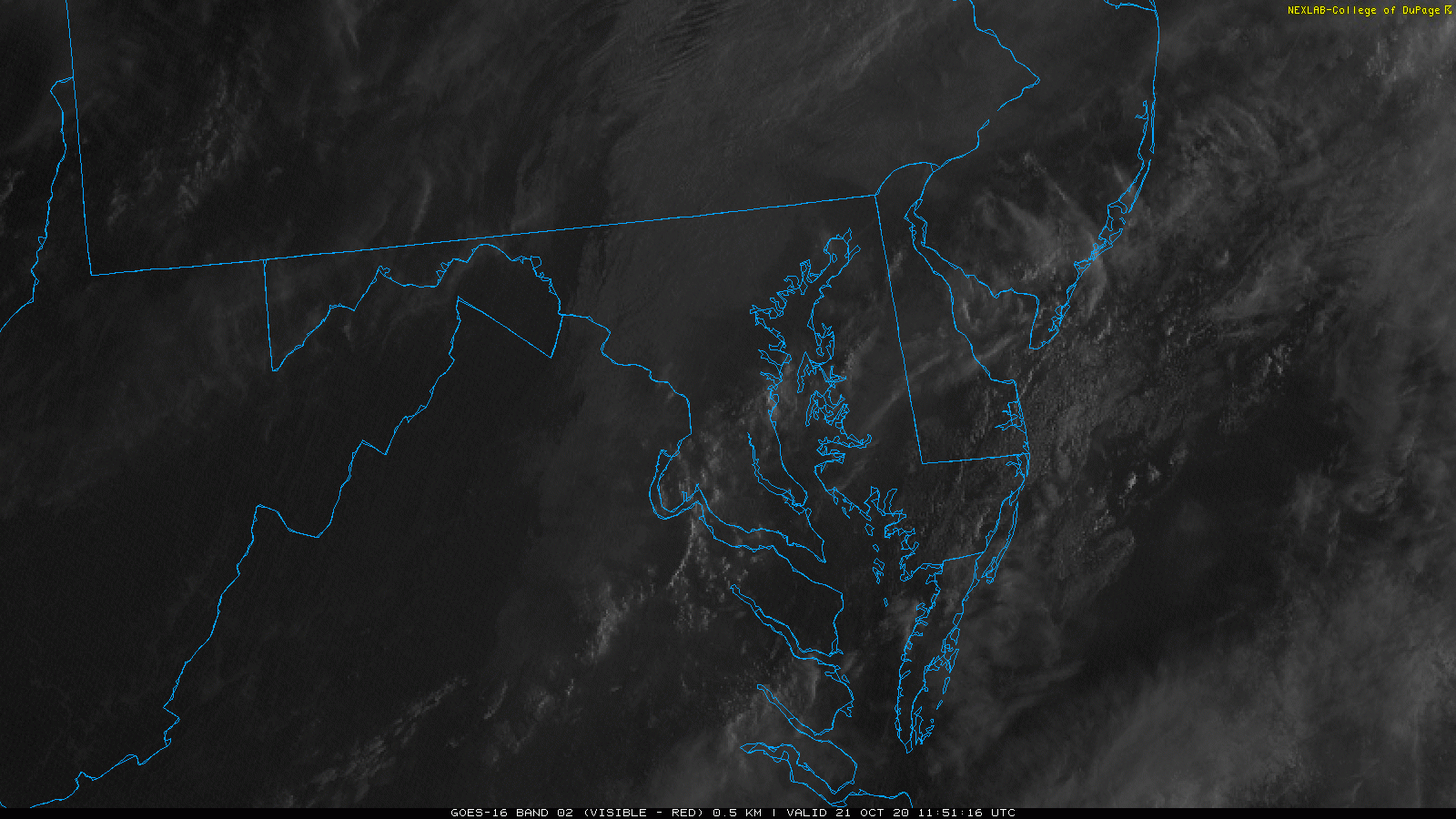 Temperatures At 10 AM
We are starting off very mild! Once the fog thins and some sun breaks through in the afternoon, this should allow a quick bump to the 70s.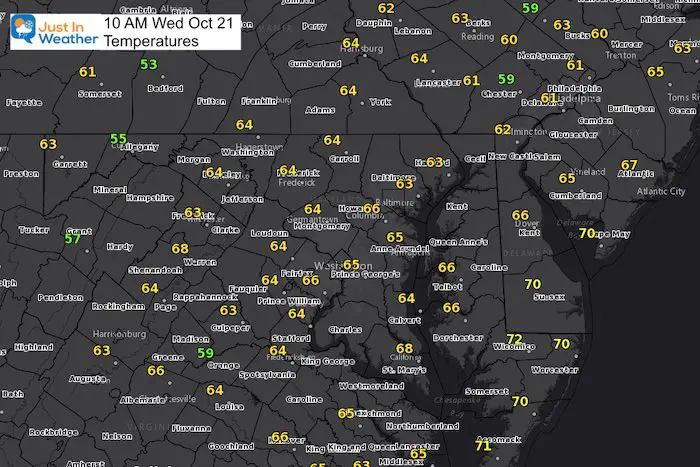 NEW: Interactive Temperatures, Rain, and Wind
Try this:
Use the Orange Button to slide the timeline on your own. Or hit the Play Button at the lower left.
You can also pinch to zoom or move the map.
YOUR INTERACTIVE WEATHER PAGES
14 Local Maryland Pages (and York PA)
We have made a page for Maryland Weather which gives you the current conditions for 14 present area locations. Many of these match up with the spots on our route.  Please use this list below are reference. I will include them daily with my articles on the kids.
NEW
Local Hourly Forecasts and Local Radar
Central Maryland
Delmarva
Pennsylvania
Maryland Weather Page
I wanted to keep it simple. Just the basics for a quick view at any time.
Please share your thoughts, best weather pics/video, or just keep in touch via social media
---
Email Updates
Please make sure you sign up (above or click here to sign up for email alerts…. ) for my newsletter. This way you will get an email to make sure you are notified of each post.
---
Also See: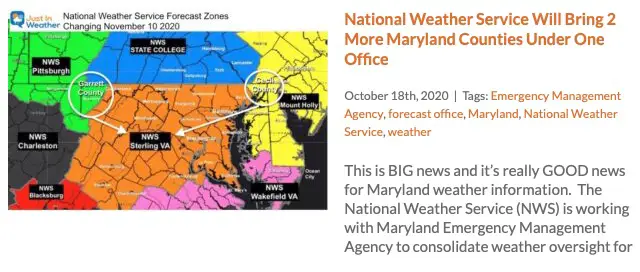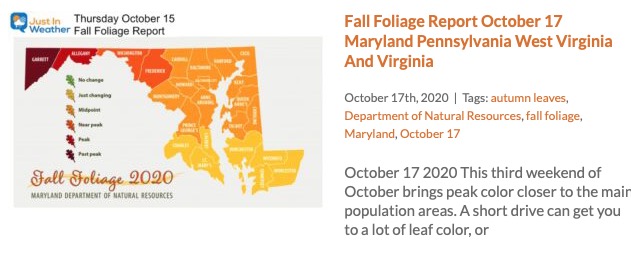 Sunflower Season: Millers Farm Photos And Info
Help Solve The Mystery
UFO, Meteor, Or Something Else Caught On Cam In Owings Mills MD This Week?
Explore More:
Autumnal Facts and Weather Stats
Record Low Tied at BWI and Frost Photos Sep 20
Typical First Frost and Freeze
Also See:
July 2020 The hottest on record. Will it hint at snow this winter?
Comet NEOWISE Viewing All July (photos/video)
Related Posts
2020 Tropical Storm and Hurricane Names and Naming History
Atlantic Tropical History: Maps of Origin Regions Every 10 Days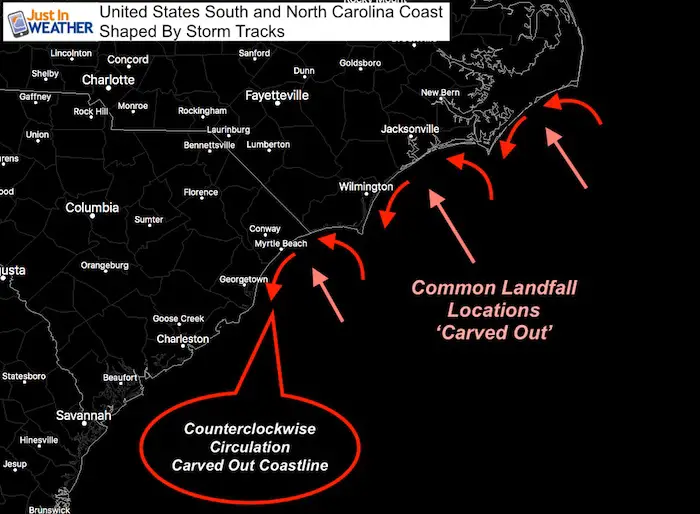 Other  Links:
Baltimore Weather At BWI May Not Be As Hot As Reported
Construction at the airport close to the weather station may be added artificial heat. Click here or the image for the details.
Also See:
Just In Power Kids:
Proceeds go to our programs Providing FREE holistic care for kids in cancer treatment and up to 5 years post treatment and caregivers.