October 2 2020
This first weekend of October brings the changing of the leaves within a closer drive of the big cities. It does seem as if the leaf peeping season is about 10 to 14 days earlier than last year.  That may be thanks to three days in a row of chilly weather. There was an early frost with lows in the 30s to nearly 40ºF inland between September 20 to 22. We could have one or two more mornings with frost in the same areas this weekend.
If you are planning a short car ride or day trip this weekend, the weather will be nice and quiet. You can actually see some colorful leaves and leaf drop on the trails in the close inland suburbs. But you won't have to go very far for more to explore.  Here is a collection of resources for Maryland, Pennsylvania, Virginia, and West Virginia. This includes maps, a live web cam and links for more.
Fall Foliage Early October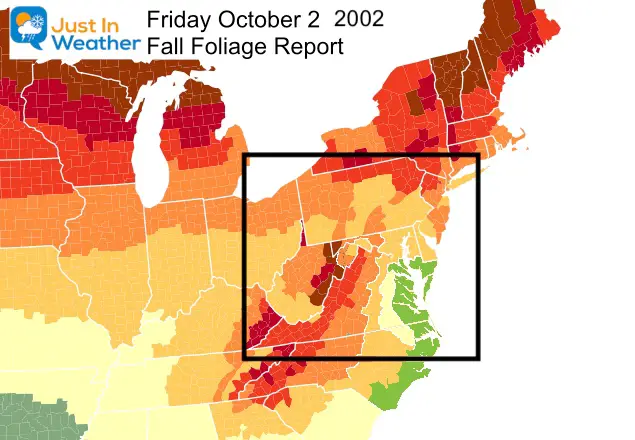 Below is the latest gathering of leaf peeping maps and reports for Maryland, Pennsylvania, Virginia, and West Virgina, plus an interactive map of leaf forecast nation-wide. I will provide new updates every Friday through the season.
Maryland Leaf Report
From the Maryland Department of Natural Resources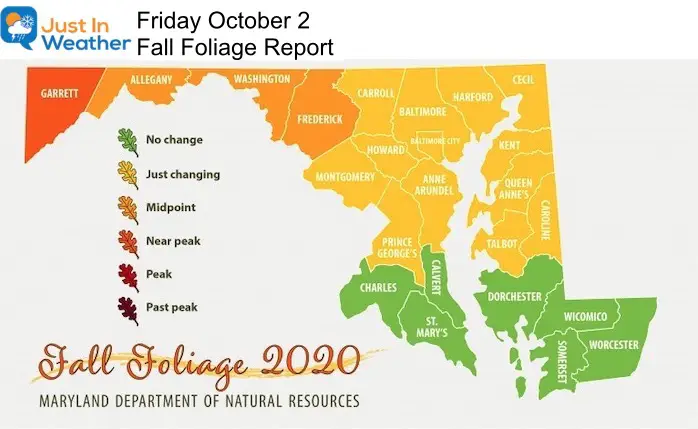 Just Changing:
Some patchy color in a lot of central Maryland has reports with patch color, and a few trees glowing. Your best bet will be inland away from the water, west and north of the beltways.  Here you can expect a lot more color in the next 2 weeks.
Midpoint:
Mt. Airy, Frederick, to Frostburg has more color. This enters the mountian region, where the amount of color may be based on sunlight. This can be affected by slope facing direction. South gets more sun, West gets more afternoon sun with warmer temps. North slopes and deep valleys are coldest and tend to change first.
I predict another week to 10 days until substantial color.
Near Peak:
Garrett County. The elevation of 2,000 to 3,000 Ft brings the chilly air here first. This can be a 2 to 3 hour drive from the urban areas, but always worth it.
From what I've seen, the peak has another week to go, so the map may be deceiving.
Deep Creek Web Cam – From Railey Realty
Here's a look at a live web came from Railey on Deep Creek Lake. The water holds heat longer, so there may be more color in other parts of the county.
This web cam is located at The Greene Turtle Deep Creek Lake. It will pivot to show Wisp Resort, including a zoomed-in view of Squirrel Cage, The Face, the terrain park, Boulder, the mountain coaster, the tubing park and a shot of McHenry Cove at Deep Creek Lake!
Pennsylvania Leaf Report
From the Department of Conservation and Natural Resources Bureau of Forestry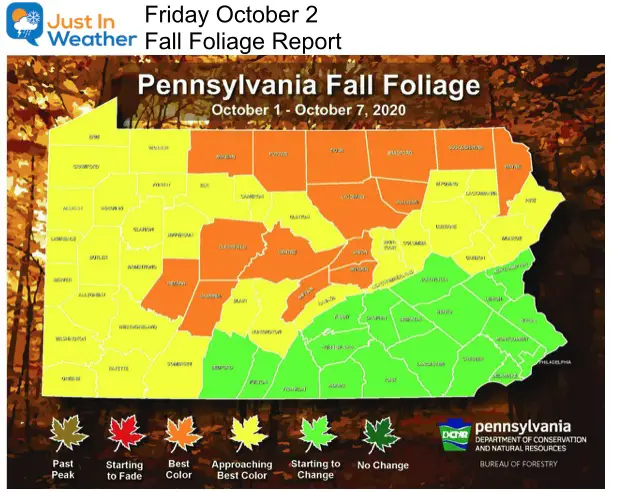 Starting to Change:
If you are familiar with the map locations, southen PA Counties that border with central Maryland are shown here with little color. This matches the Maryland may, but has a different color scale. One or two chilly mornins with areas of frost this weekend can accelerate the change.
Approaching Best Color:
A drive along the front ridge of the Appalachians on I-81 and inland will get you into more color.
Best Color:
The Poconos, Mid State around State College,  and Northern Tier border with New York.
Virginia Leaf Report
Virginia Department of Forestry
A current report is not available for the state. We do have this forecast map for the expected peak color during October.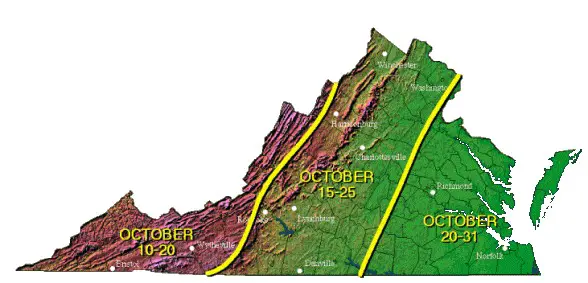 West Virginia Leaf Report
Division of Forestry
Once again we do not have a current map, but there are a few resources.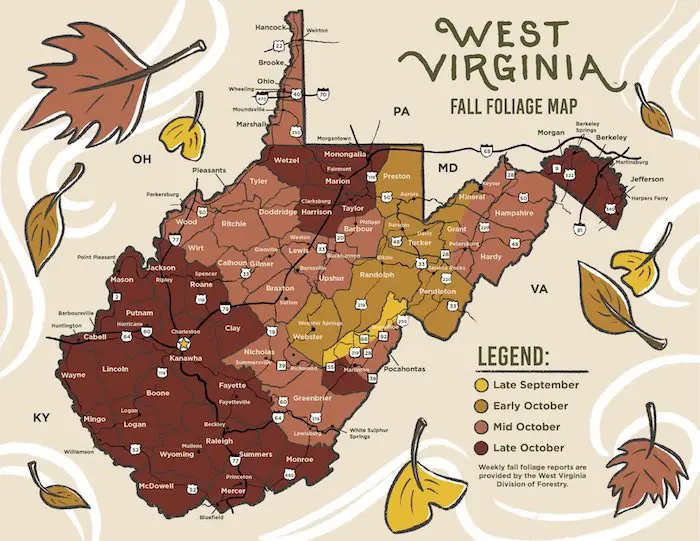 Also see:  This Leaf Map will highlight locations with recent photos.
Please share your thoughts, best weather pics/video, or just keep in touch via social media
---
Email Updates
Please make sure you sign up (above or click here to sign up for email alerts…. ) for my newsletter. This way you will get an email to make sure you are notified of each post.
---
Also See
Typical First Frost and Freeze



Sunflower Season: Millers Farm Photos And Info
Temperature Outlook
Much Cooler Pattern Next Week, Warmer Up During October
Help Solve The Mystery
UFO, Meteor, Or Something Else Caught On Cam In Owings Mills MD This Week?
Explore More:
Autumnal Facts and Weather Stats
Record Low Tied at BWI and Frost Photos Sep 20
YOUR INTERACTIVE WEATHER PAGES
14 Local Maryland Pages (and York PA)
We have made a page for Maryland Weather which gives you the current conditions for 14 present area locations. Many of these match up with the spots on our route.  Please use this list below are reference. I will include them daily with my articles on the kids.
NEW
Local Hourly Forecasts and Local Radar
Central Maryland
Delmarva
Pennsylvania
Maryland Weather Page
I wanted to keep it simple. Just the basics for a quick view at any time.
Also See:
July 2020 The hottest on record. Will it hint at snow this winter?
Comet NEOWISE Viewing All July (photos/video)
Maryland Strong Love ❤️ 
My 'bonus' daughter made this map of Maryland a few years ago. We brought it back for needed positivity. Now on her pick of tanks, and this cool Maryland T for men or women.
Click here or on the image to see more
This is all LOCAL: Made by Maryland Print House; Proceeds support my Maryland Trek 7 this August for Just In Power Kids.
Related Posts
2020 Tropical Storm and Hurricane Names and Naming History
Atlantic Tropical History: Maps of Origin Regions Every 10 Days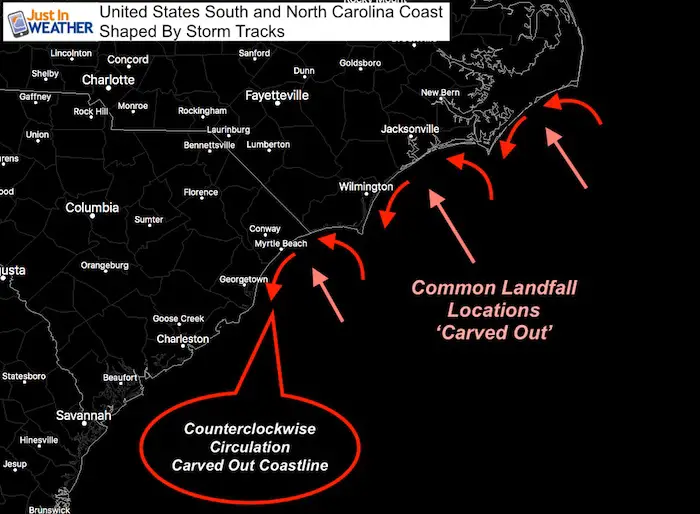 Other  Links:
Was Your County Not Included?
Click this map for more on the regional forecast zones
Baltimore Weather At BWI May Not Be As Hot As Reported
Construction at the airport close to the weather station may be added artificial heat. Click here or the image for the details.
Also See:
Just In Power Kids:
Proceeds go to our programs Providing FREE holistic care for kids in cancer treatment and up to 5 years post treatment and caregivers.
Shine On
Proceeds from all sales go to Just In Power Kids. Click the image to shop and show your support.