September 18 2020
The year 2020 continues to serve up rare news, but it's hard to be surprised anymore. Today's weather news has 3 major headlines and I didn't know where to start.  Tropical. Storm Beta has formed in the Gulf of Mexico, and this could be a major flood maker for east Texas.  We are now two storms deep into the Greek Alphabet, the first time this many storms formed since 2005.
But in Europe a rare Medicane off of the Mediterranean Sea hit Greece. It wasn't alone. SubTropical Storm Alpha just was named and hit Portugal. This is the first time I could find in recorded history when two tropical systems hit Europe in the same day!
In the central Atlantic there is Major Hurricane Teddy, which may pose a risk for Bermuda just one week after their direct hit from Hurricane Paulette. This will send high surf all along the Eastern US coast. I will get to more detail and their maps below.
Europe Get Two Tropical Landfalls Today
The really weird story involves two storms hitting Europe.  A tropical style system hit Greece off of the Mediterranean Sea called a Medicane. Plus, a Sub Tropical Storm Alpha hit Portugal.
There are some rare occasions when they can get a system like this, and it is called a Medicane (like a hurricane on the Mediterranean). This one was name Ianos. Today was one of the strongest on record with winds reaching 62 mph. The three hardest hit islands were Kefalonia, Zante and Ithaca. Power is out there and there have been reports of flooding and wind damage.
Medicane Ioanos Satellite
Medicane Ioanos Winds at Landfall
Back Closer To Home
I am going to go in reverse order with the system more likely to impact the US first. That is the last one to be named… Beta. While Teddy will stir water in the Atlantic and could impact Bermuda and New England or eastern Canada.
Tropical Storm Beta Satellite
This storm looks healthy and has a lot of warm water to feed off of. But check out the curveball forecast.
National Hurricane Center Forecast Track/Cone
This storm may become a hurricane, but that is the least of the worries. The forecast from NHC has this nearly stalling before landfall by Houston, then curving up along the Texas coast. This would extend the duration and locations of flooding.   I will post more models and a dedicated page over the weekend.
Hurricane Teddy
The National Hurricane Center actual put in their statement earlier this week: Teddy 'Bears' Watching. Well, they were right. It has become a Major Hurricane, now with 125 mph winds.
Satellite Loop
National Hurricane Center Advisory 
SUMMARY OF 500 PM AST…2100 UTC…INFORMATION ———————————————- LOCATION…23.1N 57.0W ABOUT 520 MI…835 KM NE OF THE NORTHERN LEEWARD ISLANDS ABOUT 795 MI…1275 KM SE OF BERMUDA MAXIMUM SUSTAINED WINDS…125 MPH…205 KM/H PRESENT MOVEMENT…NW OR 320 DEGREES AT 14 MPH…22 KM/H MINIMUM CENTRAL PRESSURE…951 MB…28.08 INCHES
National Hurricane Center Forecast Track/Cone

This is forecast to make a turn avoiding a direct hit on Bermuda, but really close to call. Especially after their Direct Hit earlier this week from Hurricane Paulette .
This is projected to stay east of New England, but make landfall on Nova Scotia as a hurricane next Tuesday. It could be a hybrid post tropical cyclone, but still carrying winds over 75 mph.
This was a lot to try and follow. So much for an easy weekend. I will have more updates soon.
Related Posts
2020 Tropical Storm and Hurricane Names and Naming History
Atlantic Tropical History: Maps of Origin Regions Every 10 Days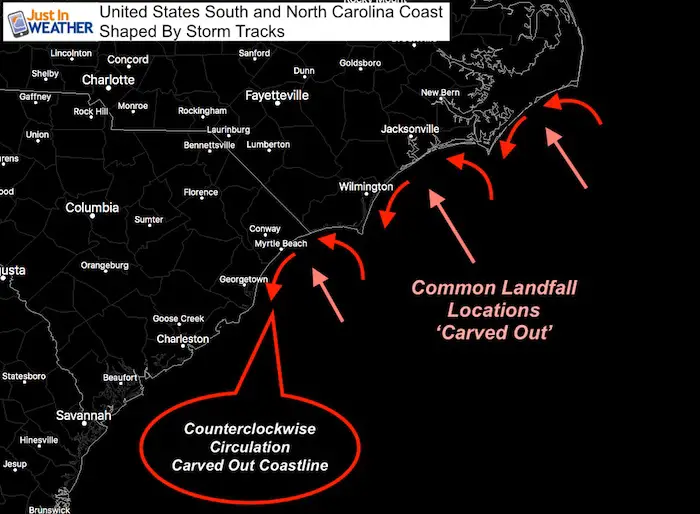 Please share your thoughts, best weather pics/video, or just keep in touch via social media
---
Email Updates
Please make sure you sign up (above or  click here to sign up for email alerts…. ) for my newsletter. This way you will get an email to make sure you are notified of each post.
---
NEW INTERACTIVE WEATHER PAGES
This is still a work in progress, but please check out these interactive pages:
Maryland Weather Page
I wanted to keep it simple. Just the basics for a quick view at any time.
14 Local Maryland Pages (and York PA)
We have made a page for Maryland Weather which gives you the current conditions for 14 present area locations. Many of these match up with the spots on our route.  Please use this list below are reference. I will include them daily with my articles on the kids.
NEW
Local Hourly Forecasts and Local Radar
Central Maryland
Delmarva
Pennsylvania
Other  Links:
Was Your County Not Included?
Click this map for more on the regional forecast zones
Baltimore Weather At BWI May Not Be As Hot As Reported
Construction at the airport close to the weather station may be added artificial heat. Click here or the image for the details.
Just In Power Kids:
Proceeds go to our programs Providing FREE holistic care for kids in cancer treatment and up to 5 years post treatment and caregivers.
Shine On
Proceeds from all sales go to Just In Power Kids. Click the image to shop and show your support.