Thursday August 27 2020
Hurricane Laura has been on land for almost 10 hours and has been downgraded to from Category 4 to 1. It is barely a hurricane with top winds of 75 mph, but there is a lot of energy left over even though it is away from the water.   So we must shift our focus to the forecast for our region in the Mid Atlantic Saturday.
The forecast track turns the core low through Virginia as it interacts with a cold front to the north.  How close it gets will determine how much rain and wind, and severe storm risk we may experience.  But the outlook does place the risk for a large populated area on Saturday.
Rain forecast maps are below.
Severe Storm Outlook
The risk for Flash Flooding, Damaging Winds, and Isolated Tornadoes.
Tropical Storm Laura
Let's look at the conditions from 11 AM Thursday, then get back to the forecast:
Radar Loop
The rain is still wrapped tightly around the core in northern Louisiana, and rain extends into Arkansas. This will spread out farther as the storm gets weaker.
Satellite Loop
The cloud field will continue to expand and stretch out as this interacts the cold front and weakens.
Hurricane force winds reach 30 miles from the center. Tropical Storm force winds reach 105 miles away.
Satellite And Stats From The National Hurricane Center
Live Interactive Wind
Forecast Track: National Hurricane Center
The forecast takes this down to a Tropical Storm this afternoon. Then it will continue to weaken to a Tropical Depression on Friday. The remnant Low is likely to track through Virginia. But the 'cone' spreads out and how close it gets will determine the impact on us Saturday.
GFS Forecast Animation
This shows the expanded rain area as this interacts with a cold front. The remnant Low will pass off of the coast by Sunday, and may regain post tropical storm intensity.
Saturday: Moderate rain at times, but a period of possible severe storms in the afternoon.
Sunday will be clearing and cooler/less humid.
Snapshots: Saturday Afternoon
NAM 3 Km:
The higher resolution model shows the Low farther north in central Virginia, brining heavy rain bands and likely severe storms to metro Washington.
European ECMWF Model
This plot takes the remnant Low farther south. That would result in less rain and severe risk for our region, but bring it to the Carolinas.
Rain Forecasts
The GFS Model appears to the the mainstay here. This brings a swatch of 1 to 3 inches of rain to our region.
The European Model has the storm south and brings us less rain. This model has actually not performed as well lately, so it will be a true test project here.
Hurricane Laura Resource Page Click Here For: More Live Tools To Track The Storm Radar, satellite, National Hurricane Center updates, and this elaborate Coastal Inundation Page for anything you may want to see.
Tropical Related Posts
2020 Tropical Storm and Hurricane Names and Naming History
Atlantic Tropical History: Maps of Origin Regions Every 10 Days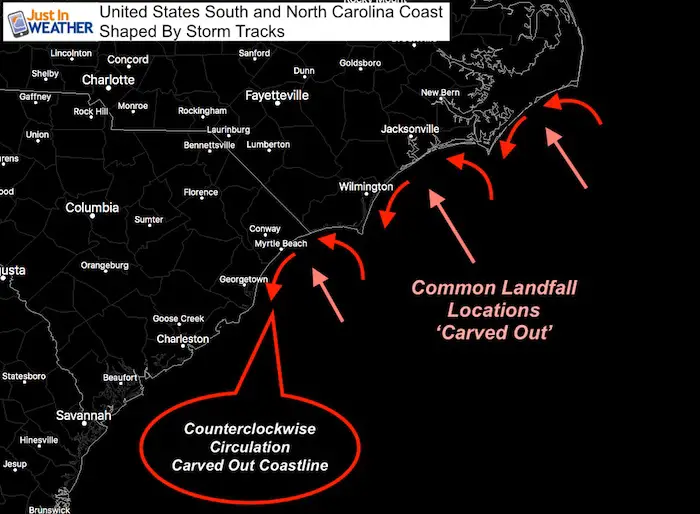 NEW INTERACTIVE WEATHER PAGES
This is still a work in progress, but please check out these interactive pages:
Maryland Weather Page
I wanted to keep it simple. Just the basics for a quick view at any time.
14 Local Maryland Pages (and York PA)
We have made a page for Maryland Weather which gives you the current conditions for 14 present area locations. Many of these match up with the spots on our route.  Please use this list below are reference. I will include them daily with my articles on the kids.
NEW
Local Hourly Forecasts and Local Radar
Central Maryland
Delmarva
Pennsylvania
Please share your thoughts, best weather pics/video, or just keep in touch via social media
---
Email Updates
Please make sure you sign up (above or  click here to sign up for email alerts…. ) for my newsletter. This way you will get an email to make sure you are notified of each post.
---
Maryland Trek Team Shirt
All proceeds will go to the Just In Power Kids programs
Maryland Trek Cycle Jerseys From Hill Killer
All proceeds will go to the Just In Power Kids programs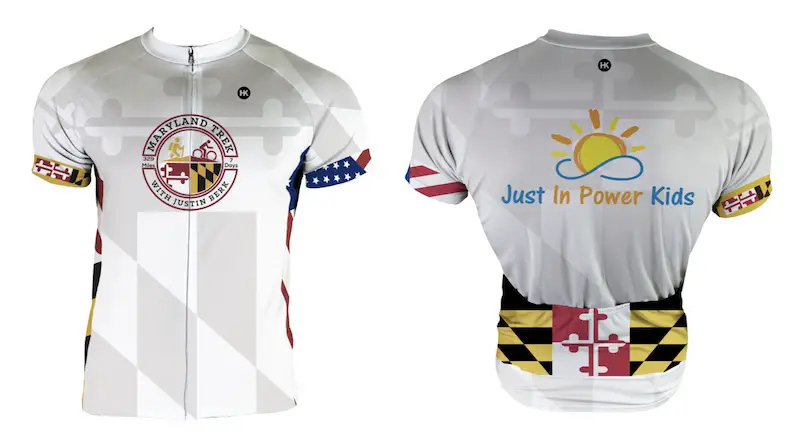 Other  Links:
Was Your County Not Included?
Click this map for more on the regional forecast zones
Baltimore Weather At BWI May Not Be As Hot As Reported
Construction at the airport close to the weather station may be added artificial heat. Click here or the image for the details.
Just In Power Kids:
Proceeds go to our programs Providing FREE holistic care for kids in cancer treatment and up to 5 years post treatment and caregivers.
Shine On
Proceeds from all sales go to Just In Power Kids. Click the image to shop and show your support.