Tuesday December 10 2019
Want to stay up late to watch snow or hope for a delay in the morning? My kids do and forgive any typos here because they were playing their saxophone and trumpet while I wrote this.
The coldest areas in the Winter Weather Advisory should see snow mixing in or taking over between 9 PM and midnight. This system is proving to be a little faster, which also means it will be done sooner. The good news is that' if there is an impact' on the roads, we will know early.  I'll have more on that plus my final snow impact map below.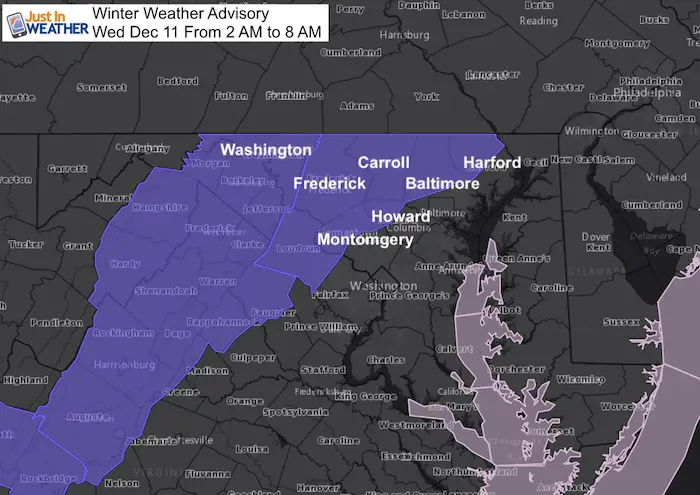 This post has the HRRR Model snow simulation and temperature timelines. This model does best in the short time frames since it is initialized and updated every hour.  But first, let's look at the set up as of 8 PM.
Common Questions
Can it snow when temps are above freezing?
Yes! Plus the colder the clouds and snowflakes, the longer the flakes can survive to the ground and even overcome the warmer ground to start stickage and accumulation.
Can snow stick on the roads after a rainy day in the 50s?
Yes! The colder rain and then snow this evening will help cool the pavement. Also, snow falling at night has a better chance to stick. Faster intensity can increase the likelihood for snow sticking to the roads even when above 32ºF. That is why I expect some slippery roads are possible for metro Baltimore and even the Eastern Shore during the morning.
Will there be school?
Most likely yes, but a delay is possible.
In Maryland it is possible to get a delay in a county under the Winter Weather Advisory, where there is a delay and the snow stuck in a colder part, even if it's wet at your house.
In Maryland: Washington, Frederick, Montgomery, Howard, Carroll, Baltimore, and Harford.
In Pennsylvania, there is no advisory, but there will be snow to stick on the roads in Adams, York, and Lancaster.
Tuesday Evening Weather
The cold front has already moved through and temperatures are dropping. The rain in place is part of the upper level system I described in my prior report. This is not a typical front, when you would expect the back end snow to fade away. This moisture is streaming in with the help of a jet streak, and it will catch with colder air for snow overnight.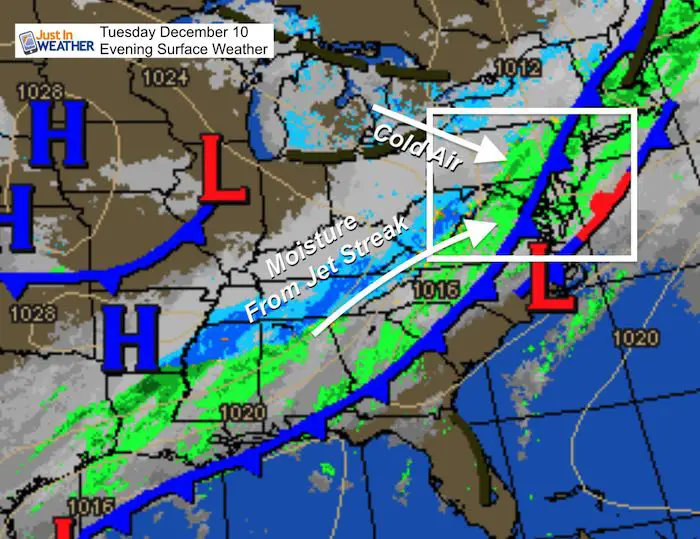 Doppler Radar (Winter Mode) at 8 PM
There will be breaks in the activity. The next surge of energy is likely around midnight to 5 AM.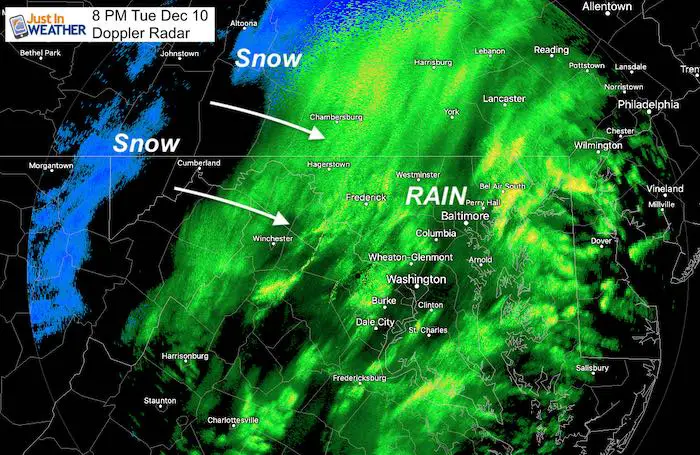 Temperatures at 8 PM
These numbers are dropping and will continue to do so. Also when the next wave of energy arrives and produces snow, it will drag colder air down to the surface. The reason the Winter Weather Advisory kicks in at 2 AM is that is when the temps are expected to drop below freezing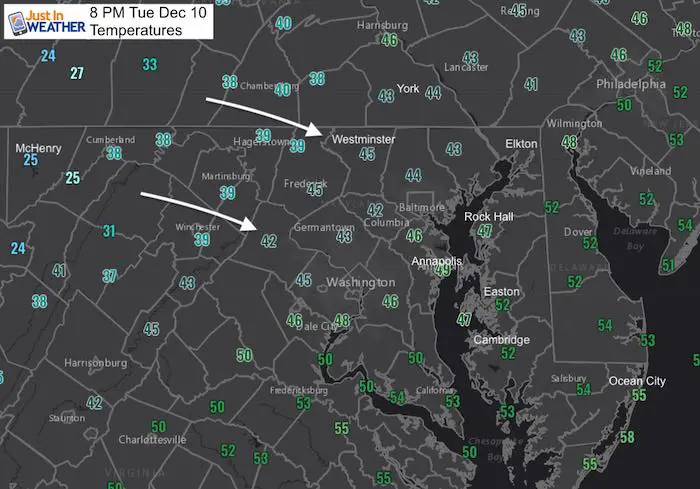 Timeline Sliders
Here is the HRRR Model. This is just one of more than half a dozen models I look at.  I am most interested in when the snow begins and when/where it can stick on the roads.  I have little confidence in models snowfall outputs. Many seem overdone and not accounting for melting.  Also, you will measure more on the grass than the pavement for sure.
But it's also possible that some places have wet roads that start to freeze between 3 AM and 6 AM. So travel near and definitely inland from the cities will be hindered in the morning.
Radar Simulation —> slider
Snow should be seen west of the city/I-95 by midnight. But overnight reaching to the Bay and upper Eastern Shore.
Temperatures —> slider
My Final Call For Snowfall
This has not changed much since last night. Zone descriptions are below the map. I apologize for A and D looking similar. It saved that way and I ran out of time to fix it.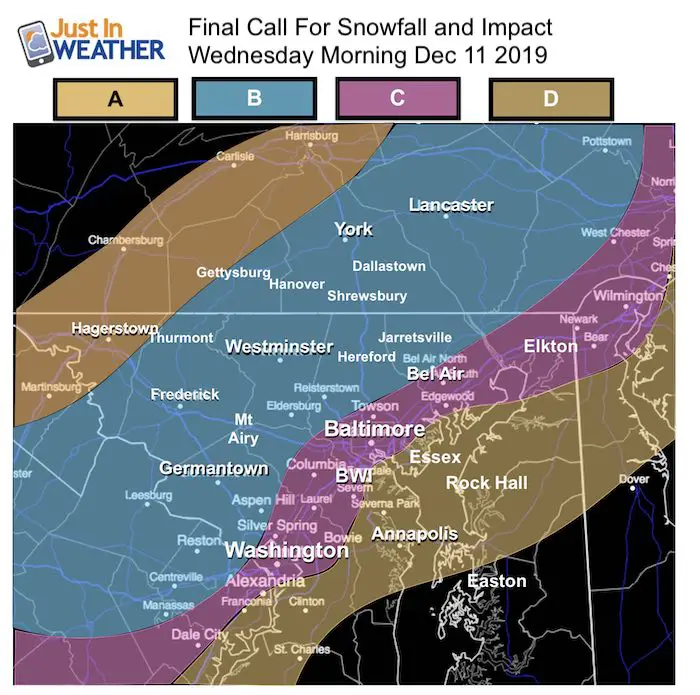 Zone A: Light snow but colder. A coating to 1 inch ending by 3 AM.  Up to 2 inches in spots with a heavier burst. Temps will drop below freezing, so even wet roads cold be icy in the morning.
Zone B: Winter Weather Advisory. Mostly 1 to 2 inches. Some spots up to 3  inches. Temps reach freezing and roads likely to turn icy and snow covered. Snow ends in the morning. 
Zone C: Snow will fall and coat the grass. A coating to 1 inch. But if there is a heavier burst, up to 2 inches if you are lucky. There may be some spots that turn slick if heavier snow bursts can overtake the warmer pavement. Temps should remain at or just above freezing.
Zone D: Snow will fall in the morning and likely coat the grass. A heavier burst might briefly coat some roads early in the day, but temps stay above freezing. Snow showers end by 8 to 10 AM for most here.
Get Forecasts By Email
Just in case you don't get all posts on your social media feed, stay up to date with the latest info…
Click here to sign up for email alerts…. Be the first to hear any new weather
Please share your thoughts, best weather pics/video, or just keep in touch via social media
WEATHER WIFE COLLECTION
Thanks to Shannon (weather wife) for hand picking items 'she' wants to wear
The Yoga Pants have side leg pocket for your phone
The Hoodie is extra soft and has the important 'thumb holes'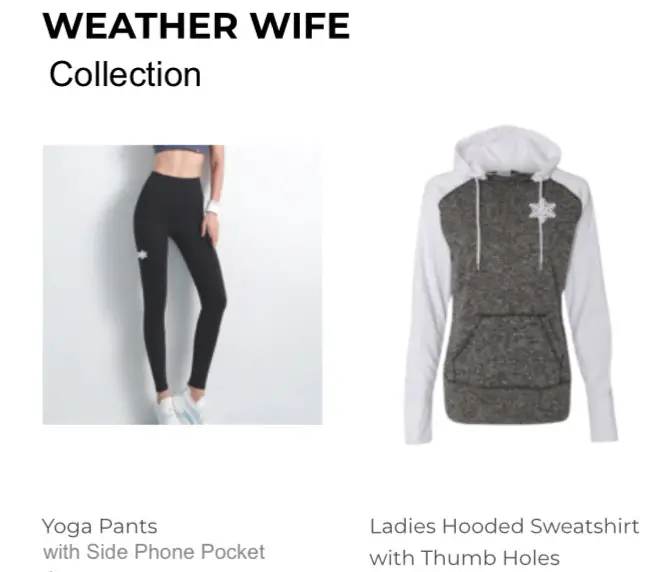 Winter Outlook Series:
My Call For Snowfall Winter 2019-2020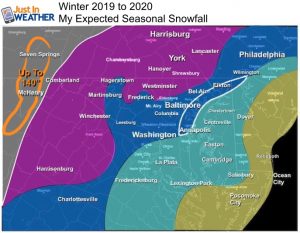 Snowy Winters Following A Hot and Dry September
NOAA Winter Outlook Leaves Room For More Snow With Mild 'Seasonal Average' Temperatures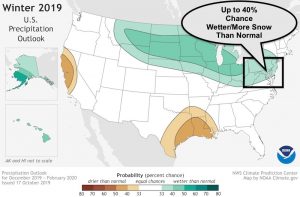 Other  Links:
See the maps for when we normally expect the first frost in this link.
Baltimore Weather At BWI May Not Be As Hot As Reported
Construction at the airport close to the weather station may be added artificial heat. Click here or the image for the details.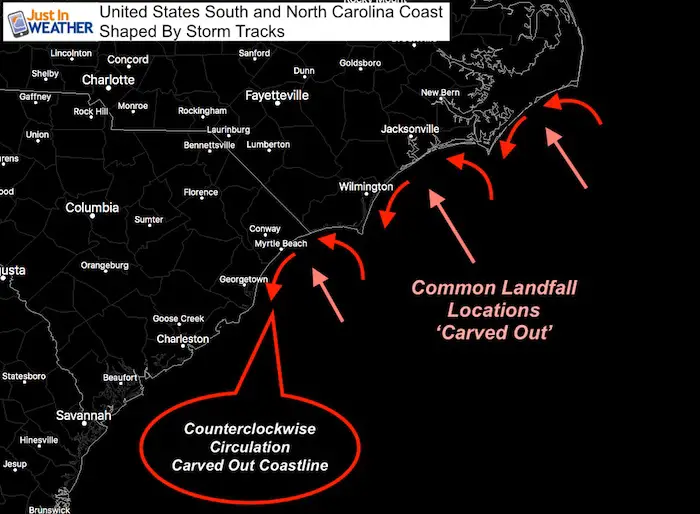 Maryland Trek Cycle Jerseys From Hill Killer
All proceeds will go to the Maryland Trek 6 total and Just In Power Kids programs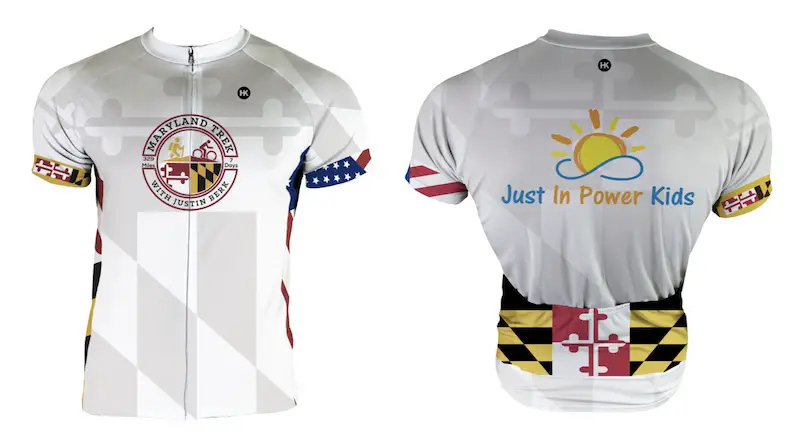 Thank you to our Title Sponsor for Maryland Trek 6
Shining on with Smyth and their contribution, our team has raised over $95,000 for Just In Power Kids to provide free programs for kids in and post cancer treatment.

Just In Power Kids:
Proceeds go to our programs Providing FREE holistic care for kids in cancer treatment and up to 5 years post treatment and caregivers.
Shine On
Proceeds from all sales go to Just In Power Kids. Click the image to shop and show your support.