December 10 2019
A Winter Weather Advisory has been issued for parts of central Maryland from NWS in Sterling VA. This will be effective between 2 AM and 8 AM for snow of 1 to 2 inches, with spots over 1000 Ft up to 3 inches. This area will drop below freezing, so slippery roads likely in the morning.
Note: This only covers that local National Weather Service Office. Southern PA should be added from the State College office next. There could be some impact closer to Baltimore at daybreak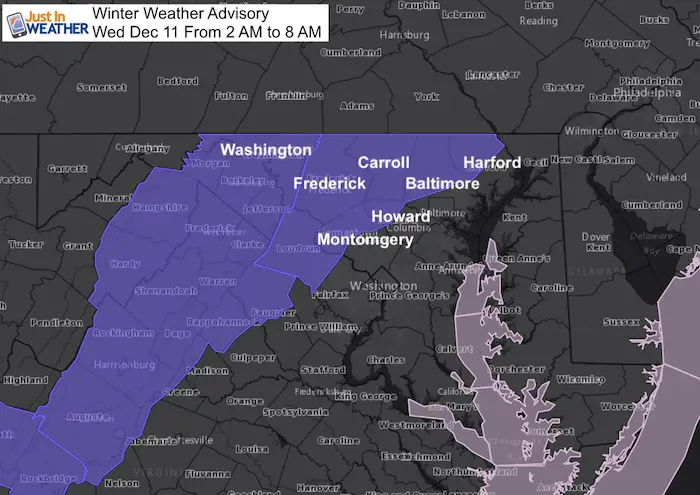 My Initial Map
This looks a lot like my map I showed last night. There will be more affected as I will highlight below, so stand by for the counties to expand.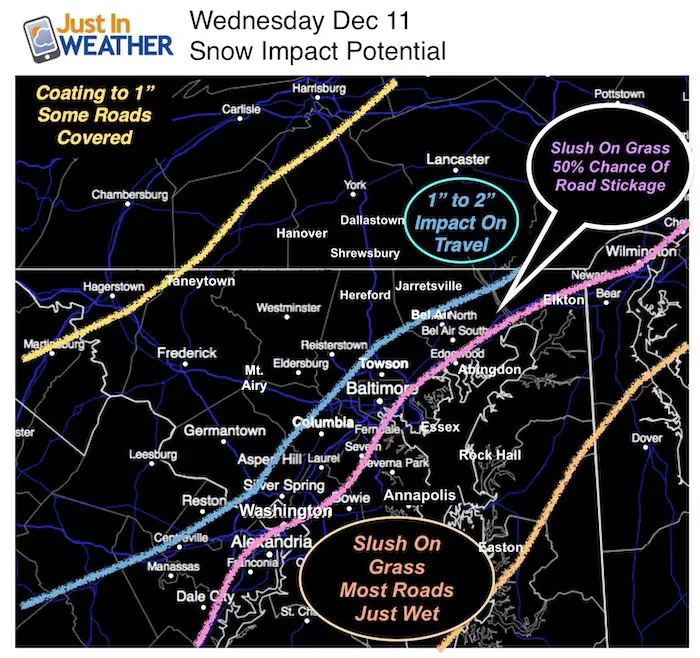 Notes and Questions
Why was my county not included?  
Advisories are based on National Weather Service Zones. See more on that here.
Can it snow when temps are above freezing?
Yes! Plus the colder the clouds and snowflakes, the longer the flakes can survive to the ground and even overcome the warmer ground to start stickage and accumulation.
Can snow stick on the roads after a rainy day in the 50s?
Yes! The colder rain and then snow this evening will help cool the pavement. Also, snow falling at night has a better chance to stick. Faster intensity can increase the likelihood for snow sticking to the roads even when above 32ºF. That is why I expect some slippery roads are possible for metro Baltimore and even the Eastern Shore during the morning.
Will there be school?
Most likely yes, but a delay is possible. School delay is most likely in the zone where the advisory has been issued:
Maryland: Washington, Frederick, Montgomery, Howard, Carroll, Baltimore, and Harford.
Pennsylvania: Adams, York, and Lancaster possible delay as well.
Weather Set Up
The rain and warms temps this afternoon will transition to snow tonight. This system is moving a little faster and it will have some impact on our region's travel. The good news is that this will be happening a little sooner.  So the changeover for suburbs west of Baltimore will happen between 9 PM and midnight. Then gradually cross through central Maryland.
Water Vapor Satellite
The flow of moisture from east Texas through the Ohio Valley is strong.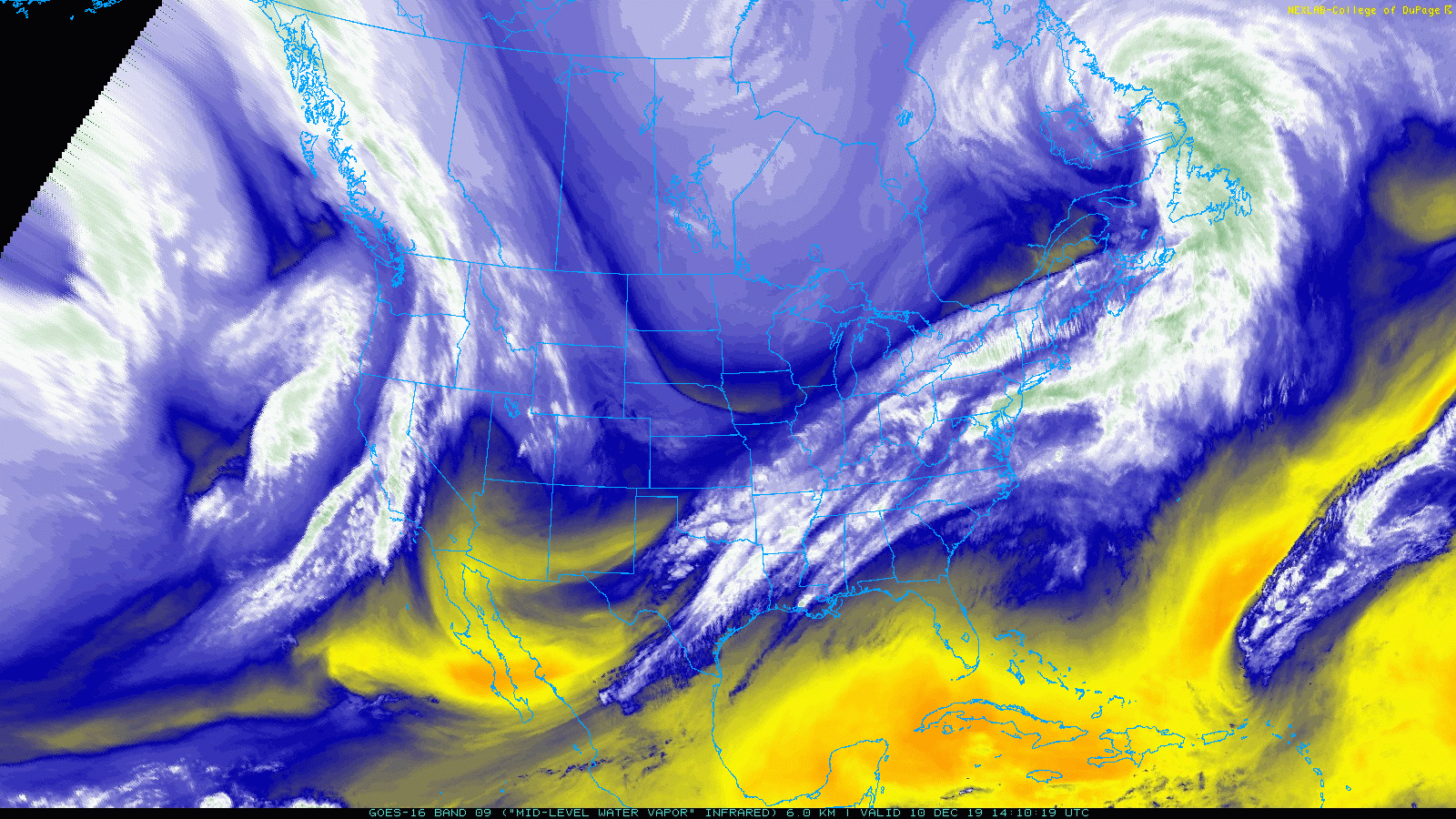 Jet Streak = Energy Surge Tonight
The winds and energy at jet stream level will produce focused areas of faster winds called jet streaks. This is what should enhance the snow after midnight across central Maryland and southern PA.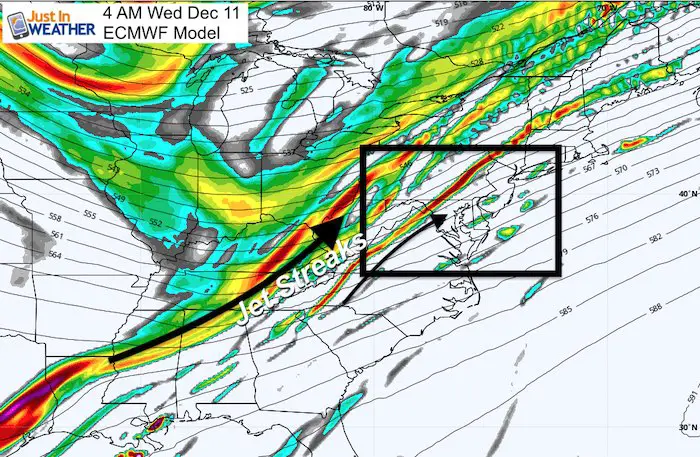 Snow Timeline This Evening —> slider
The timing on the models continues to speed up. The snow may begin to show up between 8 PM and Midnight in western suburbs.
Temperature at Midnight 
The snow will likely stick on roads in the blue highlighted zone. This matches well with the advisory.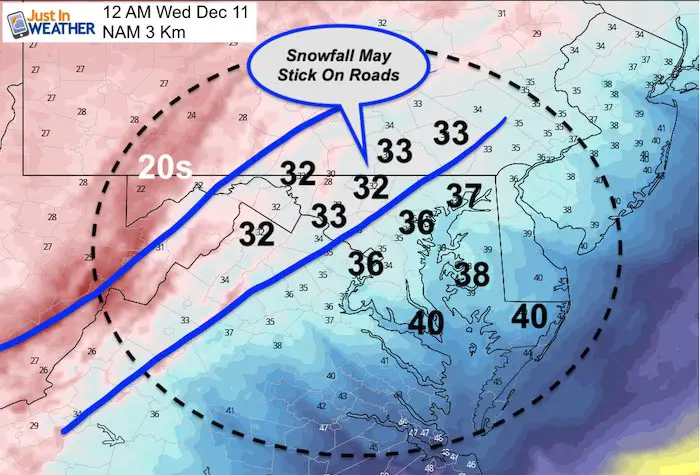 Wednesday Morning Snow —> slider
Temperatures at 7 AM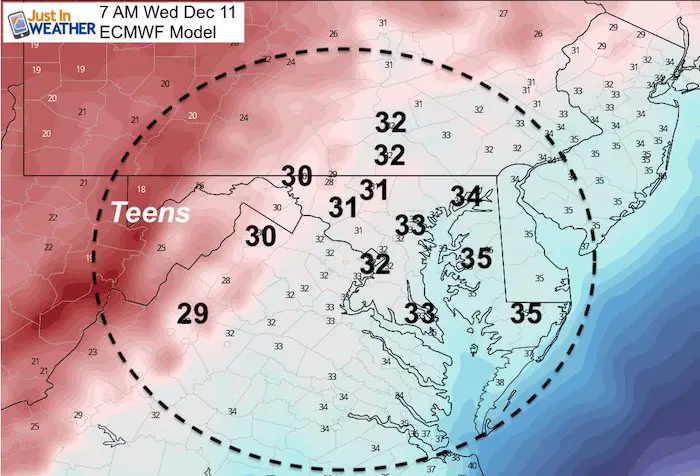 NEW SNOW MAP
I will post any update maps this evening.
FITF
Get Forecasts By Email
Just in case you don't get all posts on your social media feed, stay up to date with the latest info…
Click here to sign up for email alerts…. Be the first to hear any new weather
WEATHER WIFE COLLECTION
Thanks to Shannon (weather wife) for hand picking items 'she' wants to wear
The Yoga Pants have side leg pocket for your phone
The Hoodie is extra soft and has the important 'thumb holes'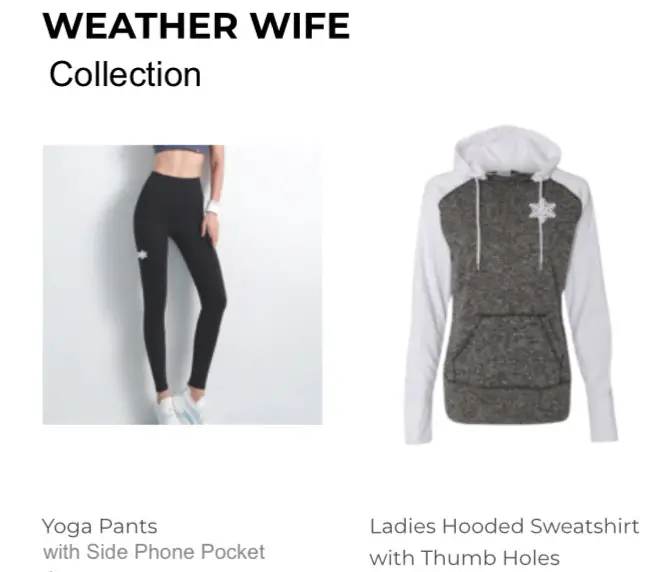 Please share your thoughts, best weather pics/video, or just keep in touch via social media
Winter Outlook Series:
My Call For Snowfall Winter 2019-2020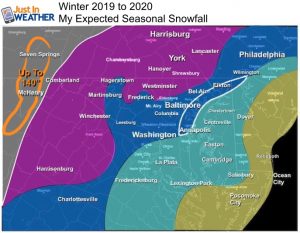 Snowy Winters Following A Hot and Dry September
NOAA Winter Outlook Leaves Room For More Snow With Mild 'Seasonal Average' Temperatures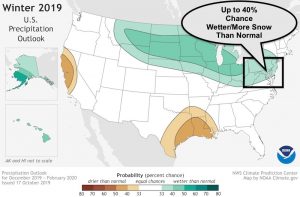 Other  Links:
See the maps for when we normally expect the first frost in this link.
Baltimore Weather At BWI May Not Be As Hot As Reported
Construction at the airport close to the weather station may be added artificial heat. Click here or the image for the details.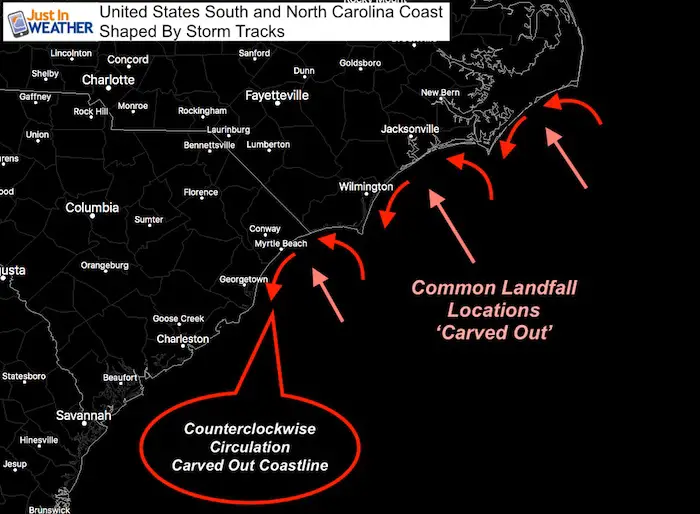 Maryland Trek Cycle Jerseys From Hill Killer
All proceeds will go to the Maryland Trek 6 total and Just In Power Kids programs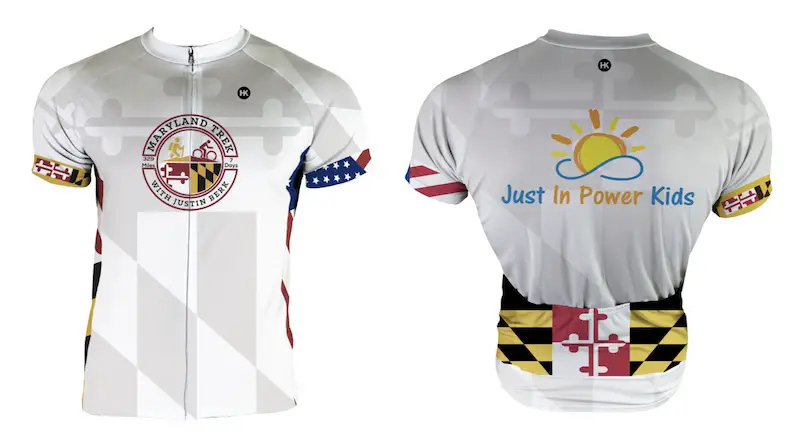 Thank you to our Title Sponsor for Maryland Trek 6
Shining on with Smyth and their contribution, our team has raised over $95,000 for Just In Power Kids to provide free programs for kids in and post cancer treatment.

Just In Power Kids:
Proceeds go to our programs Providing FREE holistic care for kids in cancer treatment and up to 5 years post treatment and caregivers.
Shine On
Proceeds from all sales go to Just In Power Kids. Click the image to shop and show your support.