November 5 2019
This is the second part of my Winter Outlook Series for the 2019-2020 winter season. My focus is in the Mid Atlantic region of the US with Baltimore, MD as the center. I often use those stats since there is a long history of weather data to relate. My prior report discussed the statistics supporting more snow on the way. Now I want to address another factor I consider: Sunspots.
Solar Minimum
We are in a Solar Minimum, which is a period of low sunspot activity. There is a cycle of the Sun's magnetic field the flips on average every 11 years. Basically the Sun's north and south poles swap places. We can track these by counting the sunspots or locations of storms on the sun. This image was taken on November 5, 2019 by NASA's Solar Dynamics Observatory (SDO).
As of this date, there have been 230 days this year with no sunspots. That is 74% of the days without sunspots and could be on pace for a record low activity by year's end.
Solar Cycle Tracking Is Important
Solar Activity has been traced and documented for hundreds of years. It's believed that loner periods of low activity like we are entering now could related to global cooling. Between 1645 and 1715 and extended period of Low Sunspot Activity was called the Maunder Minimum. This period correlated to cooling on a global scale and was known as the Little Ice Age. The timing and impact in Europe and around the globe has been up for debate.
Solar Cycles Since 1700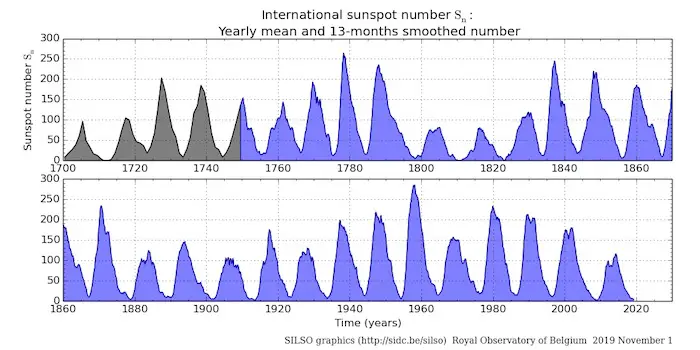 More Recent Solar Cycles
Tracking the space weather, the Sun's activity, and the solar cycle has a wide range of implication. This ranges from space travel, satellite communications, and even weather here on Earth.
This chart of sunspots showing the past 6 solar cycles, highlights the solar minimum. See a longer range chart at the bottom of this post.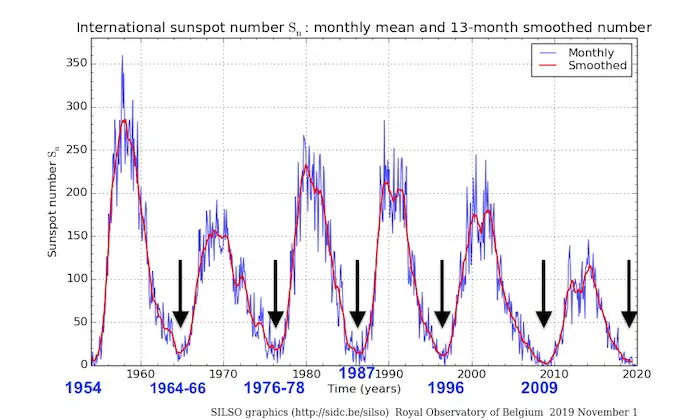 Spotless Days Each Year 
A closer look at the last solar cycle can be seen counting the number of days each year no sunspots were present. This chart may look inverted to the one above. More spotless days relate to less solar activity. The last peak was in 2008 and 2009. We are in another peak of spotless days.
It should be noted that 2019 has 56 more days to go from the time of this chart. This number will climb and could rival the prior solar minimum activity. Could it rival what else happened in the corresponding winter?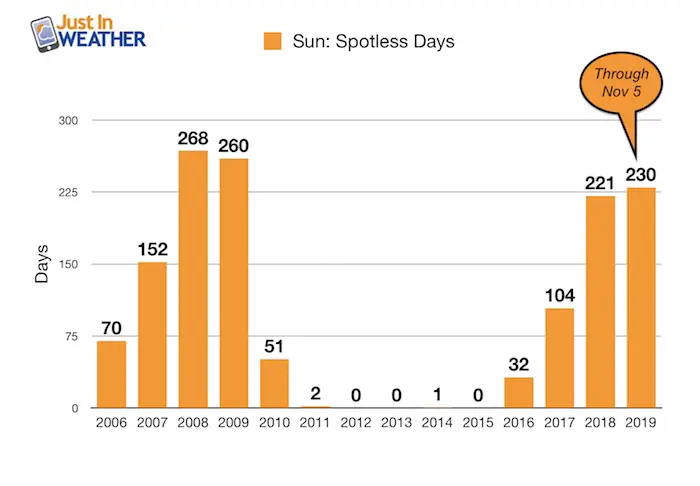 Solar Minimum And Snowy Winters For Our Region
Looking back at the last 5 solar minimums with respect to the winters, and there is strong correlation to high snowfalls.  The last solar minimum was in 2009, which also happened to be when we had our record winter 2009-2010 of 77 inches of snow.
In fact, just about every solar minimum related to a very snowy winter within a year prior or afterwards. Almost all of these winters had OVER 30 inches of snow. Five winters had over 40 inches of snow! The slightly below average snow winter was in 1964-1965 when a strong El Nino was present to add more complications to the global weather patterns.
Compare to Average Baltimore Snow
20.1″ = The current average is based on 1981 to 2010 (We will get an updated number next year)
21.7"  = The long term average since 1883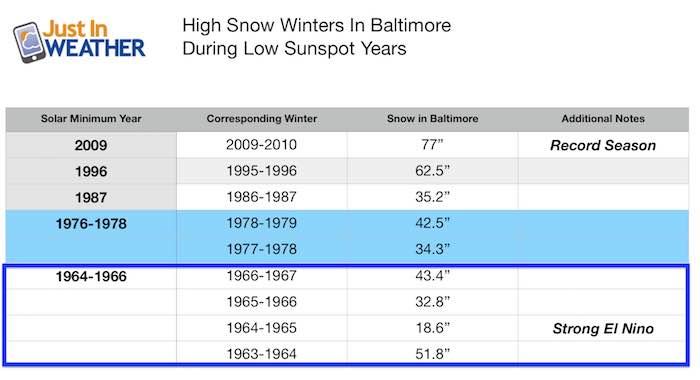 Reminder looking back at the last century of snow per decade: The 1960s were the most snowy. This was preceded by the least snowy decade of the 1950s. Click here to see my full winter snow statistics report.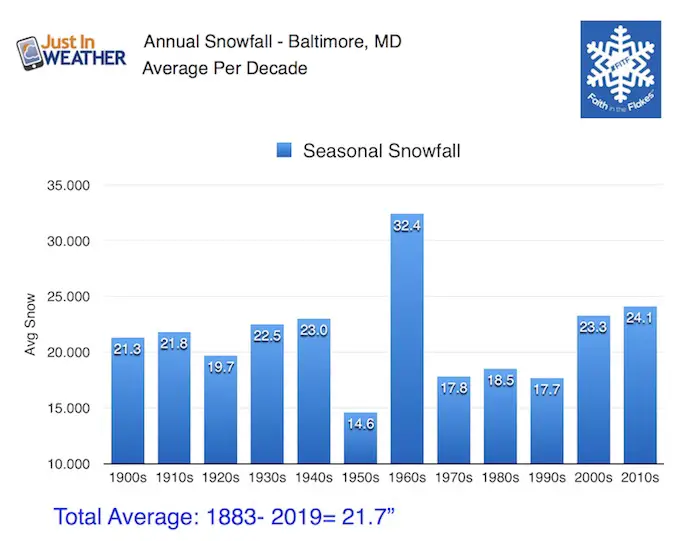 NEW FITF GEAR THIS YEAR
Thanks to Shannon (weather wife) who wanted to bring these hats to life.  *Mustard is her favorite color
The Maryland Hoodie is high quality and a new way to show off our love of Snow and State.
The T-shirt… Something you may find familiar. Why just a T? Because many schools I visit have the heat on high for faculty and staff. But you can put a long sleeve underneath for cool look.  I will have wifey model these soon 🙂
Why Would We Get More Snow?
The lull in solar activity has been correlated to high amplitude patterns in our jet stream. That means ridges are higher and troughs are deeper.
We've already experience a very warm September and October. As the winter weather pattern has been getting established, there were at least 4 snow storms across the Rockies and Mid West in October, with record events in many spots.
The forecast jet stream for next week is an example of what we might experience often in the season ahead. Both the European ECWMF and GFS Models are locking in on what could be record cold in the east next week. It will be cold enough for snow, if moisture can team up in time.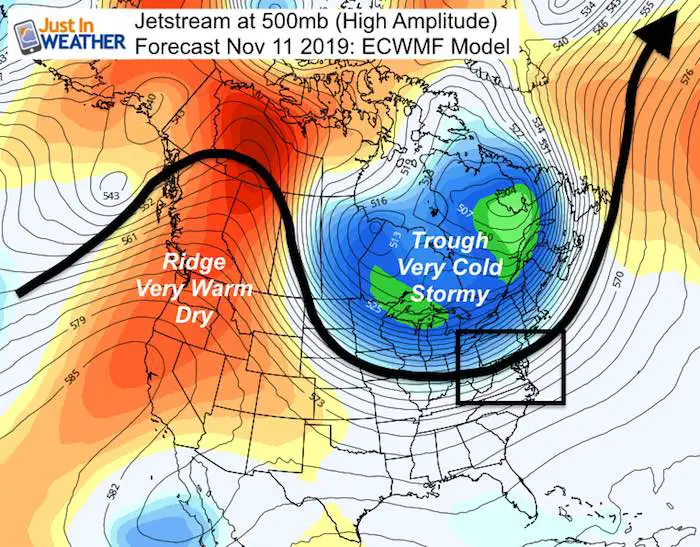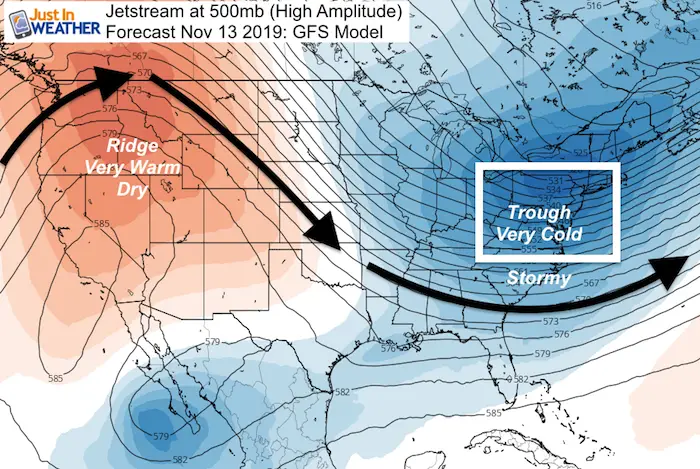 My Thoughts For Winter Ahead
This is one of many elements I look at contributing to our winter. On it's own there is support for a very busy snow season. But, it also supports extremes on both ends. When a long wave pattern gets established, it can be hard to budge.  But when it does, we can also see the other extreme. So while we will have arctic blasts and multiple coastal storms with snow, the pattern can take some storms inland to our west and keep us on the warm/wet side.  We may also experience periods of extreme cold and near record warmth within one to two weeks of each other.  That is actually more common in the winter than you might imagine.
Faith in the Flakes: Get Forecasts By Email
I have more info to share leading up to my Formal Winter Outlook one the weekend. Please keep checking back, or get on the email list.
Just in case you don't get all posts on your social media feed, stay up to date with the latest info…
Click here to sign up for email alerts…. Be the first to hear any new weather
Other Winter Outlook Posts
Snowy Winters Following A Hot and Dry September
NOAA Winter Outlook Leaves Room For More Snow With Mild 'Seasonal Average' Temperatures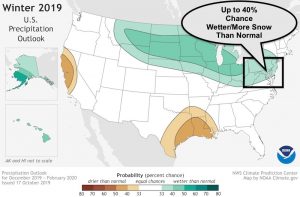 Thank you to our Title Sponsor for Maryland Trek 6
Shining on with Smyth and their contribution, our team has raised over $95,000 for Just In Power Kids to provide free programs for kids in and post cancer treatment.

Please share your thoughts, best weather pics/video, or just keep in touch via social media
ALL FITF  Apparel Available

New Colors
We are giving 10% of each sale to Just In Power Kids: Providing FREE holistic care to pediatric oncology patients and FREE healthy meals to local hospitals.
Also See:
See the maps for when we normally expect the first frost in this link.
Baltimore Weather At BWI May Not Be As Hot As Reported
Construction at the airport close to the weather station may be added artificial heat. Click here or the image for the details.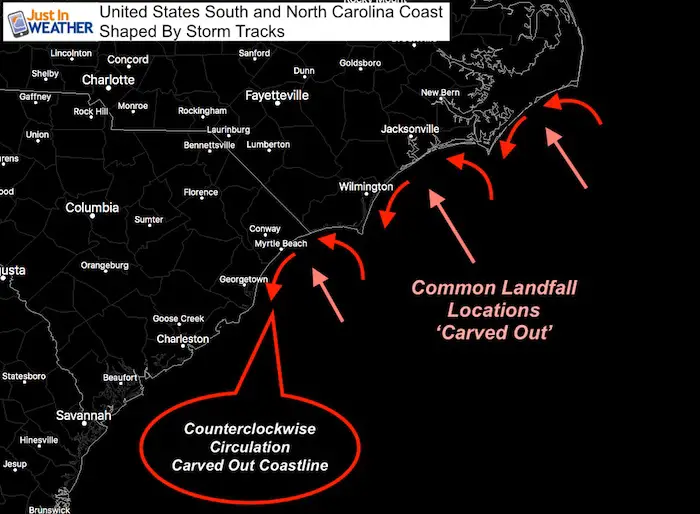 Maryland Trek Cycle Jerseys From Hill Killer
All proceeds will go to the Maryland Trek 6 total and Just In Power Kids programs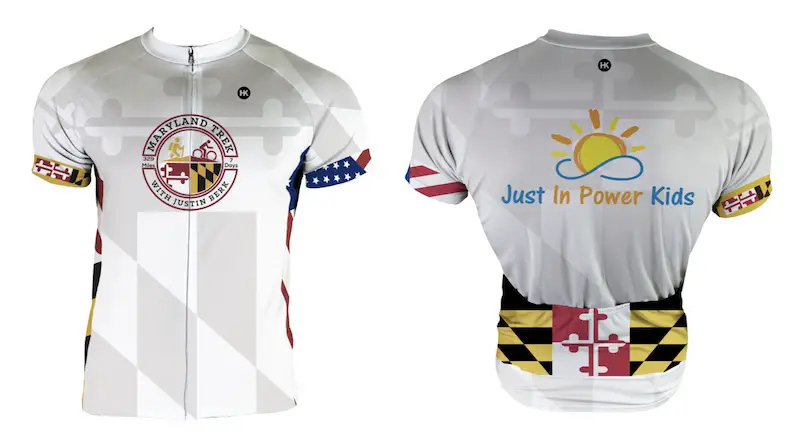 Just In Power Kids:
Proceeds go to our programs Providing FREE holistic care for kids in cancer treatment and up to 5 years post treatment and caregivers.