Monday September 2 2019
Hurricane Dorian may have lost some of the wind speed, but it is still a very powerful Category 4 storm. Winds are sustained at 145 mph and it continues to crawl nearly stalled with forward movement at 1 mph to the WNW. This may be the hint of the turn, but until it actually moves, the proximity and impact on the US coast needs to be considered with the worst case scenario.
New Advisories: Storm Surge Watch to South Carolina and Warning to Georgia.
This report shows the latest forecast tracks, loops, and warnings.  Evacuations are taking place from Florida to Georgia, South Carolina, and coastal North Carolina. This is expected to curve out to the Atlantic but give a glancing blow to Ocean City Maryland. In my next evening report I will show why the is risk for some surge up the Chesapeake Bay.
Hurricane Dorian Stats at 5 PM
Hurricane Force Winds reach 45 mph from the center
Tropical Storm Force Winds reach 150 miles away. This area continues to expand.
Center is 105 miles east of West Palm Beach Florida
Movement now Stationary
Hurricane Dorian IR Satellite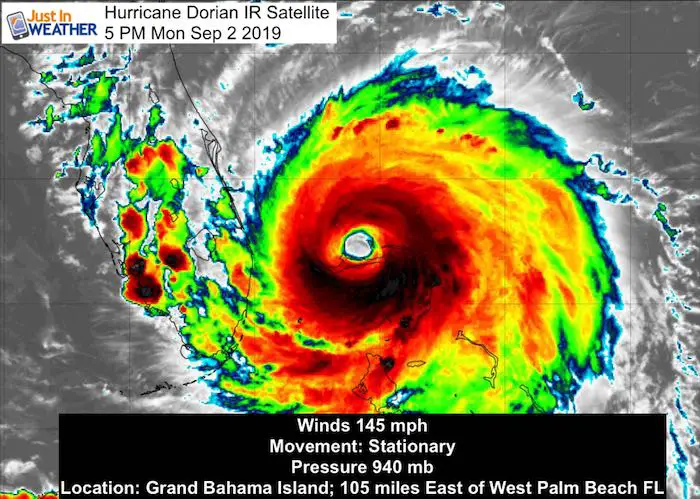 Visible Satellite And Afternoon Shadows
Compare this to my morning post. The sun is to the west or left of this image. That has cast a long shadow form the tall clouds on the left/west side of the eye wall, but the eastern side is facing the sun to show the contrast. The eye itself is not north of Grand Bahama Island after spending most of the day crawling at 1 mph.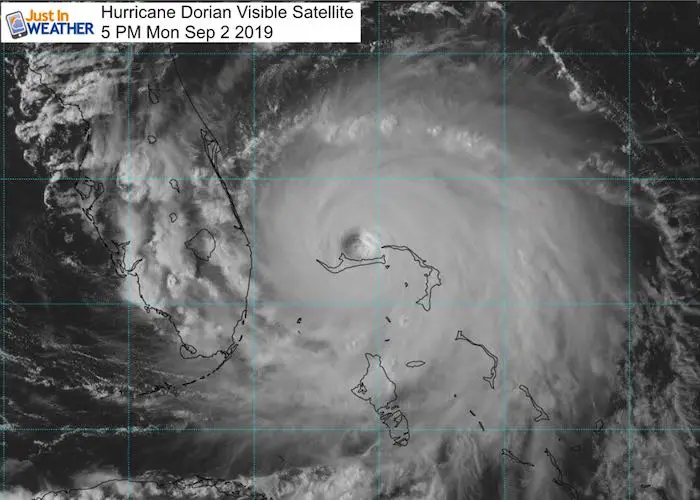 SUMMARY OF 500 PM EDT...2100 UTC...INFORMATION
----------------------------------------------
LOCATION...26.8N 78.4W
ABOUT 25 MI...40 KM NE OF FREEPORT GRAND BAHAMA ISLAND
ABOUT 105 MI...170 KM E OF WEST PALM BEACH FLORIDA
MAXIMUM SUSTAINED WINDS...145 MPH...230 KM/H
PRESENT MOVEMENT...STATIONARY
MINIMUM CENTRAL PRESSURE...940 MB...27.76 INCHES


Hurricane Dorian IR Satellite Loop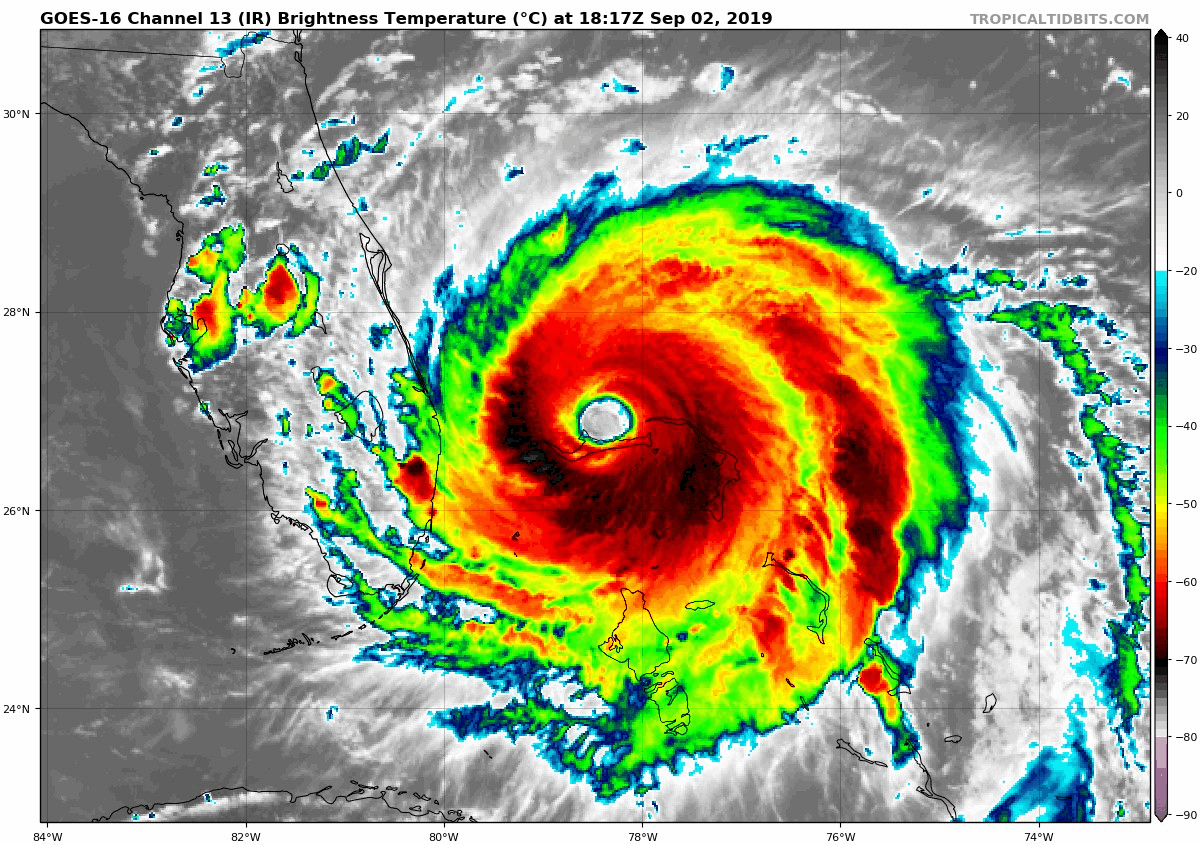 Forces At Work
Hurricane Dorian lost upper level steering currents. That is why is stalled. The two fronts I showed in simplest terms are what should help lift the storm to the north. But with a stalled system now, and weak mechanism to the north… Where and when it get's picked up is the wild card. That will determine how close or far away from the coast the path goes. The movement should be noticeable on Tuesday.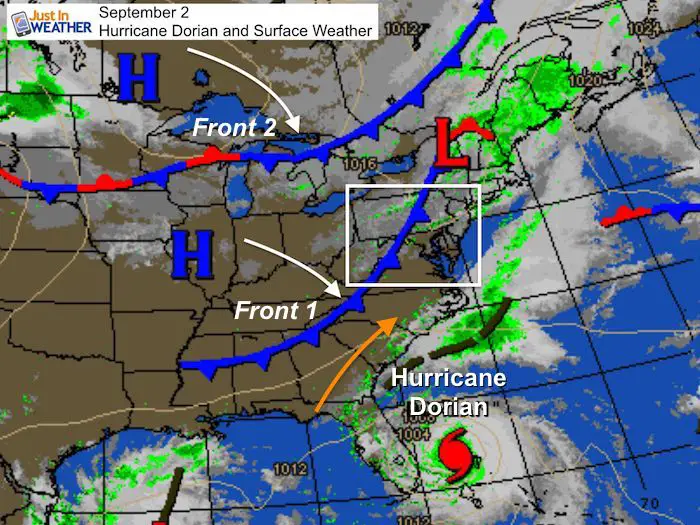 Forecast Maps
Size – impact over larger area! The storm is expected to grow in size as the winds weaken on its northward track. This will spread the impact of the wind farther. This storm will also carry the wave memory of the intensity from a day or two prior. So when it's a Category 2 near North Carolina, the ocean momentum can behave like when it was  Cat 3 or 4.
Wind Arrival Time for Tropical Storm Force over 39 mph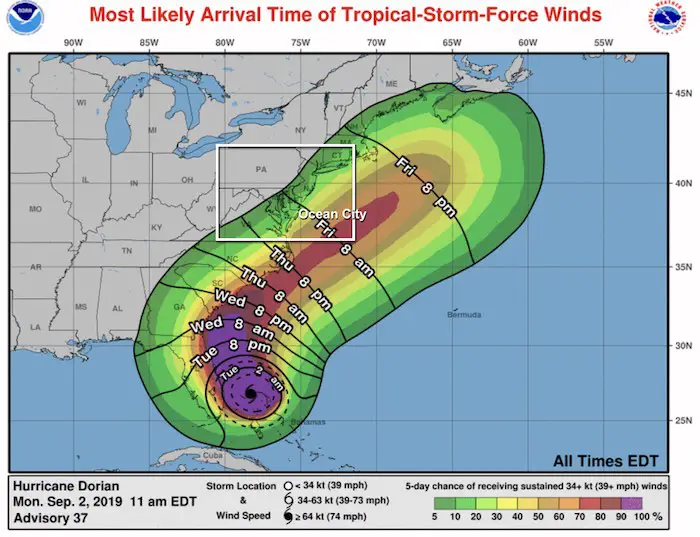 Compare the European and GFS sliders below
European Model Forecast —> slider
Slow moving and hugging the coast. This Shows the outer bands clipping Ocean City, MD on Friday. The easterly winds and sloshing water from the wave history should turn the corner and could push into the Chesapeake Bay.
[metaslider id=79474]
GFS Model Forecast —> slider
This model is faster, but also makes landfall in North Carolina.  This still pushes the storm out into the Atlantic after Cape Hatteras, but clips Ocean City, MD.
[metaslider id=79481]
HWRF Model Animation
This has continued to be the western fringe of the cone… making landfall and remaining inland across South and North Carolina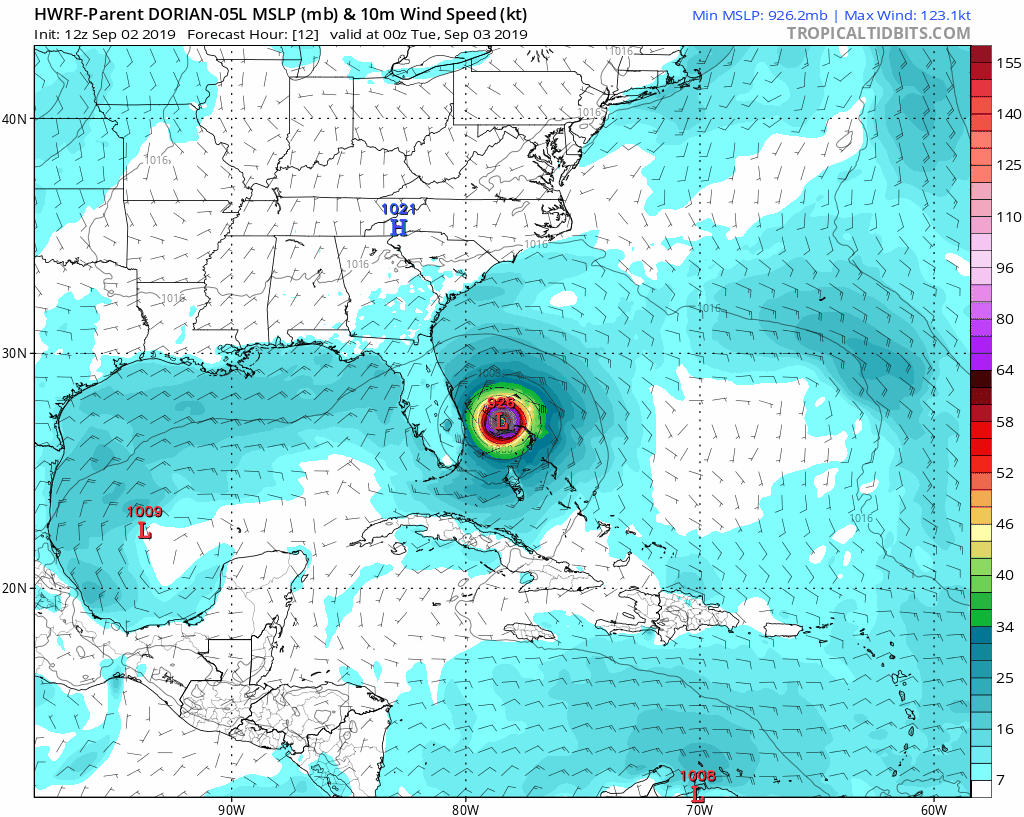 National Hurricane Center Map and Warnings
Notice the cone of uncertainty. This path may not be in the middle and still shows a chance for hitting the coast between SC, NC, and Maryland on the western edge. Too many uncertainties with the stalled movement not to dismiss anything.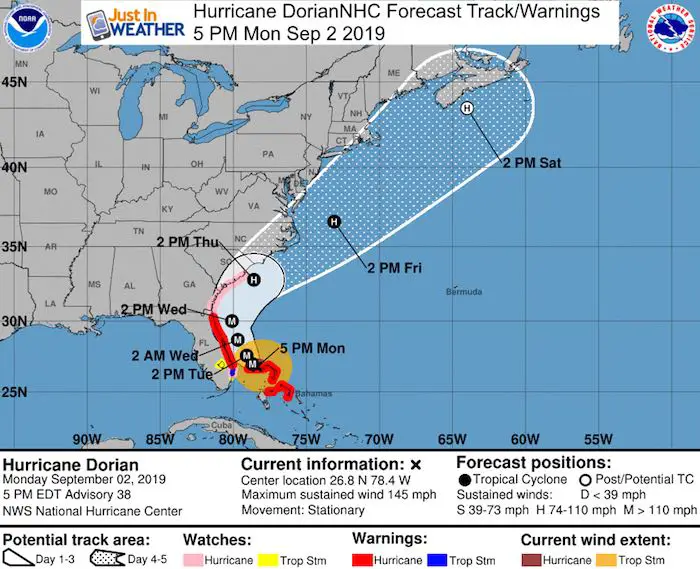 SUMMARY OF WATCHES AND WARNINGS IN EFFECT:

A Storm Surge Warning is in effect for...
* Lantana to Altamaha Sound

A Storm Surge Watch is in effect for...
* North of Deerfield Beach to south of Lantana
* Altamaha Sound to South Santee River

A Hurricane Warning is in effect for...
* Grand Bahama and the Abacos Islands in the northwestern Bahamas
* Jupiter Inlet to Ponte Vedra Beach

A Hurricane Watch is in effect for...
* North of Deerfield Beach to Jupiter Inlet
* North of Ponte Vedra Beach to South Santee River

A Tropical Storm Warning is in effect for...
* North of Deerfield Beach to Jupiter Inlet

A Tropical Storm Watch is in effect for...
* North of Golden Beach to Deerfield Beach
* Lake Okeechobee




Keep In Touch Every Day
Just in case you don't get all posts on your social media feed, stay up to date with the latest info…
Click here to sign up for email alerts…. Be the first to hear any new weather
Thank you to our Title Sponsor for Maryland Trek 6
Shining on with Smyth and their contribution, our team has raised over $95,000 for Just In Power Kids to provide free programs for kids in and post cancer treatment.

Please share your thoughts, best weather pics/video, or just keep in touch via social media
Maryland Trek Cycle Jerseys From Hill Killer
All proceeds will go to the Maryland Trek 6 total and Just In Power Kids programs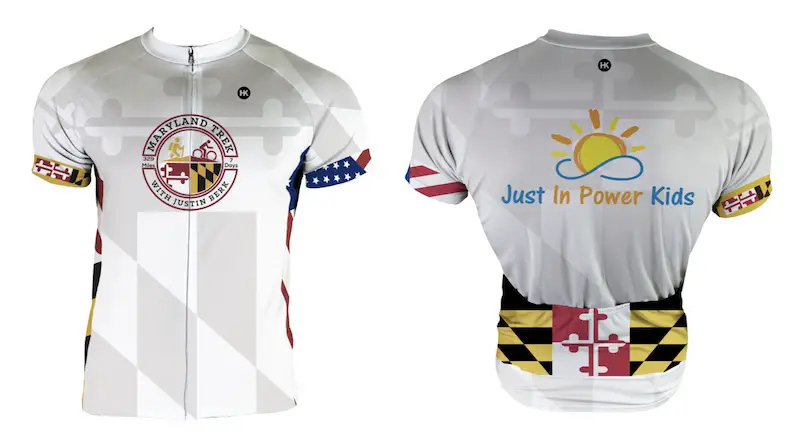 Just In Power Kids:
Proceeds go to our programs Providing FREE holistic care for kids in cancer treatment and up to 5 years post treatment and caregivers.
Shine On
Proceeds from all sales go to Just In Power Kids. Click the image to shop and show your support.
Love Maryland Shirts and Hoodies
This shirt was designed by my 'bonus' daughter Jaiden. The hoodie has been the biggest hit, so our promotion has been extended until the end of this week. 
Show your love for Maryland and make this 14 year old artist and her mom extra proud