Saturday August 31 2019 Updated 8 AM
This morning Hurricane Dorian is has winds increased to 145 mph. The dry air on the west or left side has filled back in a little. This continues to be stronger and farther north that forecasts. The timing of the movement AND intensity is what has changed the forecast when it approaches Florida, but actually puts it back to what was thought a few days ago…
Dorian is now expected to turn up the Florida coast and puts South and North Carolina in play for landfall.  This will be destructive for Bahamas an still a large problem for Florida even if it missed direct landfall on the weaker side  This post has the new HWRF Model that actually turns the storm sooner, farther away from Florida and might keep eye offshore until reaching Cape Hatteras, NC. See that and more below.
Hurricane Dorian IR Satellite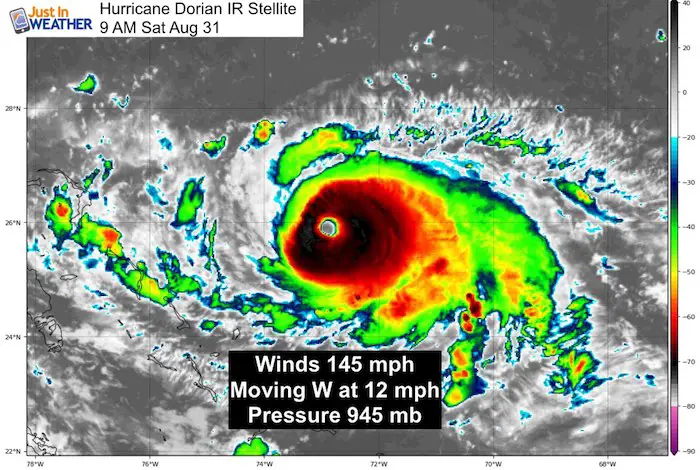 Hurricane Dorian Headlines
Winds 145 mph, Category 4
Tropical Storm Force Winds extend 105 miles form the center
Hurricane Force Winds extend 30 miles form the center
Bahamas expecting deadly 15 Ft Storm Surge and up to 25 inches of rain
Forecast turns north before Florida, but storm surge and impact still along the coast with rain, winds, and high waves!
Many airports in Florida planning to close due to stronger winds aloft
Forecast for South and North Carolina possible landfall still needs to be considered not a sure thing yet. Each run shows a shift of the forecast on the right side of the cone. That has been the most consistent thing with Dorian.
Ocean City: Forecast curves east by over 150 miles on Friday. Rain and wind from outer bands could reach there Thursday. Still worth watching for adjustment
Hurricane Dorian Satellite Loop
Dorian has gotten dry air into the west (front) side of the storm. This has held further development. There will be more fluctuations in intensity this weekend as Dorian experiences an eye wall replacement cycle.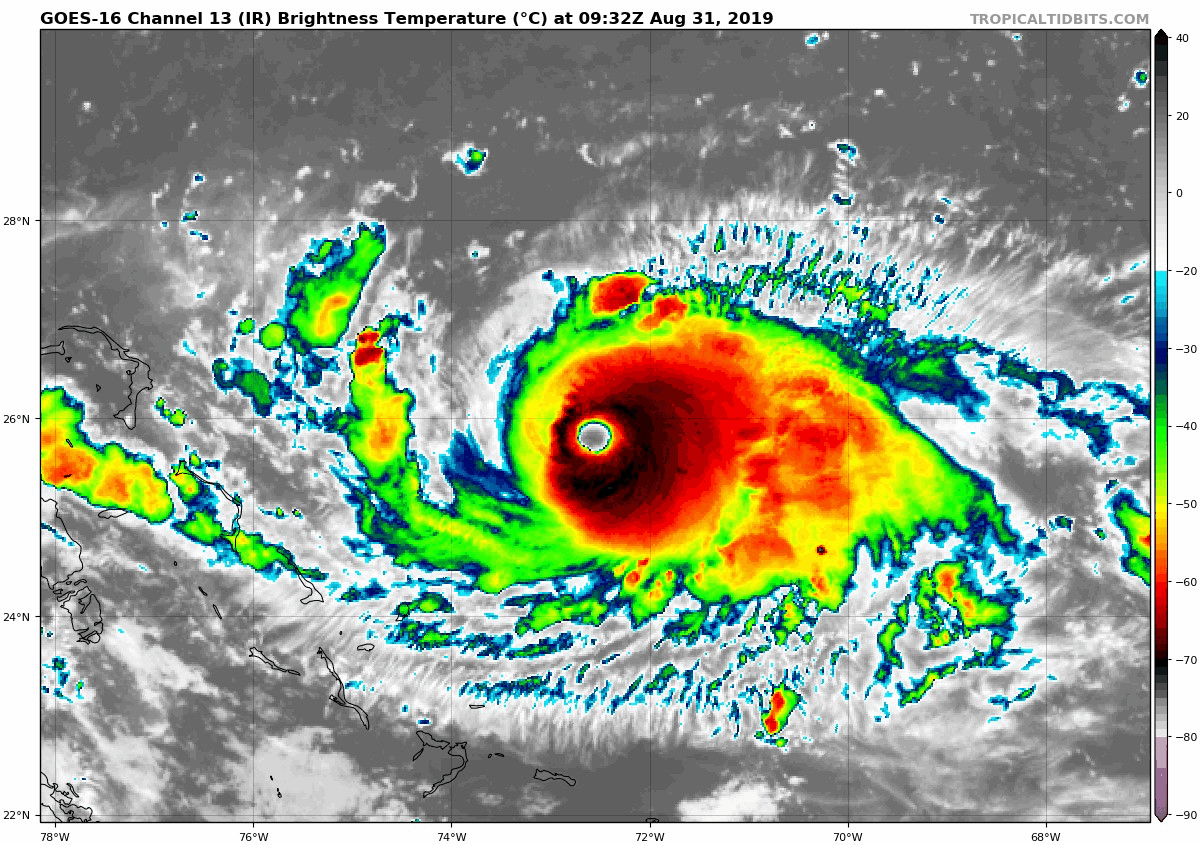 SUMMARY OF 800 AM EDT...1200 UTC...INFORMATION
----------------------------------------------
LOCATION...25.8N 73.0W
ABOUT 445 MI...715 KM E OF WEST PALM BEACH FLORIDA
ABOUT 280 MI...450 KM E OF THE NORTHWESTERN BAHAMAS
MAXIMUM SUSTAINED WINDS...145 MPH...230 KM/H
PRESENT MOVEMENT...W OR 280 DEGREES AT 12 MPH...19 KM/H
MINIMUM CENTRAL PRESSURE...944 MB...27.88 INCHES
Forecast Shifting There are many factors that go into the forecast track, and forward movement. This includes the strength of the storm, but also the weather systems in the US that will interact with it when it arrives. 


 HWRF Hurricane Model Forecast 


The latest run turns Dorian sooner... in the Bahamas. This now skips Florida and might keep the eye offshore




until North Carolina




 European Model Forecast ---> slider 

[metaslider id=79349] 
Wind Arrival Time
Tropical Storm Fore Intensity Over 39 mph. The timing is still the same Sunday night into Monday for coastal Florida, but Tuesday and Wednesday for South Carolina. This will be a day or more ahead of the core of the Dorian's eye.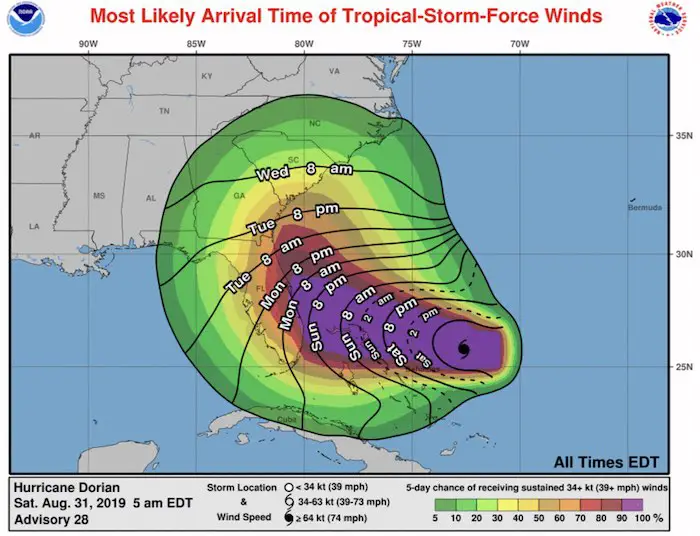 National Hurricane Forecast Tracks
These maps were made to zoom in closer. Please cone of uncertainty. As seen already, the center is likely NOT to be where this ends up… But farther out in time there will be more factors to shift where this ends up.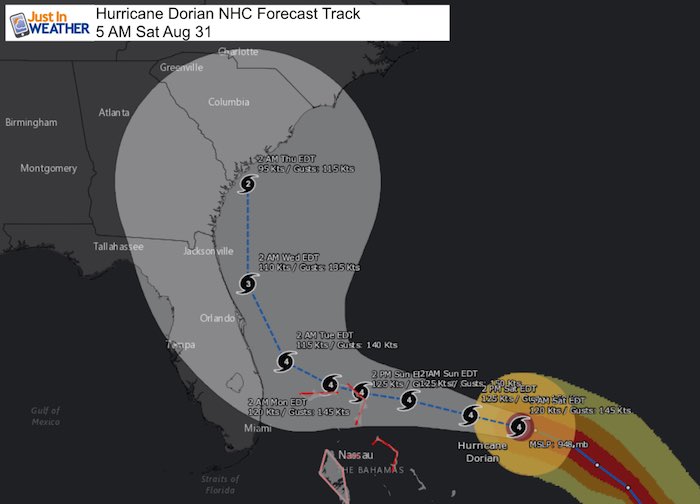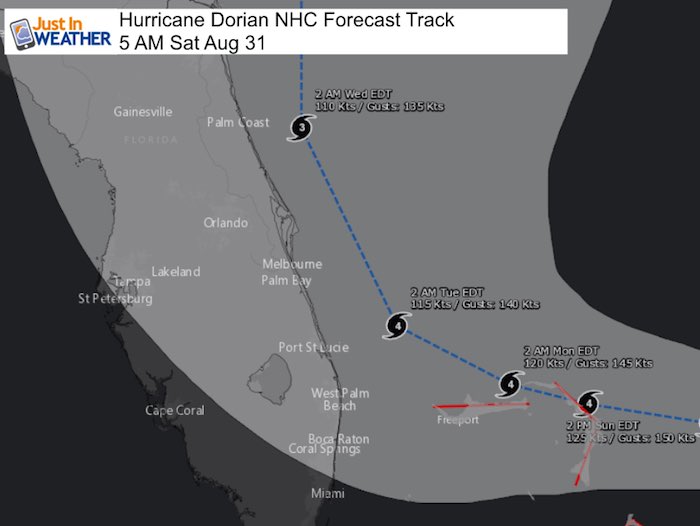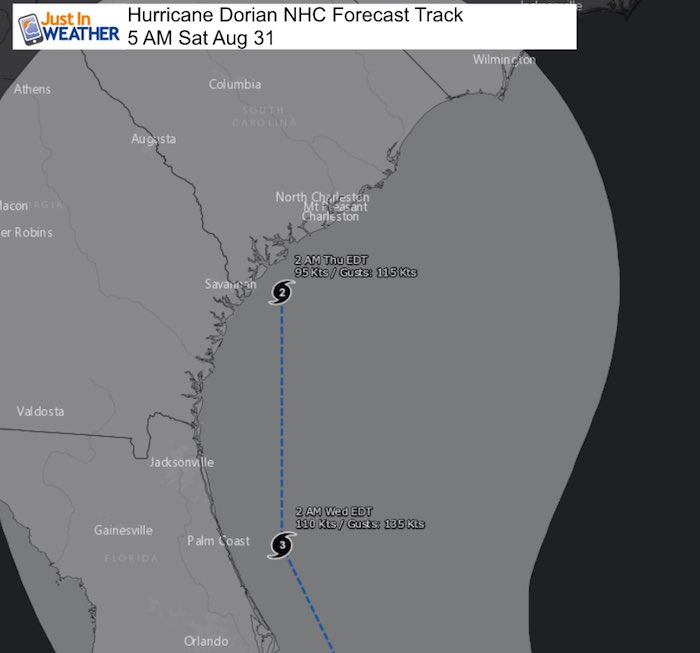 National Hurricane Official Full Forecast Track/Cone 


Note: Based on the HWRF and European Models, I would expect the next update from The National Hurricane Center to shift a little to the
right side of the cone.




A Hurricane Warning is in effect for...
* Northwestern Bahamas excluding Andros Island

A Hurricane Watch is in effect for...
* Andros Island

A Hurricane Warning means that hurricane conditions are expected
somewhere within the warning area.  A warning is typically issued
36 hours before the anticipated first occurrence of tropical-storm-
force winds, conditions that make outside preparations difficult or
dangerous.  Preparations to protect life and property should be
rushed to completion.

A Hurricane Watch means that hurricane conditions are possible
within the watch area.  A watch is typically issued 48 hours before
the anticipated first occurrence of tropical-storm-force winds,
conditions that make outside preparations difficult or dangerous.

Keep In Touch Every Day
Just in case you don't get all posts on your social media feed, stay up to date with the latest info…
Click here to sign up for email alerts…. Be the first to hear any new weather
Thank you to our Title Sponsor for Maryland Trek 6
Shining on with Smyth and their contribution, our team has raised over $95,000 for Just In Power Kids to provide free programs for kids in and post cancer treatment.

Please share your thoughts, best weather pics/video, or just keep in touch via social media
Maryland Trek Cycle Jerseys From Hill Killer
All proceeds will go to the Maryland Trek 6 total and Just In Power Kids programs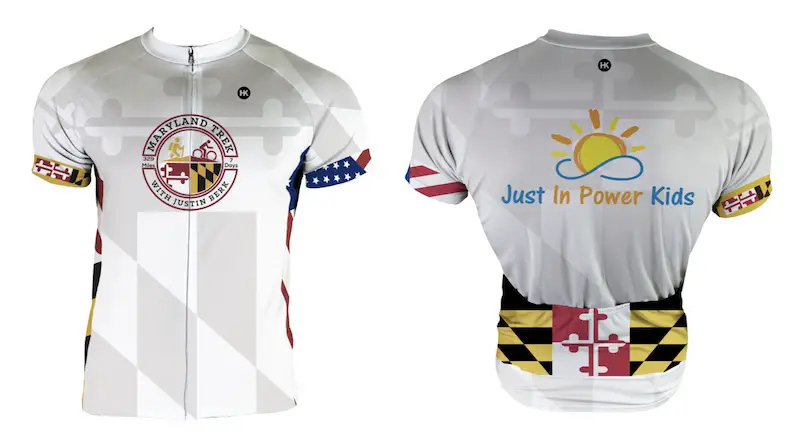 Just In Power Kids:
Proceeds go to our programs Providing FREE holistic care for kids in cancer treatment and up to 5 years post treatment and caregivers.
Shine On
Proceeds from all sales go to Just In Power Kids. Click the image to shop and show your support.
Love Maryland Shirts and Hoodies
This shirt was designed by my 'bonus' daughter Jaiden. The hoodie has been the biggest hit, so our promotion has been extended until the end of this week. 
Show your love for Maryland and make this 14 year old artist and her mom extra proud