Friday August 30 2019
Hurricane Dorian is still a Category 2 storm with winds of 110 mph, but not for long. Forecasts still agree on this becoming a Category 4 storm and holding that at landfall. More on that part of the forecast below.
As it makes the turn to the west towards The Bahamas and Florida, and eye has become evident on the satellite. Let's start with the GOES 16 visible satellite showing this with that dark spot in the middle. This confirms the closed eye wall reported by hurricane hunters. This means it can now further intensify rapidly.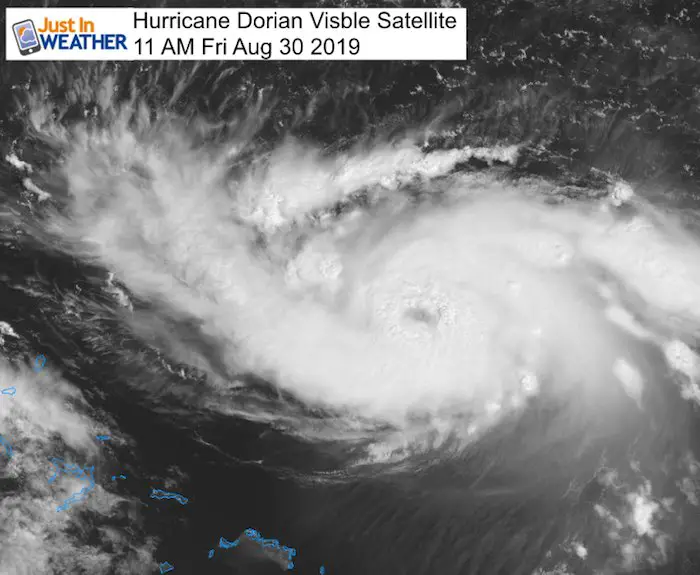 Headlines:
Eye Wall Now Visible And Closed- Rapid Development

Will Become A Major Hurricane, Likely Up To Cat 4

Storm Surge 15 Ft forecast for Bahamas and Florida

Rainfall Between 12 to 20+ inches for Bahamas and Florida

Landfall delay until Labor Day Monday Or Tuesday

Location still too soon to lock in. See Close Up Cone Map Below
Hurricane Dorian Satellite Loop
This color enhanced Infrared Satellite shows the coldest/tallest cloud tops in dark red and white. This shows the development of eye wall clearing out in the center. Also notice the high circus clouds on the edge rotating out in the opposite direction. This shows healthy outflow and an environment for rapid strengthening.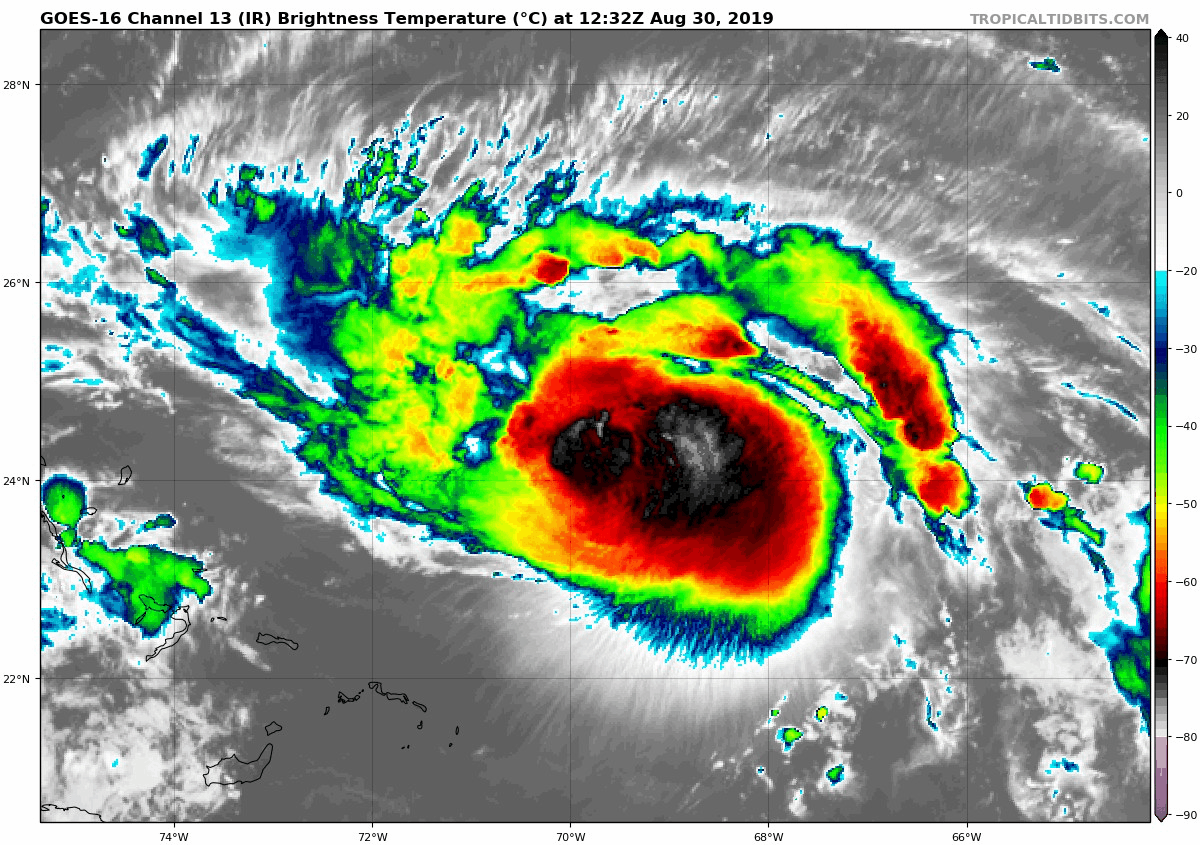 Hurricane Dorian Stats at 11 AM Friday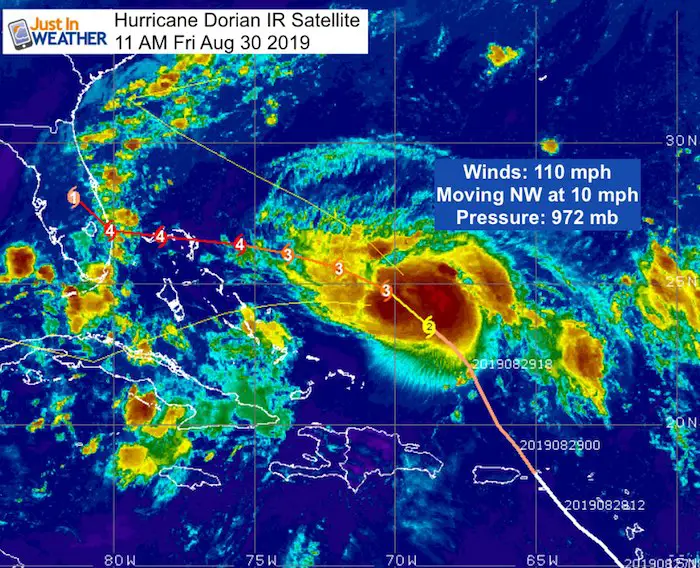 The pressure is dropping and the forward speed has slowed to 10 mph as it makes the turn towards the west.
SUMMARY OF 1100 AM AST...1500 UTC...INFORMATION
-----------------------------------------------
LOCATION...24.5N 69.8W
ABOUT 480 MI...770 KM E OF THE NORTHWESTERN BAHAMAS
ABOUT 660 MI...1060 KM E OF WEST PALM BEACH FLORIDA
MAXIMUM SUSTAINED WINDS...110 MPH...175 KM/H
PRESENT MOVEMENT...NW OR 310 DEGREES AT 10 MPH...17 KM/H
MINIMUM CENTRAL PRESSURE...972 MB...28.71 INCHES



Forecast


There is a State of Emergency for all of Florida, but no Watch yet. That is issued 48 hours ahead of arrival. But this will be a larger storm and
tropical storm force winds will be felt long before the eye hits.
This is one of the best graphics to illustrate the impact time. Due to the slowing forward movement, this has been pushed back until Sunday 
evening. Still 24 to 36 hours prior to the landfall of the eye. 




Computer Model Agreement
The GFS and European ECMWF Models are in more agreement on location, but still off by a few hours for landfall between Monday night and Tuesday morning. The frequent Air Force Reconnaissance Flights have increased our data and reliability.




Landfall Cone Of Uncertainty

Landfall Tracks spread out as the storm gets closer to the coast. This is to show the potential error in models and variation of influencing
forces. It is still possible for this to turn north or south and keeps all of Florida in play. The turn north is most likely, but that could happen
before landfall or once inland, to include a track over Orlando.
Note the wind forecast peaking Monday morning over Freeport, Bahamas at 135 mph gusting to 165mph+ 



National Hurricane Center Forecast Track



A Hurricane Watch is in effect for...
* Northwestern Bahamas

A Hurricane Watch means that hurricane conditions are possible
within the watch area.  A watch is typically issued 48 hours before
the anticipated first occurrence of tropical-storm-force winds,
conditions that make outside preparations difficult or dangerous.

Interests in southern and central Florida should monitor the
progress of Dorian.

Impact For Mid Atlantic?


Due to the uncertainty of this growing and slowing storm, I hesitate to speculate at this point. It impossible to have heavy rain in all or just
coastal portions next week. We could still be missed complete. This all depends on the timing of this in coordination with weather systems
heading our way.  Stay tuned as this will be in the news for the next week.