9 PM Friday August 30 2019
Major Hurricane Dorian has been consistent with one thing: Overachieving wind speed. The top sustained winds have been increased to 130 mph in the 9 PM interim update, making this a Category 4 storm ahead of schedule. What is truly amazing is that the pressure has dropped to 950 mb. That is down 20 mb since the 5 PM advisory. Consider a winter bomb storm drops 24 mb in 24 hours. This almost did that just this evening and may before midnight.
Hurricane Dorian Advisory (including 8 PM stats)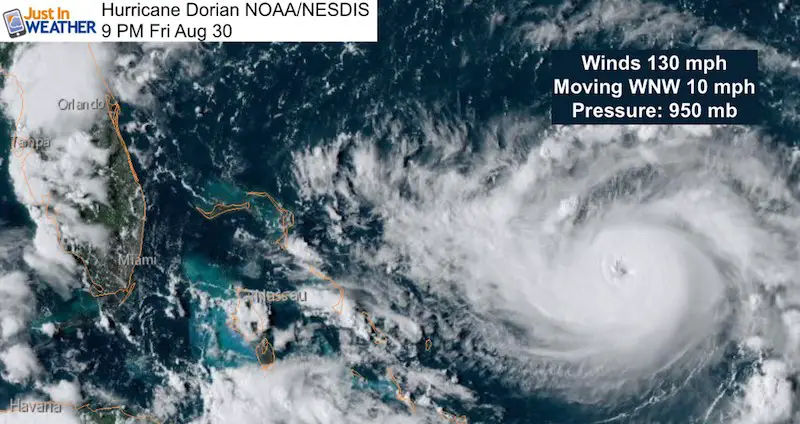 At 9 PM: Stronger, Closer, and Larger!
The center of Dorian was 565 miles east of West Palm Beach, FL
Top 'sustained' winds are 130 mph. Gusts are higher
Movement is to the WNW at 10 mph
Tropical Storm Force Winds: Extend 115 miles from the center
Hurricane Force Winds: Extend 30 miles from the center
Rain forecast in the path up to 20 inches
Storm Surge forecast up to 15 Feet high
There was also some shift in the chance for this to turn north sooner. I did not show that earlier, but I will address this below.
Considering that this is still expected to strengthen all weekend, it is possible this exceeds forecasts.
No Watches YET for Florida, but all counties are under a State of Emergency. First evacuations were issued for Sunday morning. But this weekend is time to consider leaving if you have loved ones on the eastern coast of the state.
Hurricane Dorian IR Satellite Loop
The structure of this is very healthy. The central dense overcast (CDO) surrounds a symmetrical eye with a lot of depth. That means there are a lot of high clouds with deep convection to feed the beast.  Also notice that there appears to be more convection behind the storm. This is back loaded. That will pivot around the eye and build on the front end as it enters the warmest water. So further strengthening is inevitable.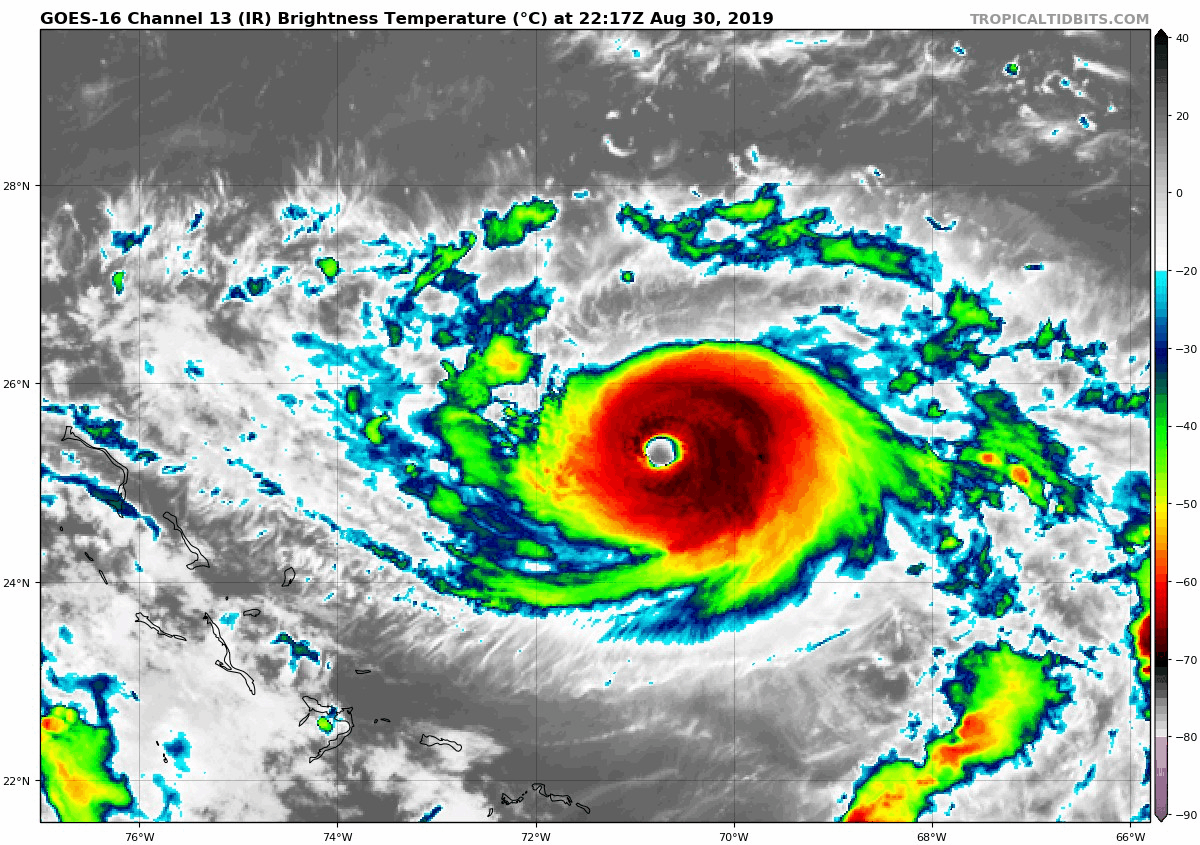 There are three things to watch tonight if you are up late tracking the storm:
Will The National Hurricane Center increase their forecast to Cat 5?
How will the overnight models adjust?
Will the turn to the north be near or before reaching the Florida coast?
Reason this is likely to get stronger:
Sea Surface Temperatures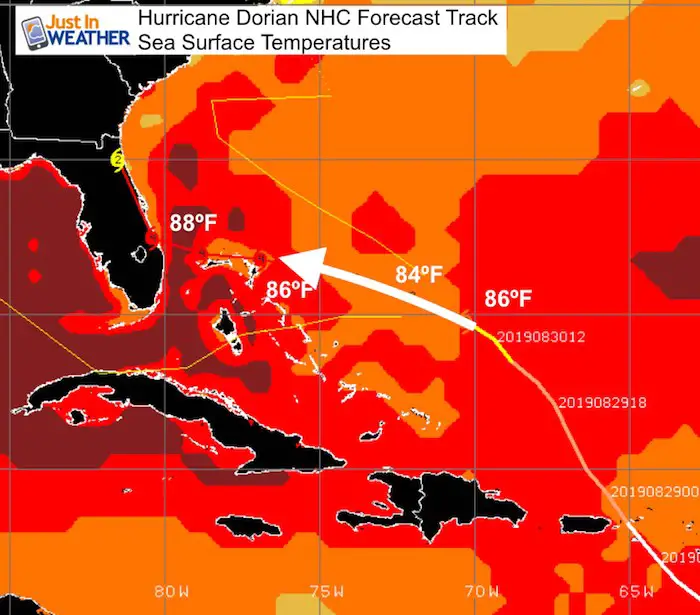 Large Storm Means Longer Impact
The arrival of tropical storm force winds over 39 mph on the Florida coast is expected to be Sunday night into Monday morning. The landfall in the latest NHC Forecast is Tuesday evening. That is if makes landfall, but it still could stall or turn north before the coast…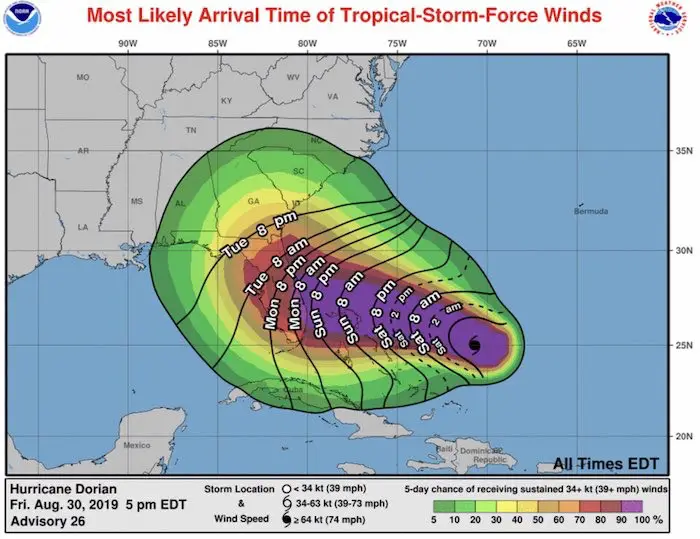 Changing Forecast Track
Earlier I compared the GFS Model to the European and said they were similar in landfall. That was the morning GFS and last night's ECMWF. The Euro only runs twice a day and comes in hours later than the other models…. It is worth the wait. But it also changed the game.
Below was the morning run and first to shift the turn sooner. In fact, the GFS has this turn up the coast BEFORE landfall, and gave in to hitting Florida.
Here is the collection of 51 members of the model with the mean highlighted.  This would impact a much larger area and for a long period of time. We could be dealign with this hurricane along the cost most or all of next week.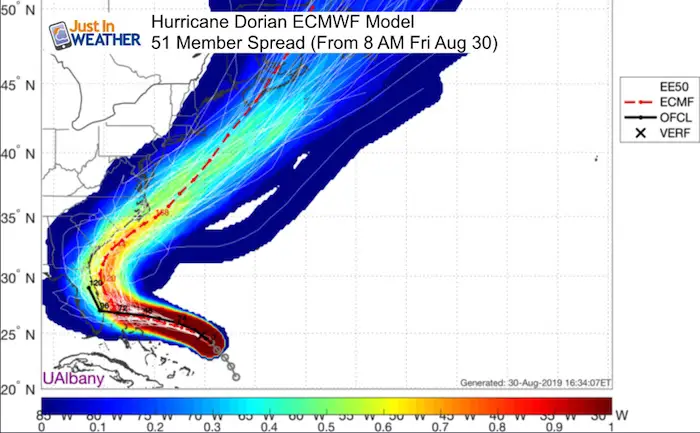 This trend for a turn up the east coast of Florida likely due to a slower storm. That allows the blocking force in the US to move out of the way by the time it arrives.
But IF we are dealing with a Cat 4 or even a Cat 5, that is beast that can create its own environment. Long range tracking for impact up north into the Carolinas or here in the Mid Atlantic still need to be watched. I DO NOT trust any model forecast beyond 4 days at this point.
Lets see what the 11 PM NHC Advisory brings, and then the overnight models. I will have an update early Saturday morning. Use this evening forecast map to compare
A Hurricane Warning is in effect for...
* Northwestern Bahamas excluding Andros Island

A Hurricane Watch is in effect for...
* Andros Island

A Hurricane Warning means that hurricane conditions are expected
somewhere within the warning area.  A warning is typically issued
36 hours before the anticipated first occurrence of tropical-storm-
force winds, conditions that make outside preparations difficult or
dangerous.  Preparations to protect life and property should be
rushed to completion.

A Hurricane Watch means that hurricane conditions are possible
within the watch area.  A watch is typically issued 48 hours before
the anticipated first occurrence of tropical-storm-force winds,
conditions that make outside preparations difficult or dangerous.

Keep In Touch Every Day
Just in case you don't get all posts on your social media feed, stay up to date with the latest info…
Click here to sign up for email alerts…. Be the first to hear any new weather
Thank you to our Title Sponsor for Maryland Trek 6
Shining on with Smyth and their contribution, our team has raised over $95,000 for Just In Power Kids to provide free programs for kids in and post cancer treatment.

Please share your thoughts, best weather pics/video, or just keep in touch via social media
Maryland Trek Cycle Jerseys From Hill Killer
All proceeds will go to the Maryland Trek 6 total and Just In Power Kids programs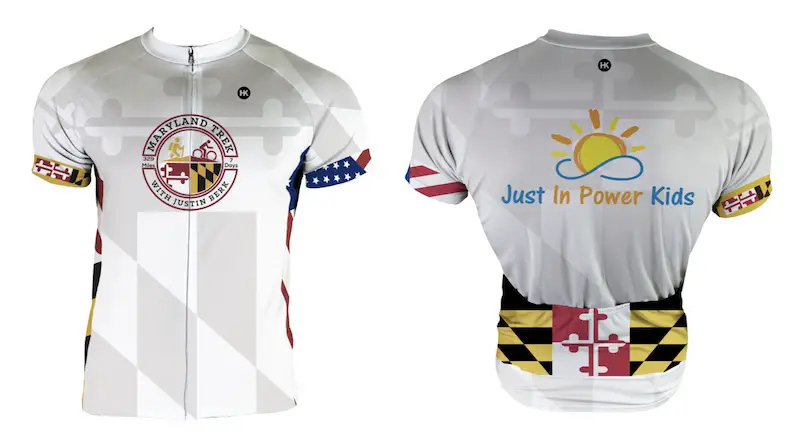 Just In Power Kids:
Proceeds go to our programs Providing FREE holistic care for kids in cancer treatment and up to 5 years post treatment and caregivers.
Shine On
Proceeds from all sales go to Just In Power Kids. Click the image to shop and show your support.
Love Maryland Shirts and Hoodies
This shirt was designed by my 'bonus' daughter Jaiden. The hoodie has been the biggest hit, so our promotion has been extended until the end of this week. 
Show your love for Maryland and make this 14 year old artist and her mom extra proud