Thursday May 30 2019
As we spend another day with a risk of severe storms, we are waiting for the atmosphere to ignite with heat of the day to trigger storm cells. Two short range model I look at and often share with you are the NAM 3 Km and HRRR. Both of these models have two very different outlooks for how the event may play out later today. I wanted to show you both to compare, so when it develops we will have a better idea of which may be on to something.
Model Notes:
The NAM 3 Km has done the better job this entire month. It is updated every 6 hours.
The HRRR Model is updated every hour with new hourly observations and adjustments to the main model timer frame. But it has had a hard time depicting storm cells and timing. I have fondly called it HRRRible lately. Today, I think it may be on to something… Something more active and worth watching.
First 3 PM  Time Frame
NAM 3 Km
No storms in central Maryland.
Main storm line near I-81 just west of Hagerstown to Harrisburg PA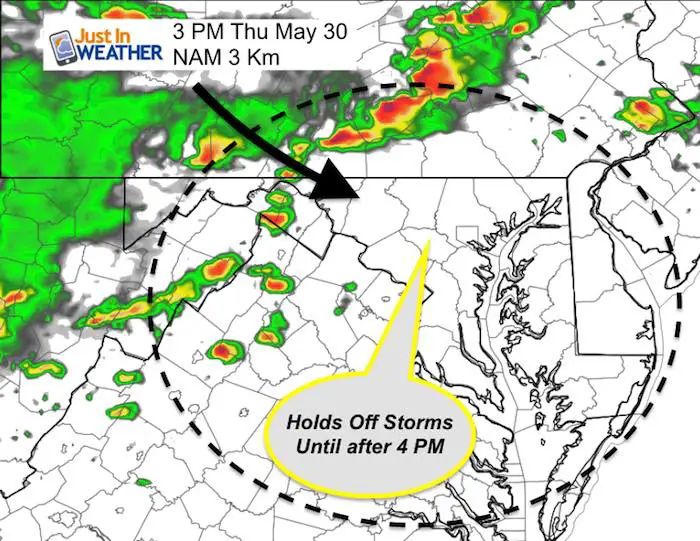 HRRR Model
This model already has a complex in metro Washington and entering Baltimore. The first of a few.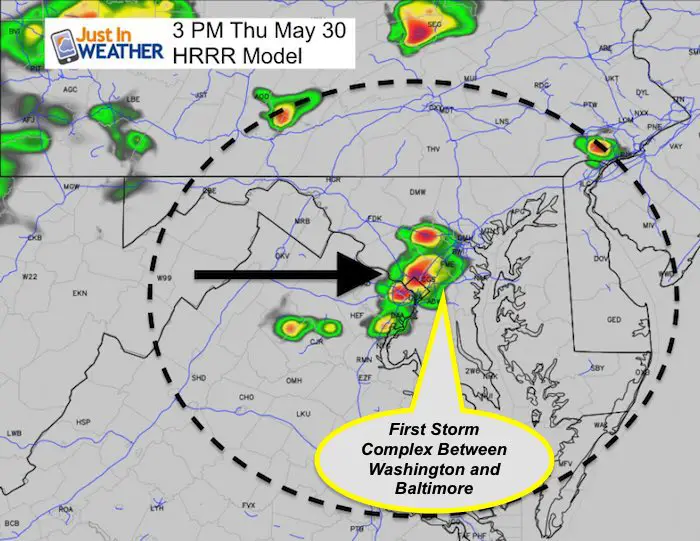 See the timeline slider for each of these models below, but first I need to reinforce this:
Reminder of today's Risk areas by county: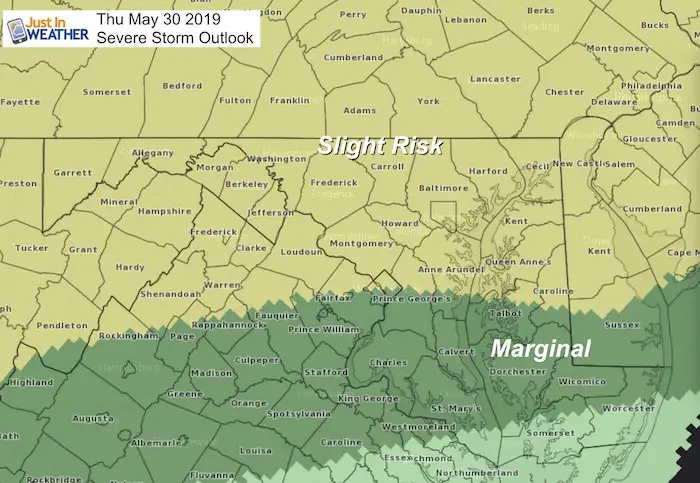 Severe Storm Qualifier:
Winds over 58 mph

Large hail over 1 inch diameter (side of a quarter or larger)

Isolated Tornados
Potential alerts to be issued:
Severe Thunderstorm or Tornado Watch: A broad area and window with a 4 to 6 hour time frame. This means it MIGHT happen. If this is issued, it will likely be posted early after and last until the evening.
Severe Thunderstorm Warning: A focused area like a county usually with a 30 to 60 minute time frame.
Tornado Warning: This means it IS HAPPENING NOW indicated by Doppler Radar or confirmed sighting from the ground. A focused area and time frame. This would list towns in a likely path within a 15 to 45 minute window.
Storm Timeline Comparisons
HRRR Model —> slider
This shows metro areas with a storm cluster beginning at 2 PM to track across metro areas between 3 and 4 PM
The split to the Eastern Shore and north end through Cecil County shows upper level winds from the SW, which may add to wind sheer in next complex
An evening Complex appears to have mesocyclonic spin. IF this verifies, it would be likely to produce severe conditions with wind damage, large hail, and possible tornados in the path. I've annotated that on the images to show the SW flow ahead, then the wraps around as this moves though 8 to 10 PM, with northern Delmarva still getting strong activity.
[metaslider id=77084]
NAM 3 Km Model —> slider
This model verified off by 1 hour in the past two days… with cells arriving 1 hour earlier than shown.
This is less potent with one main line to start watching around 4 PM near Frederick
Metro Baltimore gets it around 5 PM
Cecil and Kent Co gets this at peak intensity around 6 PM
The line fades across Delaware and the following showers this evening appear much lighter.  Very different than the HRRR showing the evening line to be stronger.
[metaslider id=77104]
What To Look For:
Wind Direction plays a big role for us!
Southwest winds often tear up storms when they cross the mountains.
But IF we develop a South or Southeast wind from the Bay to metro areas, that can actually enhance storm development.
Based on the models above, the HRRR would need a Southeast wind to verify. If we maintain the dominant SW wind, then the NAM 3 Km looks more likely.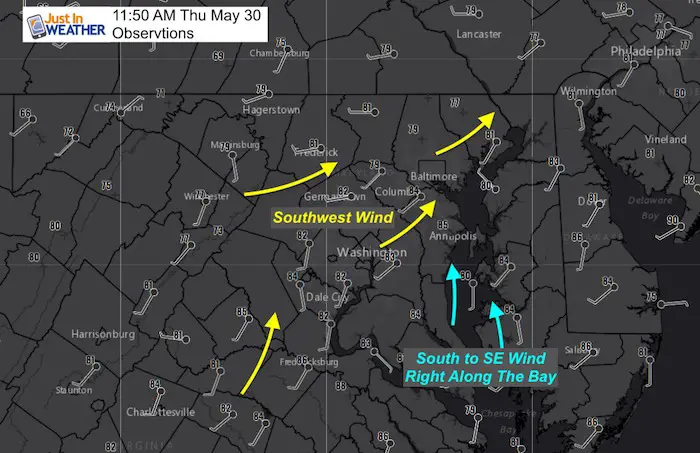 Keep In Touch Every Day
Just in case you don't get all posts on your social media feed, stay up to date with the latest info…
Click here to sign up for email alerts…. Be the first to hear any new weather.
Join My Team: Maryland Trek 6
Our look got an upgrade, but we have the same purpose. Please click the logo take a look at our new page.
Consider joining our team for the week, a single day, or even as a sponsor.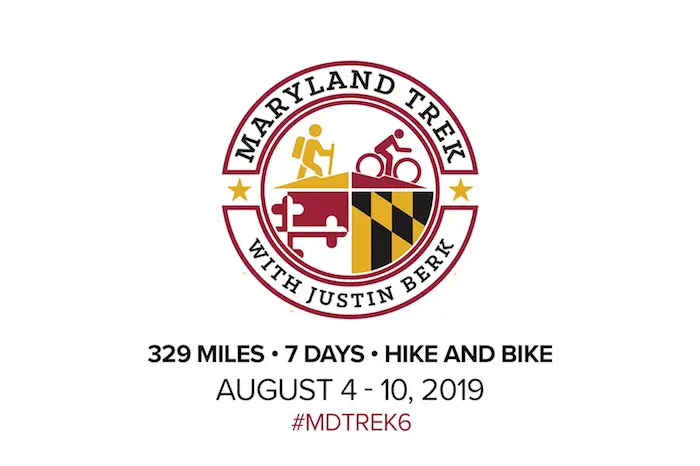 Support Our Nonprofit:
Proceeds go to our programs Providing FREE holistic care for kids in cancer treatment and up to 5 years post treatment and caregivers.
Shine On
Proceeds from all sales go to Just In Power Kids. Click the image to shop and show your support.
Love Maryland Shirts and Hoodies
This shirt was designed by my 'bonus' daughter Jaiden. The hoodie has been the biggest hit, so our promotion has been extended until the end of this week. 
Show your love for Maryland and make this 14 year old artist and her mom extra proud
Please share your thoughts, best weather pics/video, or just keep in touch via social media