March 10 2019
I have been holding in a secret for way too long. Last week my family and I went on a trip to Florida. My oldest son had a major accomplishment, and we got to celebrate doing something that I don't normally do… Travel south in the winter.  Trading in snow for palm trees was really difficult for me.
I had mentioned when we had two of the three snow events last weekend that I was busy with family. That was the truth. On Saturday March 2, I woke up and shoveled a few inches of snow off the driveway, then we all had an action packed day. Later in the afternoon,  Shannon and I packed our three kids along with my parents to race to BWI so wee could fly 1000 miles south to Florida that evening.
The problem was that on Sunday morning. It March 3 I was in south Florida while the 3rd of three snow events in as many days hit… Well, it snowed but had trouble sticking for most until the evening. Being 1000 miles away, I was still working for my clients (or trying my best) and writing reports online. It was not easy.  But what was easy, the landscape for some pretty cool photos. That is what I warted to share with you. So please take a moment for just a few of the pics I got that may warm your spirit along with the later daylight we have now.
March 3 Moonrise
This was the first view I had when I woke up to write my first snow report of the day… It was about an hour before sunrise.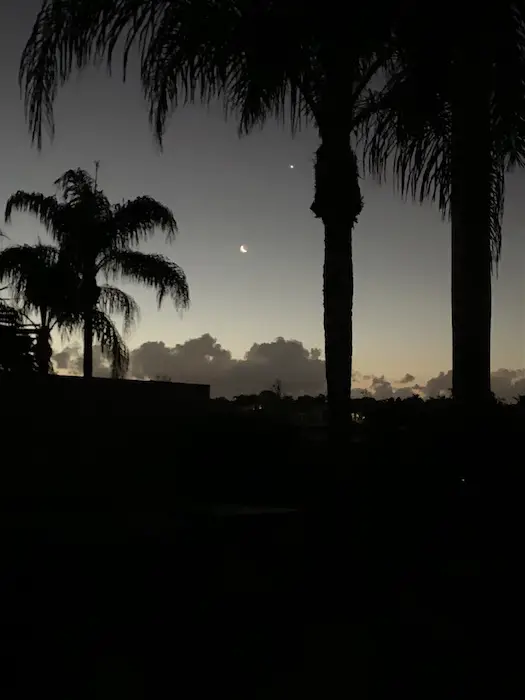 March 3 Poolside With My Mini SnowStix
While the snow was beginning, I had to track it by the pool. I brought my Mini SnowStix, because Jim Cantore already told me carrying the full size one on the place was not recommended. I was able to measure the water in the shallow end.
I did my best to try and stay ahead of the change with slightly warmer temps and less stickage… This might explain why I was a little late to the party explaining it all.
March 4 Golf Day While Some Had Snow Delays
There was some snow and ice impact in the typical colder zones… And I was stuck taking my 9 year old out golfing 18 holes.  It reached 81ºF that day in the sun. I put on extra sunscreen because I felt guilty about getting a tan while missing out on the weather back home.  I was able to see on my Rind Doorbell that my house got 5 inches of snow Sunday night… All while many were complaining they didn't get any to stick. I wish I could have shared it with you.
Sunset That Day With Half A Smile
I had my beautiful wife and family all content, but I struggled to crack half a smile during this gorgeous sunset because I was missing all of you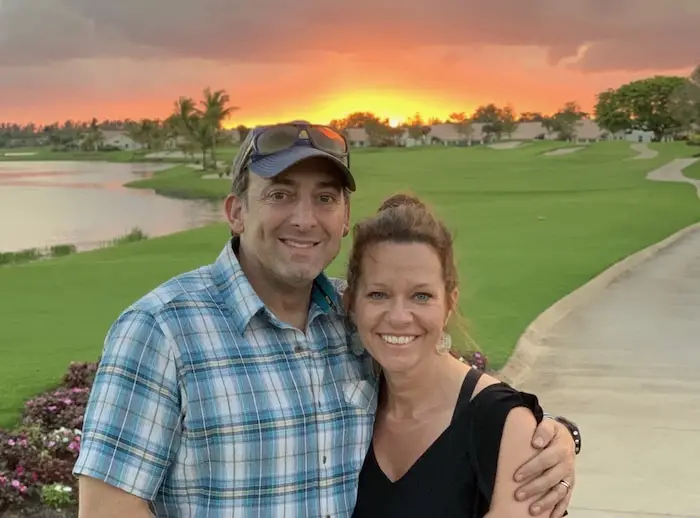 March 5 Sunrise
By this point it was just getting harder to accept I was in paradise while temperatures struggled to reach freezing for many.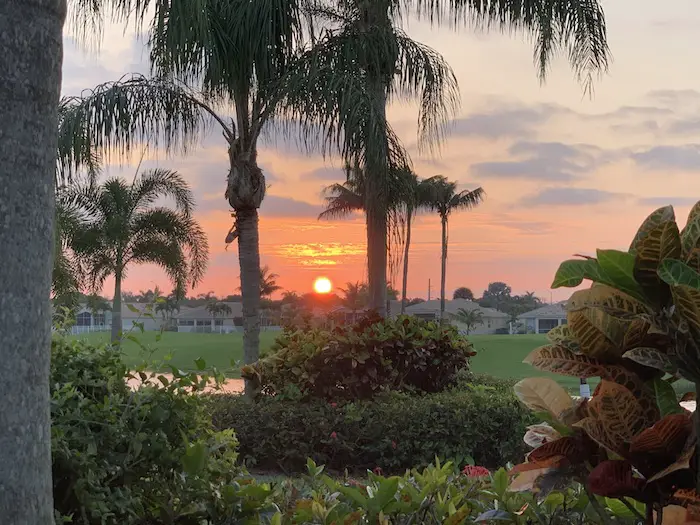 March 6 Sunrise- Calm Before The Storm
This was the transition day. Baltimore was to stay in the 20s, and we were going to drive north to Orlando… Where they were expecting mid winter chill. It was in the 40s when we got there.
Orlando- Universal Studios
For two days, the mornings were very chilly. Sweatshirts and long pants in the sun. It was tough… Knowing it was still like mid winter back home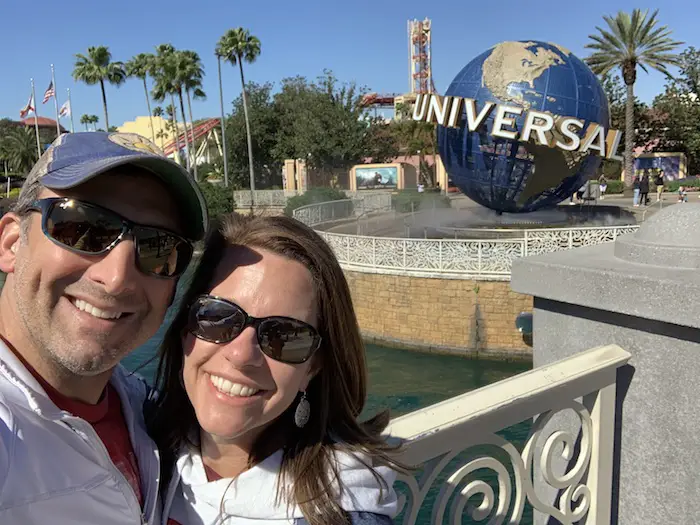 Warmed Up A Little
But it warmed to the low 60s on Thursday before we left. My dad grew out his white beard. I am not sure I am ready for that.
But look at the smiles on our kids faces. They could not be happier! I did my best to ride coasters… but was anxious to get home to the cold and snow.
One Coaster Photo
We decided not to share all of our kids pics. They are old enough to see and not forgive us. But we figured we could show you this clip from the Hollywood Rock It Ride. Shannon said she didn't know where the camera was, but I think she did and made the biggest smile for it!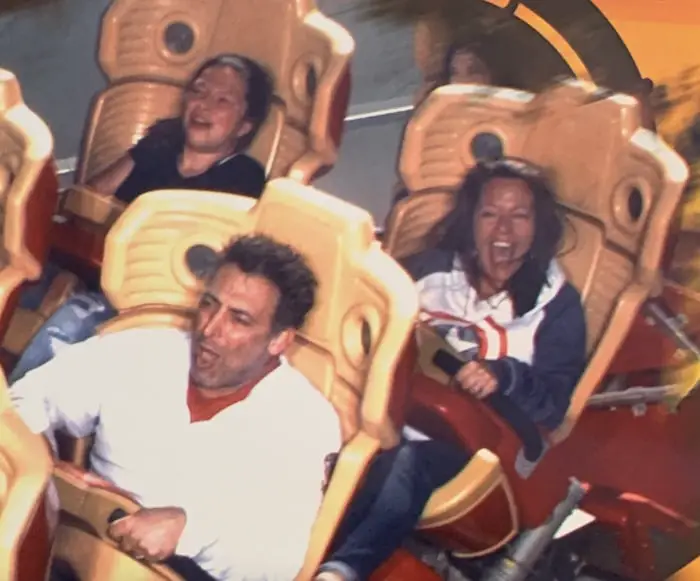 Best For Last?
The return trip on Thursday evening gave us something amazing… This sunset at 41,000 FT (I checked) also allowed for the crescent moon to be seen above the horizon of red. Red sky at night made for a grdeaty flight… But not alway sailors delight. I told the family it was going to snow our first day back home… and surely it did.  
Back Home
We have been home for a few days and all is right with the world.  Thanks to that Friday snow and Sunday morning fog, we have been reacclimated. I promise not to take another winter trip, unless Shannon makes me. She is the boss after all and she needs her warmth.  But odds are, if I do leave in the winter again, it will snow while I'm gone.  So if we have a snow drought in future seasons, maybe that could be on our GoFundMe campaign ?
Thanks for forgiving me and more importantly indulging me by reading.
Happy Daylight Saving Time. At least we have daylight lasting past 7 PM now.
Please share your thoughts, best weather pics/video, or just keep in touch via social media
ALL FITF  Apparel 
Related Links:
Winter Outlook
My Winter Outlook 2018-19: Multiple Nor'Easters and more snow
Was Your County Not Included?
Click this map for more on the regional forecast zones
Interactive Snow Report
November 15 Snow Reports- Interactive Map Compared To My Forecast
Winter Snow And Top 5 Wet Years 
Snowfall Seasons at Beginning and End of Top 5 Wet Years In Baltimore
Related Winter Outlooks
Solar Cycle: When Sun Spots Are Low We Get More Snow
El Nino Modoki May Enhance Snow Chances
Sweet Spot: Hitting 70ºF on Halloween is followed by more winter snow
Will A Wet Summer Bring A Snowy Winter?
NOAA Winter 2018-2019 Outlook Explained: This Actually Supports Snow
Winter Outlook From Two Different Farmers Almanacs
Maryland Winters: Snowfall Maps and Baltimore Snow History