Sunday March 3 2019
The winter storm is about to begin, but there is so much I want to share with you. While this has the potential of being the biggest snow of the season for some, it may be mostly rain for others just 40 miles away.  It is also important to note the temperatures. As the snow beings this afternoon, may places will be above freezing until evening. This could be a heavy wet snow, some flakes will be wasted to melting. Basically, more snow will lay and stay on the grass, while many roads stay wet.
Winter Storm Warning/Winter Weather Advisory
The Winter Storm Warning now includes Cecil County along with the northern and western counties in Maryland.
Northern Delaware, metro Philadelphia and Southern PA all are in for the top snow this time.
Winter Weather Advisory includes a narrow band around of metro Baltimore.
This includes eastern Montgomery/Howard, and upper Eastern Shore's Queen Annes and Kent Counties.
Note: There is a big bust  potential (either a lot more or a lot less) right along the I-95 corridor.
Snow Storm Notes
? Big Winter Storm JUST NORTH OF BALTIMORE. The city will be on the edge of the snow. South of the city will be mostly rain
? Temps will be above freezing this afternoon. Snow from colder clouds, but roads likely wet until evening.
? Slick roads? Most likely late afternoon and tonight in colder zones. Possible Monday morning (northern zones)
? North: Over 5 inches possible. Metro areas up to 3 inches
❄️ Ends after midnight
?❓School delays possible Monday
Morning Set Up
I see some snow on radar, but the main event will arrive during the early afternoon. Before we get to that, check out the morning temperatures. This is a very important element in this event.
We are starting with temps above freezing. It will remain above freezing through the afternoon.
I can snow from colder clouds when it is above freezing on the ground. But that also means not all will stick. Snowfall rates and lower sun angle after 4 or 5 PM will start road stickage in the cold zones.  Metro areas have a better chance fro road issues after dark
Storm Animation
Of course we have another storm with the snow.rain line right through Baltimore. This is going to be a tough call for some.
North of Baltimore will be mostly snow.
South of Baltimore will be mostly rain.
In the middle? That is the hard part.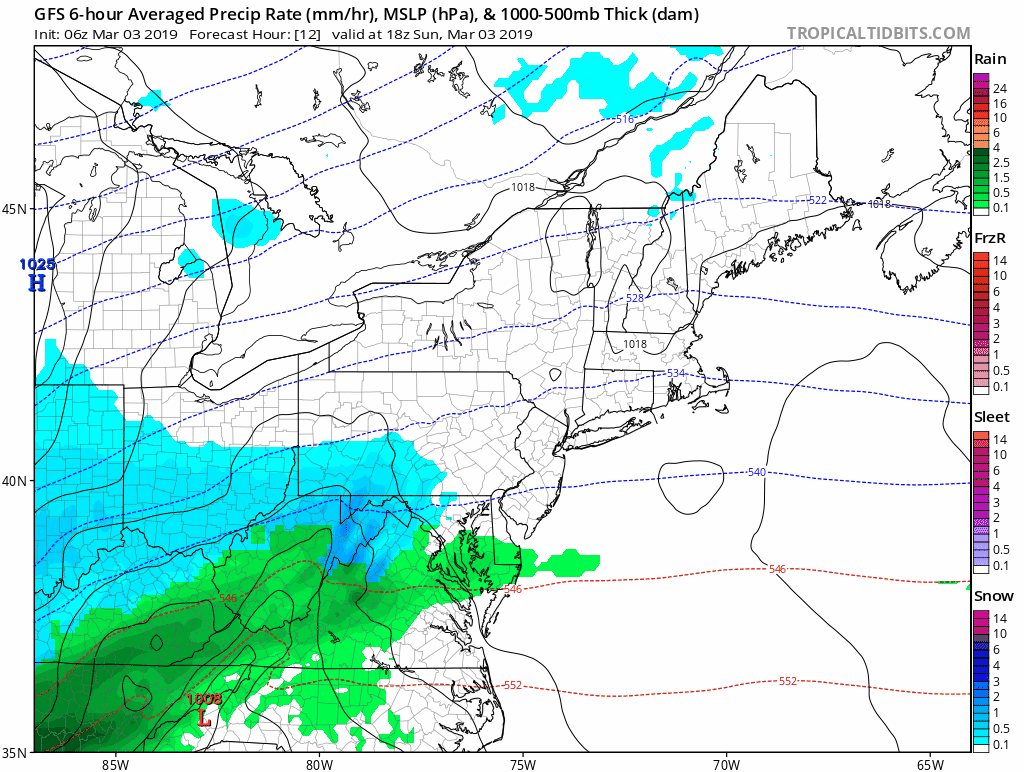 Forecast Timelines
Compare two models here and see the subtle difference. I am leaning on the European (ECMWF). But I am showing the NAM 3 Km since it is one bust scenario that is slightly warmer with the snow line pushed just a little north. It is important to see if this busts, what that could still look like.
European Model-  Colder Solution
ECWMF simulation —> slider
Note the Freezing Line! This is important as it may snow heavily in areas above 32ºF. That may limit the impact on the roads at times.
[metaslider id=74370]
Monday Morning Temperatures
This colder solution does bring the freezing line into Baltimore… Bringing the potential for icing at daybreak…. But the snow should be gone by then.
NAM 3 Km Model – Warmer Solution
NAM 3 Km simulation Sunday —> slider
[metaslider id=74338]
Temperatures Sunday Evening
Temperatures at Midnight
NAM 3 Km simulation Monday —> slider
[metaslider id=74359]
Temperatures Monday Morning
This model keeps the freezing line in the Winter Storm Warning Zone, but above 32ºF in the cities and Advisory Zone
How Much Snow?
Here is my call for snowfall. Compare to the Computer Models and NWS forecast snow maps below
Compare Model Snow Forecasts
NWS Zone Forecast
ALL FITF  Apparel 
Please share your thoughts, best weather pics/video, or just keep in touch via social media
Related Links:
Winter Outlook
My Winter Outlook 2018-19: Multiple Nor'Easters and more snow
Was Your County Not Included?
Click this map for more on the regional forecast zones
Interactive Snow Report
November 15 Snow Reports- Interactive Map Compared To My Forecast
Winter Snow And Top 5 Wet Years 
Snowfall Seasons at Beginning and End of Top 5 Wet Years In Baltimore
Related Winter Outlooks
Solar Cycle: When Sun Spots Are Low We Get More Snow
El Nino Modoki May Enhance Snow Chances
Sweet Spot: Hitting 70ºF on Halloween is followed by more winter snow
Will A Wet Summer Bring A Snowy Winter?
NOAA Winter 2018-2019 Outlook Explained: This Actually Supports Snow
Winter Outlook From Two Different Farmers Almanacs
Maryland Winters: Snowfall Maps and Baltimore Snow History