Thursday February 28 2019
It will snow in our area Friday morning. That seems like a pretty good lock right now. The good thing about this event is that the timing will be mostly between 3 and 8 AM, so it will begin and do its thing early enough for schools to make their decision if there is an impact.  The other good thing is that it will be done early, so by late morning and noon travel should not be a problem.
Temperatures will be cold enough for stickage. In fact most of the model runs overnight have shown an increase in how much will fall, so a better chance for an impact on area schools. There is one model that is a little warmer, cutting the snow line through Baltimore and north, but that is the exception. See more below.
Morning Weather Map
Two systems that look minor now, will be joining forced and pulse right over our area just before sunrise Friday. March is coming in like a Lion. Wait until you see the cool down next week.
Local Weather Stats For February 28, 2019 in Baltimore
Average High:  48ºF
Record High: 76ºF in 1976
Average  Low: 29ºF
Record Low:  5ºF in 1934
                         *Record Snow:  = 5.2″ in 1949
Sunrise: 6:40 AM
Sunset 5:57 PM 
*Daylight = 2:31 longer than yesterday 
*Bay Water Temperature = 39ºF at Thomas Pt. Light House 
Keep In Touch Every Day
Just in case you don't get all posts on your social media feed, stay up to date with the latest info…
Click here to sign up for email alerts…. Be the first to hear any new weather.
---
New Partner
Buchanan Kia of Westminster is a supporter of Just In Power Kids and Maryland Trek 6 in August 2019.
---
Morning  Temperatures
Afternoon High Temperatures
Sky: Mostly Sunny

Wind: Light
Friday Morning Snow
This will be roughly a 5 hour event with the bulk of snow before sunrise.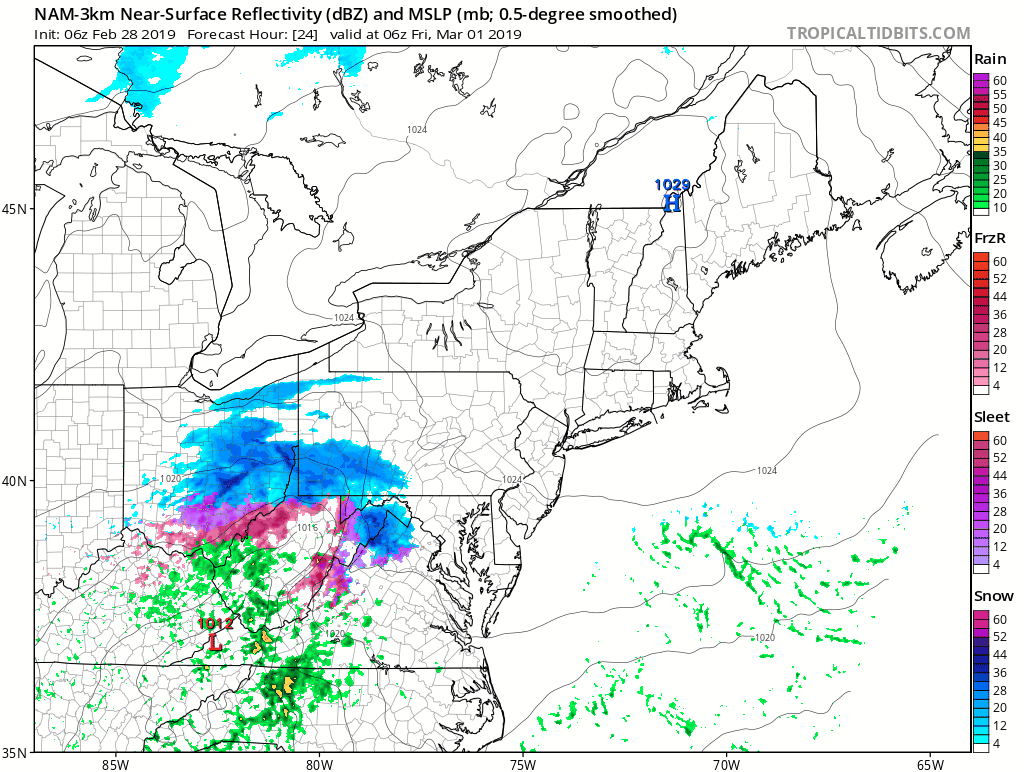 Snow Timeline
This is the warmest solution, but also the outlier
I wanted to show this first, then compare to the more likely snow set up below.
NAM 3 Km —> slider
[metaslider id=74026]
How Much Snow? The lowest potential
This shows 1 to 3 inches along I-70 and northward. But not much south of Baltimore.
European Model
This snapshot around sunrise shows a wider range of moderate snow. This also shows the freezing farther south… line through Washington DC
Morning Temperatures: Cold Enough For Stickage
How Much Snow? This Is Where The Totals Look Higher And More Widespread
The European brings much of metro Baltimore and southern PA 2 to 3 inches.
Washington and Annapolis around 2 inches
The GFS brings much of metro Baltimore and southern PA 2 to 4 inches. This includes Washington and Annapolis.
The Canadian Model was way to high in the prior run. It is still on the higher side, but more in line now.
My Call For Snowfall:
I will post my map in my next post this morning.
Weekend Weather
The next system may be a little colder as well. There is agreement that Sunday will bring a mix of rain and snow, with snow trying to hang on for the colder inland suburbs. It will be done before Monday, but might have some lingering effects if there is stickage. This will also be followed by a surge of much colder air next week.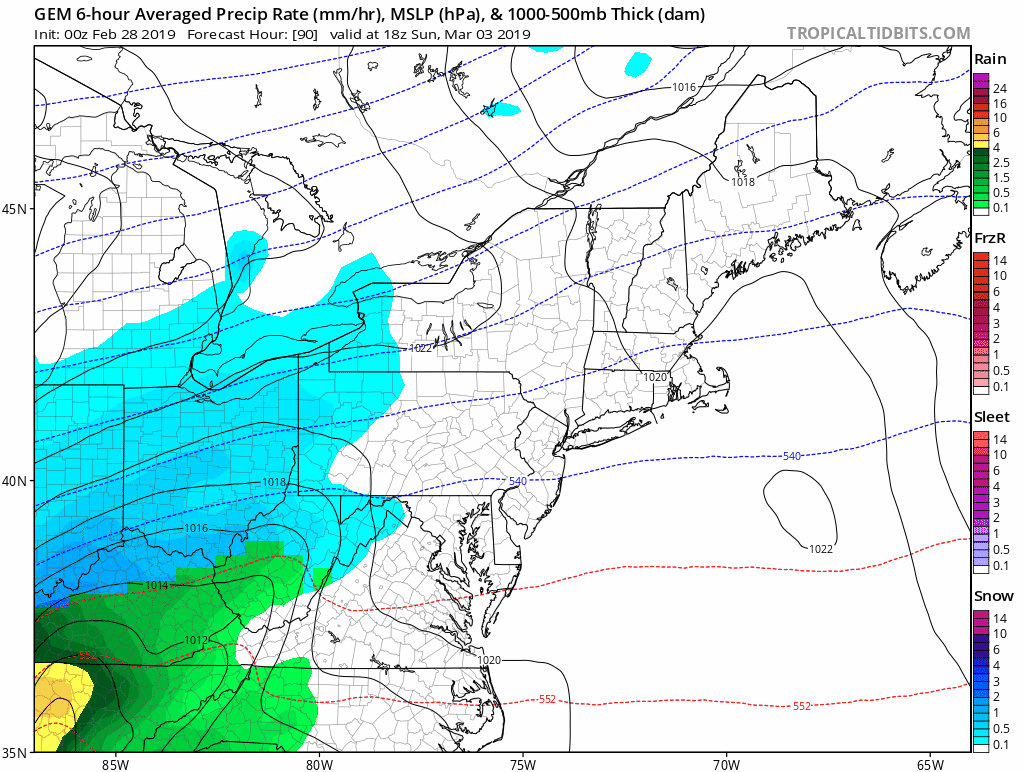 Temperature Outlook
There will be a surge of much colder air next week.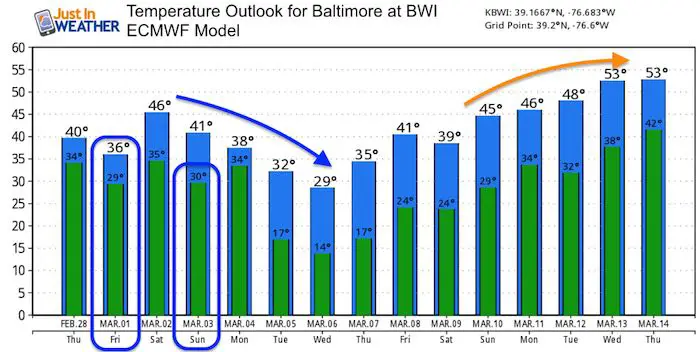 ALL FITF  Apparel 
Please share your thoughts, best weather pics/video, or just keep in touch via social media
Related Links:
Winter Outlook
My Winter Outlook 2018-19: Multiple Nor'Easters and more snow
Was Your County Not Included?
Click this map for more on the regional forecast zones
Interactive Snow Report
November 15 Snow Reports- Interactive Map Compared To My Forecast
Winter Snow And Top 5 Wet Years 
Snowfall Seasons at Beginning and End of Top 5 Wet Years In Baltimore
Related Winter Outlooks
Solar Cycle: When Sun Spots Are Low We Get More Snow
El Nino Modoki May Enhance Snow Chances
Sweet Spot: Hitting 70ºF on Halloween is followed by more winter snow
Will A Wet Summer Bring A Snowy Winter?
NOAA Winter 2018-2019 Outlook Explained: This Actually Supports Snow
Winter Outlook From Two Different Farmers Almanacs
Maryland Winters: Snowfall Maps and Baltimore Snow History