February 28 2019
Today's sunshine is deceiving as there is more support for snow to arrive overnight into Friday morning. This will be a quick event that will last 4 to 6 hours with the bulk of the impact just before sunrise through the morning commute. It is likely there will be many school delays, so you may want to stay tuned for your's to make the call.
The National Weather Service has issued a Winter Weather Advisory for out metro area. This includes west of the Chesapeake Bay in Maryland, into northern Virginia and Southern Pennsylvania.
Delmarva: You have NOT been forgotten by me. But your NWS Office in Mount Holly NJ has not issued anything yet. I think Kent and Ceil County in Maryland to metro Philadelphia are a good bet to be include… Stay tuned for any updates on that.
Was Your County Not Included?
Click this map for more on the regional forecast zones
My Call For Snowfall
My zones overlap totals. This highlights that along the lines will not be an exact amount, but can wobble either way.
There is a wide range of snow potential, and I am averaging them out. There is potential in the snow zone (blue) to push above the 2 to 4 inch range and get up top 5 inches. This will be in the colder northern areas.
Metro Baltimore including Washington DC and Annapolis: The freezing line will try to move north by daybreak… This may impact the stickage on the pavement.
American (GFS) Model
This is really stepping up its game. It is pushing the higher snow amounts. But the freeing line at 7 AM is located near or just north of Rt 50.  That may play a role in stickage and accumulation.
The Friday morning commuter will be slushy.
This model lingers the snow in the colder 'burbs to the early afternoon…
GFS Model Animation
This is really developing the coastal Low and keeps the precipitation around into the evening…
I am waiting on the European solution to see if we need to add in any concern for Friday evening icing north of Baltimore.  I will check back in a bit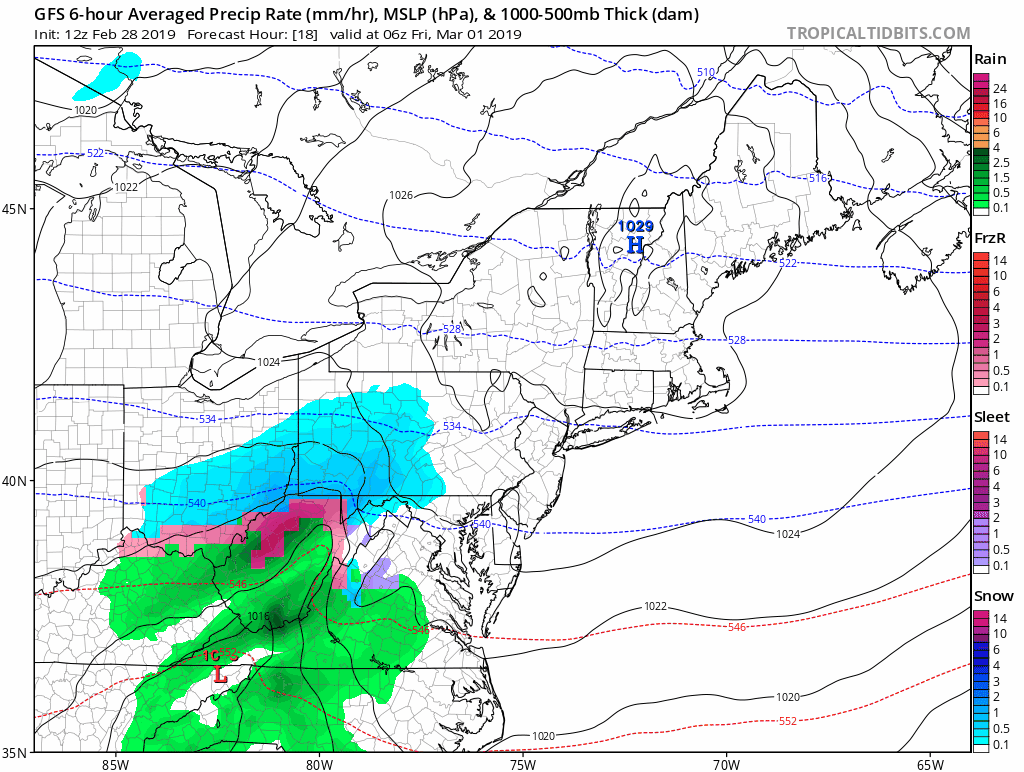 ALL FITF  Apparel 
Please share your thoughts, best weather pics/video, or just keep in touch via social media
Related Links:
Winter Outlook
My Winter Outlook 2018-19: Multiple Nor'Easters and more snow
Was Your County Not Included?
Click this map for more on the regional forecast zones
Interactive Snow Report
November 15 Snow Reports- Interactive Map Compared To My Forecast
Winter Snow And Top 5 Wet Years 
Snowfall Seasons at Beginning and End of Top 5 Wet Years In Baltimore
Related Winter Outlooks
Solar Cycle: When Sun Spots Are Low We Get More Snow
El Nino Modoki May Enhance Snow Chances
Sweet Spot: Hitting 70ºF on Halloween is followed by more winter snow
Will A Wet Summer Bring A Snowy Winter?
NOAA Winter 2018-2019 Outlook Explained: This Actually Supports Snow
Winter Outlook From Two Different Farmers Almanacs
Maryland Winters: Snowfall Maps and Baltimore Snow History