Wednesday Afternoon February 27 2019
The latest package of computer models has been generated. Yesterday there was an apparent blip that seems to make the little snow event for Friday disappear. I stated that I was not going to give up on it and needed to look for consistency or trends before making any adjustment.  Today it appears the computer guidance has swung the other direction and sees the snow being a little more potent.
I still am staying on course with my original call… which is just enough snow at the right time before sunrise on Friday to lead to some impact for travel. Here is a brief look at the NAM 3 Km and European ECMWF Models showing the modest burst of snow. Compare these two timelines. In my next post I will add a few others and the computer model snowfall projections.
Friday Morning Snow Timelines
NAM 3 Km —> slider
This model primarily shows snow around metro Baltimore to the upper Eastern Shore's Kent and Cecil Counties.
Most done quickly by sunrise
This model keeps the bulk south York.
Washington and Annapolis start with snow and turn to a slushy mix with marginal temperatures.
[metaslider id=73978]
Friday Morning Temperatures
Stickage very likely around Baltimore and north, including Eastern Shore's Kent and Cecil Counties.
Marginal stickage or wet roads between Washington DC to Annapolis.
NAM 3 Km Animation
ECMWF Model —> slider
The primary snow appears to be between York PA and southern Maryland.
The snow burst timing is a little later. pasting into the Friday morning commute.
[metaslider id=73995]
Friday Morning Temperatures
This is a colder solution
Stickage very likely around Baltimore and north, including Eastern Shore's Kent and Cecil Counties and Washington DC to Annapolis.
Friday Snow Notes
?Not a major storm.
?Dusting to 2 inches, mostly early morning Friday
?Stikcage on roads possible Friday morning in metro areas.
?School delays possible❓
❄️Ends by mid-day Friday with melting after noon.
I will add more model timelines and snowfall projection maps in my next report.
Keep In Touch Every Day
Just in case you don't get all posts on your social media feed, stay up to date with the latest info…
Click here to sign up for email alerts…. Be the first to hear any new weather.
---
New Partner
Buchanan Kia of Westminster is a supporter of Just In Power Kids and Maryland Trek 6 in August 2019.
---
Outlook
This weekend: Another storm is likely top bring us rain
Next Week: A few storms but the computer modeling is all over the place. It would be a disservice to show you them now without any consistency of timing and type of 'stuff' that will fall.  Why I feel comfortable showing you is the jet stream that will be dominated by a cold flow. That also has energy to bring multiple weather systems for the first week of March
Blue: Colder than climatological average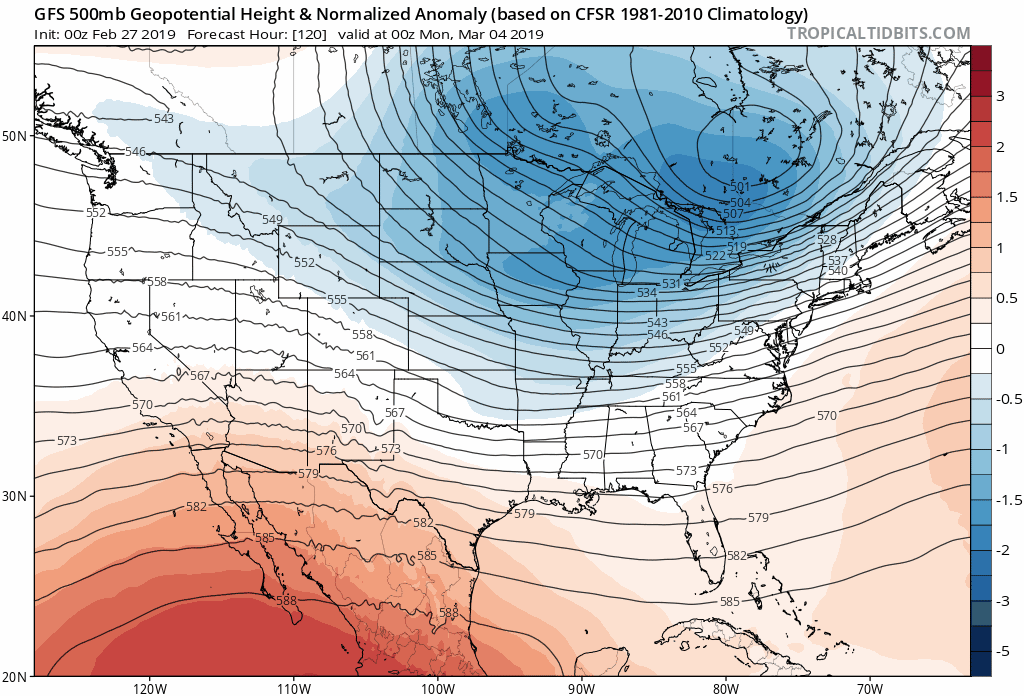 Temperature Outlook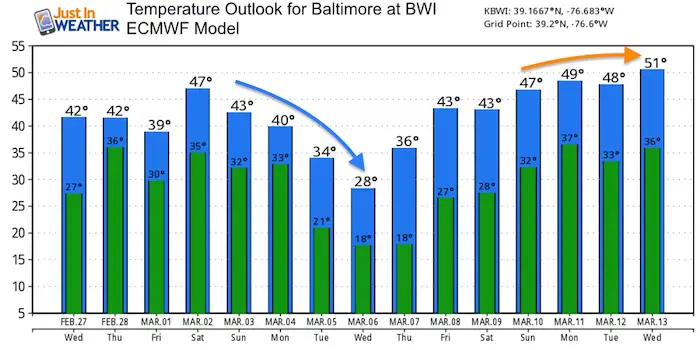 ALL FITF  Apparel 
Please share your thoughts, best weather pics/video, or just keep in touch via social media
Related Links:
Winter Outlook
My Winter Outlook 2018-19: Multiple Nor'Easters and more snow
Was Your County Not Included?
Click this map for more on the regional forecast zones
Interactive Snow Report
November 15 Snow Reports- Interactive Map Compared To My Forecast
Winter Snow And Top 5 Wet Years 
Snowfall Seasons at Beginning and End of Top 5 Wet Years In Baltimore
Related Winter Outlooks
Solar Cycle: When Sun Spots Are Low We Get More Snow
El Nino Modoki May Enhance Snow Chances
Sweet Spot: Hitting 70ºF on Halloween is followed by more winter snow
Will A Wet Summer Bring A Snowy Winter?
NOAA Winter 2018-2019 Outlook Explained: This Actually Supports Snow
Winter Outlook From Two Different Farmers Almanacs
Maryland Winters: Snowfall Maps and Baltimore Snow History