Tuesday February 19 2019
The Winter Strom on the way will be with us Wednesday morning. Most of the are should see the first flakes by daybreak, but here is a more refined timeline map. There is some wiggle room, but the essence is that snow will pick up quickly during the morning. Due to the early time of day and cold temperatures, there should be widespread stickage.  That will make for tough travel most of the morning.
I know my website has been overloaded with traffic and the connection has been slow to impossible at times. Thank you for your patience as I sort through my upgrade options. So for now, I will limit the images here and hope this allows for more to access with faster loading.  I have included the new NWS snowfall maps to compare to my forecast. My next update will include new model snow maps and radar simulation.
When Will This Winter Storm Begin?
First Flakes Arrival Time
Winter Storm Warning (pink)
Southern PA, Cecil and Kent Co in MD have been included.
Winter Weather Advisory (purple): Southern Maryland and most of the Eastern Shore/Delmarva
Was Your County Not Included?
Click this map for more on the regional forecast zones
Storm Notes:
Wednesday morning most of the area will see snow.  This includes Southern MD and Delmarva.
A burst of moderate to heavy snow could bring 1″/Hr at times.
Wednesday Afternoon: Snow will change to sleet and freezing rain from south to north. That change over will be around lunchtime between Washington and Baltimore.
Wednesday afternoon and evening: There will be icing across central Maryland
Wednesday night: The normally colder zones will have heavy icing
Thursday morning: It is possible that leftover ice has not fully melted or fallen off of trees in some areas even with warming and rain
How Much Snow?
Compare the NWS Zone Forecast Maps to my forecast below
NWS Zone Forecast Maps –> slider
There has been a slight increase… Higher snow has shifted east to I-83 in Baltimore Co.
[metaslider id=73603]
My Call For Snowfall
I increased this a little last night to allow for more snow, but will hold it firm at this point.
Once we change to sleet and freezing rain, that will be an additional problem to content with.
The bust potential would lean towards overachieving. I am still staying lower that possible due to the sleet.
Note that the initial snow intensity can reach rates over 1 inch per hour.
Zone A:
5″ to 8″ of snow. The white circled region can get up to 12″.
The highest snow may be where it begins earlier allowing for more stickage before late morning.
This Zone will have the most snow and heaviest icing Wednesday night
Zone B:
3″ to 6″ of snow. It will fall heavy at times in the morning.
Change over will be around lunchtime (between 11 AM and 3 PM).
I expanded this zone to include Kent, Queen Annes, and Caroline Countes.
Moderate icing in sleet and freeing rain
Should change to rain from south to north between 3 PM and 8 PM Wednesday.
Zone C
1″ to 3″ of snow.
Faster change over to icing and then rain during the day.
Radar Simulation Sliders
Please click to see the full sliders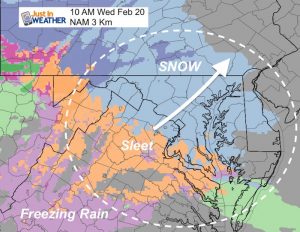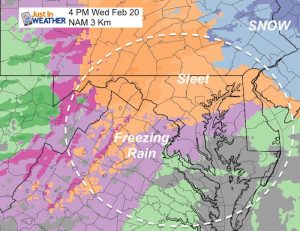 ALL FITF  Apparel 
Please share your thoughts, best weather pics/video, or just keep in touch via social media
Keep In Touch Every Day
Just in case you don't get all posts on your social media feed, stay up to date with the latest info…
Click here to sign up for email alerts…. Be the first to hear any new weather.
---
New Partner
Buchanan Kia of Westminster is a supporter of Just In Power Kids and Maryland Trek 6 in August 2019.
---
Related Links:
Winter Outlook
My Winter Outlook 2018-19: Multiple Nor'Easters and more snow
Interactive Snow Report
November 15 Snow Reports- Interactive Map Compared To My Forecast
Winter Snow And Top 5 Wet Years 
Snowfall Seasons at Beginning and End of Top 5 Wet Years In Baltimore
Related Winter Outlooks
Solar Cycle: When Sun Spots Are Low We Get More Snow
El Nino Modoki May Enhance Snow Chances
Sweet Spot: Hitting 70ºF on Halloween is followed by more winter snow
Will A Wet Summer Bring A Snowy Winter?
NOAA Winter 2018-2019 Outlook Explained: This Actually Supports Snow
Winter Outlook From Two Different Farmers Almanacs
Maryland Winters: Snowfall Maps and Baltimore Snow History