Monday February 18 2019
Have you every seen a weather watch or warning and wondered why your area was not included? Cecil County often feels like they are left out while just across the river in Harford County they might have a watch for weather in any season.
\My forecast area uses Baltimore as the center, since I spent 14 years of my two decades on TV there. The TV market covers a large area across central Maryland.  You may argue the reach into southern Pennsylvania and how far on Delmarva, but I cover those areas and even into northern Virginia. My hope is that this post and the map below helps explain the confusion where weather alerts are issued and why they stop at certain county or state lines.
If you live in Maryland, it is possible you may have felt that your were being ignored, when weather alerts do not include your county.  That is NOT my fault and I will defend the meteorologists on TV as well. The problem is that watches, warnings, and advisories come from the National Weather Service (NWS). I make my own forecast, many forecasters so. But the government is the only entity that can issues formal weather alerts. That is your tax dollars at work!
I was asked to be a panelist at the MDEMA Conference this spring. This issue is a prime topic I was will be addressing:
National Weather Service Zones
The problem is that multiple NWS Offices cover our region. There appears to be very little coordination when they issue some weather alerts. Especially in the winter. I can't knock them with short staffing and other obligations, but I do wish there would be more communication for people who live on the edge of these boundaries.
Some counties may be under a watch or advisory from their local office, but the next county over might be under the guidance of a different office that did not issue anything yet.
See the NWS office zone breakdown below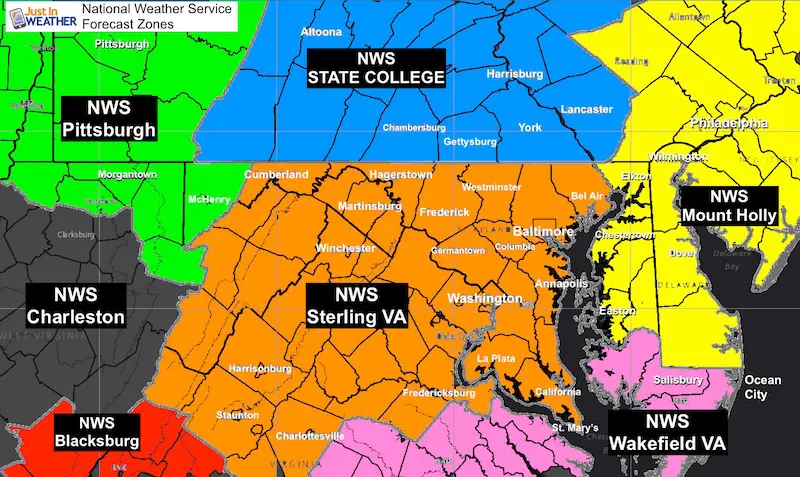 NWS Zones Coverage Counties:
Sterling VA (LWX): Most of central Maryland west of the Chesapeake Bay, to Cumberland and Frostburg; plus north central Virginia.
Mount Holly NJ: Cecil, Kent, Queen Annes, Talbot, and Caroline Counties in Maryland; plus all of Delaware.
Wakefield VA: Maryland's Lower Eastern Shore. This is for Dorchester, Wicomico, Somerset, and Worcester Counties. 
Pittsburgh PA: Garrett County in far western Maryland. 
State College PA: Southern Pennsylvania including Adams, York, and Lancaster Counties.
Central Maryland: Split NWS Weather Zones
Even under the same NWS Sterling VA office, the counties are broken down and some are split to account for the climate zones.
These county zones are split in the 'north and west' areas of Baltimore are based on the elevation factor and proximity to the Chesapeake Bay.
Harford and Baltimore have a a 'northern' split.
Howard and Montgomery have a 'western' split. This follows the higher elevation from the geologic feature called the Fall Line.
School Delays/Closings:
Maryland issues school closings and delays on a county wide basis. Pennsylvania, like many other states actually break the responsibility down to individual districts. The makes for much longer lists on active winter weather days, but caters better to that local area.
The Hereford Zone in Baltimore County accounts for the colder climate with more snow and ice.  Those schools have been featured, but many other counties could benefit from something similar.
It is possible that snow or ice cover part of these counties while other parts are wet. It's pretty common in Harford County, with the change over with a few miles of I-95. But that county has charter schools and bus routes with larger areas that make it more difficult to enact a similar policy to Baltimore's Hereford Zone. So sometimes that county will close, while it is wet in Abington or Haver de Grace. Or the county can be open but it is snowy and icy in Fallston, Jarrettsville, Pylesville, or Whiteford.
Last week there was an ice issue in Howard County MD that was worse to the west, but wet near Columbia. That county could have benefitted from having a policy in place to delay some schools the colder zones.
Wide Range Of Weather Across Small Area
Every school assembly I do I show this Average Annual Snowfall Map. It is fascinating how much the weather can change in the winter just a few miles inland from the Chesapeake Bay and in the higher hills Northwest of I-95.  More details and explanation can be found here.
Maryland Winters: Snowfall Maps and Baltimore Snow History
This morning was an example of the confusion as a Winter Storm Watch was issued for central Maryland. Cecil Co and Delmarva were not included yet.  Southern PA was under a Winter Weather Advisory, but no alerts for the Wednesday storm… Yet!
I mentioned in my report that I expected more areas to be included. But since there are many different offices to the north, east, and south involved, it's hard to tell when each area will be added. I hope this makes a little more sense now.
I will be updating the winter storm frequently. Due to a very large jump in my web traffic, the servers have been maxed to full capacity. Load times can be slow and sometimes hard to connect. Please continue to be patient as I work with my team on the best solution within a reasonable expense.
Thank you for your trust and support.
Please share your thoughts, best weather pics/video, or just keep in touch via social media
Keep In Touch Every Day
Just in case you don't get all posts on your social media feed, stay up to date with the latest info…
Click here to sign up for email alerts…. Be the first to hear any new weather.
---
New Partner
Buchanan Kia of Westminster is a supporter of Just In Power Kids and Maryland Trek 6 in August 2019.
---
ALL FITF  Apparel 
Related Links:
Winter Outlook
My Winter Outlook 2018-19: Multiple Nor'Easters and more snow
Interactive Snow Report
November 15 Snow Reports- Interactive Map Compared To My Forecast
Winter Snow And Top 5 Wet Years 
Snowfall Seasons at Beginning and End of Top 5 Wet Years In Baltimore
Related Winter Outlooks
Solar Cycle: When Sun Spots Are Low We Get More Snow
El Nino Modoki May Enhance Snow Chances
Sweet Spot: Hitting 70ºF on Halloween is followed by more winter snow
Will A Wet Summer Bring A Snowy Winter?
NOAA Winter 2018-2019 Outlook Explained: This Actually Supports Snow
Winter Outlook From Two Different Farmers Almanacs
Maryland Winters: Snowfall Maps and Baltimore Snow History