Tuesday February 12 2019
The areas under a Winter Storm Warning are still below freezing as of 6 AM. The freezing line is slowly pushing north and there is a mix of rain, freezing rain, sleet, and some snow still falling. This post has the new radar simulation and temperature trend to show the thaw. Also two more winter events over the next eight days
The weather on a day like this can be deceiving. You may see rain and the roads may appear wet, but there still could be spots that are icy. Also the ice will take time to thaw a few hours after the temps warm above 32ºF.
This Morning
It is going to take time to shovel, scrape, and clear off of your car this morning. Plenty of ice and snow, even if it looks like rain. But the plain rain appears to be south of Baltimore to Annapolis and Washington.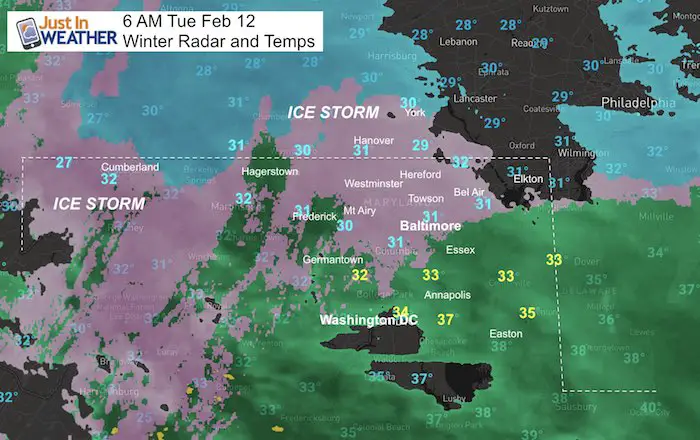 School Delays: Many schools called for a delay. Harford County MD was first to close and I expect more will follow in similar locations that closed Monday. It's best to wait and reevaluate each hour. Basically, keep checking as the thaw will be gradual.  We all will get rain that could be heavy this evening to wash a lot away.
There are two more winter events on the horizon that might need to be factored in with the schedule. Saturday could bring snow,  and more snow and ice mix next Tuesday. See those maps below.
How Much Snow Do You Have?
I have seen a range of 4 to 7 inches in the colder zones north of Baltimore in northern Harford, Baltimore, Carroll, and Frederick Counties, into Southern PA. Meanwhile is mainly just wet south of Baltimore. Please share you measurements and photos on the social media post where you saw this link.
Radar Simulation —> slider
[metaslider id=73125]
Temperature Timeline
[metaslider id=73151]
Winter Storm Warning
Advisories and Warnings
Winter Weather Advisory (blue): Expires at 7 AM
Winter Storm Warning in Maryland Until 10 AM
* WHERE…Portions of north central and northern Maryland and
Morgan County West Virginia.
NWS Message: Snow, sleet and freezing rain. Total snowfall and sleet accumulations (including snow that has fallen since Sunday
night) of 3 to 7 inches are expected, with isolated totals up to 9 inches possible along the Pennsylvania border in northern Baltimore and northwestern Harford Counties. Freezing rain accumulations of a tenth to a quarter of an inch are also expected through Tuesday morning.
Winter Storm Warning in PA until 4 PM
NWS Message: Snow then heavy mixed precipitation. Additional snow accumulations of 3 to 4 inches and ice accumulations of up to
one half of an inch are expected.
Snow will gradually mix with then change to sleet and freezing rain well after Monday at midnight, before
turning to all freezing rain during the mid to late morning hours Tuesday. The temperatures will warm slightly Tuesday to
change the precipitation to plain rain during the mid afternoon.
My Original Snow Call Again
I think this is still holding up pretty well.
Storm Notes:
The biggest impact will be snow and icing Monday night into Tuesday morning!
Longer snow and ice impact northwest of the big cities.
Nearby NW suburbs likely 2″ to 4″ snow is expected. That would be up to 1″ to 2″ of snow from each each round.
Farther northwest encircled in white could get 5″+. That is potential, not a promise. That would be up to 2″ from round 1 AND 3″+ from round 2 before mixing to ice.
In Maryland: Northern Harford, northern Baltimore, Carroll, western Howard, Frederick, and Washington Counties
Southern Pennsylvania: including Adams, York, and Lancaster Counties.
I am celebrating this two part storm with a 20% off sale for all FITF apparel
ALL FITF  Apparel is 20% through tonight
Use promo code: SNOWDAY20
Keep In Touch Every Day
Just in case you don't get all posts on your social media feed, stay up to date with the latest info…
Click here to sign up for email alerts…. Be the first to hear any new weather.
Evening Rain May Be Heavy Between 8 AM and 10 PM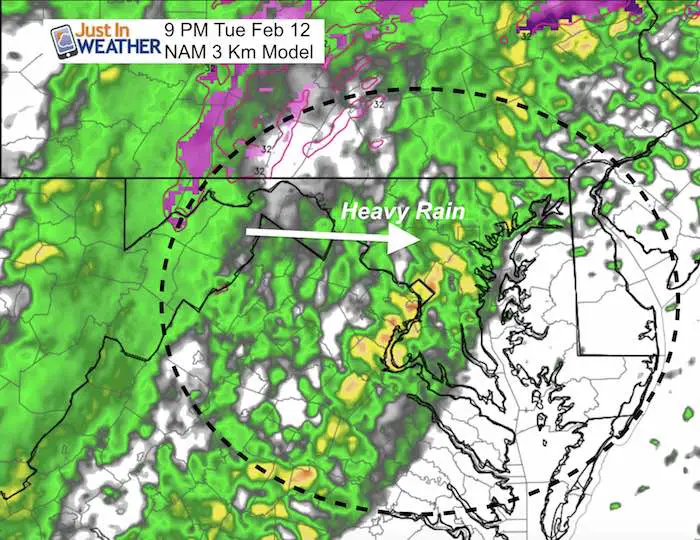 Looking Ahead For Two More Storms
I am a firm believe that we need to get through the current event as see how it behaves before looking to the next one. But it is worth noting that there is more action in the pipeline. The Euro Model has done a good job with this event, so there is more confidence in what may come next: Saturday and next Tuesday
Weekend Snow? 
At this point it looks like the bulk will pass on the southern part of our area. If the typical shift north applies, that keeps us in the bulls eye.
Ice Storm Next Week?
The next system looks like a classic icing event. Again, this one is a week away, so there will be some wiggle room with the timing and track But snow mixing with ice is the way it looks for now.
Temperature Outlook
As we just saw, a wintry event can hit hard event when the outlook showed temps above freezing for afternoon highs. It looks like the trend will be in the 30s/below average next week.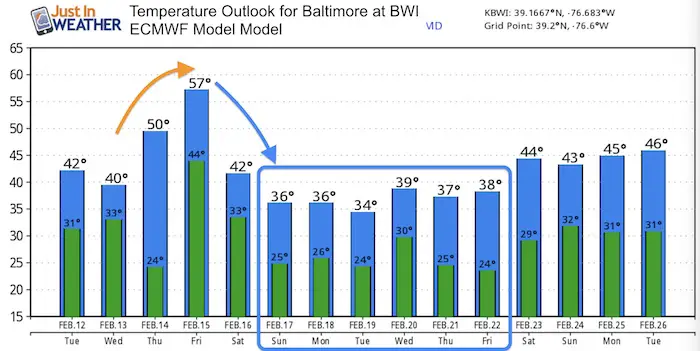 Please share your thoughts, best weather pics/video, or just keep in touch via social media

New Colors
We are giving 10% of each sale to Just In Power Kids: Providing FREE holistic care for pediatric oncology patients.
---
New Partner
Buchanan Kia of Westminster is a supporter of Just In Power Kids and Maryland Trek 6 in August 2019.
---
Related Links:
Winter Outlook
My Winter Outlook 2018-19: Multiple Nor'Easters and more snow
Interactive Snow Report
November 15 Snow Reports- Interactive Map Compared To My Forecast
Winter Snow And Top 5 Wet Years 
Snowfall Seasons at Beginning and End of Top 5 Wet Years In Baltimore
Related Winter Outlooks
Solar Cycle: When Sun Spots Are Low We Get More Snow
El Nino Modoki May Enhance Snow Chances
Sweet Spot: Hitting 70ºF on Halloween is followed by more winter snow
Will A Wet Summer Bring A Snowy Winter?
NOAA Winter 2018-2019 Outlook Explained: This Actually Supports Snow
Winter Outlook From Two Different Farmers Almanacs
Maryland Winters: Snowfall Maps and Baltimore Snow History