Thursday January 31 2019
The core of the cold air is with us today, with hardly a cloud in the sky. Before the quick warm up can get here, there is one more piece of energy that will swing our way with snow on Friday. As it appears now, it will develop in the morning and be cold enough for stickage all day. The ground is surely frozen to support that.
Winter Weather Advisory (Updated)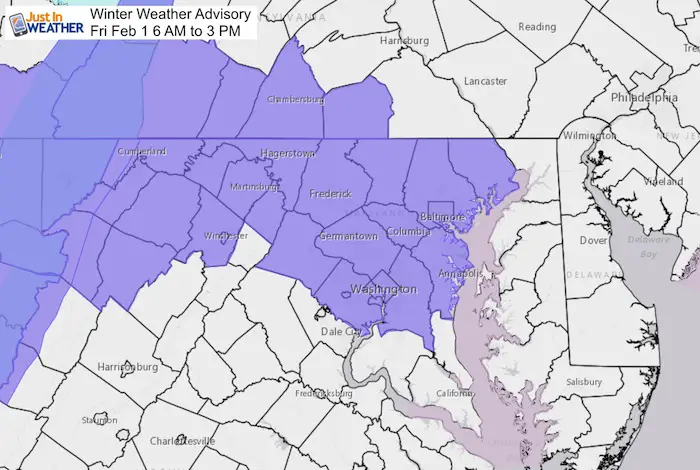 Snow Notes
This may start around the morning commute in central Maryland, but by mid day and early afternoon, this will be more of an issue north of Baltimore. The final piece will push through and redevelop some snow on the lower Delmarva just in time for sunset and Friday evening towards the beaches.
Morning Temperatures 
Snow Timelines
This looks worse than it may be. Steady light snow lasts longer on the north side. Two sliders below for the morning, and the afternoon.  Only Light accumulation. See the snow totals below.
Morning—> slider 
This will develop over central Maryland during the morning commute.
[metaslider id=72384]
Afternoon—> slider 
By lunch time, most of the snow will be north of Baltimore. Then redevelop over the Eastern Shore and lower Delmarva/Beches by evening.
[metaslider id=72397]
Afternoon Temperatures 
Snow Total: Not Much
Again, just enough to coat the ground and possible be a nuisance.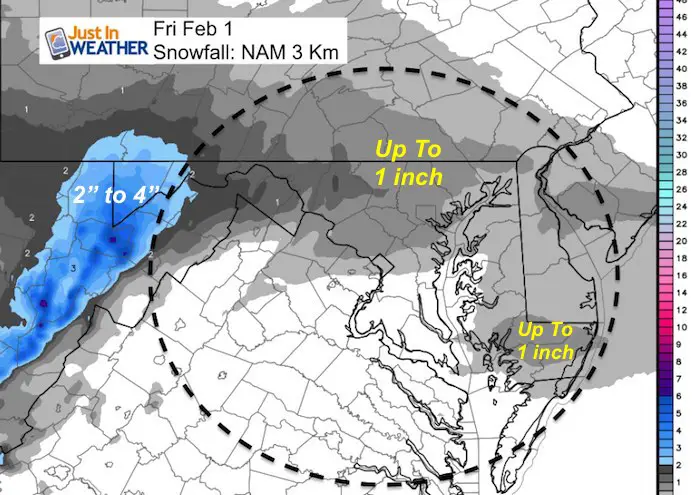 Love Snow and Love Maryland Sale
It's less than 15 days until Valentine's Day
Any Love Snow or Love Maryland item is 15% Off until Sunday.
Use promo code: LOVESNOW15
The first 15 orders get our new FITF bag. Orders after that get another surprise gift.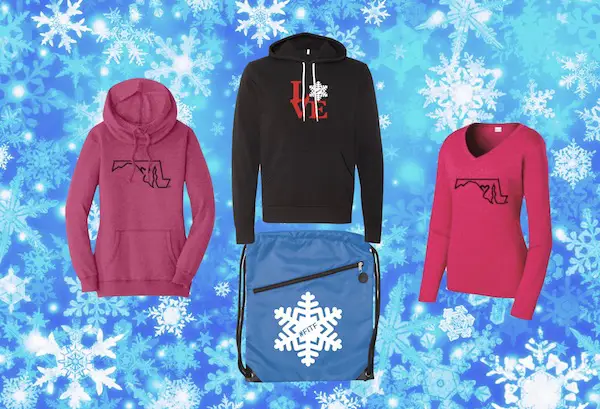 ---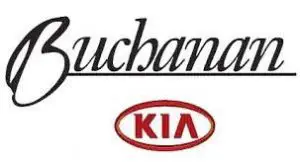 New Partner
Buchanan Kia of Westminster is a supporter of Just In Power Kids and Maryland Trek 6 in August 2019.
---
Temperature Outlook
The Jet Stream will lift the Polar Vortex to our north and the return of very warm air next week could bring us to near 60ºF. Then another arctic blast arrive by Valentine's Day.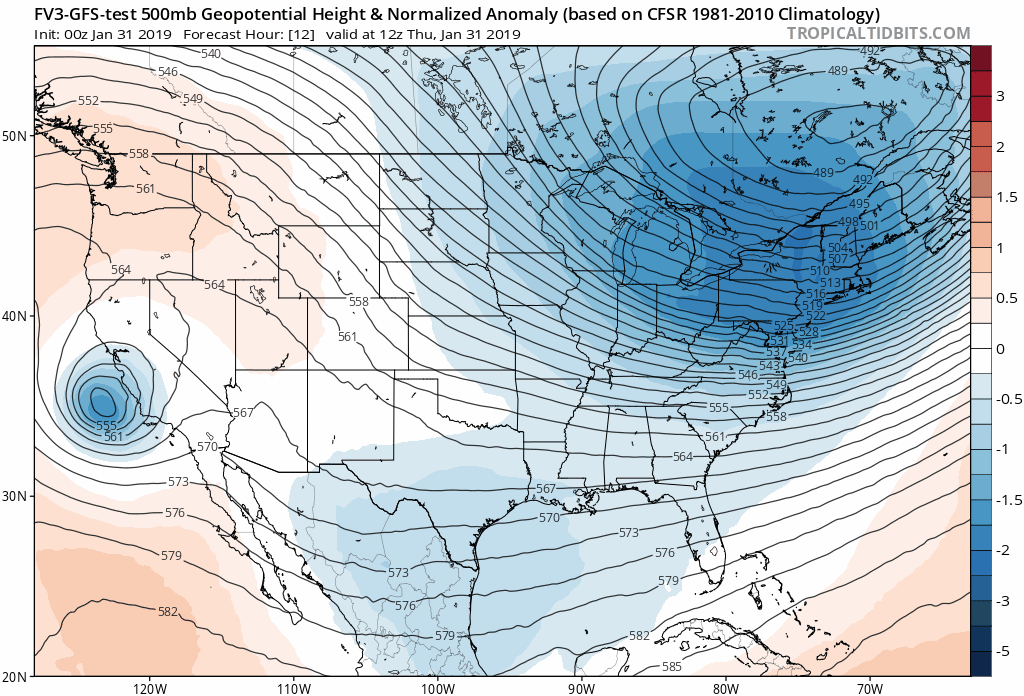 Temperature Forecast
The Mid February arctic blast may not be reflected well here. But you can see the 60s next week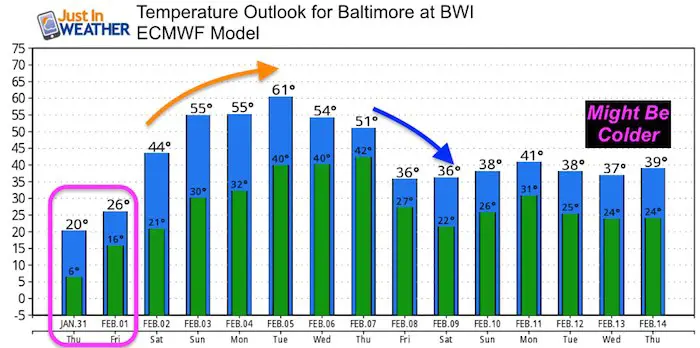 Please share your thoughts, best weather pics/video, or just keep in touch via social media
Related Links:
Winter Outlook
My Winter Outlook 2018-19: Multiple Nor'Easters and more snow
Interactive Snow Report
November 15 Snow Reports- Interactive Map Compared To My Forecast
Winter Snow And Top 5 Wet Years 
Snowfall Seasons at Beginning and End of Top 5 Wet Years In Baltimore
Related Winter Outlooks
Solar Cycle: When Sun Spots Are Low We Get More Snow
El Nino Modoki May Enhance Snow Chances
Sweet Spot: Hitting 70ºF on Halloween is followed by more winter snow
Will A Wet Summer Bring A Snowy Winter?
NOAA Winter 2018-2019 Outlook Explained: This Actually Supports Snow
Winter Outlook From Two Different Farmers Almanacs
Maryland Winters: Snowfall Maps and Baltimore Snow History