Wednesday January 9 2019
Arctic air is spilling in this evening as I write this update and it just set the mood right. At 9 PM the snow finally cross Baltimore as this snow band is moving into central Maryland along with cidl winds. It now feels like winter again, which makes the idea of snow a lot easier to take. In case you missed it, here's a look at the radar that is acting like the season.
A Snow Squall Warning was posted for
Northeastern Washington County in north central Maryland…
Northern Frederick County in north central Maryland…
* Until 945 PM EST.
To effect Highway 15 near Thurmont and Maryland Highway 550
in Sabillasville.
I would watch this to expand the band with perhaps a quick 1 inch of snow near Walkersville, Mount Airy and Southern Carroll County.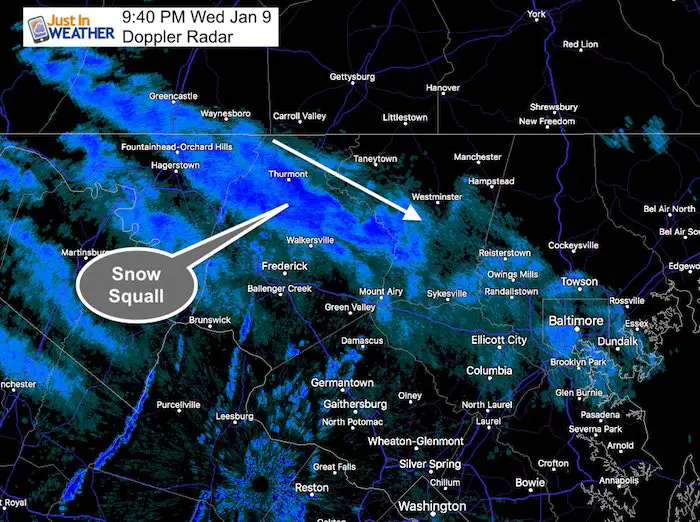 Radar Animation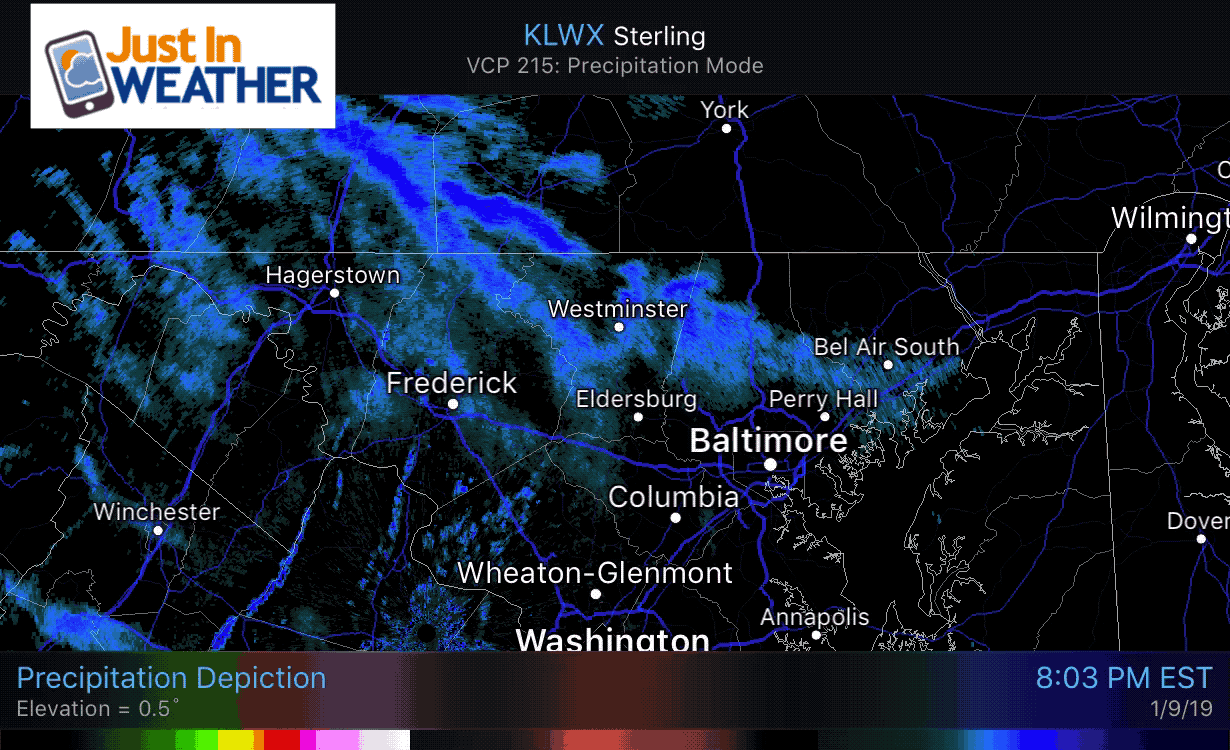 Click Here to see the arctic air that will be here tomorrow
Looking Ahead…
The snow event is still on and I still don't think the models have the best lock. The good news is that if you want snow, it will be cold enough and our region is in the target. Also, there is reason to think the bias of the models will eventually show the prime snow zone shifting north of where is displays now. That puts central Maryland and southern PA in play.
The Cold air is the first part of the story. It will be cold enough for snow to fall and stick this weekend. The take away from this is that temps appear not as cold as earlier forecasts from this model. But they are still cold enough. The other important factor I will show below.
Temperature Outlook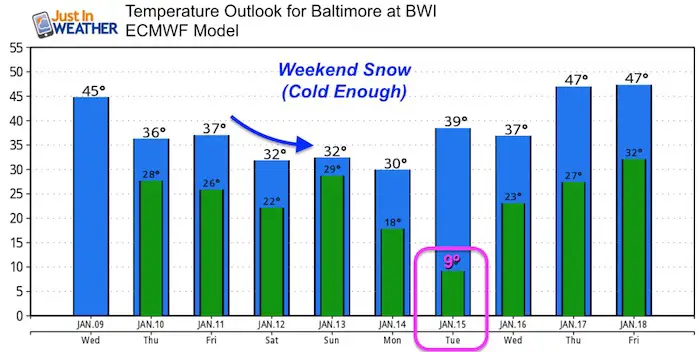 Keep In Touch Every Day
Also- Just in case you don't get the post on your social media feed
Click here to sign up for email alerts…. Be the first to hear any news
Storm Set Up
Light snow is likely to begin Saturday afternoon or evening. The main event will be on Sunday.
One concern has been how strong the arctic High Pressure in Canada will be. If this is too strong, then it would suppress the storm to the south. I don't buy this! The temps above are one indication that the Euro Model is showing the influence of the storm to be farther north. In fact, if you remember the November 15 snow storm, that kept nudging north. So was the early December event that missed us but hit southern Maryland and VA. That also was a signal that the southern branch has brawn and will flex as it gets closer.
The Canadian Model Animation here shows the play of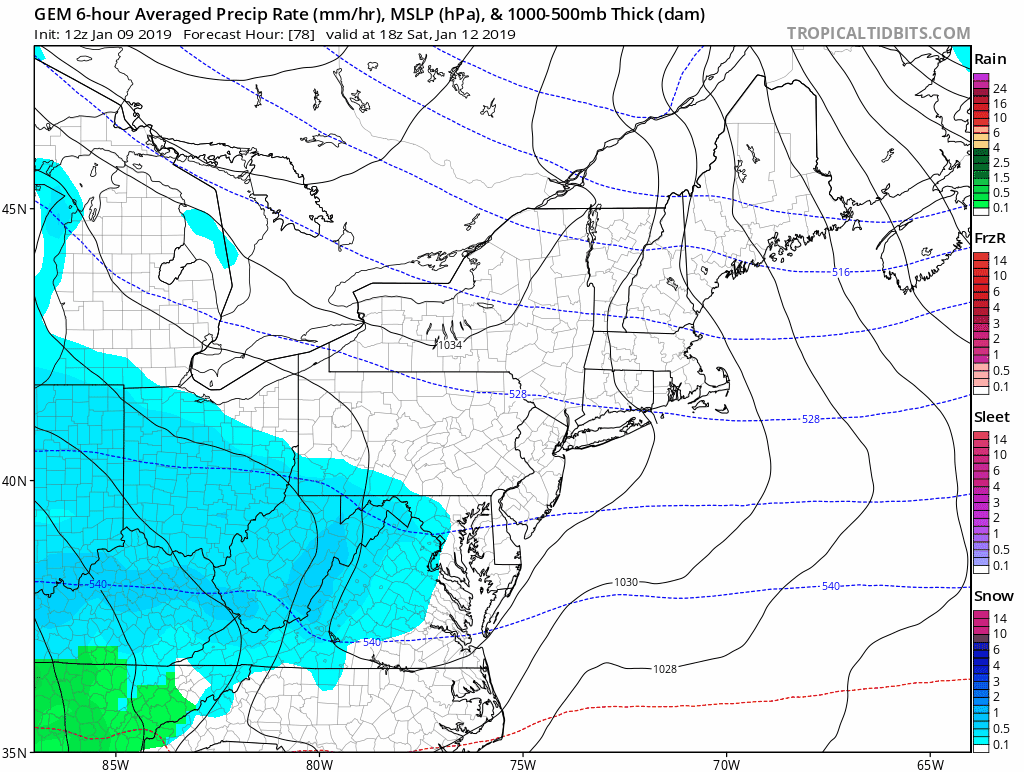 GFS Model- Shows Two Parts 
While the American Models are limited in the government shutdown, this does bring up an interesting idea. The initial overrunning snow on Saturday may fade and then the primary storm develops on Sunday.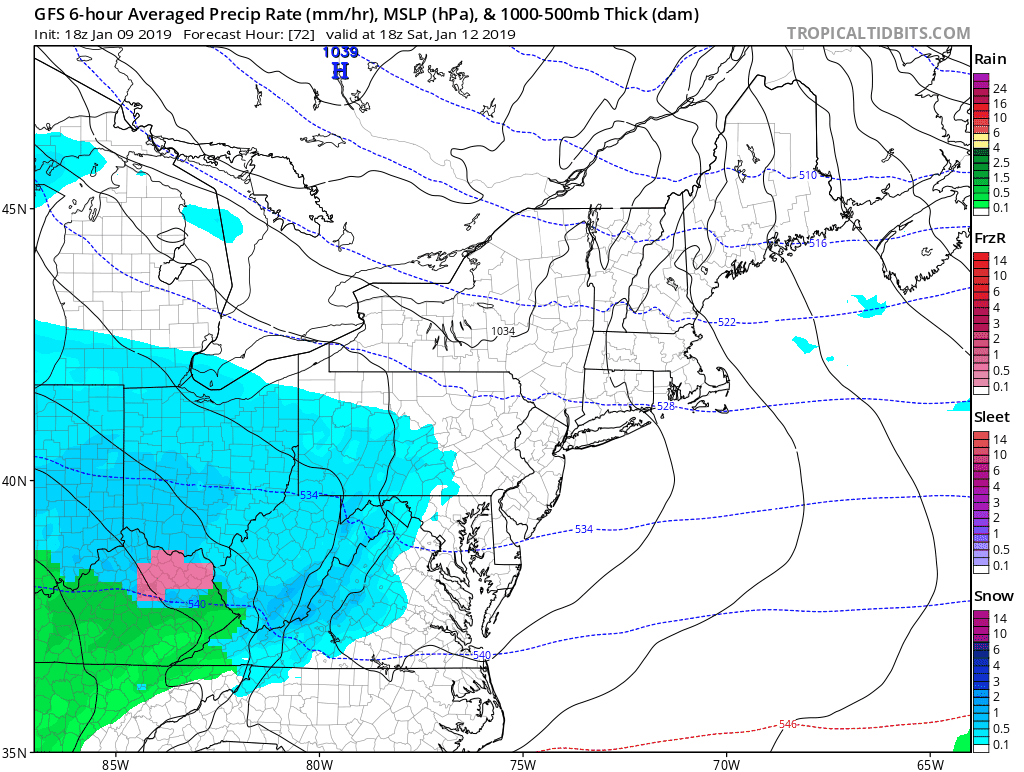 European Model –> slider
This model comes with the most reliability historically. It appears to be on to the two part event as well, with the main storm on Sunday showing most of the snow south of Baltimore.
I am not convinced on this location as I still see a bias too far south. So central Maryland and Southern PA are still in good shape to get in on the main action.
[metaslider id=70454]
First Call For Snowfall:
Thursday evening will be my first call for this event. I want to give you my best educated guess to start rather than just throw around what models are showing. But at this time I would plan on some impact Saturday night and better chance to be impacted on Sunday to some degree.
Partnership
I'd like to welcome Buchanan Kia of Westminster: Now a supporter of Just In Power Kids and Maryland Trek 6 in August 2019. Soon we will be showing you why we developed this relationship with a local business that my wife and I sincerely trust.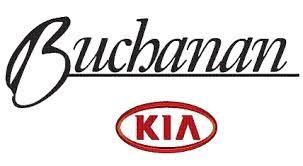 Snow Day Kit
Our ritual the night before a storm is finally in one kit. Maybe if more Maryland kids had this, the storm would reach us 🙂
This includes a very soft raglan Tee printed inside out with #FITF AND the check list,  #FITF spoon for under your pillow, ice cube tray with snowflake shapes, chalk, a #FITF wrist-band, a mini SnowStix, and a bag to carry it all in.
The introduction special price will end tonight.
This will also help us give a free Snow Day Kit to each of the Just In Power Kids.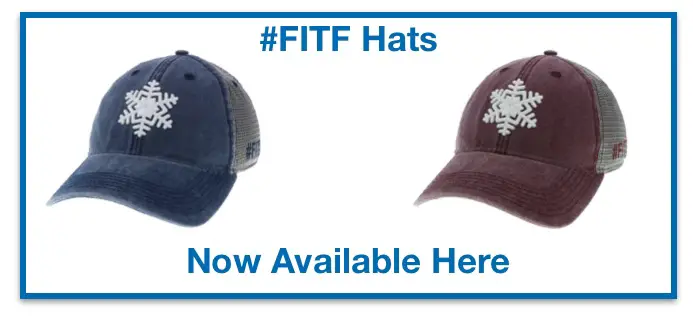 Keep In Touch Every Day
Click here to sign up for email alerts…. Be the first to hear the big news over the weekend
Also- Just in case you don't get the post on your social media feed
Please share your thoughts, best weather pics/video, or just keep in touch via social media
Related Links:
Winter Outlook
My Winter Outlook 2018-19: Multiple Nor'Easters and more snow
Interactive Snow Report
November 15 Snow Reports- Interactive Map Compared To My Forecast
Winter Snow And Top 5 Wet Years 
Snowfall Seasons at Beginning and End of Top 5 Wet Years In Baltimore
Related Winter Outlooks
Solar Cycle: When Sun Spots Are Low We Get More Snow
El Nino Modoki May Enhance Snow Chances
Sweet Spot: Hitting 70ºF on Halloween is followed by more winter snow
Will A Wet Summer Bring A Snowy Winter?
NOAA Winter 2018-2019 Outlook Explained: This Actually Supports Snow
Winter Outlook From Two Different Farmers Almanacs
Maryland Winters: Snowfall Maps and Baltimore Snow History 
Snowstix- We Need You To Measure Snow Too
We are giving 10% of each sale to Just In Power Kids: Providing FREE holistic care for pediatric oncology patients.