Tuesday January 8 2019
Now that we got that sunny and mild day out of the way, we can move on back to winter. It has been advertised and it will be a reality. Before we get to the weekend snow storm, I just wanted to show you the trend for temperatures in our area. After such a sunny day and lack of snow since mid November, it might be hard to believe. It you have Faith in the Flakes, then what I have to show you is just what you have been waiting for.
But first we lay out the cold carpet to make way for the snow or ice to follow.
Temperature Outlook
Average high temperature in Baltimore for the next two weeks is 41ºF. After tomorrow, we should go way below that, bottoming out over the weekend. Here the European Model is showing highs in the 20s both day.  This temps are dependent on the track and impact of the storm. But it is promising…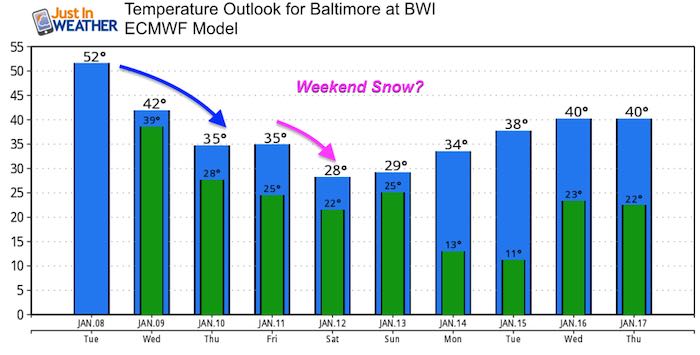 Storm Notes
Timing: Saturday evening through most of Sunday. The biggest impact should be Sunday.
What: Snow; Moderate to heavy bands possible. Ice and rain likely to reach southern Maryland and Delmarva. But it is too early to pin down where that line will set up.
How Much? I DO NOT like to show snow maps more than 3 days away Sam I Am… And I DO NOT LIKE green eggs and ham!
I have build my career and reputation on not showing snow amounts too far in advance. I know computer models have snow outputs and I have seen them be very wrong before. So I refuse to show them. I do not want to play in any rumor game.  There will be plenty of time to plan when we have a legitimate idea. The storm is still off the West Coast now.  Besides, the temperatures and track of the Low Pressure all play a role in the type of snow and ratios that related to totals.
Keep In Touch Every Day
Click here to sign up for email alerts…. Be the first to hear the big news over the weekend
Also- Just in case you don't get the post on your social media feed
Scenarios
Below is a look at four computer models. At this time, I just want to show them to compare each update for any trends. The common ground is they all show snow. The difference as you will see is where the heavy snow sets up and either bringing in or suppressing the rain line. All show the Low Pressure will pass to our south and head off of the coast on Sunday.
Do you remember last night when I showed you one model (Canadian GEM) that was trying to phase to our north and bring a blizzard to New England? That appears to be off the table. The general thinking is that the California storm will cross the US and time out with the arctic air at the right time. The cold should hold near, west,  and north of Baltimore. The precise track will determine if the rain line creeps up or stays south.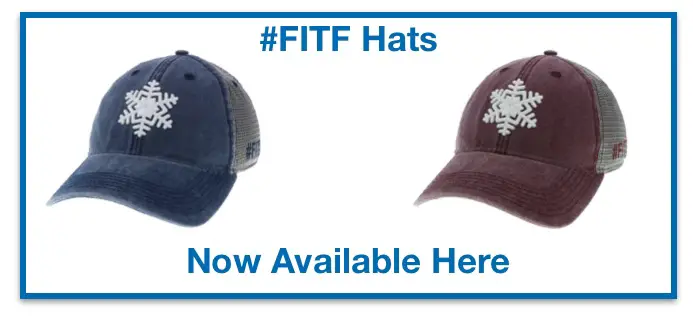 Model Comparisons
All images start at 7 AM Sunday January 13. The time (Hrs) represents how far away that time frame is from the when that model initialized.
There are some animations that follow to show the timing and flow.
Most show light snow or flurries arriving Saturday afternoon or evening, but the main impact will be on Sunday.
GFS (old)
I am showing this older version with joy that it has joined the snow party. But there is a caveat that there has been an impact of the partial government shutdown. So NOAA employees can't update model errors a this time.
Animation
This shows snow showers lingering into Monday.
Note: 12Z = 7 AM; 18Z = 1 PM; 00Z Mon = 7 PM Sun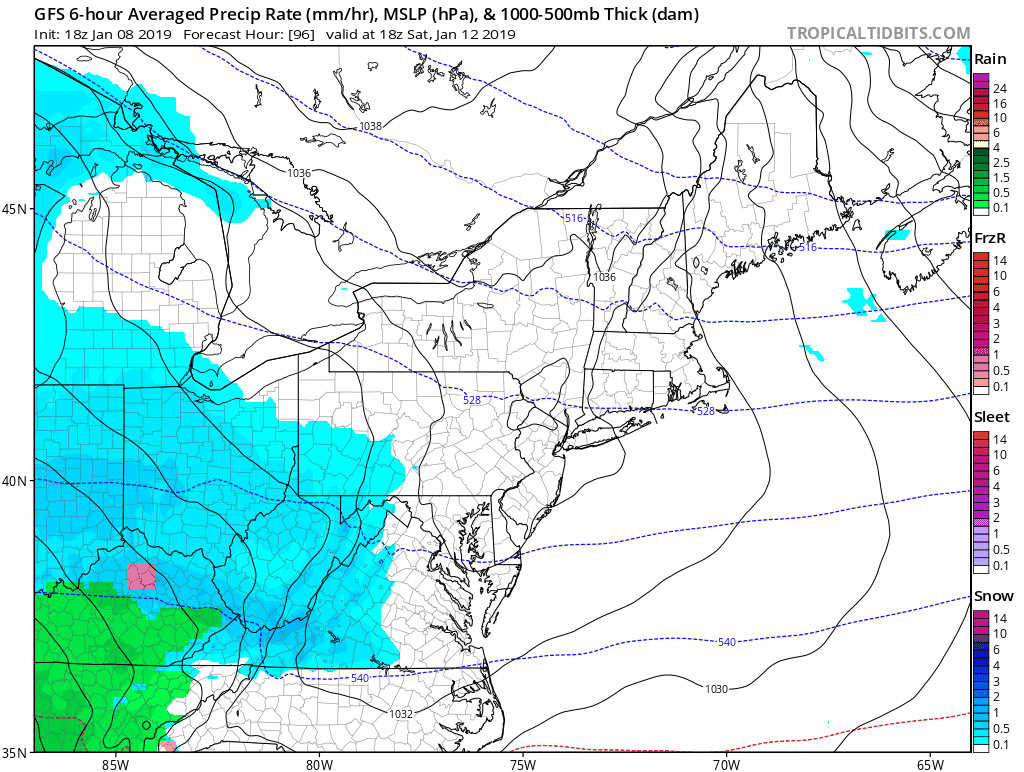 FV3-GFS (new)
This upgraded version of the GFS was supposed to take over this month… It has a stronger Low traveling faster and farther north. This would bring the rain line north, but also spread the heavy snow across the line to PA.
Animation
This shows the heaviest snow Sunday morning but ending Sunday night. 
Note: 12Z = 7 AM; 18Z = 1 PM; 00Z Sun = 7 PM Mon, etc
Canadian GEM
Cold Air Damming! This shows a stronger arctic air mass digging farther south in a classic east coast storm set up. If this verifies, that would spell an ice storm in the south and more snow for us.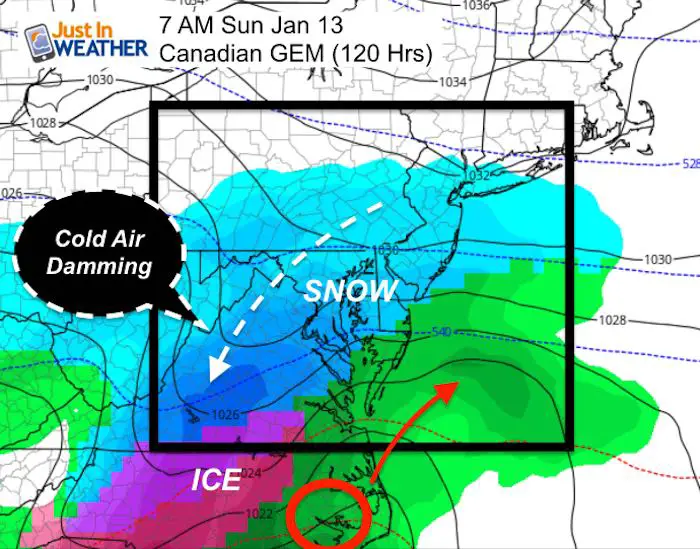 Animation
This shows snow arriving overnight Saturday into Sunday. Moderate snow into Sunday afternoon.
Note: 12Z = 7 AM; 18Z = 1 PM; 00Z Mon = 7 PM Sun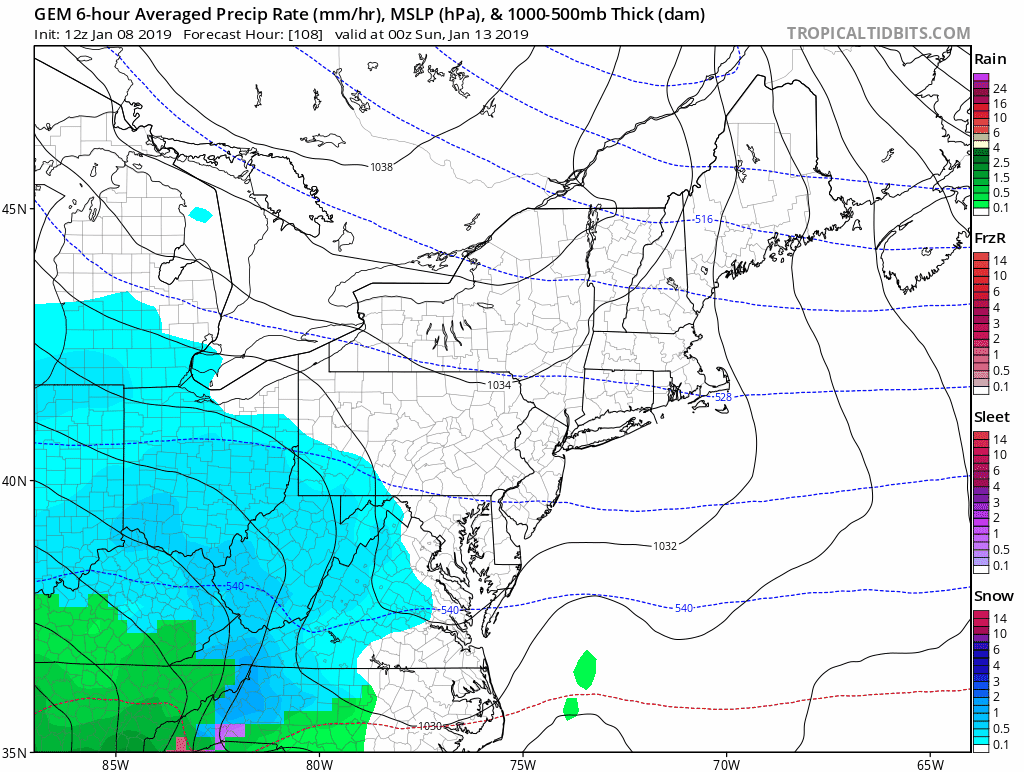 European ECWMF
This version brings the heavy snow up to Rt 50 and keeps southern Maryland in the heavy stuff, with lighter snow to the north in PA.
New Partner
I'd like to welcome Buchanan Kia of Westminster: Now a supporter of Just In Power Kids and Maryland Trek 6 in August 2019. Soon we will be showing you why we developed this relationship with a local business that my wife and I sincerely trust.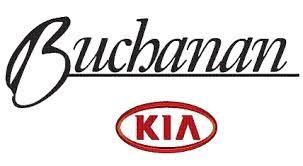 Snow Day Kit
Our ritual the night before a storm is finally in one kit. Maybe if more Maryland kids had this, the storm would reach us 🙂
This includes a very soft raglan Tee printed inside out with #FITF AND the check list,  #FITF spoon for under your pillow, ice cube tray with snowflake shapes, chalk, a #FITF wrist-band, a mini SnowStix, and a bag to carry it all in.
The introduction special price will end tonight.
This will also help us give a free Snow Day Kit to each of the Just In Power Kids.
FITF and SnowStix Stores are now OPEN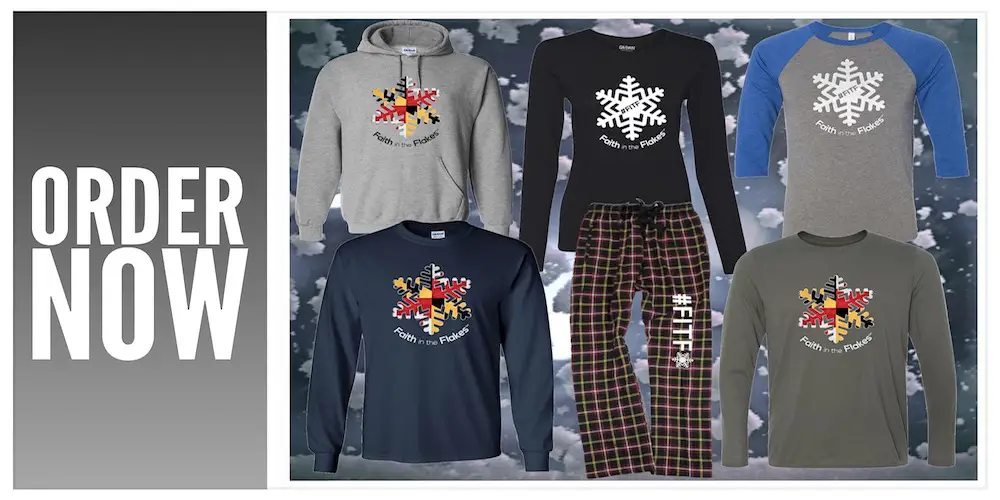 Keep In Touch Every Day
Click here to sign up for email alerts…. Be the first to hear the big news over the weekend
Also- Just in case you don't get the post on your social media feed
Please share your thoughts, best weather pics/video, or just keep in touch via social media
Related Links:
Winter Outlook
My Winter Outlook 2018-19: Multiple Nor'Easters and more snow
Interactive Snow Report
November 15 Snow Reports- Interactive Map Compared To My Forecast
Winter Snow And Top 5 Wet Years 
Snowfall Seasons at Beginning and End of Top 5 Wet Years In Baltimore
Related Winter Outlooks
Solar Cycle: When Sun Spots Are Low We Get More Snow
El Nino Modoki May Enhance Snow Chances
Sweet Spot: Hitting 70ºF on Halloween is followed by more winter snow
Will A Wet Summer Bring A Snowy Winter?
NOAA Winter 2018-2019 Outlook Explained: This Actually Supports Snow
Winter Outlook From Two Different Farmers Almanacs
Maryland Winters: Snowfall Maps and Baltimore Snow History 
Snowstix- We Need You To Measure Snow Too
We are giving 10% of each sale to Just In Power Kids: Providing FREE holistic care for pediatric oncology patients.