Monday January 7 2019
One year ago today we set the record low temperature for Baltimore at 1ºF. Today marks the record snowstorm known as the Blizzard of 96 where BWI got 15.8″ of snow and between 2 and 3 feet feel in the suburbs. Today also marks the date on the calendar where our growing sun angle now increases daylight 1 minute or more each day. So time is ticking to get some winter in here, and we will.
Before snow lovers get nervous, the second and third week of January is historically the coldest time of the year, so we are on target for winter and this week will feel like it.  Today more clouds and chilly!  Perhaps some sleet on the north side as snow from the mountains pushes east ahead of a brief warm up. Today's temps stay in the 30s, but the north end might have sleet pellets falling, just not sticking. The same is possible tonight and it's worth watching for northern Frederick, Carroll, Baltimore counties in Maryland and across to York PA.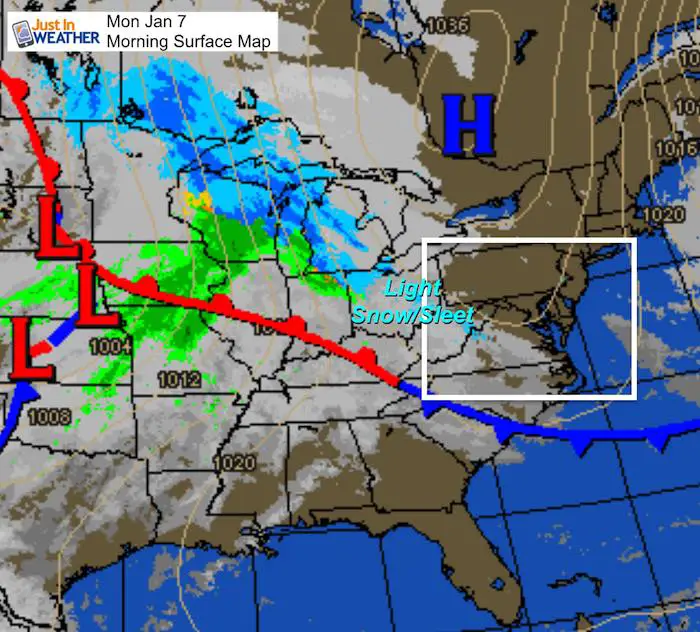 Next up will be a chance for snow or a wintry mix next weekend. I know, we already saw many examples of computer models not verify a week away. But there is agreement that some wintry event will try next Saturday and Sunday.
Local Weather Stats For January 7, 2019 in Baltimore
Average High:  41ºF
Record High: 74ºF in 1907
Average  Low: 25ºF
Record Low:  1ºF in 2018
                         *Record Snow:  15.8″ in 1996
Sunrise: 7:26 AM
Sunset 4:59 PM 
*Daylight = 1:00 longer than yesterday 
*Bay Water Temperature = 44ºF at Thomas Pt. Light House 
New Partner
I'd like to welcome Buchanan Kia of Westminster: Now a supporter of Just In Power Kids and Maryland Trek 6 in August 2019. Soon we will be showing you why we developed this relationship with a local business that my wife and I sincerely trust.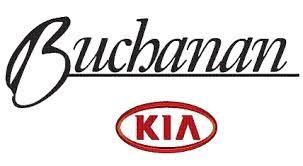 Morning Set Up
Winter Radar
Snow in the mountains is accumulating in Garrett County Maryland. This will spread east into warm air. It is likely to change to sleet or rain showers. See the slider below for how this may play out.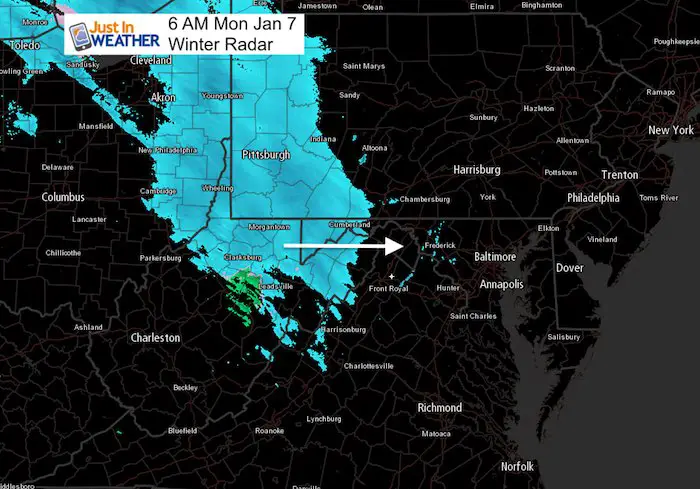 Radar Simulation –> slider
The model is showing rain, but colder air aloft may translate to sleet. It has trouble showing marginal ice potential.
Notice the freezing line is close, but northern areas and metro Philadelphia have chance for stickage
[metaslider id=70321]
High Temperatures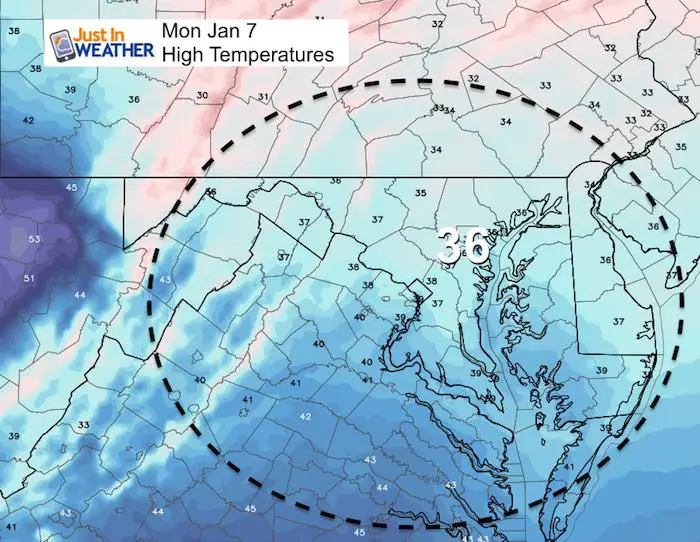 Overnight Sleet?
This is worth watching as there may be some frozen precipitation for:
Northern Frederick, Carroll, Baltimore counties in Maryland and across to York and Lancaster PA.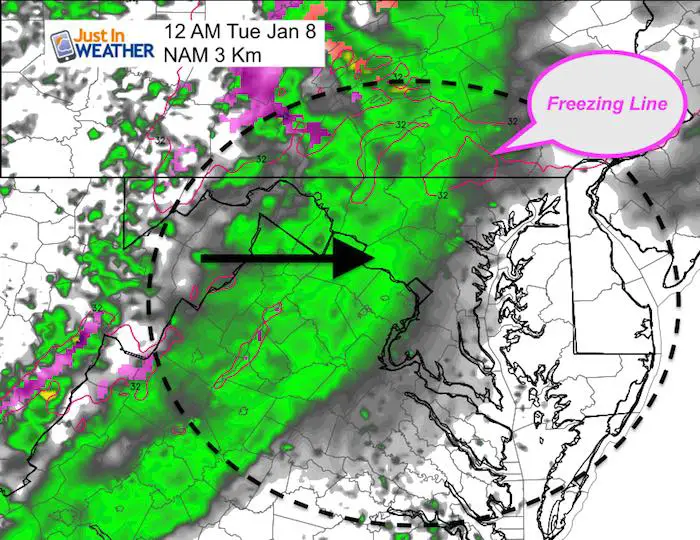 Next Rain: Tuesday Night
Looking Ahead
Next Weekend Winter Weather?
I understand the computer models have NOT been reliable beyond 4 days this winter. We have seen many times with a chance for snow that did not verify. But this is the first time in weeks that we have any models showing something. However, there is still disagreement as to how this plays out. At this time, Saturday and Sunday are in play for snow. Do NOT expect specifics on the timing. What I am showing here is a rough estimate.
European Model
This is the most reliable model historically and it shows a wide spread of snow
FV3-GFS
This model has grown in respect, but shows a different set up. Here Low Pressure is farther west. We being with snow Saturday only to change to rain as it passes overhead Sunday morning and afternoon.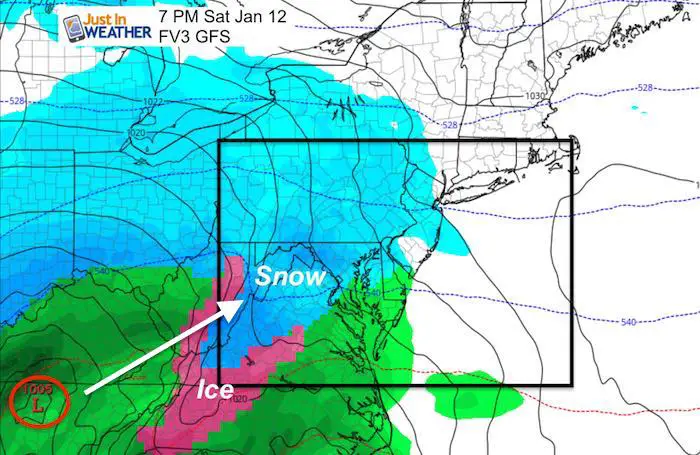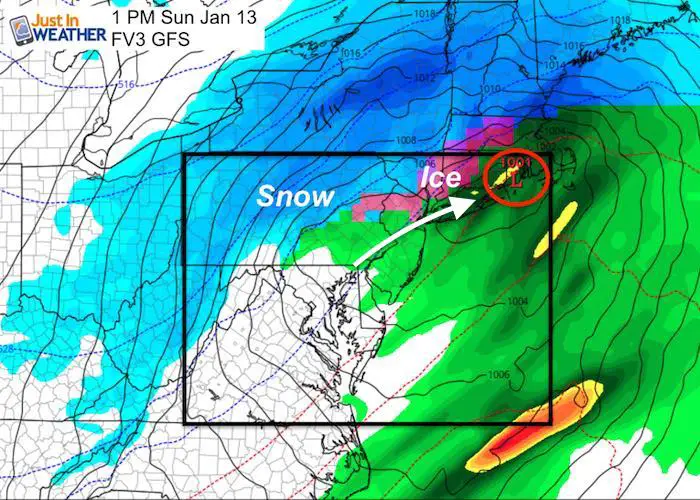 Old GFS
This version shows the coastal Low similar to the European Model, but a day later… On Sunday.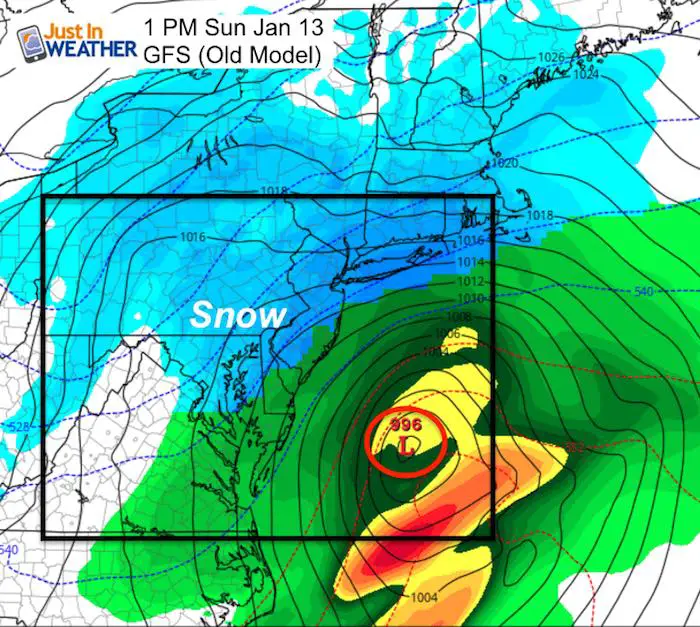 Notes:
At this point, I would not change plans, but have a backup to anything scheduled next weekend.
Computer modeling has failed us this winter (so far) but the atmosphere is turning in the favor of snow. We can't expect misses to be the norm.
The odds are that we get some wintry weather next weekend and the pattern remains cold and wintry for the second half of the month.
Temperature Outlook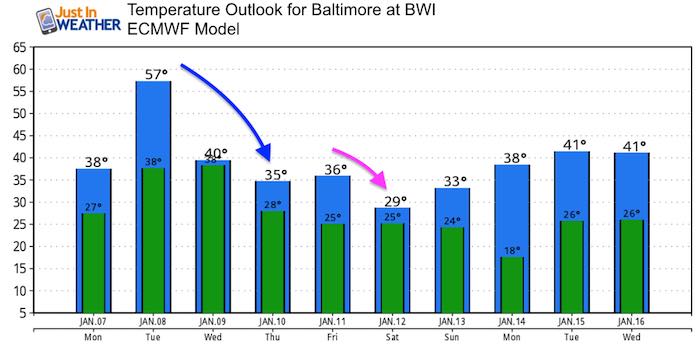 Snow Day Kit
Our ritual the night before a storm is finally in one kit. Maybe if more Maryland kids had this, the storm would reach us 🙂
This includes a very soft raglan Tee printed inside out with #FITF AND the check list,  #FITF spoon for under your pillow, ice cube tray with snowflake shapes, chalk, a #FITF wrist-band, a mini SnowStix, and a bag to carry it all in.
The introduction special price will end tonight.
This will also help us give a free Snow Day Kit to each of the Just In Power Kids.
FITF and SnowStix Stores are now OPEN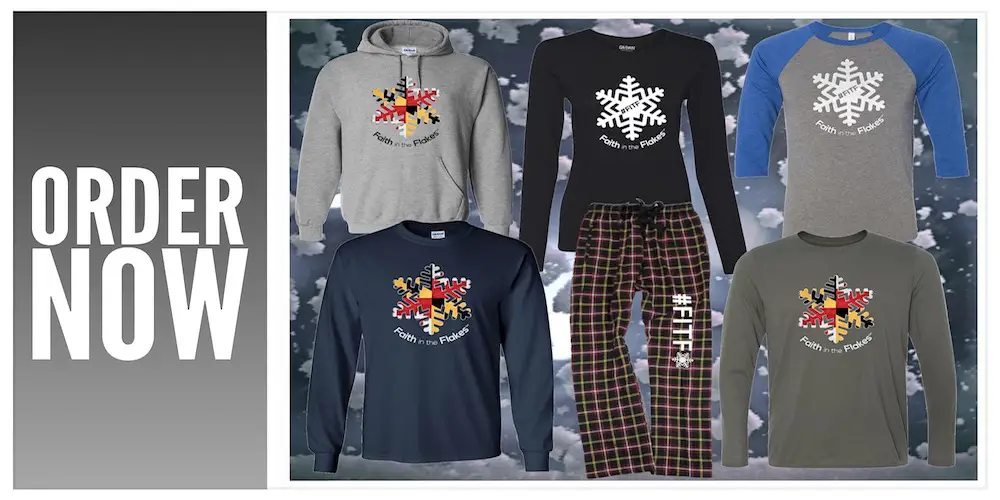 Keep In Touch Every Day
Click here to sign up for email alerts…. Be the first to hear the big news over the weekend
Also- Just in case you don't get the post on your social media feed
Please share your thoughts, best weather pics/video, or just keep in touch via social media
Related Links:
Winter Outlook
My Winter Outlook 2018-19: Multiple Nor'Easters and more snow
Interactive Snow Report
November 15 Snow Reports- Interactive Map Compared To My Forecast
Winter Snow And Top 5 Wet Years 
Snowfall Seasons at Beginning and End of Top 5 Wet Years In Baltimore
Related Winter Outlooks
Solar Cycle: When Sun Spots Are Low We Get More Snow
El Nino Modoki May Enhance Snow Chances
Sweet Spot: Hitting 70ºF on Halloween is followed by more winter snow
Will A Wet Summer Bring A Snowy Winter?
NOAA Winter 2018-2019 Outlook Explained: This Actually Supports Snow
Winter Outlook From Two Different Farmers Almanacs
Maryland Winters: Snowfall Maps and Baltimore Snow History 
Snowstix- We Need You To Measure Snow Too
We are giving 10% of each sale to Just In Power Kids: Providing FREE holistic care for pediatric oncology patients.