December 27 2018
Now that Christmas has passed and just four days are left in the year, fellow snow lovers are getting quite anxious for the flakes. In spite of our November storm, the may end of one of only a handful of snowless Decembers in Baltimore. I had a very elaborate post planned to explain the weather pattern and try to ease your concerns, but we are in holiday mode. Instead, I want to just share some brief thoughts and show you hope on the horizon.
Is it going to snow soon?
Where is the cold air?
What happened to that Polar Vortex I heard about?
These are the most common questions I have had the past week. I get it! I want snow too and it feels like we wasted a potential month of winter… But do not despair, there is cold air and snow just waiting to spread our way.
But it keeps getting pushed off…
Dangling The #FITF Carrot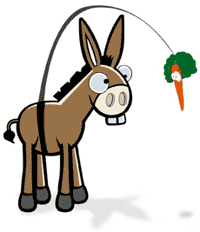 You know that expression about dangling the carrot? It does seem like we have had that in front of us for a while. Like an endless loop of carrots just out of our reach. It can be exhausting.
What Has Not Worked Out
Back around Thanksgiving I remember posting the North Atlantic Oscillation (NAO) forecast that showed a dramatic change to cold and stormy weather between December 5th and 10th. Well, it got colder and stormy, but we missed the big southern snowstorm. The stormy pattern was just wet as we could not get really cold air to hold.
The dramatic drop in the NAO forecast of -3 did not verify.
Now the pattern has shifted west, keeping us on that wet but warm part of the storms while the snow remains locked well to our northwest like this current storm.
We have also had a few little 'potential' events with a 'chance' of snow like 5 days before Christmas when the European Model showed us getting something. But it was alone and was wrong. We also had that chance from the FV-GFS model for this Sunday as recently as yesterday. But that does not seem likely.
For much of the past two weeks there were long range models that kept showing us getting snow around New Year's Eve or Day. I even broke down and showed that once… But I added the caveat that I need to reinforce now:
I do not trust models beyond 7 days. However even within 5 days we have not had good guidance.
Trends Over Models
Back in the winter of 2014 I was on a roll. My Facebook page first surged well over 100,000 followers that winter thanks to all the storms I was able to accurately predict. The secret was not a secret. I found a pattern locked into the Canadian GEM Model. It had the edge on other models and I took that as lead with my forecasting that worked out almost every time.
But that model is not always good. It performs best in cold patterns.  As we have seen, the European Model (has the most respect among forecasters) also has had its errors.
This new FV3 upgrade to the GFS Model did pretty good, but has also led us down a path where click bait of long range storm outlooks have not verified.
That is why I prefer to look at upper air/jet stream and the next cold snap looks like next weekend… around January 6th.
Let's look at the Jet Stream with two views. First the North America and then the continental US….
North American View
First, here is the location spotter for the Jan1 2019 plot…
Here are the features on Jan 1 2019
The Polar Vortex is north of Hudson Bay in the Arctic Circle…. But it will be getting dislodged and forced to drop south near the US border of NY and New England
Jet Stream Animation: Jan 1 to 6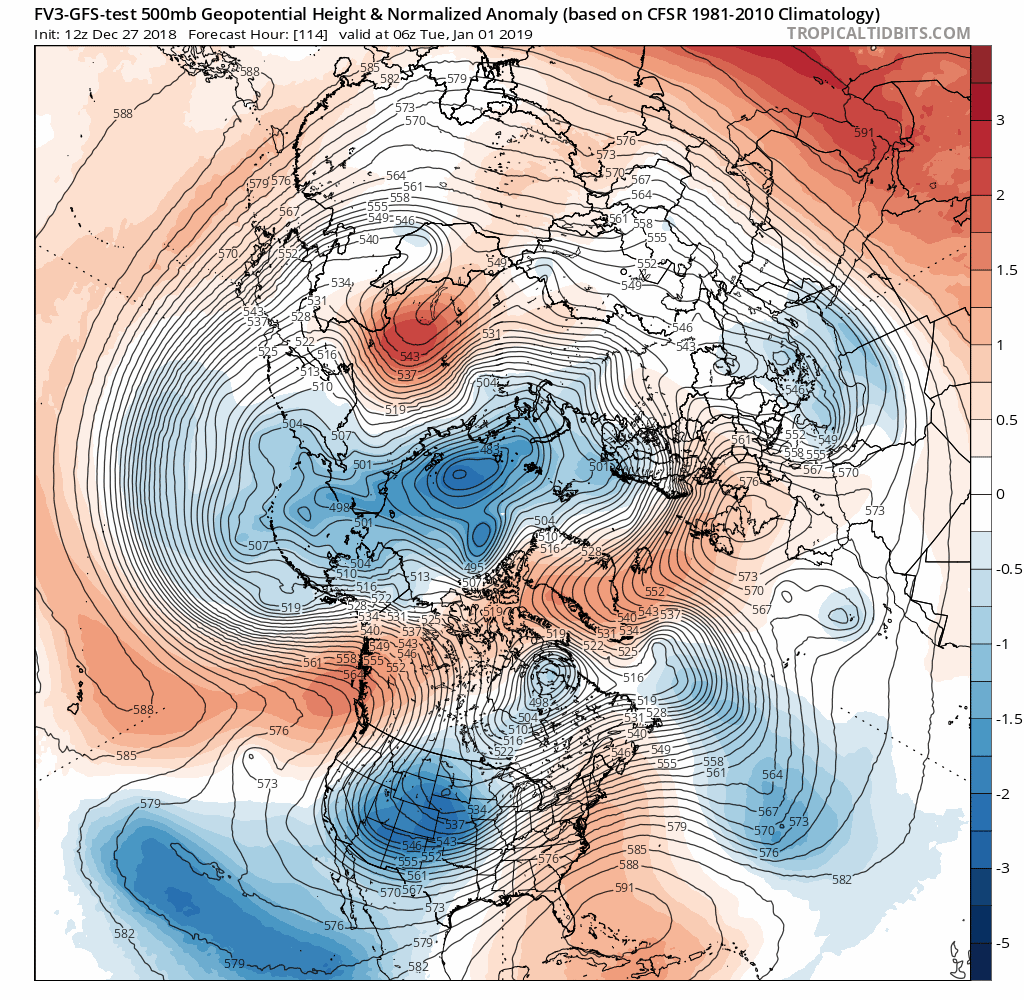 Last Image: Jan 6
The Polar Vortex will pass north of New England, but frigid air will reach us next weekend. No promises yet, but this will bring heavy Lake Effect Snow and maybe snow showers. Perhaps a minor winter event for us in the form of a clipper in a 3 to 5 day period.
Continental USA View
January 1 2019 – We will start the New Year with mild temperatures while watching yet another storm hit the western US. But a lot will chance by next weekend.
Jet Stream Animation: Jan 1 to 6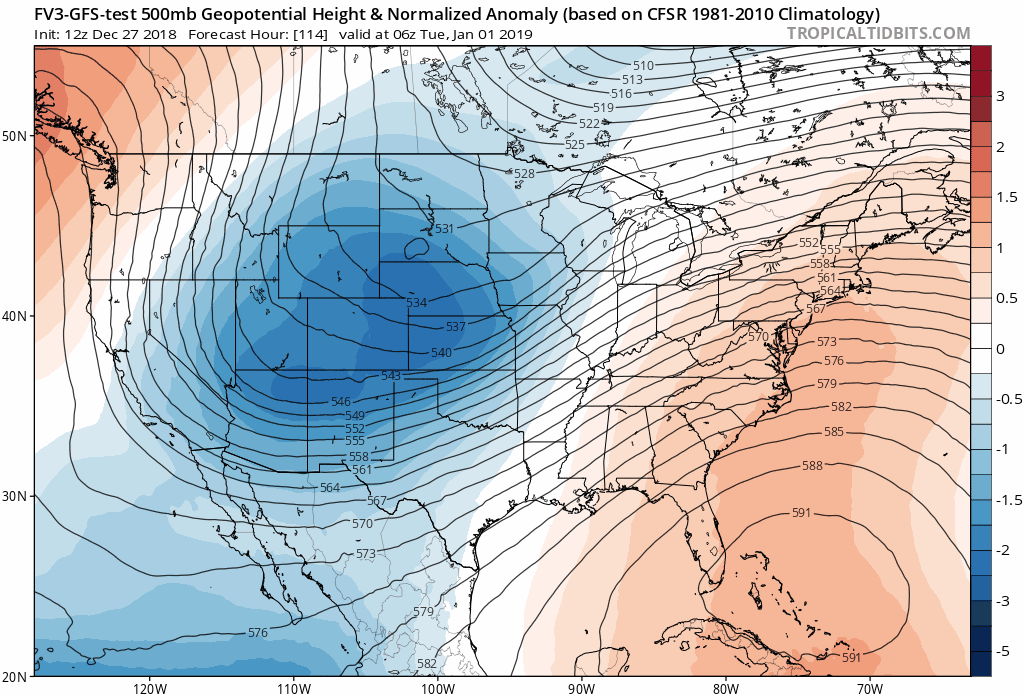 Last Image: Jan 6
The Polar Vortex will pass north of New England, but frigid air will reach us next weekend. No promises yet, but this will bring heavy Lake Effect Snow and maybe snow showers. Perhaps a minor winter event for us in the form of a clipper in a 3 to 5 day period.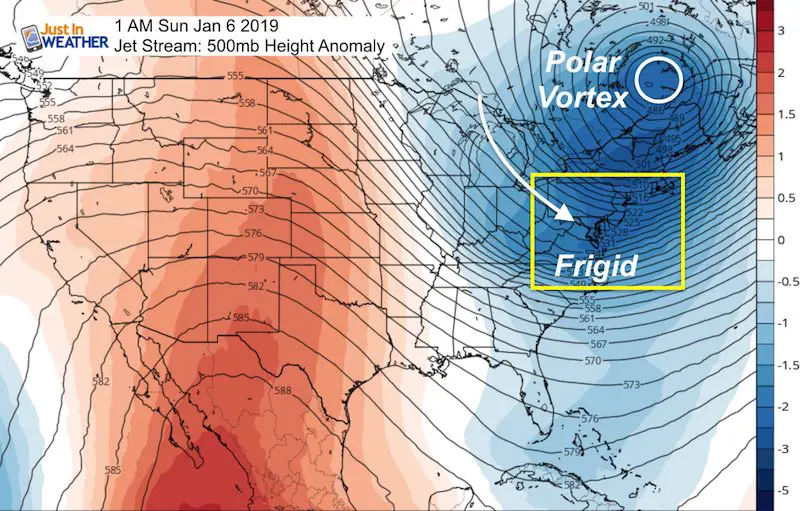 Looking Even Farther Ahead…
January 12 – A mild trend will follow the first cold snap the following weekend. But the next deep trough is the signal to change things… This may bring a larger storm to the Southern Plains that heads our way.
Wider View January 12
This is back to the Northern Hemisphere view. The majority of the northern Hemisphere appears to be cold with the exception of the Northeast US and central Eurasia at this time, but plenty of winter to go around and return to us.
The yellow dashed lines represent multiple troughs on the axis around the larger Polar Vortex. This represent an active storm pattern that will act to spread our way as the cold air tried to lock in place for us. This should dominate the second half of January and into February.
Summary:
Dates are approximations based on the model plots shown above
Jan 1 2019 will be mild
Jan 6 – Polar Vortex will pass just north of New York and New England. That will be our first really frigid cold snap. It should last 3 to 5 days and may come with show showers or a minor winter system.
Jan 12 Another mild spell in the east, but the digging tough in the central US will bring the Southern Plains a big winter storm. Watch for this to spread east and lead the charge of multiple troughs to feed into our colder air for the second half of the month.
Notes from my Winter Outlook
We are still in good shape regardless of a snowless December. Here were my final thoughts in my winter outlook. See the full report here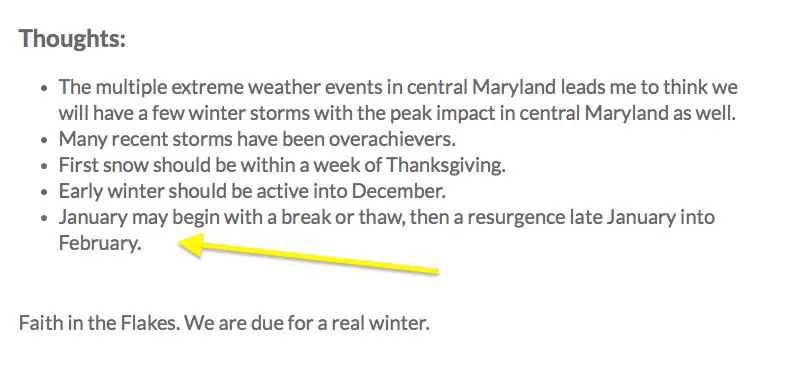 Snow Day Kit
Our ritual the night before a storm is finally in one kit. Maybe if more Maryland kids had this, the storm would reach us 🙂
This includes a very soft raglan Tee printed inside out with #FITF AND the check list,  #FITF spoon for under your pillow, ice cube tray with snowflake shapes, chalk, a #FITF wrist-band, a mini SnowStix, and a bag to carry it all in.
New Orders are likely to be delivered after the holiday.
This will also help us give a free Snow Day Kit to each of the Just In Power Kids.
FITF and SnowStix Stores are now OPEN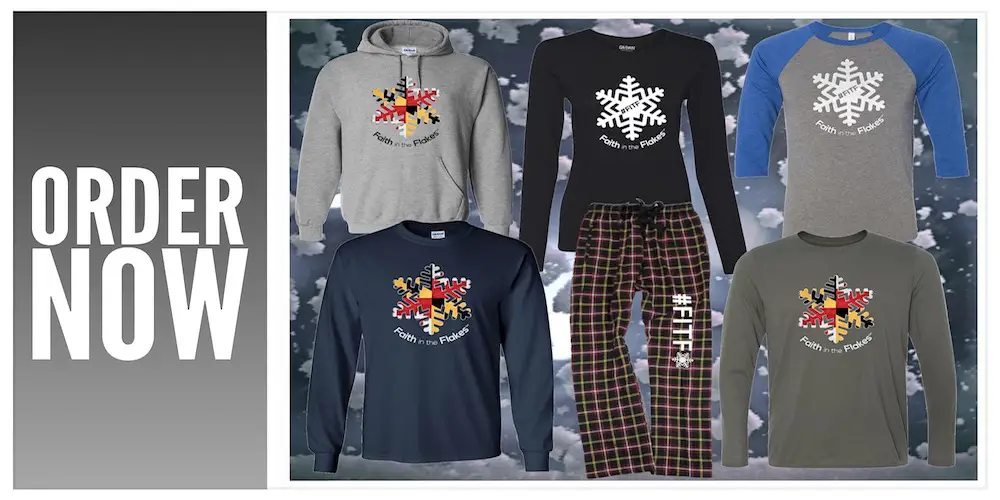 Keep In Touch Every Day
Click here to sign up for email alerts…. Be the first to hear the big news over the weekend
Also- Just in case you don't get the post on your social media feed
Please share your thoughts, best weather pics/video, or just keep in touch via social media
Related Links:
Winter Outlook
My Winter Outlook 2018-19: Multiple Nor'Easters and more snow
Interactive Snow Report
November 15 Snow Reports- Interactive Map Compared To My Forecast
Winter Snow And Top 5 Wet Years 
Snowfall Seasons at Beginning and End of Top 5 Wet Years In Baltimore
Related Winter Outlooks
Solar Cycle: When Sun Spots Are Low We Get More Snow
El Nino Modoki May Enhance Snow Chances
Sweet Spot: Hitting 70ºF on Halloween is followed by more winter snow
Will A Wet Summer Bring A Snowy Winter?
NOAA Winter 2018-2019 Outlook Explained: This Actually Supports Snow
Winter Outlook From Two Different Farmers Almanacs
Maryland Winters: Snowfall Maps and Baltimore Snow History 
Snowstix- We Need You To Measure Snow Too
We are giving 10% of each sale to Just In Power Kids: Providing FREE holistic care for pediatric oncology patients.