Saturday December 8 2018
The storm across the southern US us so far behaving as it looked one week ago. This will be an epic, historic snow event across North Carolina.  The problem for our region has been that this began as a hit for us and the track across the Gulf normally would curve up the coast.  But strong High Pressure in place brining us very cold air, is slated to block the storm from turning our way. But how strong will that hold? If that High shifts it's core 50 to 100 miles north, or is just 1 or 2 mb weaker, then the northern fringe of this storm will do what it wants to do and shift north.
Storm Notes:
California: Flooding and mudslides
Texas: Snow up to 6″ in Lubbuck; Rain up to 10″ in Houston
Low is tracking along the Gulf Coast as originally expected
North Carolina will get 1 to 2 feet of snow, Charlotte right on the edge of the heavy stuff if they don't mix with ice.
Strong High Pressure to the north will block the northern edge, but where exactly will that be. A shift of 50 to 100 miles north would bring the storm our way into central Maryland.
I want to be clear: I have learned a long time ago not to wish for snow, only to be disappointed. But I have also learned that computer models are not always correct. We have seen forecasts not verify even as the storm is upon us. I can list specific events when I remember us both getting hammered with snow and expecting a storm that skipped away. My job is to anticipate when that might happen so you can prepare.
At this time, I feel most comfortable suggesting light snow and flurries reaching into the southern half of Maryland on Sunday afternoon. There may be enough for a coating to 1 inch in southern Maryland. The one hold out model now has more support again I will show below.
Local Weather Stats For December 8 in Baltimore
Average High:  47ºF
Record High: 74ºF in 1990
Average  Low: 30ºF
Record Low:  10ºF in 2002
                         *Record Snow:  4.1″ in 1989
Sunrise: 7:13 AM
Sunset 4:43 PM 
*Daylight = 0:51 shorter than yesterday 
*Bay Water Temperature = 41ºF at Thomas Pt. Light House 
Snow Day Kit Debut 
Our ritual the night before a storm is finally in one kit.
This includes a very soft raglan Tee printed inside out with #FITF AND the check list,  #FITF spoon for under your pillow, ice cube tray with snowflake shapes, chalk, a #FITF wrist-band, a mini SnowStix, and a bag to carry it all in.
This debut price is $40 off of the retail cost. Order by December 10 and it should arrive for the holiday.
This will also help us give a free Snow Day Kit to each of the Just In Power Kids.
Morning Temperatures
Cold Saturday
It will partly to mostly cloudy for most, with sun in PA. Just enough wind to make it feel like the 20s most of the day.
Storm Tracking
I just wanted to show the Sunday evening plots to compare the northern edge of the light snow here.
I have continued to tell my snow plow clients who cover Southern Maryland and northern Virginia to keep a 30% chance for impact snow in their areas. There is now more support for the storm to just clip that area… Or will that north trend continue???
Canadian Model
This is the model that has held strongest with the most northern solution.
This is the model that I used in 2014 and it was more accurate with most systems in a very busy winter. It does its best job in cold pattern with more data on the north side in Canada.
NAM 3 Km
This is a shorter range High Resolution Model
This display eliminates the noise, but light snow or flurries is possible up to Baltimore
FV3 – GFS
This is the upgrade that will replace the prime US Model.
It has come back north from prior runs.
This brings the northern edge up to Rt. 50 and the Bay Bridge. That does not promise a lot of accumulation on the fringe, but puts southern Maryland in the best chance for getting 1″ of snow
GFS (old version)
This model has the storm farthest south
European ECMWF
This is the most accurate long and mid range model
This shifted back north to include southern Maryland.
National Weather Service Snow Forecast
This will be epic and possibly historic for parts of the south. This is the type of snow that can paralyze some cities like Charlotte. We need to watch the impact there. If Charlotte does turn over to ice, that will be a signal of the system shifting north and a hint for us. But if they stay all snow, then the cold is more likely to hold and suppress any northern bump.
I will have another storm update this afternoon.
Looking Ahead
Another storm is expected next weekend. 

At this time the modeling shows us on the warm and rainy side…

But if the same error is applied as we compare to last week's forecast… Then we could shift this storm to the south and end up in the cold and snow zone.  

*I do NOT like to show storms more than 1 week away for the reason that there is too much to adjust. But the pattern is worth monitoring.
FITF and SnowStix Stores are now OPEN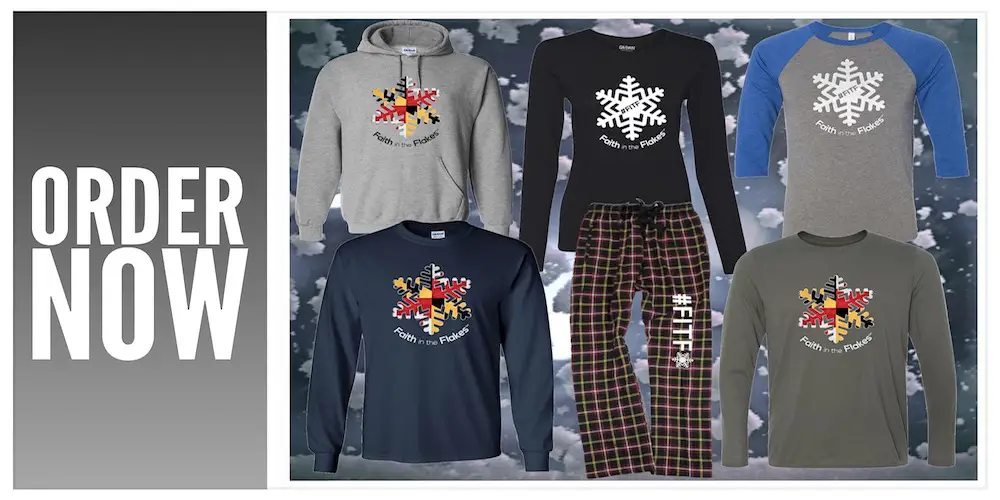 Keep In Touch Every Day
Click here to sign up for email alerts…. Be the first to hear the big news over the weekend
Also- Just in case you don't get the post on your social media feed
Please share your thoughts, best weather pics/video, or just keep in touch via social media
Related Links:
Winter Outlook
My Winter Outlook 2018-19: Multiple Nor'Easters and more snow
Interactive Snow Report
November 15 Snow Reports- Interactive Map Compared To My Forecast
Winter Snow And Top 5 Wet Years 
Snowfall Seasons at Beginning and End of Top 5 Wet Years In Baltimore
Related Winter Outlooks
Solar Cycle: When Sun Spots Are Low We Get More Snow
El Nino Modoki May Enhance Snow Chances
Sweet Spot: Hitting 70ºF on Halloween is followed by more winter snow
Will A Wet Summer Bring A Snowy Winter?
NOAA Winter 2018-2019 Outlook Explained: This Actually Supports Snow
Winter Outlook From Two Different Farmers Almanacs
Maryland Winters: Snowfall Maps and Baltimore Snow History 
Snowstix- We Need You To Measure Snow Too
We are giving 10% of each sale to Just In Power Kids: Providing FREE holistic care for pediatric oncology patients.