Thursday December 6 2018
After flurries last evening, we have another morning with cold air and widespread thick frost.  You may think there has to be more out of this pattern. We have the cold, but the latest modeling might suggest the cold is too strong, which has been why there was that shift for the weekend storm to stay just south. Now we have that storm on the west coast so our date is more complete.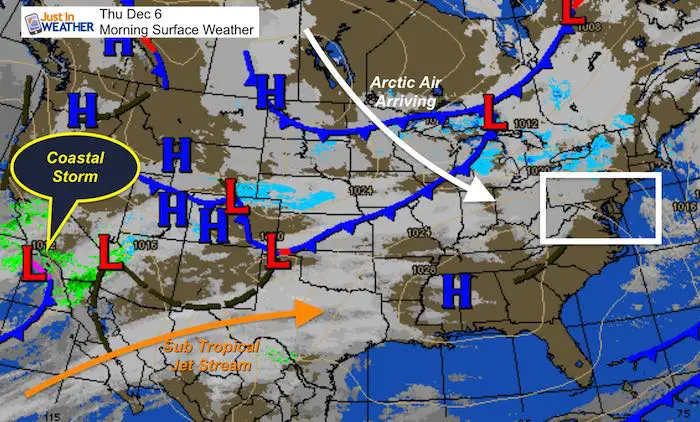 The ingredients are there for a strong storm to reach the coast and produce snow. Right now North Carolina and southern Virginia appear to get the most out of this… And it is because of the cold air arriving sooner and pushing farther south.  I still expect some wobbling and a shift north a little, but the odds of how far north are fading. I still have a 30% chance of this reaching central Maryland… See the latest below.
Local Weather Stats For December 6 in Baltimore
Average High:  48ºF
Record High: 77ºF in 1998
Average  Low: 31ºF
Record Low:  13ºF in 2002
                         *Record Snow:  5.9″ in 1910
Sunrise: 7:11 AM
Sunset 4:43 PM 
*Daylight = 0:58 shorter than yesterday 
*Bay Water Temperature = 42ºF at Thomas Pt. Light House 
Snow Day Kit Debut 
Our ritual the night before a storm is finally in one kit.
This includes a very soft raglan Tee printed inside out with #FITF ANF the check list,  #FITF spoon for under your pillow, ice cube tray with snowflake shapes, chalk, a #FITF wrist-band, a mini SnowStix, and a bag to carry it all in.
This debut price is $40 off of the retail cost. Order by December 10 and it should arrive for the holiday.
This will also help us give a free Snow Day Kit to each of the Just In Power Kids.
Morning Snapshot
Afternoon
Evening Cold Front Snow
The snow will look impressive on radar to our west, but like yesterday it will fade. Also like yesterday, we will get more than the model shows… So flurries are definitely possible to reach central Maryland after 7 PM
[metaslider id=69260]
Skipping To The Weekend Storm
We now have more consistency with four models here slipping back south. This has taken the speed and strength of the cold front in earlier and farther south.  Timing the Low on the Southern California coast is what we will track.  I still believe there will be another shift a little to the north… but DO NOT want to put out false intensions.
Travel Planning: Charlotte, Raleigh, and Richmond may be the biggest cities with the biggest impact from this storm
Note: The model dance and display that has become mainstream on social media is nothing new. This is typical of weather tracking… So seeing shifts and adjustments is almost cliche, but now in full view of anyone interest.
I am keeping a 30% chance for Sunday afternoon and evening snow in central Maryland. Much less in southern PA, but southern Maryland towards Virginia is where the best chance for snow will be… and this will be a moderate event.
Oh (No) Canada
The Champion for metro areas to get snow all week has slipped the storm on a southern track… The northern edge still clipping southern Maryland.
Southern VA and western NC are in for impact snow and ice. Charlotte will be in the transition zone.
FV- GFS
This upgrade to the GFS has actually come south to join the old GFS. The northern edge slipped just south of the MD line.
Southern VA and western NC are in for impact snow and ice. Charlotte will be in the transition zone.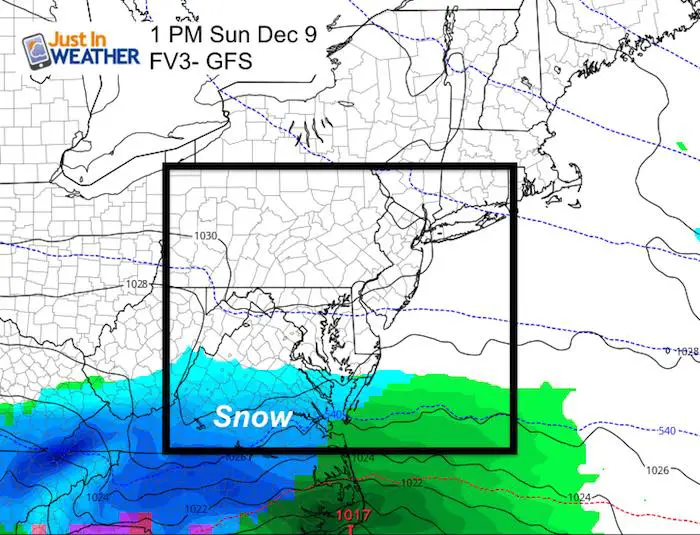 GFS
This model is even farther south…
Southern VA and western NC are in for impact snow and ice. Charlotte will be in the transition zone.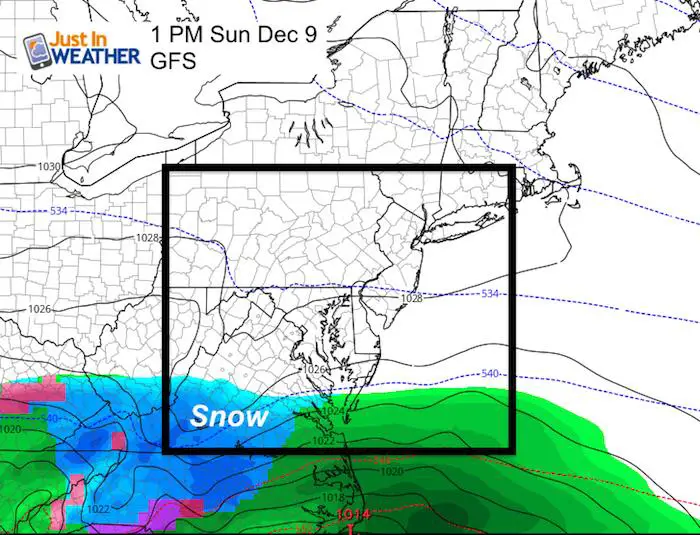 European ECMWF
This is the model that created the hype beast. It has the best accuracy record and had us with a high impact storm in early tracks.  It has shifted south all week and now the farthest south.
Charlotte will be in the transition zone.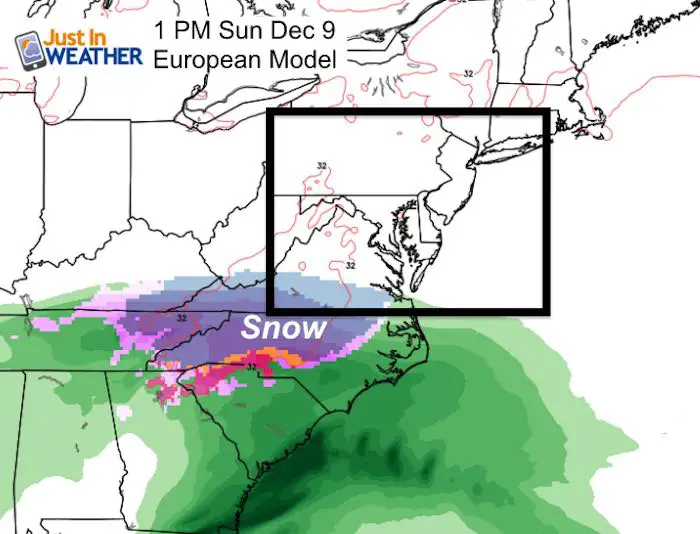 Temperature Outlook
We have our cold locked in for a week remaining well below average temperatures. The long range shows a brief warm up next week followed by the next cool down heading into the 10 Day Christmas countdown.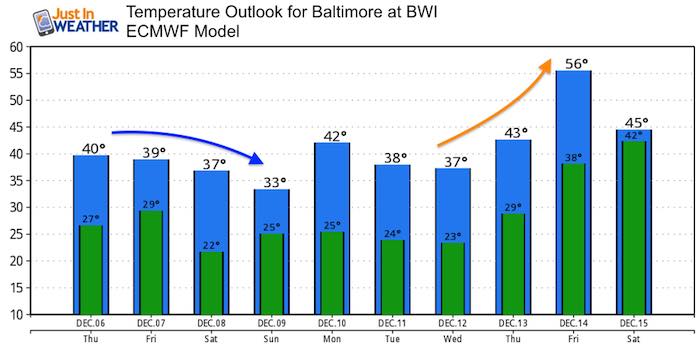 FITF and SnowStix Stores are now OPEN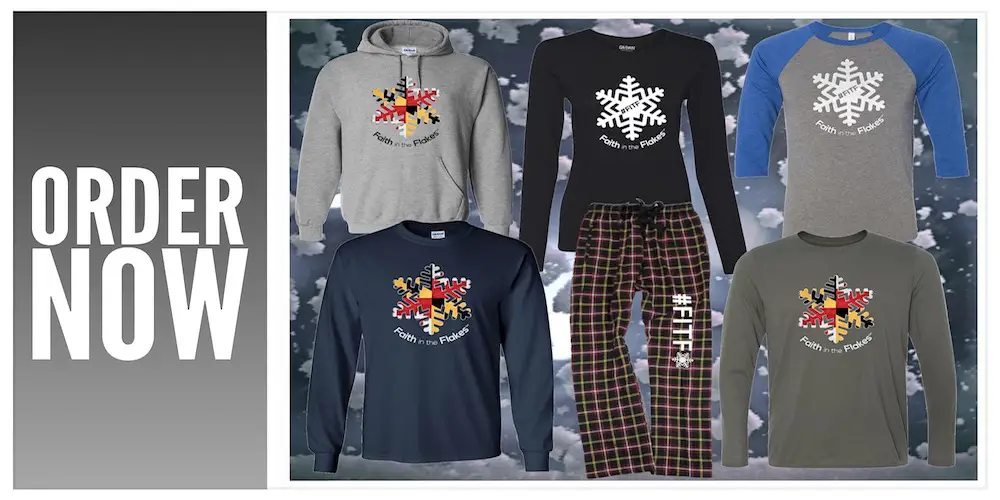 Keep In Touch Every Day
Click here to sign up for email alerts…. Be the first to hear the big news over the weekend
Also- Just in case you don't get the post on your social media feed
Please share your thoughts, best weather pics/video, or just keep in touch via social media
Related Links:
Winter Outlook
My Winter Outlook 2018-19: Multiple Nor'Easters and more snow
Interactive Snow Report
November 15 Snow Reports- Interactive Map Compared To My Forecast
Winter Snow And Top 5 Wet Years 
Snowfall Seasons at Beginning and End of Top 5 Wet Years In Baltimore
Related Winter Outlooks
Solar Cycle: When Sun Spots Are Low We Get More Snow
El Nino Modoki May Enhance Snow Chances
Sweet Spot: Hitting 70ºF on Halloween is followed by more winter snow
Will A Wet Summer Bring A Snowy Winter?
NOAA Winter 2018-2019 Outlook Explained: This Actually Supports Snow
Winter Outlook From Two Different Farmers Almanacs
Maryland Winters: Snowfall Maps and Baltimore Snow History 
Snowstix- We Need You To Measure Snow Too
We are giving 10% of each sale to Just In Power Kids: Providing FREE holistic care for pediatric oncology patients.