Tuesday December 4 2018
Today will feature more sun, but colder winds. Temperatures are back below average and will stay there for at least the next week. This is the pattern change we saw weeks ago, but the real concern is whether this will churn out snow.  Well, we will have a disturbance tomorrow that will bring flurries and snow showers. This will be more ambiance, but also could hint at what the weekend storm might do. I discussed this last night, as it is very important to note this:  The potential weekend storm is still west of California this morning.
While two well known models have shifted the weekend storm a little later and south, I think it is still on the table. Besides the potential model error, and other models still showing it, we have atmospheric memory on our side. There is a strong historical force may pull this storm back our way. It's not FITF wishful thinking, but just applying the theory I have shown here for years…
Local Weather Stats For December 4 in Baltimore
Average High:  49ºF
Record High: 74ºF in 1982
Average  Low: 31ºF
Record Low:  13ºF in 1966
                         *Record Snow:  7.8″ in 1957
Sunrise: 7:09 AM
Sunset 4:43 PM 
*Daylight = 1:04 shorter than yesterday 
*Bay Water Temperature = 42ºF at Thomas Pt. Light House 
Record Rain Year Update:
Saturday brought 0.23″ to BWI. The yearly total is now 65.51″
The FITF Store Is Open With Gear And SnowStix
A portion of all proceeds for FITF and SnowStix goes to our nonprofit Just In Power Kids- providing FREE holistic care for kids in and post cancer treatment.
Morning
Afternoon
Cool winds will be with us all day. Dress like it wil be in the 30s, because that is what it will feel like 🙂
Wednesday
December 5th- FITF Day
Gather your friends and co-workers: Wear your #FITF gear to honor and celebrate this unique calendar holiday. This is the date almost every year last decade marked the first snow of each winter season.  I will have the history to show shortly and will debut a project I have worked on for 3 years!!!!
Snow Chance
Vorticity –> slider
The quick hint at vorticity: This is a spin aloft that can help lift the air column to produce clouds and showers.  There can be multiple spin ups along the fast moving jet. When there pass overhead or to our south in Virginia or North Carolina, they can support snow showers in central Maryland. Here is the timeline for Wednesday:
[metaslider id=69181]
Notes: 
This is very subtle, but the kink in the isoheights (lines at 500mb) shows a weakness in the atmosphere and it is in a good spot Wednesday afternoon for convective activity. That means showers may develop in the afternoon from daily heating.
Snow Showers —> slider
The surface display is spotty and may not look like much.  But shows morning snow showers around Washington DC- west and south… but brings a few bursts into central Maryland by evening. I think we may see more than is shown here.
[metaslider id=69205]
Weekend Storm?
The two main models still have this south, but they are not the final word. I have seen many events show this trend only to come back north to where they initially showed the storm.
Atmospheric Memory
There have been at least half a dozen systems since Hurricane Michael that have had Low Pressure pass through this highlighted region. It is an invisible force where storms have trended to track.  There is not reason to suggest it has lost its grip yet…
Canadian Model Holding Firm
This model has it's flaws, but is most reliable in cold winter patterns. This takes that core Low of the storm into the atmosphere memory region of the southern Chesapeake Bay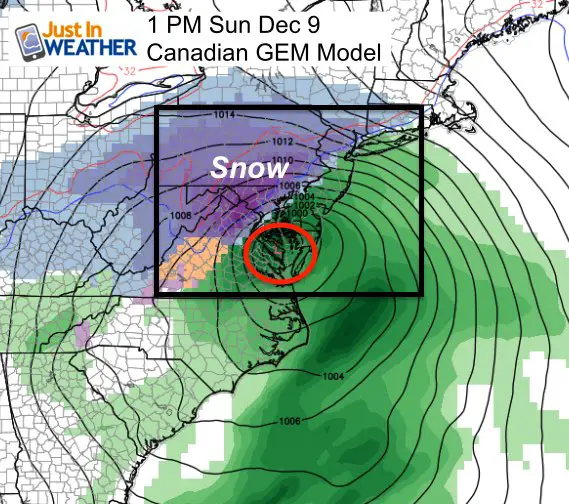 Notes:
The forecasting accuracy increases dramatically within 5 days of an event. Since we are looking at Sunday, that would put tomorrow in that window to look for a shift.

Also, the energy for this storm is in the Pacific Ocean. When it gets 'in the grid' on the west coast, we will have more data infused into the models.

That may be the caveat to show any wobbling back to the original track for more agreement with the Canadian solution… Or the GEM to go the other way. 

We still have a day before we take this seriously or begin to write it off.
Temperature Outlook
The atmosphere often has some give and take. After a blow average November and cold start to December… The cold should hold for another week. Mid month 'might' have a mild spell.. I would not look at specific numbers, but rather a trend.  The overall pattern still supports cold weather with perhaps anther snow chance before Christmas.
FITF and SnowStix Stores are now OPEN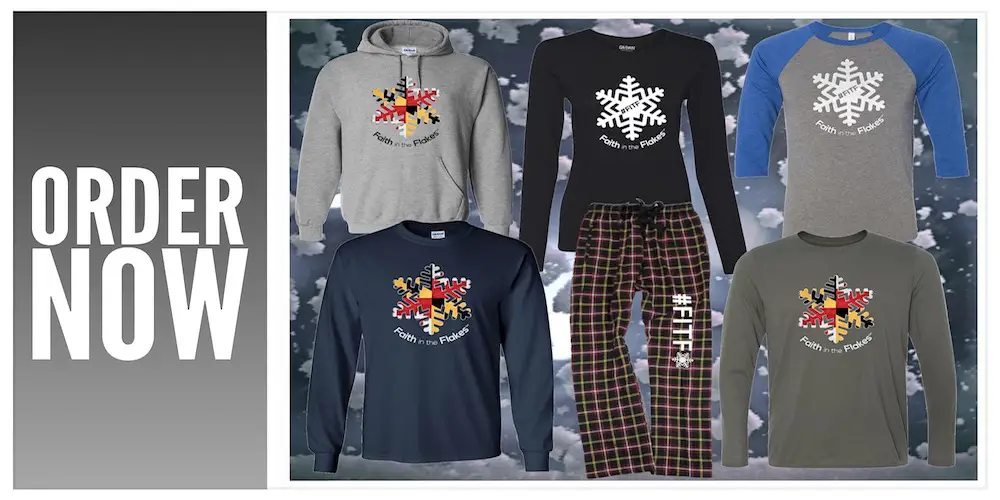 Keep In Touch Every Day
Click here to sign up for email alerts…. Be the first to hear the big news over the weekend
Also- Just in case you don't get the post on your social media feed
Please share your thoughts, best weather pics/video, or just keep in touch via social media
Related Links:
Winter Outlook
My Winter Outlook 2018-19: Multiple Nor'Easters and more snow
Interactive Snow Report
November 15 Snow Reports- Interactive Map Compared To My Forecast
Winter Snow And Top 5 Wet Years 
Snowfall Seasons at Beginning and End of Top 5 Wet Years In Baltimore
Related Winter Outlooks
Solar Cycle: When Sun Spots Are Low We Get More Snow
El Nino Modoki May Enhance Snow Chances
Sweet Spot: Hitting 70ºF on Halloween is followed by more winter snow
Will A Wet Summer Bring A Snowy Winter?
NOAA Winter 2018-2019 Outlook Explained: This Actually Supports Snow
Winter Outlook From Two Different Farmers Almanacs
Maryland Winters: Snowfall Maps and Baltimore Snow History 
Snowstix- We Need You To Measure Snow Too
We are giving 10% of each sale to Just In Power Kids: Providing FREE holistic care for pediatric oncology patients.