Tuesday December 4 2018
This afternoon as we are stuck in the clouds with cold winds, there is a sense that snow is near. Before I get into this update, I do want to make a few points. First, as I post model maps, I caution as a forecaster to rely too much on them. Computer models are guidance but not gospel. They are a guide, and it is easy to get lulled into what blobs are on maps and just go with it.  But I am stepping off page here show what I think is missing…
Other points:
I am well aware that flurries or snow showers are the most we should get on Wednesday. But this important to watch from a forecasting standpoint. I often tell my clients that we need to see how the first system behaves to understand what the next may do.
Look below at the 'suggestion' of light snow for tomorrow and compare it to 'suggestion' of the northern edge of the weekend snow. I believe the atmosphere will give a hint from one to the other. So beyond the models, verifying the flakes Wednesday should help see the potential on Sunday.
There will be a storm this weekend and it will reach the east coast. The tricky part is how far north it will get. There is more support for it to reach Washington DC and southern Maryland. I expect there will be more wobbling and more of our region included as we get closer.
Wednesday
This is the upper level map at 500 mb. That is roughly 18,000 feet above the ground, showing the vorticity (spin). The Vort Max, where the Xs are located, will pass across WV and southeast VA. The Upper Level Low (large circle) may enhance lift at least flurries farther north.
NAM 3 Km Model
Morning
snow showers are likely across the mountains and perhaps into Southeast Virginia.   I've added in 'Flurries' to include metro DC and central Maryland as I think more will fly than is shown here.
Mid Day
The light snow will continue in the mountains and a second disturbance creeping westward from the coast into Southern NJ.  Given the upper level support shown above, our region in the middle should develop flurries or snow showers.
Evening
The back edge of the upper level support will pivot another band of snow showers down the Potomac River. This favors Cumberland, Hagerstown, and Washington DC.
December 5th- FITF Day
Gather your friends and co-workers: Wear your #FITF gear to honor and celebrate this unique calendar holiday. This is the date almost every year last decade marked the first snow of each winter season.  I will have the history to show shortly and will debut a project I have worked on for 3 years!!!!
The FITF Store Is Open With Gear And SnowStix
A portion of all proceeds for FITF and SnowStix goes to our nonprofit Just In Power Kids- providing FREE holistic care for kids in and post cancer treatment.
GFS Model 'suggestion'
The light snow region on this model reaches close to Washington and Southern Maryland.
How Does This Relate To Snow On Sunday?
This same GFS Model has shifted about 50 miles to the north in the latest run. That is a reversal of the southern push and also appears to line up close to my suggestion light snow suggestion for Wednesday around Washington DC and southern MD.
Prior run (6 hours earlier) last night was farther south…
The Other Models…
Before we can get excited, check the out: The new version of the GFS is still in test mode, but this FV3 version that was showing a blockbuster storm for us has dropped south a little. This is the sturdy stronghold still has Baltimore in the snow with the northern edge around the Pennsylvania line, but it is less impressive than prior runs.
Canadian GEM Model
The northern edge is right around Baltimore, aa drop to the south.
Atmospheric Memory
There have been at least half a dozen systems since Hurricane Michael that have had Low Pressure pass through this highlighted region.  This is a strong influence weighing in the favor of this storm verifying farther north than what has been shown above.
My Thoughts
I told my clients to plan for something on Sunday. There will be wiggle room on the snow line and the timeline. But it is best to have some contingency plan now. Then look to see if it needs to be enforced over the net 48 hours.
These maps above are not the final solution. This has been a great exercise in model errors that before social media only meteorologists knew about. Well, maybe any of our friends who would listen to us. But I chose to show the maps to share in the process of watching and analyzing. There are nearly a dozen computer models each with their strengths and biases. Each season one can outperform another, but they can also be misleading.
I will be looking for clues to anticipate what they will show next and what I really think will happen.
FITF and SnowStix Stores are now OPEN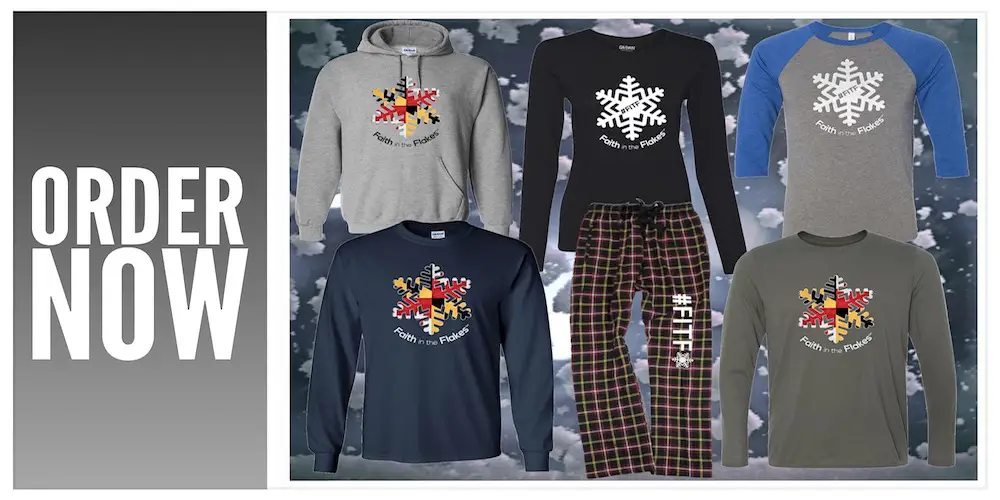 Keep In Touch Every Day
Click here to sign up for email alerts…. Be the first to hear the big news over the weekend
Also- Just in case you don't get the post on your social media feed
Please share your thoughts, best weather pics/video, or just keep in touch via social media
Related Links:
Winter Outlook
My Winter Outlook 2018-19: Multiple Nor'Easters and more snow
Interactive Snow Report
November 15 Snow Reports- Interactive Map Compared To My Forecast
Winter Snow And Top 5 Wet Years 
Snowfall Seasons at Beginning and End of Top 5 Wet Years In Baltimore
Related Winter Outlooks
Solar Cycle: When Sun Spots Are Low We Get More Snow
El Nino Modoki May Enhance Snow Chances
Sweet Spot: Hitting 70ºF on Halloween is followed by more winter snow
Will A Wet Summer Bring A Snowy Winter?
NOAA Winter 2018-2019 Outlook Explained: This Actually Supports Snow
Winter Outlook From Two Different Farmers Almanacs
Maryland Winters: Snowfall Maps and Baltimore Snow History 
Snowstix- We Need You To Measure Snow Too
We are giving 10% of each sale to Just In Power Kids: Providing FREE holistic care for pediatric oncology patients.