Monday November 26 2018
The Blizzard charging through the midwest is exceeding expectations. After hitting Kansas City with their worst storm in years, Chicago got their share overnight. A meteorologist off duty from NWS, recorded video from his home just as lightning and thunder snow hit. Turn up the volume as you will see the flash, then hear wind mixed in the thunder…
Mike Dalton shared took video of thundersnow in Mendota, IL around 6 pm this evening. Also, an off duty @NWSChicago forecaster reported that 2″ snow fell in Mendota in just 40 minutes! More thundersnow is possible this evening across N IL, snowfall rates of 2-4″/hour possible! pic.twitter.com/V6sNE1m7Pw

— NWS Chicago (@NWSChicago) November 26, 2018
That Blizzard is spinning itself out and losing some punch as it spreads across Michigan and into upstate New York. Lake Effect snow will be the big story behind this storm during the week. That will include snow in western Maryland and the ski resorts of WV and western PA  beginning later today.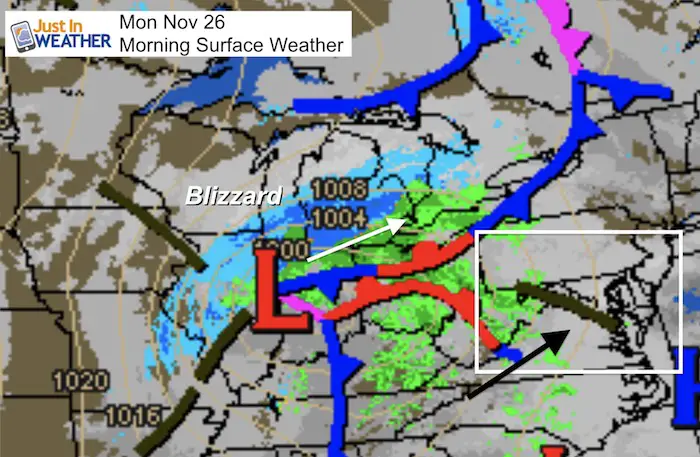 Locally we get rain, then the cold air. Take a look below, but maybe you are in the mood now for FITF? While riding your keyboards indoors on this Cyber Monday, stop by the FITF store to get some gifts for your favorite snow lover.
The FITF Store Is Open With Gear And SnowStix
Cyber Monday Sale = 20%
Use Code: SNOW20
Local Weather Stats For November 25 in Baltimore
Average High:  52ºF
Record High: 72ºF in 1979
Average  Low: 34ºF
Record Low:  15ºF in 1950
                         *Record Snow:  4.5″ in 1898 
Sunrise: 7:01 AM
Sunset 4:45 PM 
*Daylight = 1:29 shorter than yesterday 
*Bay Water Temperature = 47ºF at Thomas Pt. Light House 
Record Rain Year Update:
Morning SnapShot
Temperatures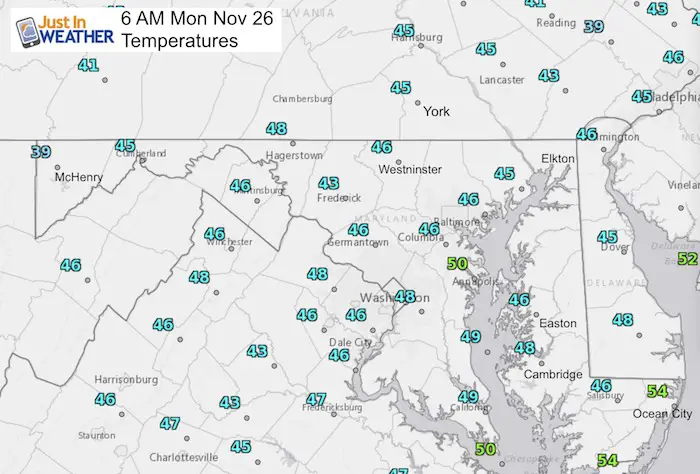 Radar Loop
Check out that circulation in the upper left in northern Indiana. That is the core Low of the storm. Note- this is not color coded for winter precipitation.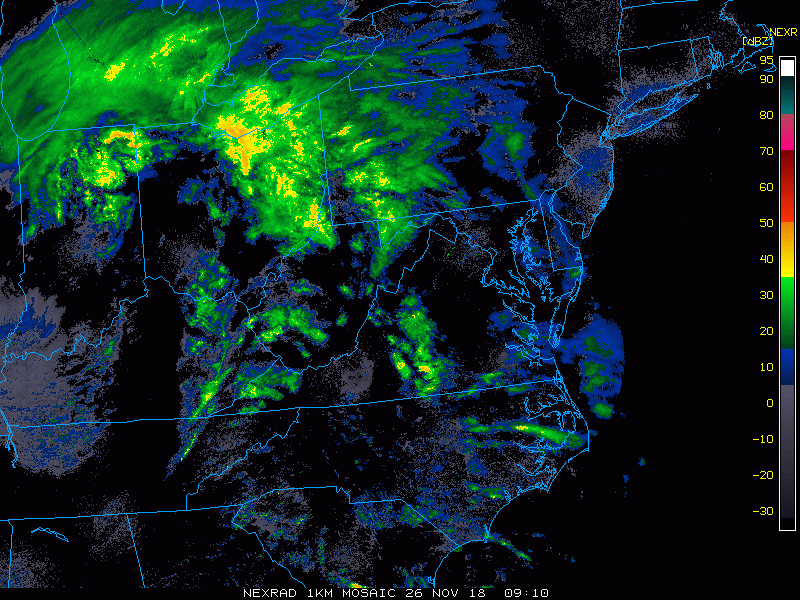 Radar Simulation —> slider
Rain will be spotty, but may be heavy on the Eastern Shore this afternoon.  Following the storm, heavy snow will develop across western Maryland and West Virginia.
[metaslider id=68876]
High Temperatures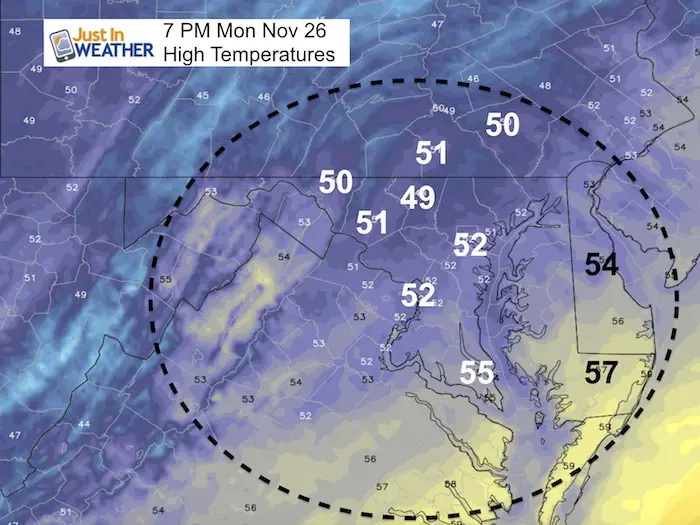 Storm Animation
After this storm, we have a dry week with the cold air. The next event will be Friday that may start with ice in the mountains. This needs to be monitored for timing. The last few events came in faster, and that could time up with the cold air for more areas.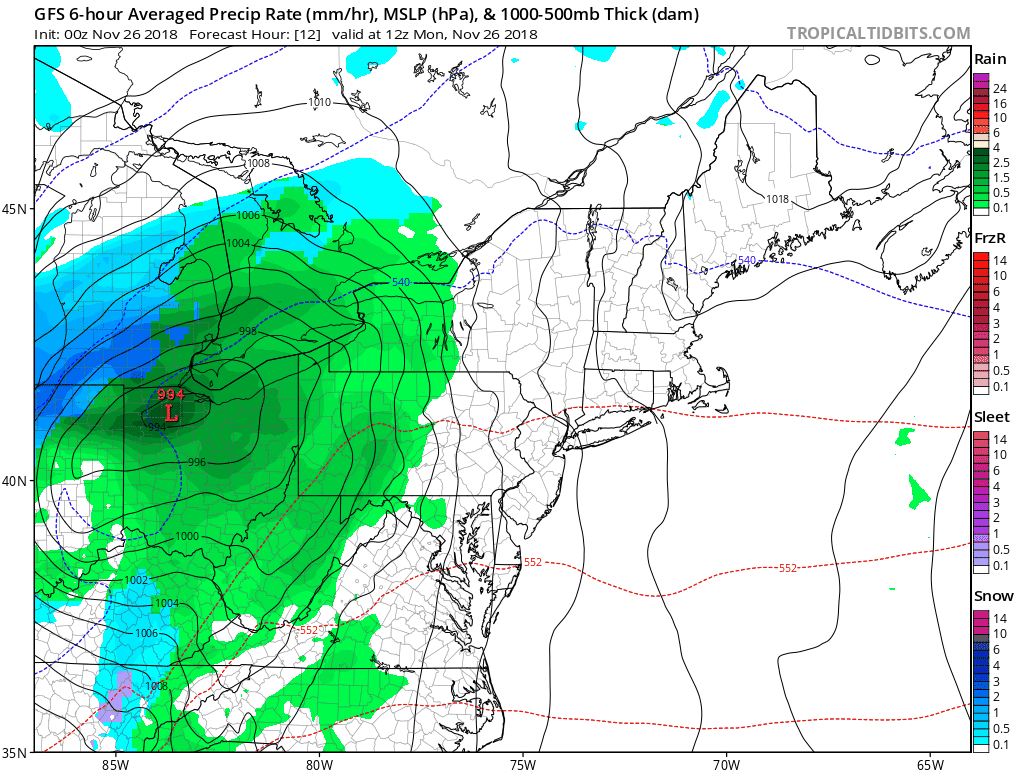 Temperature Outlook
There will be another warm up ahead of the pattern change. This European Model does tend to overdo extremes with temps, so that 68ºF might be a little warmer than we end up. Something to look forward to anyway for those that don't want winter to arrive.
North Atlantic Oscillation 
We will get our pattern change to show up between December 5 and 8 as the GFS shows a crashing NAO deep into negative territory.
I will not get more specific at this time as it is too early to pin down individual storms. But the pattern becomes more favorable at this time.
Keep In Touch Every Day
Click here to sign up for email alerts…. Be the first to hear the big news over the weekend
Also- Just in case you don't get the post on your social media feed
Please share your thoughts, best weather pics/video, or just keep in touch via social media
Related Links:
Winter Outlook
My Winter Outlook 2018-19: Multiple Nor'Easters and more snow
Interactive Snow Report
November 15 Snow Reports- Interactive Map Compared To My Forecast
Winter Snow And Top 5 Wet Years 
Snowfall Seasons at Beginning and End of Top 5 Wet Years In Baltimore
Related Winter Outlooks
Solar Cycle: When Sun Spots Are Low We Get More Snow
El Nino Modoki May Enhance Snow Chances
Sweet Spot: Hitting 70ºF on Halloween is followed by more winter snow
Will A Wet Summer Bring A Snowy Winter?
NOAA Winter 2018-2019 Outlook Explained: This Actually Supports Snow
Winter Outlook From Two Different Farmers Almanacs
Maryland Winters: Snowfall Maps and Baltimore Snow History 
FITF and SnowStix Stores are now OPEN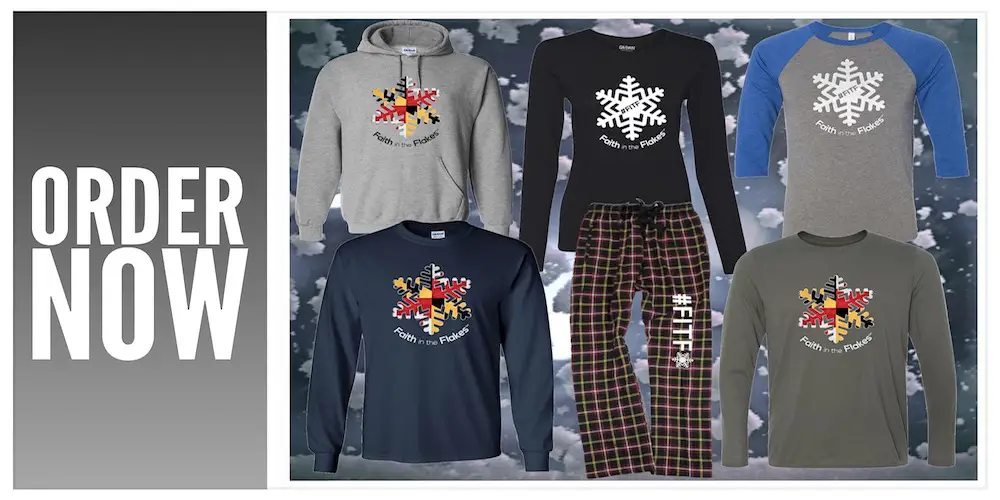 Snowstix- We Need You To Measure Snow Too
We are giving 10% of each sale to Just In Power Kids: Providing FREE holistic care for pediatric oncology patients.