November 5 2018
In my series of elements that can impact our winter weather, this feature from the tropics has a few parts to it. I take many things into account for my winter outlook before the season begins and also how we may get hints during winter for storms ahead. My goal in this post is to share a simplified version of three factors from the tropical I think will play a role in our winter storms in the east coast. This includes: 1) Atmospheric Memory from east coast storms, 2) eastern Pacific moisture, and 3) western or Asian Pacific telecommunications.
Considering that over 80% of readers are likely to see this report on a phone, I want to keep the verbiage down and let graphics help do the explaining.
Atmospheric Memory
Hurricane Michael was the strongest should be the most influential storm from the tropics. When it made landfall on the Florida Gulf coast, winds were 155 mph and it was in a strengthening phase. I believe it laid the invisible tracks in the atmosphere for future storms to follow. In fact, we've already seen that:
Nor'easter (from former Hurricane Willa in the Pacific) two weeks later
Two recent storms including the on on the day of this post Nov 5.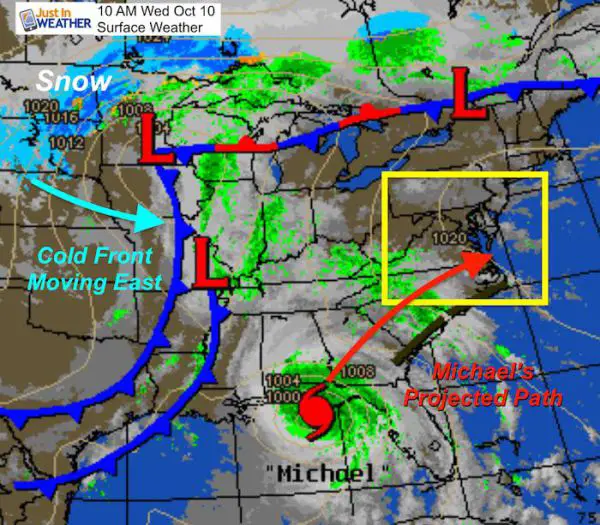 | | |
| --- | --- |
| Hurricane Willa (Pacific)  | Nor'easter Following Path of Micheal |
| | |
Nov 5:
Developing Coastal Storm on the day of this post.
Note: May 27:
SubTropical Storm Alberto  made landfall near the same location as Michael. But this storm moved farther west, then eventually brought us rain. The progression of tropical influencing storms kept shifting east.
Hurricane Florence
2018 Tropics Cyclone Tracks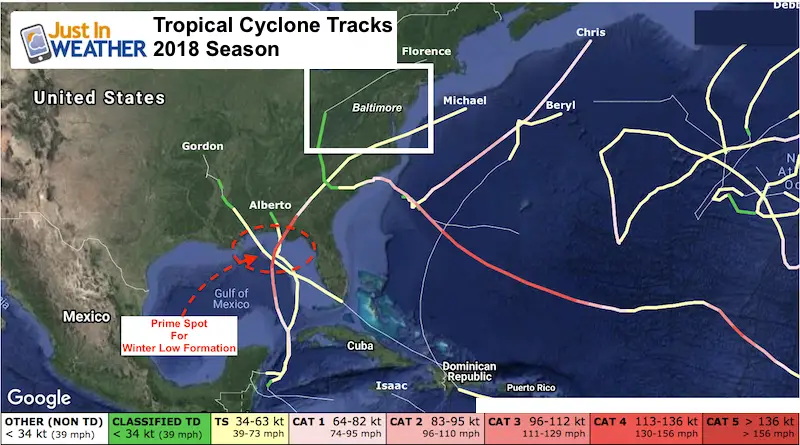 Thoughts: 
Multiple Nor'easters this winter. I think we will have at least 3 with the potential for 10″+ snow in our region.
There will be higher chance early in the season, then another time frame from late January until early February.
There will be a few Ohio Valley Storms that will stay to our west and keep us on the warm side.  So not all storms will favor snow for us, but there will be plenty
Eastern Pacific Moisture
Hurricane Willa as mentioned above was an example of the very busy hurricane season in the eastern Pacific. I mentioned this in my article about El Nino Modoki.
This should continue and feed plenty of moisture across Mexico into the Gulf and help many of those storms form that will become our Nor'easters.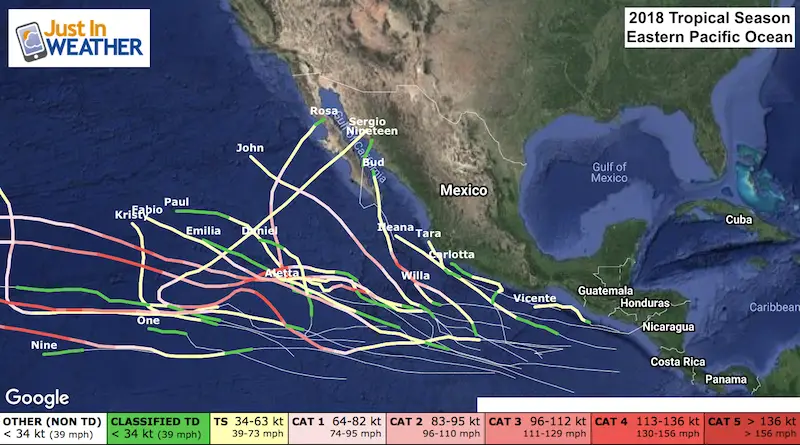 Asian Pacific Typhoons
To clarify, a typhoon is the same storm as a hurricane just bearing that name in the Asian portion of the Pacific Ocean. A Super-Typhoon is a storm with at least 1 minute time frame supporting 150 mph sustained winds.
There are two things I will continue to monitor leading through our winter:
10 Day Prelude from Asian Pacific to the Atlantic
Asian Pacific Storm Track
1)  Asian 10 Day Prelude to Atlantic
There is a theory that strong typhoons in the Asian Pacific is a precursor to a strong cyclone to develop in the Atlantic basin within 10 days.  I say cyclone because that could be a tropical storm, hurricane, or in winter.. a Nor'easter.
There are connections across our planet that may not be easy to spot or far reaching on the opposite part of the globe. For simplicity, check out our recent large hurricanes with their Asian Pacific precursor.
I have noticed in the past this connection extends to strong storms in the winter as well. I will be referencing them and this article as need be throughout the season.
2)  Asian Pacific  Storm Tracks
I have noticed in recent years that when the typhoons in Asia tend to be more Southern tracks from the east to the west, we end up with a warmer pattern in the eastern US. BUT, when there are more storms that curve up the East Asian coast, perhaps hitting Japan, then we have an east coast trough with more coastal storms (Nor'easters) in the US.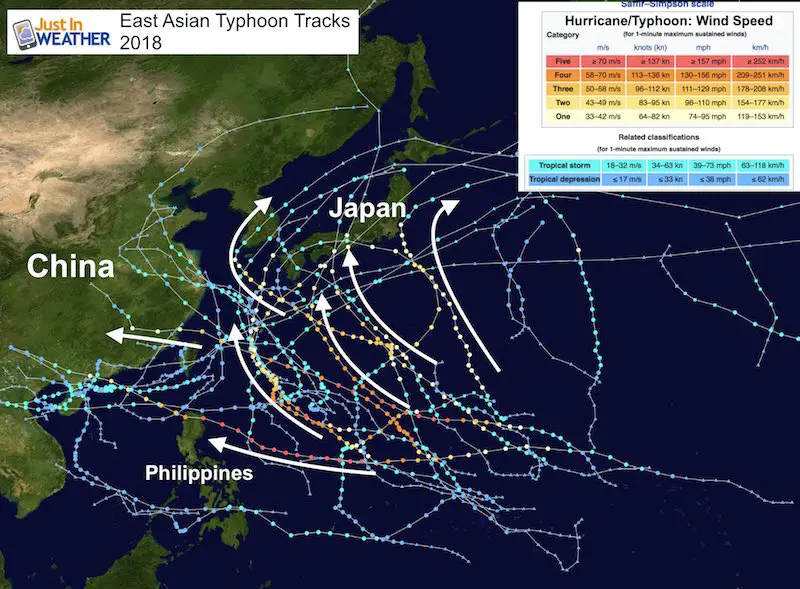 Note: This is one of many elements I consider with respect to trying to determine potential storm patterns. The beauty of weather and advances in long-range forecasting is that there are many teleconnections around the planet. This is something Dr. William Dray began researching in the lat 1970s. He passed away in 2016. He made a tremendous impact on the field of meteorology and yours truly as a forecaster respecting how tightly connected our atmosphere is. That is why I offer so many different pattens and cycles to add into my outlooks.
My Formal Winter Outlook is on the way
Also See
Winter Outlooks
Sweet Spot: Hitting 70ºF on Halloween is followed by more winter snow
Solar Cycle: When Sun Spots Are Low We Get More Snow
Will A Wet Summer Bring A Snowy Winter?
El Nino Modoki May Enhance Snow Chances
Winter Outlook From Two Different Farmers Almanacs
NOAA Winter 2018-2019 Outlook Explained: This Actually Supports Snow
Cold Stuff
Normal First Frost/Freeze Dates
Maryland Winters: Snowfall by region and records
FITF and SnowStix Stores are now OPEN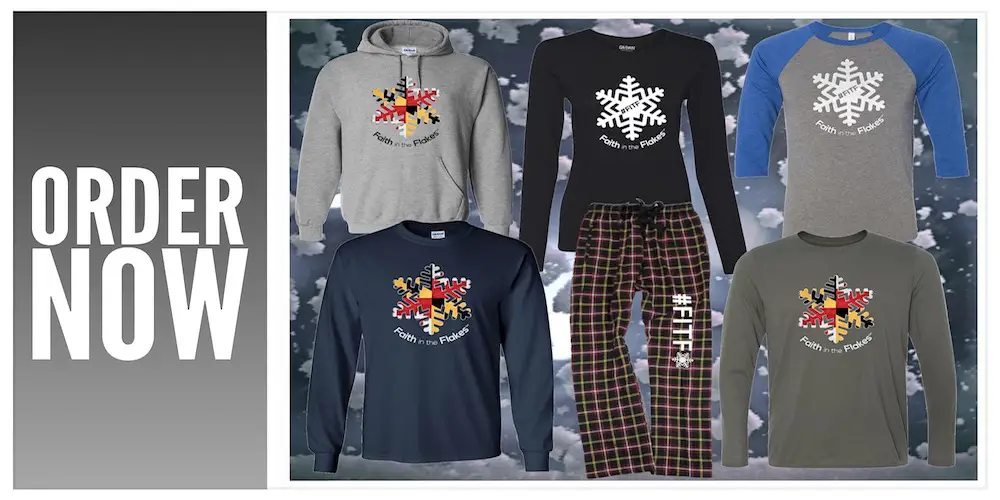 Snowstix- We Need You To Measure Snow Too
We are giving 10% of each sale to Just In Power Kids: Providing FREE holistic care for pediatric oncology patients.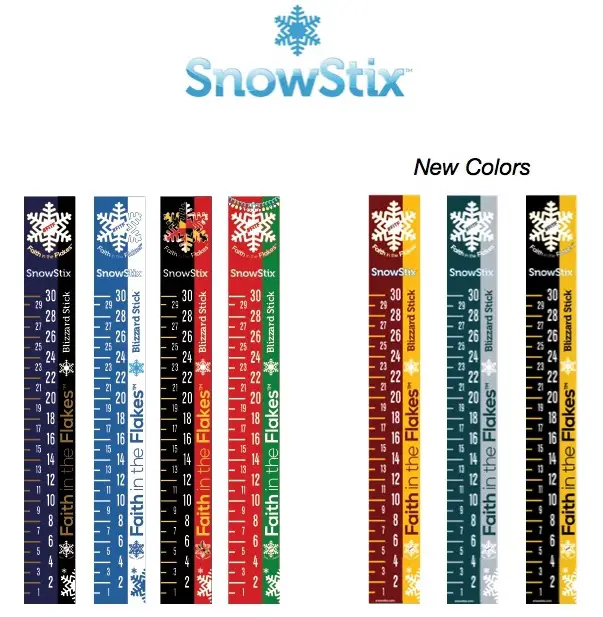 Keep In Touch Every Day
Click here to sign up for email alerts…. Just in case you don't get the post on your social media feed
Please share your thoughts, best weather pics/video, or just keep in touch via social media