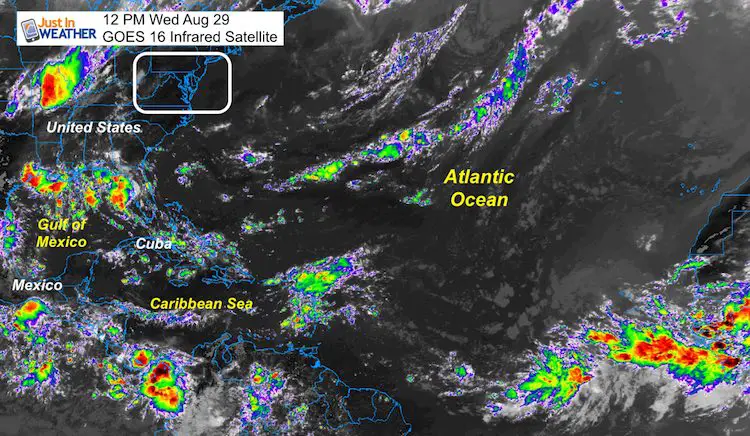 August 29 2018
We are now in the prime time period for tropical storms and hurricanes in the Atlantic basin, yet all is quiet.  The latest satellite view shows a void or organized storms through the tropics. There is a wave entering the Eastern Caribbean, but it will be fighting some wind sheer. The flare up near the African coast is actually too far south near the equator to be concerned for any tropical development thanks to the Coriolis Effect.
Satellite Animation
Most Active Time For Hurricanes
The target for peak hurricane activity in the Atlantic is around September 10, when water temperatures are at their warmest. But the prime time zone increase in the last week of August through the end of September.  Unless something happens fast, early seasons forecasts may fall short.
Typical Storm Forming Regions Every 10 Days
—> slider
[metaslider id=26212]
Average for now
There have been five named storms this year, two reaching hurricane intensity. But despite the season starting early, it is practically nonexistent now.
Here is a look back at the storms (with peak winds) through late August
—> slider
[metaslider id=65000]
In an average year with 11 named storms, here is the breakdown of when the storm total would tally up: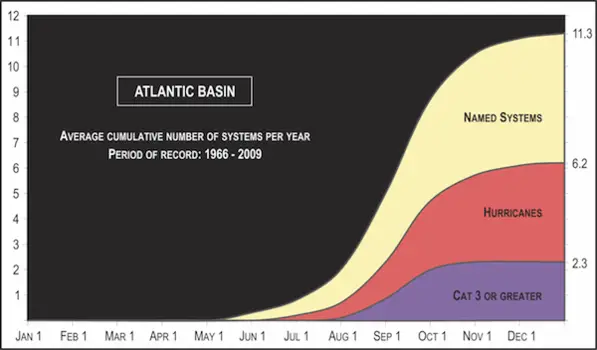 July 9
August 1
August 13
August 23
August 31 *target with 2018 to date
September 8
September 16
September 24
October 4
October 19
November 23
How The Forecast Have Been
This is not a surprise, as I mentioned in June to expect a quiet season for these 3 reasons.
Cooler Sea Surface Temperatures
This map from Levi Cowan compares similar years in the past four decades.  Notice that if we do get anything going, it is 'likely' to be in the eastern Atlantic. But there is a small chance for something again off of the southeast US coast.
I know some of you are already trying to draw a comparison to these analog years and the following winter snowfall totals. There is more to the mix than that. I will touch on it shortly.
Also See:
Please share your thoughts, best weather pics/video, or just keep in touch via social media
Keep In Touch Every Day
Click here to sign up for email alerts…. Just in case you don't get the post on your social media feed
Get the award winning Kid Weather App I made with my oldest son and support our love for science, weather, and technology. Our 3 year anniversary of the release and our contribution to STEM education is this November. It has been downloaded in 60 countries, and works in both temperature scales. With your support we can expand on the fun introduction to science and real weather.