5 PM Mon May 14 2018
We have a Severe Thunderstorm Watch until 9 PM and a lot of the region was upgraded to an Enhanced Risk for severe storms from NOAA's SPC. The storm cluster has already formed and the explosive develop looks impressive in both visible satellite loop and radar loop shown below. Keep scrolling and see the updated radar simulation. The conditions support the most intense storms to ride along and south of the Potomac this evening. That cluster will pass Washington between 7 PM and 8 PM. Then spread into southern Maryland and the lower Eastern Shore. But there are other storms worth watching, I just think the worst will be west and south. However since the word Derecho has been tossed out by the Storm Prediction Center, I want to explain what that means.
A Derecho is when the intense line of storms has wind speed exceeding 60 mph for 6 hours or longer. The forward speed of the storms are over 40 mph, but can travel 60 mph or higher. That means a storm cluster of this kind holds severe limit strength for a path over 240 miles. There may be some acceleration of the storms in Maryland and northern Virginia, but as of post time, they did not reach that level. Perhaps the cooler air on the north side of the boundary are limiting the development a little.
Mid Afternoon Set Up
We do have an east wind off of the Chesapeake Bay. That has kept temps in the 70s, which normally would limit storm development. However, that direction can help feed into storms coming from the mountains. So things could get bumpy in central Maryland/metro Baltimore between 7 and 9 PM. But I see the more intense action around Washington DC, Northern Virginia, and perhaps southern Maryland.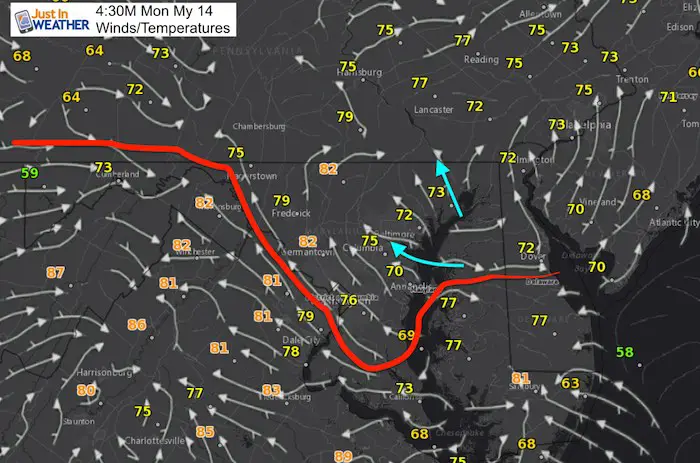 2 Hour Visible Satellite Loop
Ending 4:52 PM
Watch the explosive storm development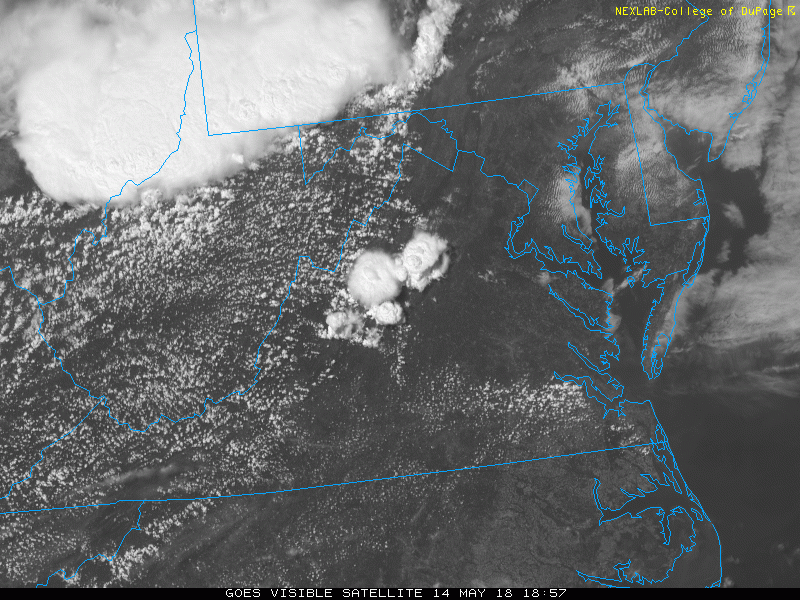 2 Hour Doppler Radar Loop
Ending 4:55 PM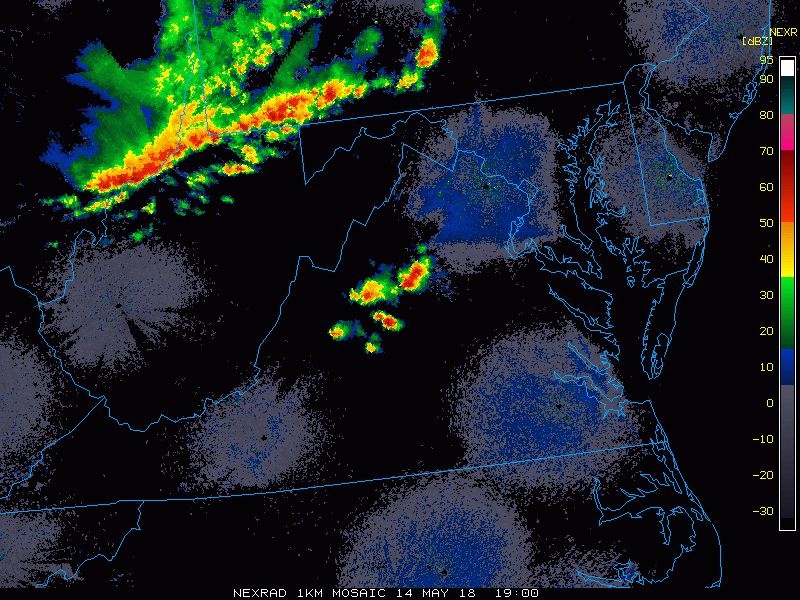 Radar Simulation —> slider
[metaslider id=62115]
Severe Thunderstorm Watch Until 9 PM
This was issued earlier to day, and shows the area with 'potential' for storms. Not a promise.  I think the lower Eastern Shore needs to watch what crosses the Bay later this evening and tonight.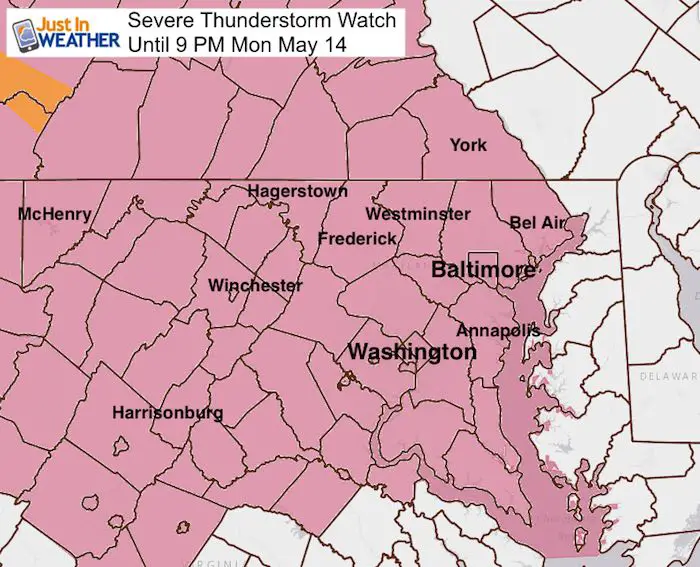 Increased Risk
This Enhanced Risk from The Storm Prediction Center means there will be widespread storms with favorable conditions to reach severe limits. Storms will be forming in the mountains and ride to the east and southeast in our direction this afternoon and evening . We remain in the Slight Risk Tuesday.
Tuesday- Slight Risk For Severe Storms
The main focus of strong storms will shift to the north, but we may still have clusters of severe weather develop during the afternoon.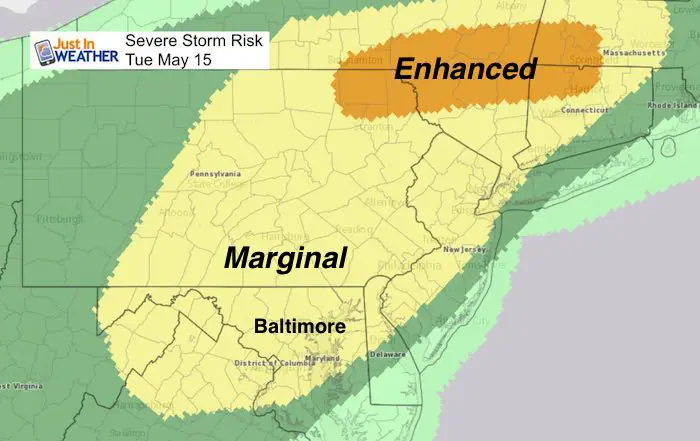 Please share your thoughts, best weather pics/video, or just keep in touch via social media
Keep In Touch Every Day
Click here to sign up for email alerts…. Just in case you don't get the post on your social media feed
Shine On
Proceeds from all sales go to Just In Power Kids. Click the image to shop and show your support.
Partner With Us. My Fiancee Shannon and I started this non profit Just In Power Kids. We are building a network of Integrated Wellness Practitioners plus funds for kids in and post cancer treatment to get free sessions.
Get the award winning Kid Weather App I made with my oldest son and support our love for science, weather, and technology. Our 3 year anniversary of the release and our contribution to STEM education is this November. It has been downloaded in 60 countries, and works in both temperature scales. With your support we can expand on the fun introduction to science and real weather.