Heat will make a return today and a strong cold front will combine later this afternoon and this evening. Our region has an Enhanced Risk Of Severe Storms!  This means that the full of 90ºF temperatures will help build storms that can have winds over 60 mph and large hail over 1 inch in diameter. The threat of tornadoes is low but possible rotation with some supercells.
Pay Attention to alerts today
Watch: Means it MAY HAPPEN
Warning: Means it IS HAPPENING NOW– and being tracked town to town.
The best time for storms will be after 4 PM as we watch a line develop in souther Pennsylvania and drop south.  The Enhanced Risk area is where the line of storms will act on the heat. As it drops south later in the evening, some energy will be lost as the radar simulations below show. But we will have bands of rain and some storms up to midnight, and lingering rain Mothers Day.
I need to point out that plotting storm development is not perfect. I have two model simulations below. But as we saw Thursday. The timing can be off by an hour. Plus, there is a difference in these models I will point out, which will help track which is more accurate as we go through the day. May next update will by by 3 PM to fine tune the tracking.
Rain Potential
The heavy rain plot here does help show where the grated influence will be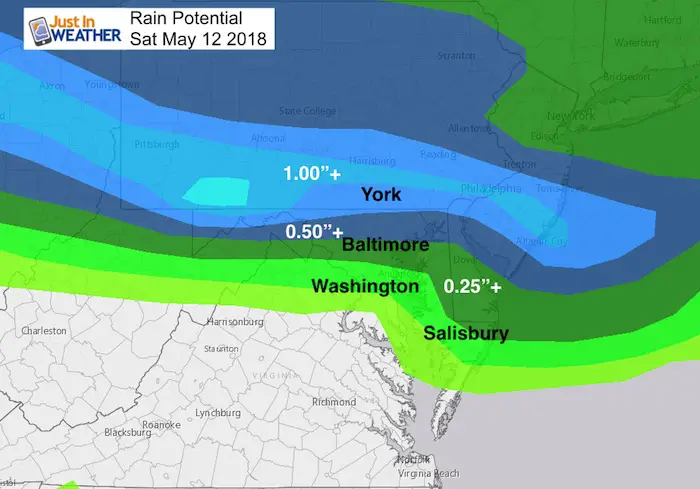 Stats For May 12 in Baltimore
Average High:  73ºF
Record High: 94ºF in 1881
Average  Low: 51ºF
Record Low: 35ºF in 1963
Sunrise: 5:55 AM
Sunset 8:10 PM
*Daylight = 1:56 longer than yesterday 
*Bay Water Temperature = 66ºF at Thomas Pt. Light House
Keep In Touch Every Day
Click here to sign up for email alerts…. Just in case you don't get the post on your social media feed
Morning Set Up
A Stationary Front is draped across our area. This separates cooler air and an easterly flow with temps in the 50s from the heat in the 70s already that is building north. Expecting this front to shift north is the main player in our weather today. It will determine if you reach the 90s AND how the storms from the west will travel….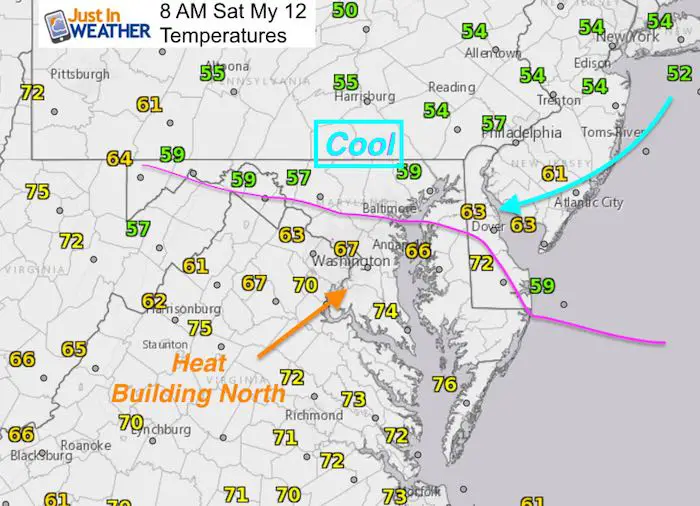 Mesoscale Analysis
Mesoscale Convective Complexes (MCCs) will be forming to our west… like this one near Chicago this morning. That will ride along the stationary front to the east/southeast this afternoon and evening. This is why the Enhanced Risk is across northern Maryland and southern PA as it interacts with prime heating after 4 PM.
Comparing Two Models
HRRR Model
Afternoon Highs
This model brings the front back north and puts Baltimore into the lower 90s
Radar Simulation —> slider
This keeps the front and the storms primarily north of Baltimore. Showers trend south in the evening after 9 PM
[metaslider id=61963]
NAM 3 Km Model
Afternoon Highs
This model actually shows the front not fully passing Baltimore, holding temps in the 80s. This also keeps an easterly wind off of the Bay in place, that can feed storms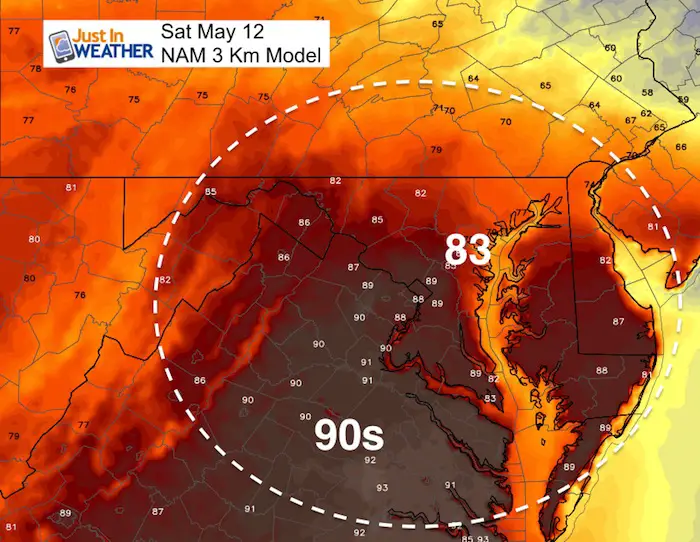 Radar Simulation —> slider
This model shows a larger eruption of storms, even with cooler temps. This would hold down some of the energy to play with… But also allows the storms to pass south into the heat and involved central Maryland and Delmarva.
[metaslider id=61948]
Mothers Day
Sadly the front appears to stall over our region Sunday. Temps will be cooler and there will be periods of rain. I do not want to lock in specific times for rain, but the pattern shown here supports at least 50% chance and encourages plans to be made indoors.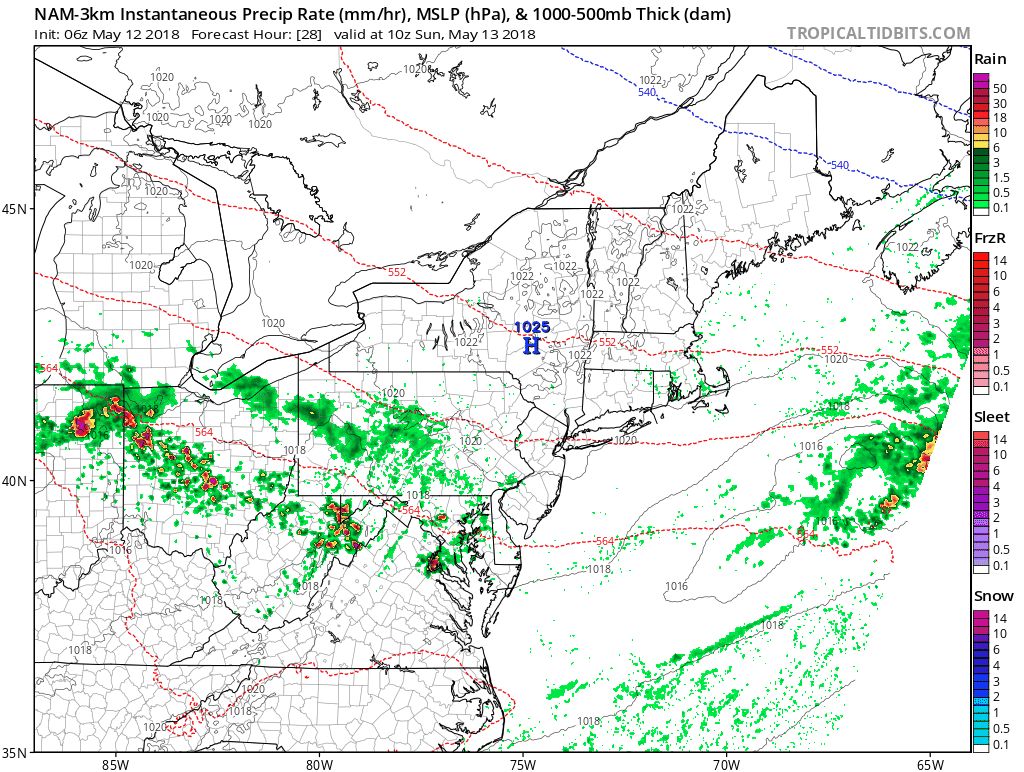 Temperature Outlook
It looks like the heat will try to return this week for a few days as summer is fighting its way back in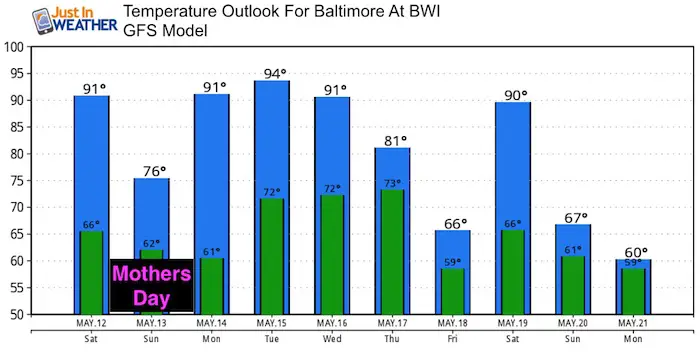 Shine On
Proceeds from all sales go to Just In Power Kids. Click the image to shop and show your support.
Partner With Us. My Fiancee Shannon and I started this non profit Just In Power Kids. We are building a network of Integrated Wellness Practitioners plus funds for kids in and post cancer treatment to get free sessions.
Please share your thoughts, best weather pics/video, or just keep in touch via social media
Keep In Touch Every Day
Click here to sign up for email alerts…. Just in case you don't get the post on your social media feed
Get the award winning Kid Weather App I made with my oldest son and support our love for science, weather, and technology. Our 3 year anniversary of the release and our contribution to STEM education is this November. It has been downloaded in 60 countries, and works in both temperature scales. With your support we can expand on the fun introduction to science and real weather.