Wednesday April 11 2018
One year ago today we set the record high in Baltimore at 87ºF. Today we are just climbing back closer to average. This is the season where we can get a bunch of seasons wrapped into one week. We had light snow Monday and flurries on Tuesday. Today we begin the transition closer to normal and then rise above with 70s and 80s by the end of the week. This will come with a lot of energy and moisture that will result in a severe storm outbreak across the Ohio Valley and Deep South this weekend.  For us, the timing will be key, but worth watching. Sunday is when the showers may creep in, but more likely to hit the mountains. If we hold it off, we could squeeze out one more warm day, along with strong winds. Sunday night into Monday morning looks like our best chance for storms, which may save us from the worst of it. But it will be a bumpy ride.
Stats For April 11
Average High:  63ºF
Record High: 87ºF in 2017
Average  Low: 41ºF
Record Low: 26ºF in 1960
Snow Record: 2.0″ in 1894
Seasonal Snow To Date (at BWI): 15.2
Sunrise: 6:36 AM
Sunset 7:39 PM
*Daylight = 2:30 longer than yesterday 
*Bay Water Temperature = 46ºF at Thomas Pt. Light House
Keep In Touch Every Day
Click here to sign up for email alerts…. Just in case you don't get the post on your social media feed
Ready To Shine On This Spring?
Proceeds from all sales go to Just In Power Kids. Click the image to shop and show your support.
This Morning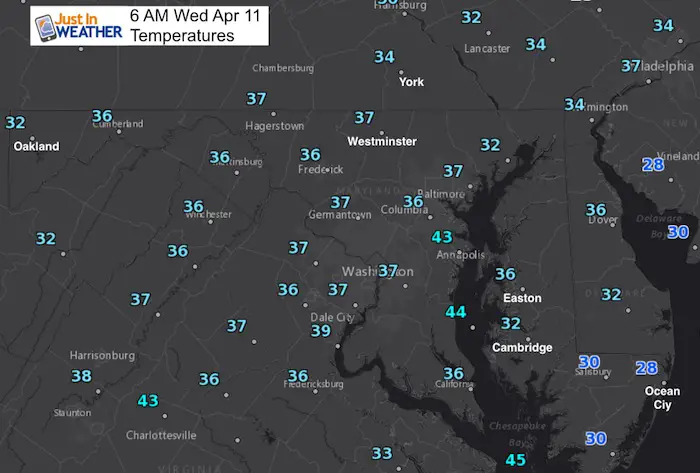 Focus On The Important Thing…
While there may be extra clouds and some sprinkles on the north side tomorrow, I do not see anything substantial
High Temperatures 
The trend up is a guarantee over the next three days. How high we get is the debate. The models now agree with what I wrote a few days ago… Temps will aim for 80ºF by Friday. We often end up warmer than first thought.
Today
---
Thursday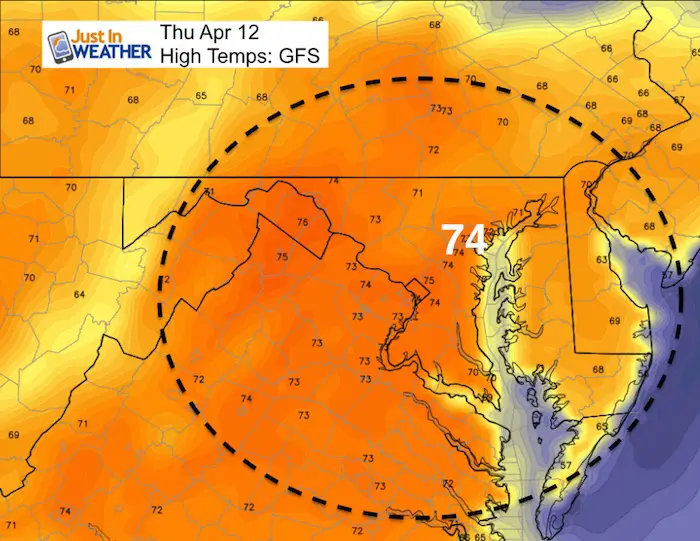 ---
Friday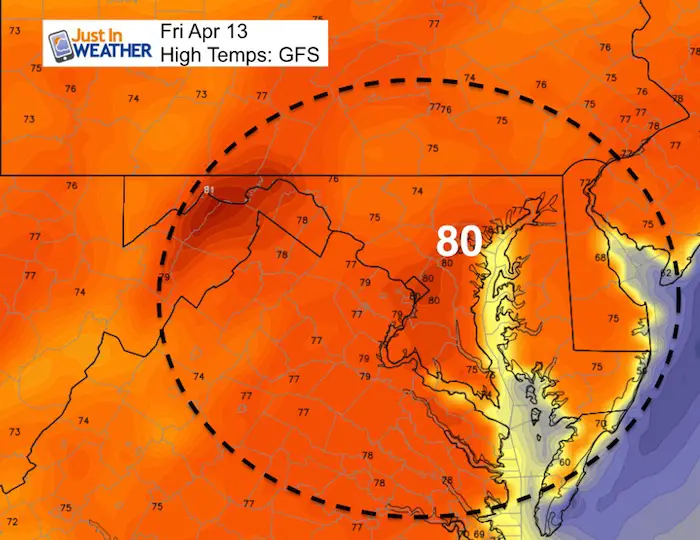 Wild Weekend
The warm air surging in is in part charged by a deep trough across the central US.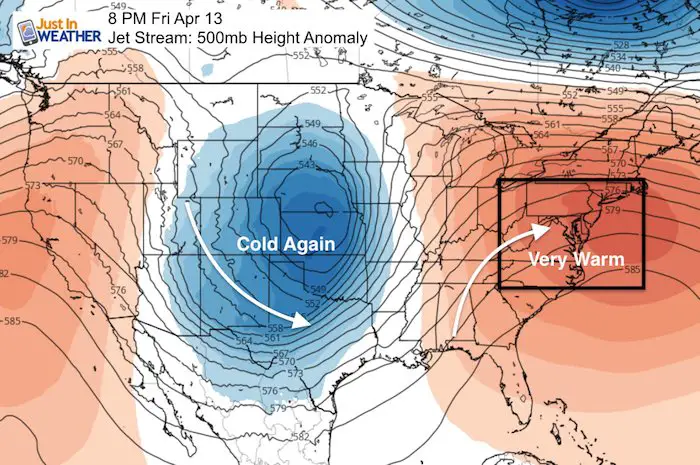 This pumps in a lot of moisture from the Gulf of Mexico as seen here on the Total Precipitable Water (dark green). We get in on the action late Sunday into Monday morning. 
Upper level energy charged by a clash of cold air behind…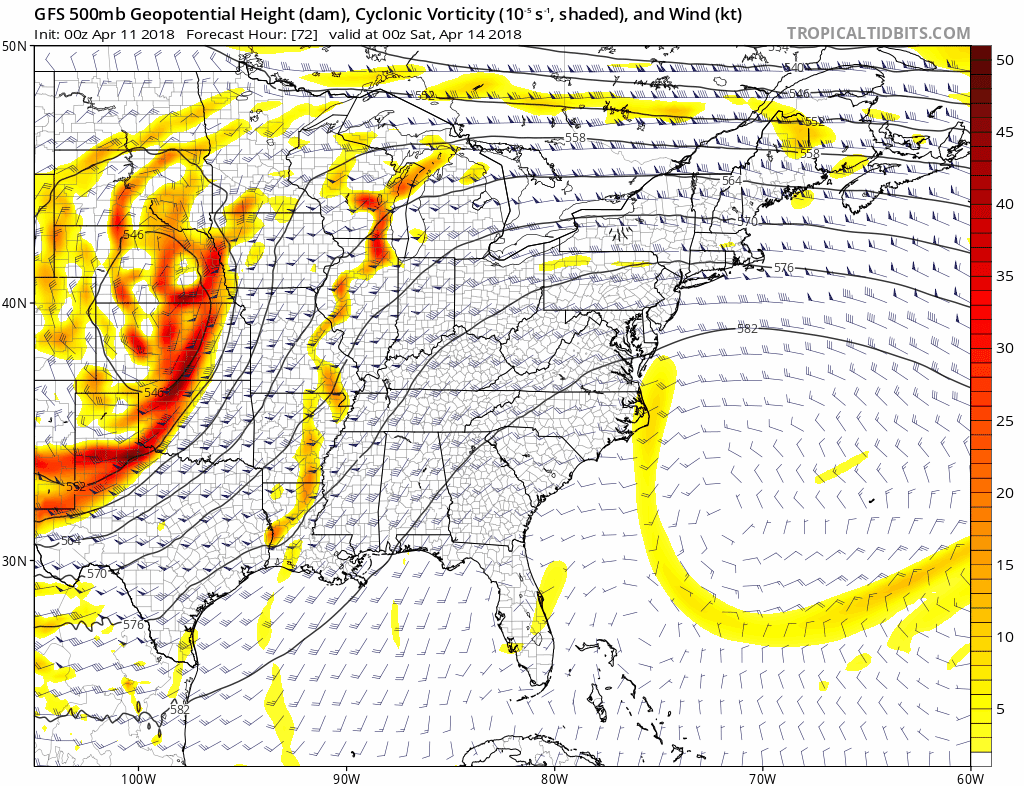 …to trigger a large band of heavy rain and severe storms. The peak activity appears to reach us Monday morning. Should that be the case, this will arrive with less atmospheric energy after nighttime.
Potential Storm Animation
Here is the ICON Model that keeps us dryer on Sunday than the GFS Model. I chose to show this since rain and storms often get hung up in the mountains longer in situations like this.  It may and up being a windy and warm day for us with storms in the mountains… that move east to reaches Monday morning.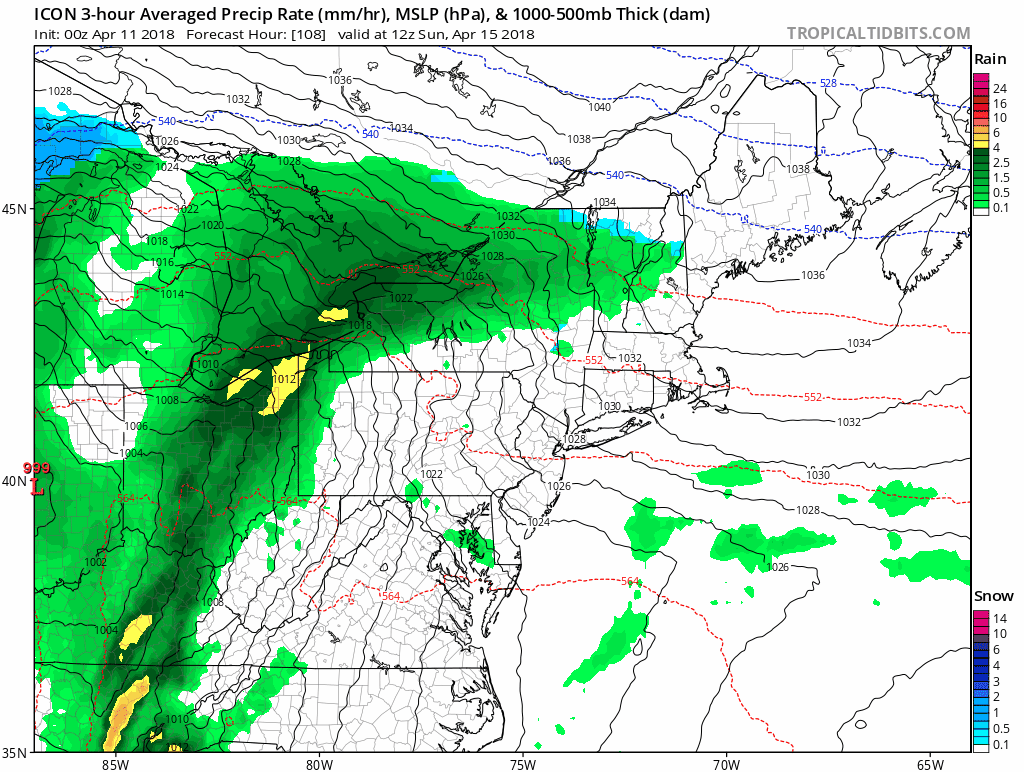 Temperature Outlook: Warm Spell Ends Sunday With Storms
Often we end up warmer than models first show, so I think we have a good chance for the 80s both Friday and Saturday. 
The outlook next week may end up colder than shown here as the model trends towards average. But all model indications are reinforcing cold surges.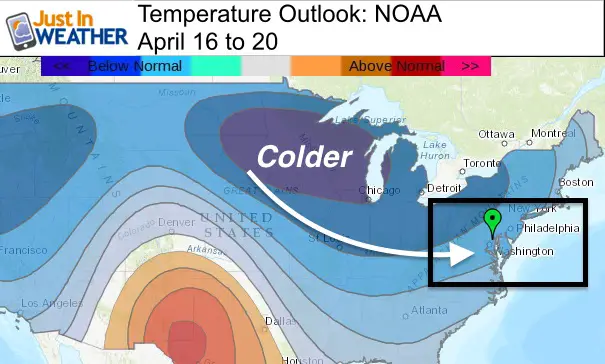 Shine On
Proceeds from all sales go to Just In Power Kids. Click the image to shop and show your support.
Partner With Us. My Fiancee Shannon and I started this non profit Just In Power Kids. We are building a network of Integrated Wellness Practitioners plus funds for kids in and post cancer treatment to get free sessions.
Get the award winning Kid Weather App I made with my oldest son and support our love for science, weather, and technology. Our 3 year anniversary of the release and our contribution to STEM education is this November. It has been downloaded in 60 countries, and works in both temperature scales. With your support we can expand on the fun introduction to science and real weather.
Also See:
My Winter Outlook 2017-2018 for more snow
La Nina Formed: What it could mean to our winter
NOAA Winter Outlook: Not The Best But Not The Worst For Snow
Two Farmers Almanacs Winter 2018 Outlooks
Winter Weather Folkore: Suggestions from Animals and Crops
First Frost and Freeze Dates For Maryland (southern PA and northern VA)
My Preliminary Winter Outlook Notes
Low Snow Winters In Baltimore: To Repeat Or Not Repeat
NOAA Ranks Blizzard 2016 4th Worst Snowstorm On Record
Blizzard 2016 Record Top Snowstorm: Area Totals
Extreme Weather of 2015 balanced out on both ends