April 4 2018
We are three days away from our potential weekend winter event and the computer models are consistently growing the confidence in snowfall. While getting some snow in April is possible, and impact storm with road stickage is very rare. Less than 1%, especially as we enter the second weekend of the month., so this can be considered an extreme weather event.  Here is a look at the record snow events in Baltimore since records of this kind began in 1883. Note that we are looking at snow on April 7. If Baltimore gets 0.3″ or more, it will be a record for the date. There are seven April dates with over 1 inch of snow on record.  Below is a look at the latest models and my thoughts at this time.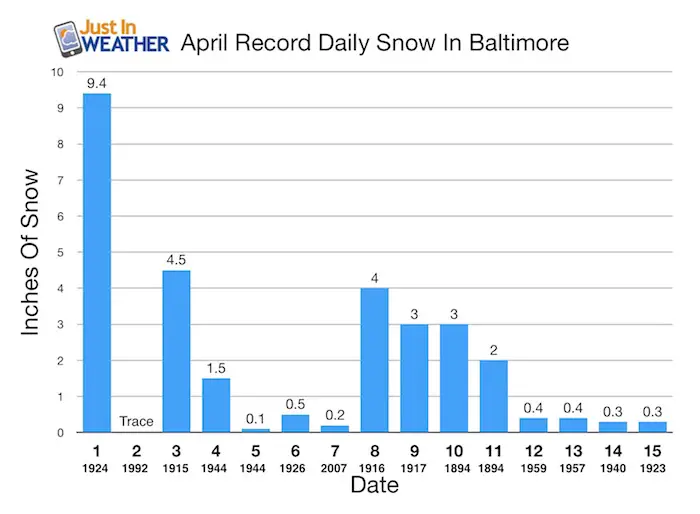 The largest single day event was on April 1, 1924 with 9.4 inches

April 10-11 in 1894: Two day event totaled 5 inches.

1916 on April 8th there was 4 inches.

1917 ONE YEAR LATER on April 9th there was 3 inches.

2007 Most Recent Impact on April 7 with 0.2 inches in Baltimore
Later Snows:
April 17 and 18 in 2001 both has a trace
1980s
1983 April 19 and 20th both a trace

1984 April 20th = Trace

1986 April 23rd = Trace
Preparation
I have been in touch with all of my clients this afternoon. If this was March we would be more prepared. But this late in the season, and even though I saw the cold pattern and possible snow, no one would have expected to need the plows. This is from my Donald Entzian of Locust Lane Farms. He has 66% of his trucks ready for spring as they removed their snow plows. They are not alone.  All of my snow removal clients and schools need more time to prepare for this event because of any need to clear pavement. That makes this event more difficult and stressful. It will snow, but will it stick. If it sticks, will it lay and stay on pavement with the need to plow?
I have told the schools to treat this like a rain day for sporting events as it will be sloppy and cold. Stickage on the grass is possible. As for the roads, that is the tough part.
To Get Stickage This Late In the Season We Need:
Snow fall to begin in the dark hours and or cover the ground BEFORE 9 AM. Otherwise the solar energy has a better chance to keep the roads wet

Snowfall rates of 1 inch per hour or greater. That can overtake warmer ground
Snow Maps
ICON- German Model
I have grown fond of this with recent events. This model was showing the warmer solution but recently pushed the snow south of Washington and Annapolis during the day Saturday. Please note this is during the day and will fight the April sun angle. Also, this DOES NOT show the freezing line, so not all on will stick.
[metaslider id=61016]
Animation: GFS Model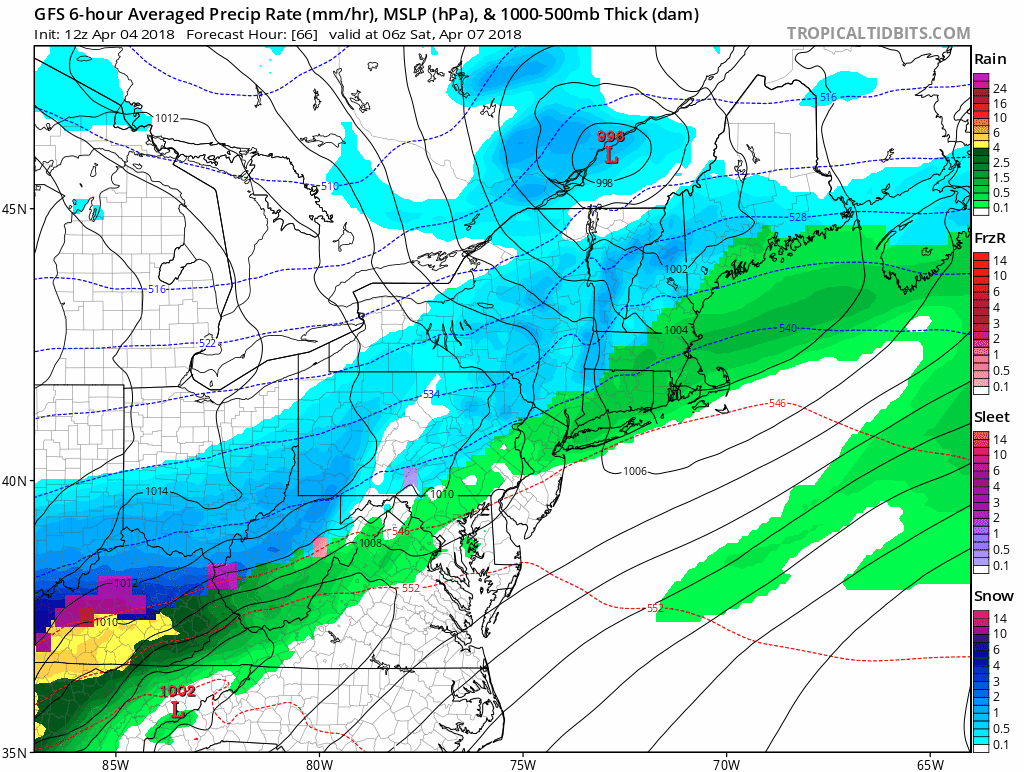 Snow Potential
I don't like showing snow models 3 days away, but I know you want to see what is on them.
The snow shown on these models DOES NOT show the impact of melting.  This is just the potential snowfall if all stuck and accumulated at a standard 10:1 ration. That will NOT happen. So,already, these are not telling the best story of what could happen.
I am inclined to lean on the Canadian (for what may stick) at this time just to be conservative. But, there is support for more from the GFS, NAM (ICON and European not shown).
Canadian GEM
GFS Model 
NAM 12 Km Model
*The European is showing 2″ for Washington and 5″ for Baltimore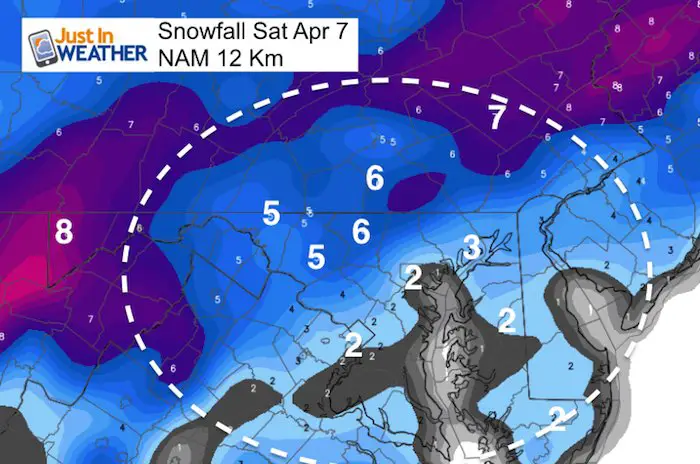 Keep In Touch Every Day
Click here to sign up for email alerts…. Just in case you don't get the post on your social media feed
Shine On
Proceeds from all sales go to Just In Power Kids. Click the image to shop and show your support.
Partner With Us. My Fiancee Shannon and I started this non profit Just In Power Kids. We are building a network of Integrated Wellness Practitioners plus funds for kids in and post cancer treatment to get free sessions.
Get the award winning Kid Weather App I made with my oldest son and support our love for science, weather, and technology. Our 3 year anniversary of the release and our contribution to STEM education is this November. It has been downloaded in 60 countries, and works in both temperature scales. With your support we can expand on the fun introduction to science and real weather.
Also See:
My Winter Outlook 2017-2018 for more snow
La Nina Formed: What it could mean to our winter
NOAA Winter Outlook: Not The Best But Not The Worst For Snow
Two Farmers Almanacs Winter 2018 Outlooks
Winter Weather Folkore: Suggestions from Animals and Crops
First Frost and Freeze Dates For Maryland (southern PA and northern VA)
My Preliminary Winter Outlook Notes
Low Snow Winters In Baltimore: To Repeat Or Not Repeat
NOAA Ranks Blizzard 2016 4th Worst Snowstorm On Record
Blizzard 2016 Record Top Snowstorm: Area Totals
Extreme Weather of 2015 balanced out on both ends