9:30 PM Wednesday March 7 2018
Do you remember the two blizzards we had 5 days apart in early February 2010? That was the epic 50 inch February in Baltimore. There was a third Nor'easter that followed our two, but it just missed our area and dumped snow metro New York and New England. Well, we just had two strong storms in a day 5 period starting with the epic wind storm and this glancing blow with the snow today. There is a third storm in the pipeline that has already created some hype.
Personally I would rather wait to talk about this. At least a day to get a breather. But there have been so many questions I wanted to address it. In fact, one of my clients has a family vacation out of the country and asked me to let him know if he should stay home this time. No pressure, right?
Well, here are my brief thoughts as to why I DO NOT like to show storms on computer models too far away. For the record, I did show storms 5 days away in 2014, when the Canadian Model seemed to hit a home run on all of them… This winter, just about every outlook for a storm a week away did not play out and I gladly did not join the hype machine. Here is why:
Nor'Easter Number 3: Yes There Will Be Another Storm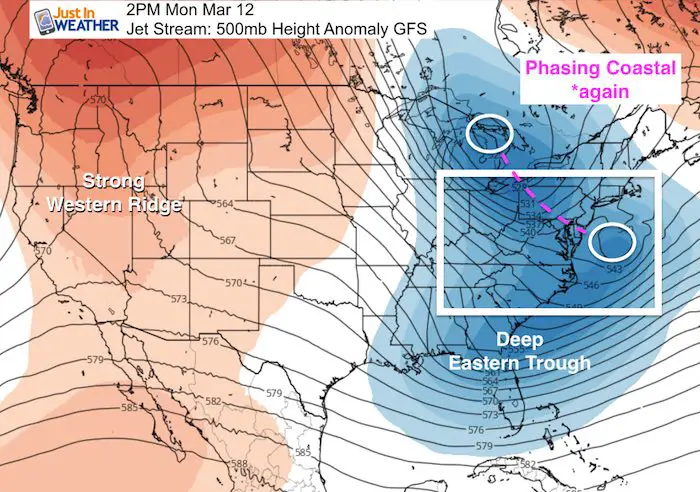 The high amplitude of the Jet Stream supports another storm. This suggest another phasing event where the initial Low in the Great Lakes will transfer energy to a new coastal along The Mid Atlantic.
WAIT! We just did this. Like Today! Do you remember how that turned out? A shift of 50 miles east in the formation left half of our area nearly snowless. Click here to see my March 7 snow report.
This morning's model run of the GFS started the hype machine. This model had the storm missing us to the south on yesterday's run, while the Canadian (that has not had a good winter) showed it hitting us but the timing was a day later.  But this morning run of the GFS showed this nearly perfect track for the storm to pound our region with the top snow. and the Canadian showed the miss. Why such a change? The slight chance in timing of elements coming together can shift where or when a storm may form.
Then the following run of the GFS this afternoon had it as a miss again. Here is the dirty little secret about the GFS Model: It flip flops. A LOT!  So I expect more adjustment, which is why I do not want to play this up yet.  Give it another two days to see if it can lock in.  *Compare the storm animation loops below.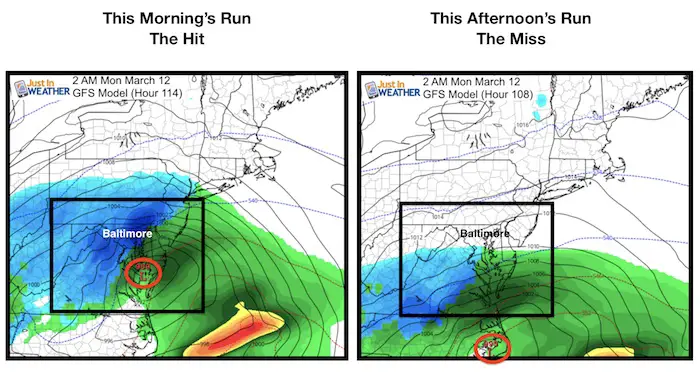 I am not writing this off. I just do not believe in creating hype or suggesting snow amounts this far away when the ingredients are not even close to forming this thing. Especially after the near hit (or miss depending on your perspective) we just had.  I just see an active atmosphere and a storm that will develop. It is too soon to promise any impact. For now I would just leave the window of Sunday night to Tuesday open for 'potential'.
GFS Model Run: 7 AM (12 Z) Wed March 7- The Hit!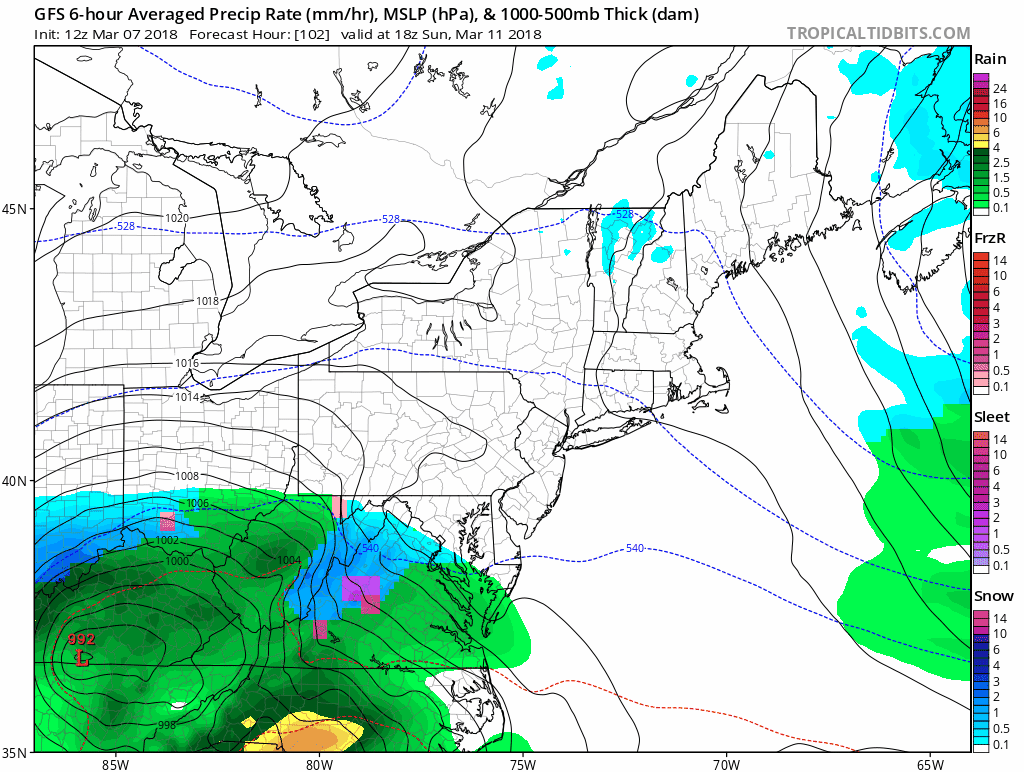 GFS Model Run:  1 PM (18 Z) Wed March 7 – The Miss
The newer model run is once again showing this storm as a miss to the south.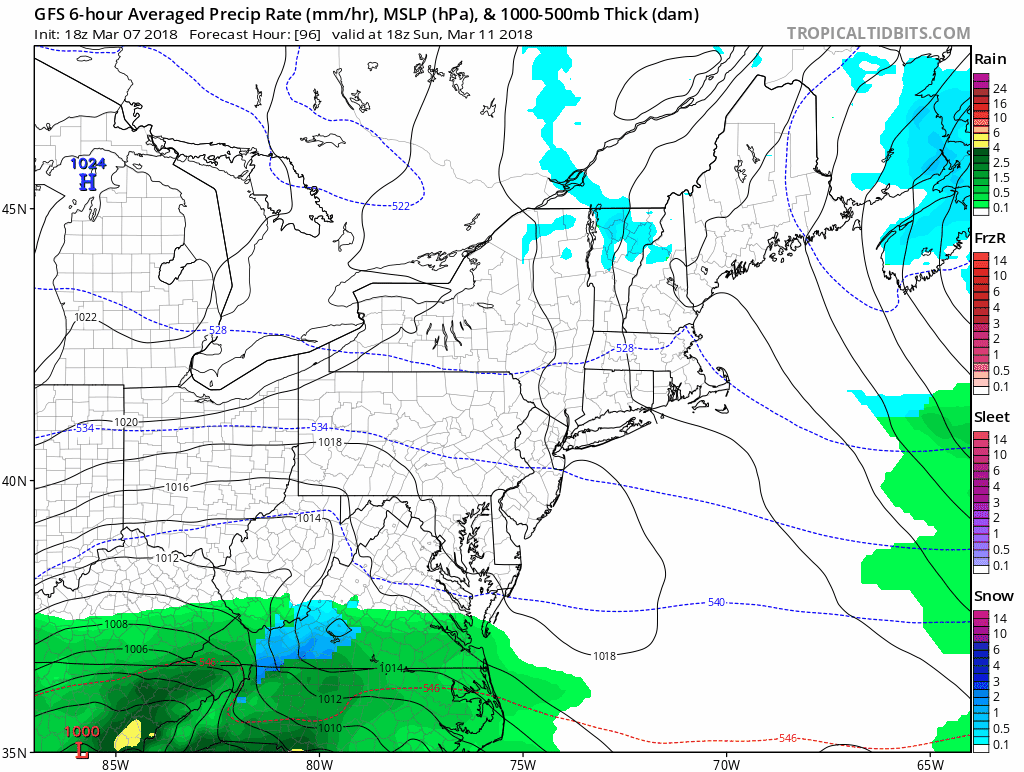 Please share your thoughts, best weather pics/video, or just keep in touch via social media
Keep In Touch Every Day
Click here to sign up for email alerts…. Just in case you don't get the post on your social media feed
FITF Sale
To celebrate the late season snow storm, all FITF webstore apparel is now 20%. Use promo code: marchsnow now! Shop FITF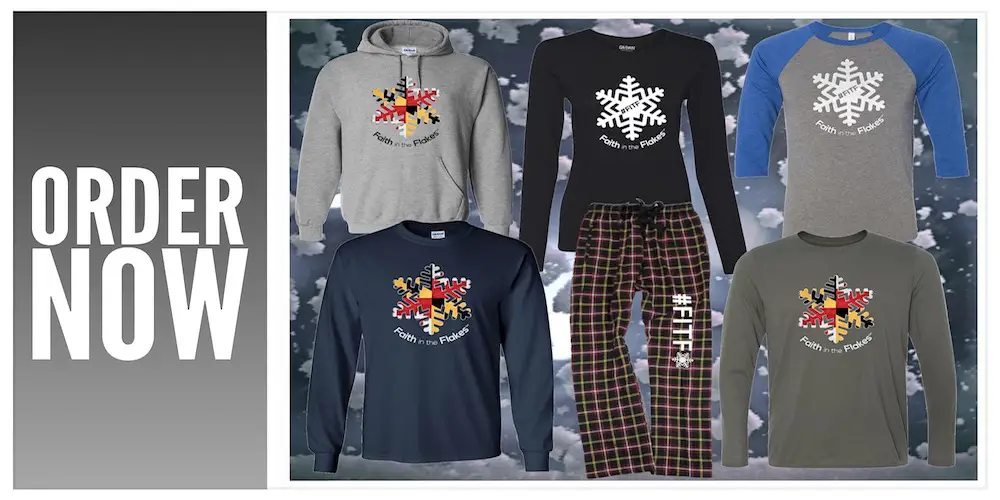 Snowstix- We Need You To Measure Snow Too
We are giving 10% of each sale to programs that benefit pediatric oncology patients.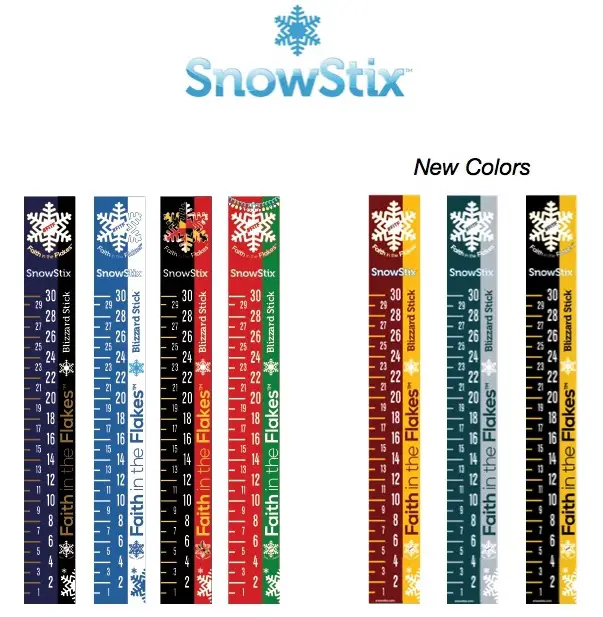 Get the award winning Kid Weather App I made with my oldest son and support our love for science, weather, and technology. Our 3 year anniversary of the release and our contribution to STEM education is this November. It has been downloaded in 60 countries, and works in both temperature scales. With your support we can expand on the fun introduction to science and real weather.
Keep In Touch All Winter
Click here to sign up for email alerts…. Just in case you don't get the post on your social media feed
Also See:
My Winter Outlook 2017-2018 for more snow
La Nina Formed: What it could mean to our winter
NOAA Winter Outlook: Not The Best But Not The Worst For Snow
Two Farmers Almanacs Winter 2018 Outlooks
Winter Weather Folkore: Suggestions from Animals and Crops
First Frost and Freeze Dates For Maryland (southern PA and northern VA)
My Preliminary Winter Outlook Notes
Low Snow Winters In Baltimore: To Repeat Or Not Repeat
NOAA Ranks Blizzard 2016 4th Worst Snowstorm On Record
Blizzard 2016 Record Top Snowstorm: Area Totals