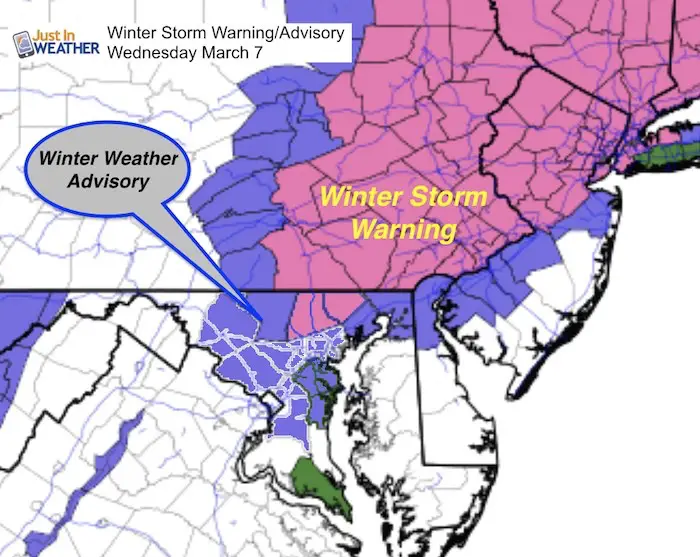 The National Weather Service has finally jumped on the snow bandwagon and upgraded the alerts for this storm.  A Winter Storm Warning is now in place for northern Baltimore and Harford Counties Maryland. This is for increased snow totals. The same story has expanded the Winter Weather Advisory to ti include Frederick, Montgomery, Prince Georges, Anne Arundel, and Baltimore City. This all fits in with my forecast from early with snow expectations. So if you were reading my earlier posts, you join in with me and say it is about time.
According to NWS forecasts: The Warning areas expect 4 to 7 inches. The Advisory areas will mostly get 1 to 2 inches with up to 4 possible. Carroll and Southern Harford Counties can get up top 5 inches. That matches my snowcast map see here with some wiggle room along I-95 in Harford and Cecil County. That is that hardest to pin down stickage due to influence near the Bay.
Many areas in central Maryland have already had their burst of snow tonight with up to 1 inch and road stickage despite temps above freezing.
My Official Snowcast Map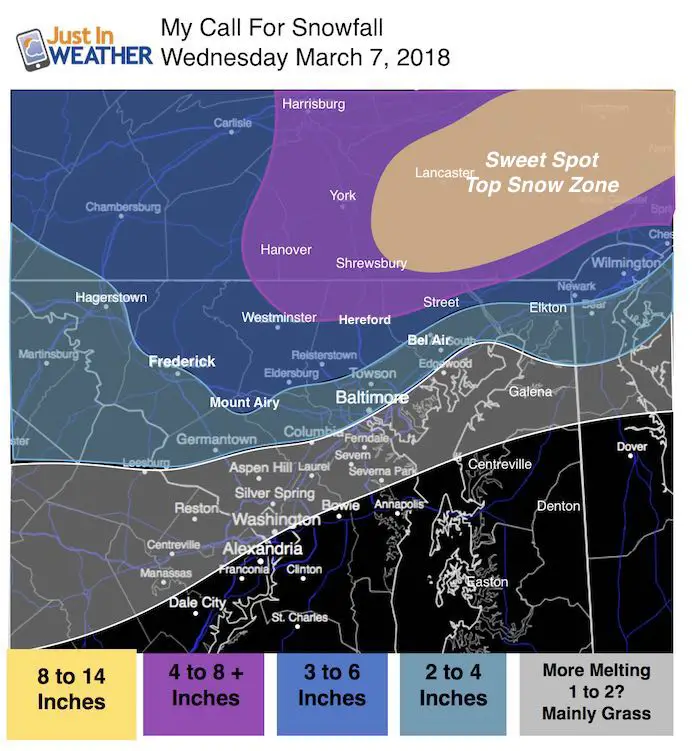 Keep In Touch Every Day
Click here to sign up for email alerts…. Just in case you don't get the post on your social media feed
Compare To National Weather Service Zones Maps
Metro Baltimore/Frederick
There could spread 30 miles form 1 to 6 inches just in Baltimore County
Frederick is now in the 1 to 2 inch range from NWS. I read many saw just rain on their apps. I don't follow weather app forecasts. Check them again and see if they updated
Snow Simulation —> slider
The NAM 3 Km model was showing rain in areas already getting snow. So the expanding snow is ahead of schedule and may help your area cool. *If you get stickage, it will be noticeable between midnight and 2 AM
*Watch the phasing between 6 to 8 AM as the western energy feeds into the coastal storm and enhances the snow. See the notes below.
[metaslider id=59912]
Two parts of this storm:
Overnight moderate snow. This will expand the snow southward after midnight. Places that get stickage could have 1 to 3 inches on the ground at daybreak. But within 10 to 20 miles of I-95 it may only stick on the grass.
Moderate to heavy snow develops during the morning through noon, but will battle the sun angle for stickage and lose out eventually to warmer ground.
The snow line will be split across our area. This model is not perfect, so there is some wiggle room for adjustment. But it will be a tough call and there is bust potential on snow depending on stickage. Definitely more snow will lay and stay north and northeast of the city.
Pennsylvania:
York is on the west end of the heavy snow. More will fall east towards Lancaster.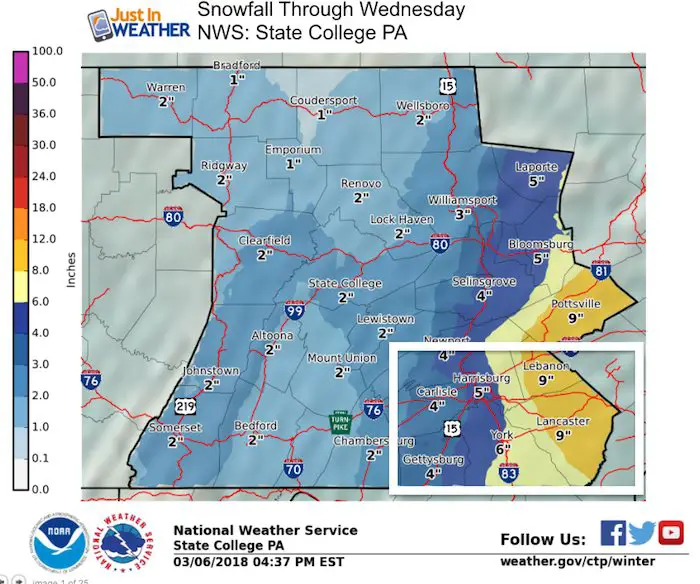 Northeastern Maryland, Philadelphia, and New Jersey
Thew snow gradient here could be 50 miles from 1 inch to 1 foot of snow. The Poconos will win the high end of snow.
Please click here to see my prior post to compare the NAM 3 Km, Canadian, and GFS Model snow updates
Please share your thoughts, best weather pics/video, or just keep in touch via social media
Keep In Touch Every Day
Click here to sign up for email alerts…. Just in case you don't get the post on your social media feed
FITF Sale
To celebrate the late season snow storm, all FITF webstore apparel is now 20%. Use promo code: marchsnow now! Shop FITF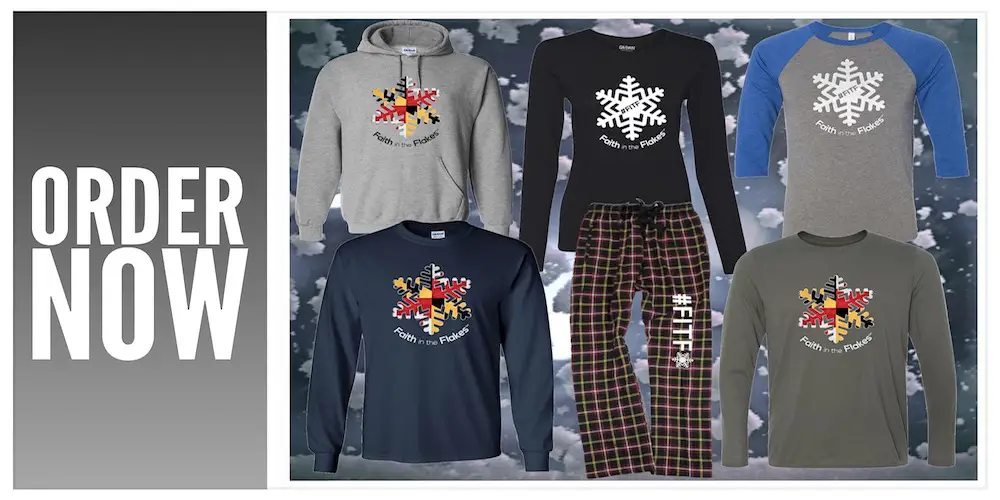 Snowstix- We Need You To Measure Snow Too
We are giving 10% of each sale to programs that benefit pediatric oncology patients.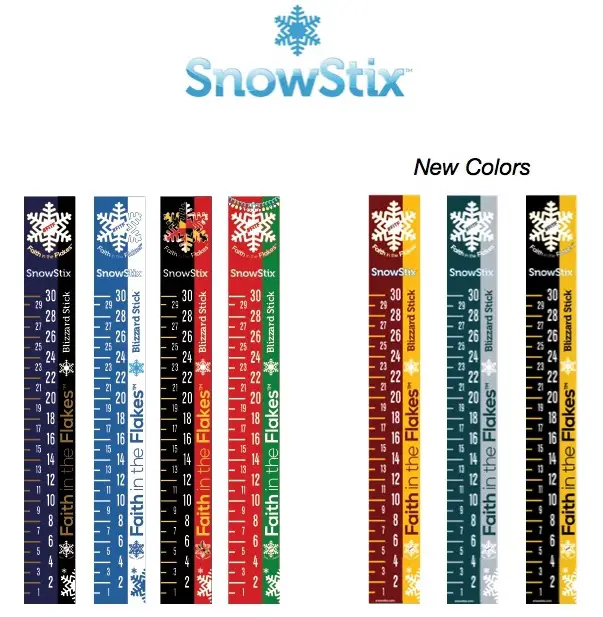 Get the award winning Kid Weather App I made with my oldest son and support our love for science, weather, and technology. Our 3 year anniversary of the release and our contribution to STEM education is this November. It has been downloaded in 60 countries, and works in both temperature scales. With your support we can expand on the fun introduction to science and real weather.
Keep In Touch All Winter
Click here to sign up for email alerts…. Just in case you don't get the post on your social media feed
Also See:
My Winter Outlook 2017-2018 for more snow
La Nina Formed: What it could mean to our winter
NOAA Winter Outlook: Not The Best But Not The Worst For Snow
Two Farmers Almanacs Winter 2018 Outlooks
Winter Weather Folkore: Suggestions from Animals and Crops
First Frost and Freeze Dates For Maryland (southern PA and northern VA)
My Preliminary Winter Outlook Notes
Low Snow Winters In Baltimore: To Repeat Or Not Repeat
NOAA Ranks Blizzard 2016 4th Worst Snowstorm On Record
Blizzard 2016 Record Top Snowstorm: Area Totals