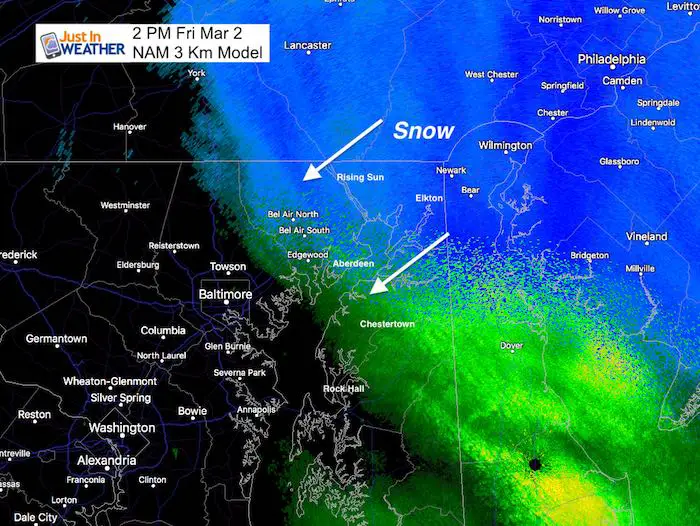 2 PM Friday March 2
The near hurricane winds across the area today have proven all of the precautions taken and still not enough. A tree branch fell on a 77 year old woman in Kingsville, MD killing her. Harford County schools are closing early and power is out in many other areas that already had schools closed.  The Wind Advisory continues into Saturday morning. The latest BGE Power Outage map is below, but expect more to be added.
The strongest wind gust I saw was this morning at Patuxent River Naval Air Station reaching 69 mph. But Doppler Radar is indicating between 60 to 80 mph winds just below cloud level in northeastern Maryland.
Winds had shut down the Tydings, Hatem, and Chesapeake Bay Bridge traffic.  Even some Amtrak service now. This is be treated like a tropical system, which is what would give us long duration winds like this. The surface Pressure of 974 is similar to a Category 1 Hurricane.  Being 2 hundred miles away and getting tropical storm intensity winds is an impressive feat.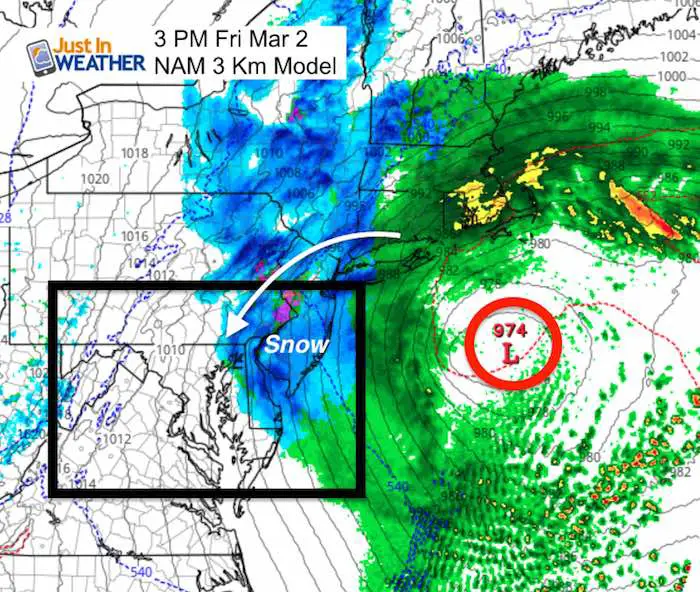 Snow Expectation
The focus here as snow is pivoting around the strong Nor'easter that is oddly dropping to the southeast. The heavy snow bands are making it look like blizzard conditions in Harford and Cecil County in Maryland, but the ground is above freezing. So sticksge is limited. This snow band will expand to the west and southwest and produce more snow in southern Pennsylvania and central Maryland over the next two hours. The edge of the flakes may reach into York, Westminster, Columbia, Washington DC, and Annapolis.
Snow Animation
This model may be under estimating the snow. Based on the 2 PM radar above, The snow may reach a bit west of the Bay despite this cut off… But not much will stick. It should end this evening.
Wind Visualization Animation
It does look like a tropical system and very similar to the last part of Hurricane Jose's existence/track back in September. *Atmospheric Memory
BGE Power Outage Report
As of 2 PM, 30,606 customers were reported to be without power. The duration of the wind may make more trees and power lines drop. Please be patient and understand the repair workers are out in the worst conditions to restore. This is not s paid announcement, it is reality and a dangerous job .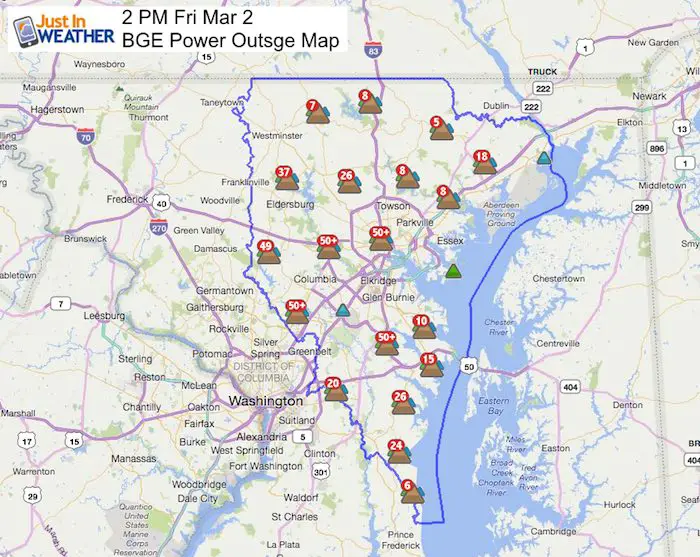 Wind Gusts Remains Strong Through The Afternoon and Evening
Gusts expected to pick up a little for the next few hours in the snow areas of Hartford and Cecil County to possibly hit close to 70 mph again.
Yellow: 34 knots= 39 mph 

*Tropical Storm Force

Orange: 42 knots = 48 mph 

Red: 50 knots = 58 mph
Remember The High Wind Warning Includes all of our region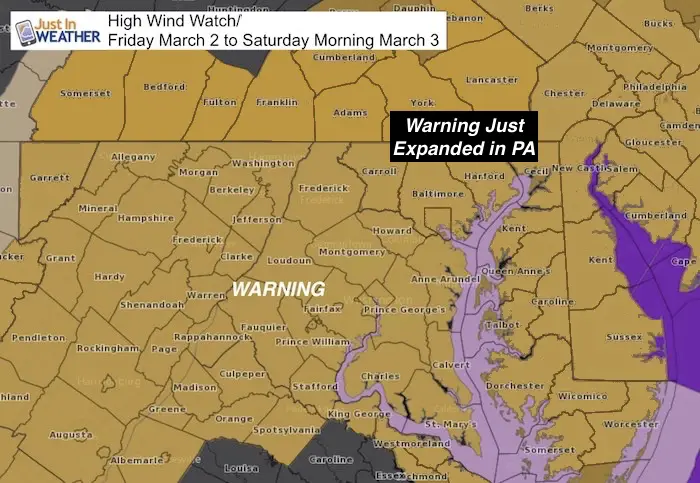 Why is this wind such a big deal?
A few people have commented that we have seen gusts before to 60 mph and the expectation of 70 mph is limited. Well, yes, but this is NOT a severe thunderstorm that comes and goes quickly. This wind storm will be with us most of the day and last into Saturday. The duration of the strong winds pounding on trees stuck in soggy soil may be enough to fall over. Branches can easily break loses and fly around. Other objects may fly and lead to damage and debris as well.
This special graphic was sent out by The National Weather Service to highlight this event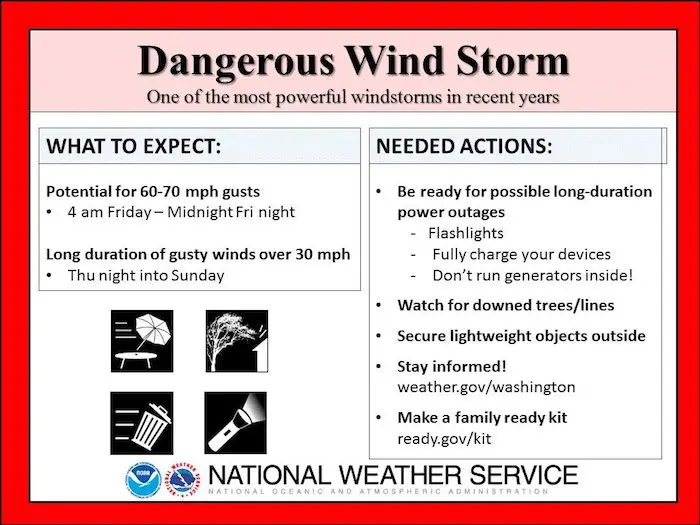 Storm Highlights:
Winds increase before daybreak
Snow may fall at daybreak and all morning. But the ground is too warm and the surface air should remain above freezing. So stickage is not expected.
Visibility may be low in the morning with snow falling with increasing winds
Winds will increase all day. Strongest winds will be mid afternoon and evening.
LOW WATER: The wind flow from the northeast may drain water OUT OF THE BAY. The rain fall still has to drain out, so I expect the lowest Bay water levels will be Friday night and into Saturday.
Winds speeds are likely to be between 30- to 45 mph. Wind gusts will reach over 50 mph for most areas and some can hit the 60 to 70 mph range.
Winds will remains strong but ease a little Saturday. Then improve Sunday.
Impact:
Restrictions on bridges
High Profile vehicles will be easily pushed around
Busses, vans, and SUVs can get pushed around.  Honestly, cars too.
Airline travel is likely to be delayed or postponed. If you fly, it will be very turbulent.
Trees can fall over thanks to soggy soil.
Power outages likely
Schools: I have no idea what they will decide.
Please share your thoughts, best weather pics/video, or just keep in touch via social media
Keep In Touch Every Day
Click here to sign up for email alerts…. Just in case you don't get the post on your social media feed
FITF Gear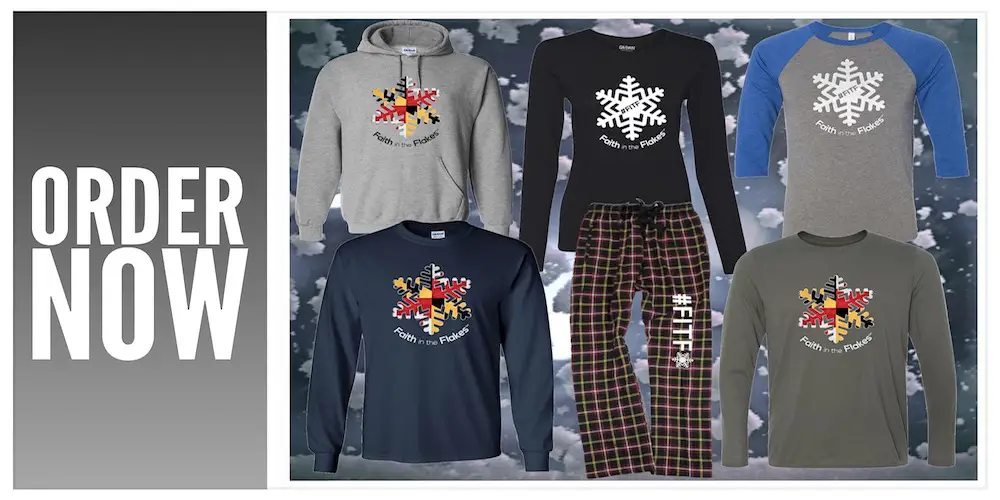 Snowstix- We Need You To Measure Snow Too
We are giving 10% of each sale to programs that benefit pediatric oncology patients.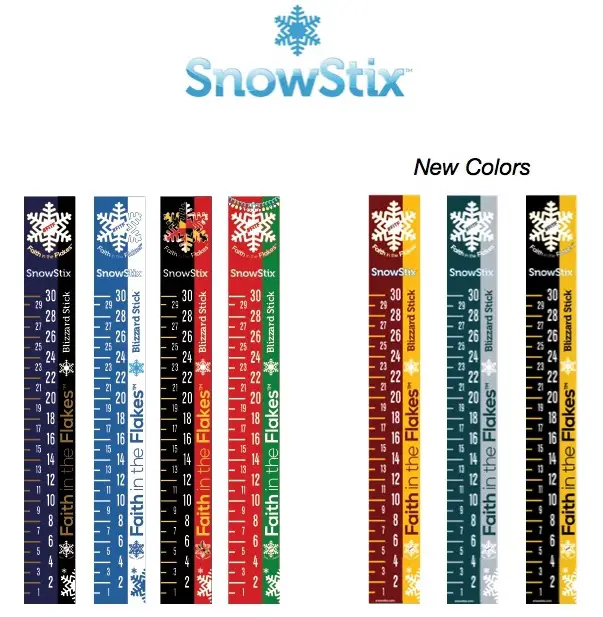 Get the award winning Kid Weather App I made with my oldest son and support our love for science, weather, and technology. Our 3 year anniversary of the release and our contribution to STEM education is this November. It has been downloaded in 60 countries, and works in both temperature scales. With your support we can expand on the fun introduction to science and real weather.
Keep In Touch All Winter
Click here to sign up for email alerts…. Just in case you don't get the post on your social media feed
Also See:
My Winter Outlook 2017-2018 for more snow
La Nina Formed: What it could mean to our winter
NOAA Winter Outlook: Not The Best But Not The Worst For Snow
Two Farmers Almanacs Winter 2018 Outlooks
Winter Weather Folkore: Suggestions from Animals and Crops
First Frost and Freeze Dates For Maryland (southern PA and northern VA)
My Preliminary Winter Outlook Notes
Low Snow Winters In Baltimore: To Repeat Or Not Repeat
NOAA Ranks Blizzard 2016 4th Worst Snowstorm On Record
Blizzard 2016 Record Top Snowstorm: Area Totals